Best Restaurant Scheduling Software
An employee scheduling software designed for restaurants.
ZoomShift helps you save hours scheduling, reduce labor costs, and have confidence that your team will show up on time.
Start Free Trial
Restaurant Scheduling App
Building out your restaurant's schedule is often quite an undertaking. Everyone has restrictions, preferences, and last-minute changes that pop up. Thankfully, ZoomShift empowers you to build out a schedule in minutes, not hours. When changes do occur, you can easily drag and drop shifts around in the app, and your team can swap shifts on their own. No more acting as a middle-man, calling down lists, or endless approval chains.
The best part? Everyone communicates through the app, and ZoomShift will notify people when their shift's about to start, when the schedule's published, and when shift cover requests go out. That means less time worrying about the schedule and more time doing what you do best.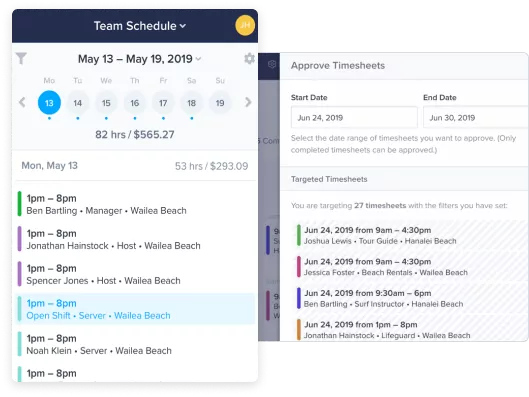 Restaurant Scheduling Templates
The restaurant industry is notorious for staffing issues. Restaurant owners and managers alike spend far too much time updating spreadsheets to build out a schedule that works for everyone.
ZoomShift takes the legwork out of restaurant employee scheduling by letting you easily copy shifts from day-to-day or even week-to-week. ZoomShift also allows for unlimited templates, which means you can create a template for every shift, location, and season.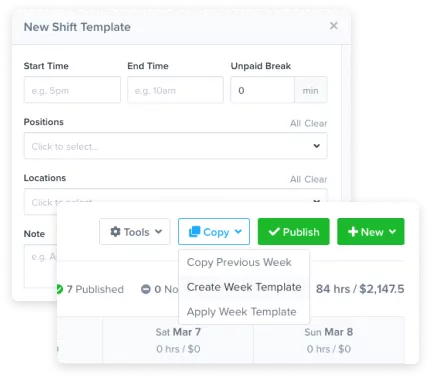 Labor Forecast Tool
Labor forecasting is all about maximizing your restaurant's staffing efficiency so you can save money. Thursday lunch a bit slower? Check the dashboard to see how many people you can afford on each shift. Feel a bit short-staffed on busy Friday evenings? No sweat.
ZoomShift gives you a real-time view of your costs so you can instantly make changes to accommodate a heavy night. With ZoomShift, you can stop guessing and start precisely comparing your labor costs with average revenue for each day of the week to make more informed decisions.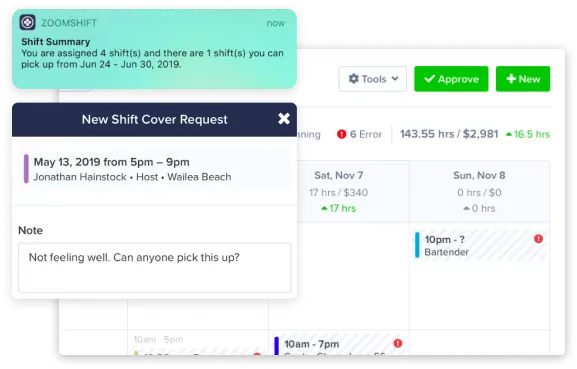 Streamline your employee scheduling.
Get everything you need in one place – availability preferences, time off requests, events, shift swaps. Use templates to build schedules, fast.
Copy work schedules

Use templates to schedule in minutes. Drag and drop shifts in place on the calendar.

Improve staff accountability

Share schedules via text message, push notification, and email. Automate reminders from team members so they are alerted before their shift starts.

Everything in one place

Invite your team to view their schedules, set employee availability preferences, request time off, and pick up open shifts.

Track labor hours and dollars

Track labor to sales and keep an eye on overtime. Always stay in control of payroll costs.

Improve communication

Keep your team in the loop with event schedules, group chats, and direct messages.

Manage requests with ease

No more text messages or calls. Respond to shift swaps and time-off requests in one place.
Why do restaurants choose ZoomShift's employee scheduling software?
Seamless scheduling
The easy drag and drop scheduling tool lets you create conflict-free schedules based on your restaurant's needs. As per the business need, create custom templates to use for daily, weekly, or monthly schedules.
Eliminate human error
Streamlining the employee scheduling and time tracking. ZoomShift helps restaurant managers save considerable man-hours, stay on top of the labor budgets, and cuts down on human error when calculating payroll.
Efficiently manage multiple locations
Our restaurant employee scheduling software seamlessly manages schedules across different locations and keeps you connected with your teams. Using filters approve timesheets and run the payroll on the go. From a single dashboard, restaurant managers can communicate with employees across multiple teams at different locations.
Employee friendly scheduling
Empower your staff with web and mobile apps to view and access their schedules from anywhere and anytime. Using the restaurant scheduling app, employees receive shift reminders, request PTO, swap shifts, pick open shifts or decline schedules, and communicate with their managers on the go.
Reduce employee cost
ZoomShift employee scheduling solution helps you avoid costly timesheet errors before they happen. It places worker schedulable and overtime hours limits. ZoomShift time clock feature empowers you to block early clock-ins and fix missed punches by editing timesheets when an employee forgets to clock out.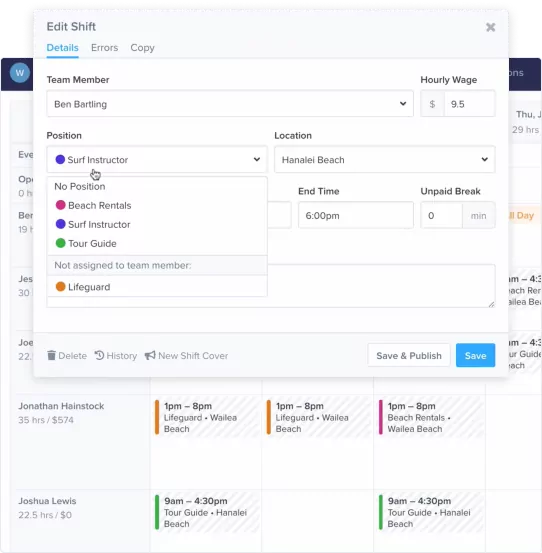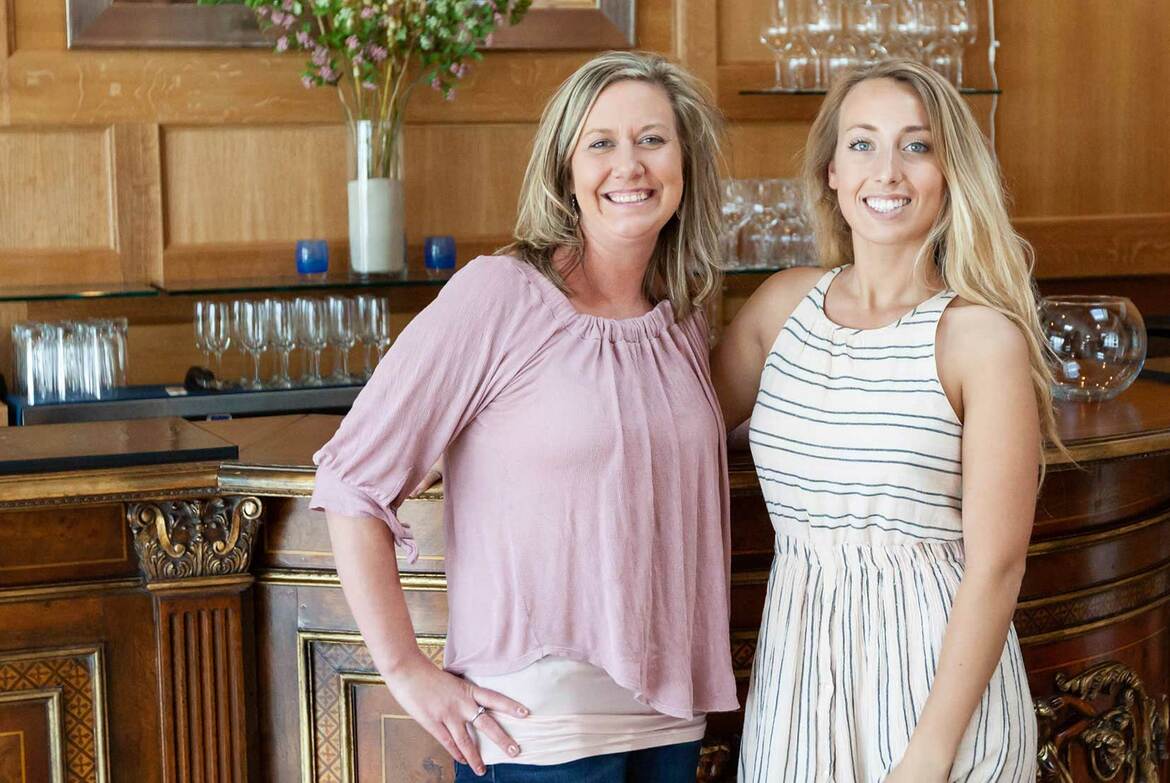 We love ZoomShift – it's super easy. With the app, our staff always knows when they work.
Restaurant Employee Scheduling
Frequently Asked Questions
Popular Articles from the ZoomShift Blog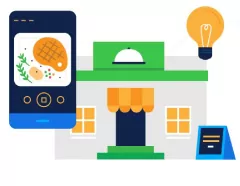 Picture this: It's a weeknight, and your restaurant is jam-packed with hungry patrons. They're chatting, passing plates around, and ordering lots of food. To top it off, your reservation list is booked solid for a month.
Simplify your shift scheduling today.
Spend less time scheduling and more time investing in your team and business.
Start Free Trial