JD Spinoza

JD Spinoza

JD enjoys teaching people how to use ZoomShift to save time spent on scheduling. He's curious, likes learning new things everyday and playing the guitar (although it's a work in progress).

Jan 13, 2023
Time Clock Calculator to Track Employee Hours In 2023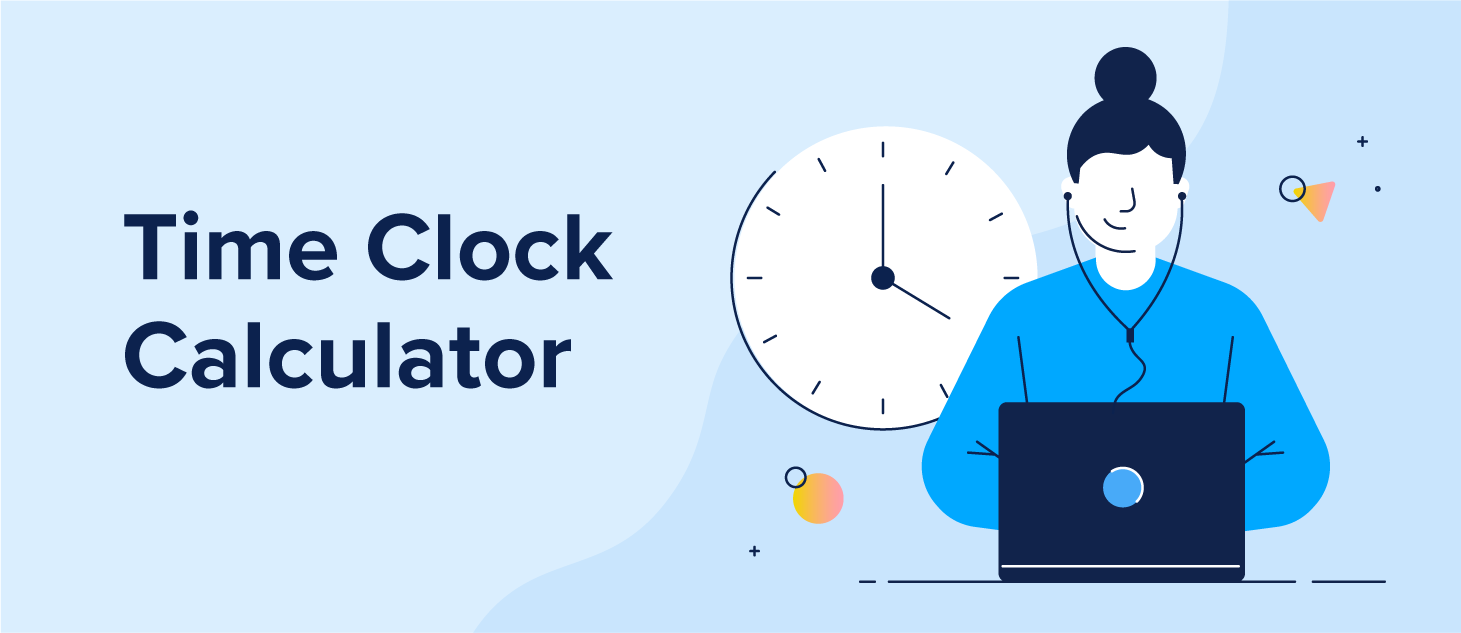 Incorrect time cards are a massive problem that can lead to organizational strife and legal issues.
For employees, it means getting paid for less than they rightfully earned — a loss that might never be reimbursed without concrete proof. For a business, sending out inaccurate paychecks will lead to a drop in employee morale at best, and legal issues at worst. That's why it's so important for all members of a business to track time correctly.
Below, we have provided a time clock calculator — a tool to check on current work hours and get a paycheck estimation. Additionally, we've highlighted some key information on time tracking, from employee management tools to organizational tips that will ensure your paystubs are always accurate.
Time Clock Calculator
| | Start time | End time | Unpaid time | Total |
| --- | --- | --- | --- | --- |
| Sunday | Start time | End time | Unpaid time | |
| Monday | Start time | End time | Unpaid time | |
| Tuesday | Start time | End time | Unpaid time | |
| Wednesday | Start time | End time | Unpaid time | |
| Thursday | Start time | End time | Unpaid time | |
| Friday | Start time | End time | Unpaid time | |
| Saturday | Start time | End time | Unpaid time | |
| | | | Weekly Total: | |
How to use the time clock calculator
Use the time clock calculator in two easy steps:
Step 1: Input hours worked
First, input hours worked for a period of up to one week. As you'll see, there are options for AM/PM start and end times, as well as unpaid breaks.
Step 2: Receive results
As you submit your hours, the calculator will automatically register and add up a running total for the week. If you wish to print off or email your time card, you can do so by clicking on the corresponding button at the bottom of the chart.
How do you calculate work hours?
Calculating hours worked by hand may seem daunting at first, but the process is fairly simple and can be explained as follows:
Establish start and end times: Gather the start and end times for all applicable shifts.
Convert to military time: Once start and end times have been established, convert them to military time. For example, 9 am is 09:00, 4 pm is 16:00.
Subtract start time from finish time: Next, subtract the start time from the finish time. In our example above, you would subtract 09:00 from 16:00, equaling a total of 7 work hours.
Subtract unpaid breaks: If there are any unpaid breaks to factor in, such as lunch or personal appointments, subtract that time here.
(Optional) Convert to decimal: To make calculations easier, convert work time to decimals. This can be done by dividing the total minutes by 60. For example, a work time of two hours and 45 minutes is a total of 165 minutes. 165 divided by 60 gives is 2.75 hours — which is the decimal equivalent of two hours and 45 minutes.
That being said, calculating hours by hand can lead to inaccuracies and omissions. A better method is to use our shift calculator below.
How to keep track of your time worked
Keeping track of working hours is an important aspect of scheduling, productivity, and ensuring paychecks are accurate.
Different employers have different time clock rules and payroll schedules, so whether you are a freelancer, hourly, or salaried employee, knowing how to track your hours worked is crucial. Here are three ways you can do so successfully.
1. Time clock software
Arguably the easiest and most accurate way to calculate hours worked is with time clock software.
Time clock software like we offer at ZoomShift can make scheduling and time tracking a breeze for both managers and employees.
For managers, it can be used as an all-in-one employee management tool. This software can create schedules, navigate employee shifts and PTO requests, and improve the overall productivity of your team. Not to mention, it's a great tool to reduce overtime hours and simplify the payroll process.
For employees or freelance workers, time clock software acts as a hub to efficiently track hours and tasks. Doing so ensures accurate paychecks and gives an overview of how time is being spent, leading to a more productive workday.
2. Spreadsheets
Workers can also take advantage of programs such as Microsoft Excel to create their own time tracking system — and it's as simple as creating and updating a dedicated document.
Using this option, employees can track assignments throughout the day, going as in depth as needed. A spreadsheet schedule may feature a handful of tasks ranging from meetings to lunch breaks, with special notes of start and end times.
This method can be used to create a detailed overview of how someone is spending their time, resulting in a more accurate paycheck and an opportunity to improve time management.
3. Digital or physical notes
When all else fails, a simple way to track time is by taking physical or digital notes.
By using a stopwatch or keeping an eye on the clock, be observant of what you are working on and for how long. From there, it can be recorded on a pad of paper or a document on your phone or computer.
This method is the easiest, but it also has the greatest opportunity for mistakes and misplaced time. Therefore, if you decide to go this route, it's important to regularly check and update your notes, and it could be a good idea to keep a backup source if possible.
Additional time clock FAQs
Finally, here are a few frequently asked questions regarding time tracking.
How many hours is a typical shift?
A typical shift is four to eight hours depending on the status of the employee.
Part-time employees work roughly 20 hours per week, so a few shifts of four to six hours in a pay period is typical. Full-time employees work roughly 40 hours per week, so five shifts of eight hours would be the minimum that these employees work in a given week.
Of course, both sets of employees could work more hours than scheduled, which would affect their time cards and gross wages.
What do you do if you work overtime?
If you work overtime, it's important to keep track of your hours and pay rate to make sure you are being paid the proper amount. It varies by company and industry, but overtime pay — or any hours worked over 40 a week, and sometimes over eight in a day — can be at a rate of up to double your hourly rate. Using one of our time tracking methods above can assist you in tracking your hours and pay.
Why use a time clock calculator?
Using a time clock calculator is an easy way to keep track of the hours you work throughout the day, which helps improve productivity and ensure accurate paychecks.
Track your time with ZoomShift
Time tracking is an important task for both employees and managers. Doing so makes sure payroll is accurate and productivity is optimized.
There are a few different ways of tracking time, ranging from time clock calculators to recording hours by hand. That being said, the most efficient way is by using time clock software.
Time clock software like we offer at ZoomShift can act as a full-scale employee management system, allowing users to create schedules, manage employee requests, and complete payroll in just a few clicks.
Start a free trial of ZoomShift today.
JD enjoys teaching people how to use ZoomShift to save time spent on scheduling. He's curious, likes learning new things everyday and playing the guitar (although it's a work in progress).