Scheduling software for small business
Scheduling software designed for hourly employees.
ZoomShift helps you save hours scheduling, reduce labor costs, and have confidence that your team will show up on time.
Start Free Trial
Staff Scheduling and Time Tracking Made Easy
ZoomShift is designed with both the employee and supervisor in mind. Employees get the freedom to clock-in and out on the go with our web and mobile apps. From the app, you can check your schedule, log breaks, and swap shifts with colleagues.
Managers save precious time scheduling thanks to the convenience of schedule templates. Once you build the perfect work schedule, it's as easy as copying it from day-to-day, week-to-week, or even month‑over‑month. Making tweaks is incredibly easy thanks to the sleek drag‑and‑drop interface. You also get real-time visibility into who's working at what location and who may be absent or forgot to clock in.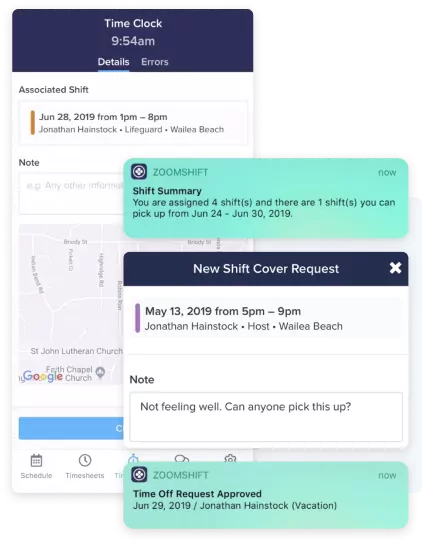 Payroll Integration and Reporting Done Right
When you've got your hands on some approved timesheets, you're all set to move on to processing payroll. In ZoomShift, it's as easy as selecting the desired time period to view a breakdown of all hours worked and gross pay.
Choose from a summary view that shows regular wages, overtime, all totals, and gross pay broken down by employee, or use the daily total view to breakdown your employee totals by individual dates. Once you toss in some handy filters, you get an enhanced view by location, position, or even team member. When you're ready, export your payroll report to CSV for easy external uploading and processing.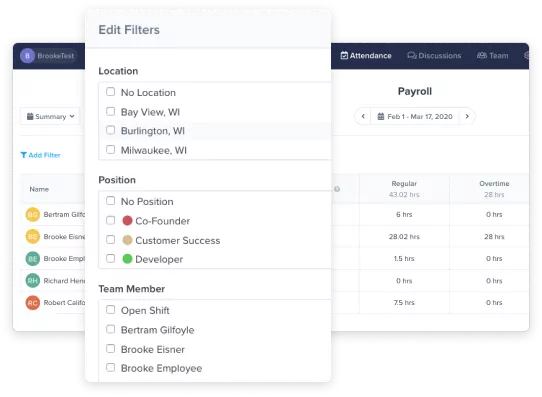 Services Scheduling
Frequently Asked Questions
Make work schedules faster.
Get everything you need in one place – availability, time offs, shift swaps. Use templates to build schedules, fast.
Learn More
Copy work schedules

Use schedule templates to schedule in minutes. Drag and drop shifts in place on the calendar.

Improve staff accountability

Share schedules via text, push, and email. Automatically remind team members before their shift starts.

Everything in one place

Invite your team to view their schedules, set employee availability preferences, request time off, and pick up open shifts.
Track time easily

Use our free web and mobile time clocks to track hours. No clunky extra hardware. Track GPS and whitelist IP addresses.

Save on labor costs

Avoid costly timesheet errors before they happen. Block early clock-ins, block overtime, and fix missed punches easily.

Run payroll faster

Customize your payroll report to export all the information you need and none that you don't.
Simplify your schedule today.
Spend less time scheduling and more time investing in your team and business.
Start Free Trial