Free Work Schedule Template
Free work schedule template for Excel and Google Sheets.
Free work schedule template for Excel and Google Sheets.

How to use your Schedule Template
Enter Your Employees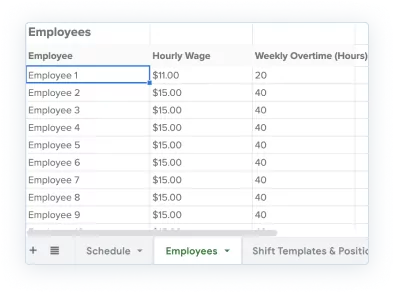 On the "Employees" tab, enter your employees' names, hourly wage, and weekly overtime (in hours) into each row.
Create Shifts Roles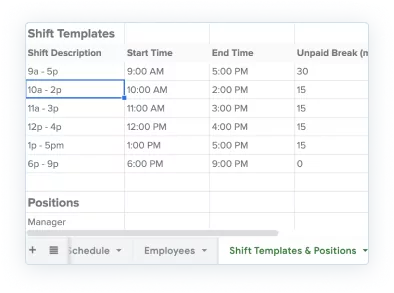 On the "Shift Templates Positions" tab, enter the shift description (e.g. 9am - 5pm), shift start and end times, unpaid break (in minutes), and the shift duration. Under the "Positions" box, enter the job titles that describe each kind of shift (e.g. Manager, Barista, Cook, Busser, Supervisor etc.)
Start Scheduling!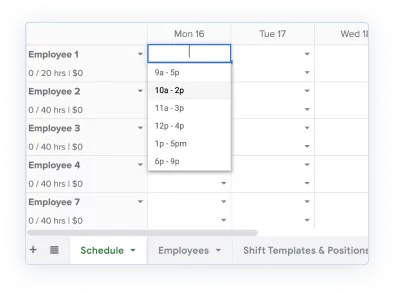 Once you've entered your employees and shifts, go to the "Schedule" tab, and select an employee from the drop-down menu in the first column. Then select their shifts from the drop-downs on each day. Don't forget to "Publish and Notify" so your employees can view their shifts!
That's it! Now you can quickly schedule your employees as well as keep an eye on total hour and labor costs.
Common questions
How does this template work?
This dynamic template helps you schedule hourly employees. You can create shifts and assign them to employees using drop-downs for times and positions.
Can this template calculate totals for me?
Yes, hour totals are calculated automatically. You can input wages for employees to track wage totals per day and per week. We offer an even better format for this in our free scheduling software. Create your free account using the link below.
Does this work for Excel and Google Sheets?
Yes, you can download the file and open in Excel, or make a copy of the template from this link.
Can I copy schedules week to week?
You can create new sheets or edit the existing sheet each week. We offer robust features for copying schedules in our free schedule maker. Sign up for free using the link below if you'd like to take it for a spin.
Start your free trial today.
Spend less time scheduling and more time investing in your team and business.
Start Free Trial