Employee Shift Planning Software
Shift planning made easy with all the features you need and none that you don't.
Say goodbye to human error, no-shows, and unforeseen labor costs.
Start Free Trial
TRUSTED BY 20,000+ BUSINESSES
Make more informed decisions
Plan shifts for weeks or months in advance in a fraction of the time.
Shift Swaps

Shift planning naturally comes with the need for adjustments. ZoomShift empowers employees to find their own replacements, so you don't have to call down a list.

No More No-Shows

Shift planning with ZoomShift makes it easy for your whole team to have a single source of truth. Everyone can see the published schedule from any device at any time.

Labor Forecast

Accurately forecasting labor costs is a pivotal task for every business. Combined with daily or weekly revenue, you have next-level insights to save the company money and ensure it operates as efficiently as possible.

Mobile App

Carry the power of ZoomShift in your pocket and reap the benefit of shift-reminder and shift cover request notifications.

Plan Months in Advance

Shift planning is tedious, which is why ZoomShift built value-rich features like shift templates and the ability to copy shifts. You'll plan shifts for weeks or months in advance in a fraction of the time.

Overhead Costs

Labor cost forecasting and the ease of scheduling shifts month in advance means you can plan costs months ahead of time and make more informed decisions.
Book a Demo
No More Spreadsheets
Excel spreadsheets are great for many things, but shift planning isn't one of them. They're not mobile-friendly and lack the features managers and employees want, like shift reminder notifications, shift swapping, and the ability to clock-in and out. With the ZoomShift app, your team can trust that everyone knows their shift schedule and can easily make changes on the fly where necessary.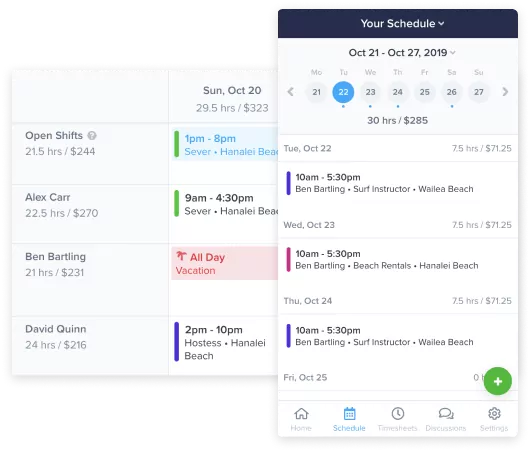 Minimizes errors and overpaying employees
Shift planning leaves a lot of room for error. With ZoomShift, you have the peace of mind that costly timesheet errors like missed punches, unnecessary overtime, and early clock-ins won't stack up. The software lets you set rules and create notification alerts to bring your attention to issues before they become a problem.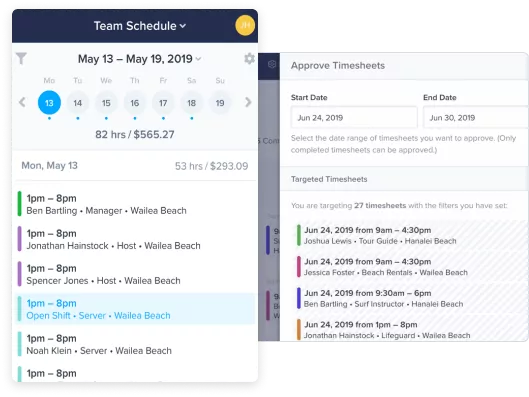 Zoomshift came into my life when I was totally overwhelmed with making and maintaining a schedule for my employees. Staff was submitting request off's and preferred work days, etc. and it got really hard to manage on a simple spreadsheet. I knew there had to be a more efficient scheduling process of doing this and another small business in town connected me with Zoomshift. I haven't looked back since! Shannon McCarthy
Zoomshift has become essential to easily managing our staffing and schedule. With about 90 employees, it's so important to have everyone connected and Zoomshift keeps us all on the same page. The developers are fabulous and absolutely interested in making the program work for us as a client. I can't imagine operating without it! Anne Long
This staff scheduling software has a lot of pros. First, it's very easy to add staff, to make schedules, and to copy schedules to the following pages. The fact it has an app is a huge advantage. Also, the summary of the hours each work is really important for us because we have caps of how much we can schedule each employee. Also, the notes are great! Alissa W.
I'm currently using this software solution for over 60 employees. It's incredibly user-friendly. I probably spend about 1-2 minutes explaining how the app's scheduling feature works and my employees pick up on it right away. In addition to being a great app, the creators of the app are wonderful. They're also very receptive to feedback. The versatility of this app is great and I think it works for a wide range of business models. I highly recommend using it! David Wise
Previous
Next
SHIFT PLANNING
Frequently Asked Questions
At its core, shift planning is a feature-rich calendar that keeps track of who's working which days, what times they're working, who's on PTO, and the total labor costs for the day. You can plan out shifts weeks or months in advance, and where appropriate, you can copy shifts to reduce manual entry.
Once all your employees are entered into ZoomShift, you can begin shift planning by clicking Schedule in the navigation bar. Once the calendar pops up, you'll want to click the green +New button and select Shift. In the pop-up New Shift menu, you'll select the team member, confirm details like wage, position, and location, then select the shift date, start time, end time, unpaid break, and add any pertinent notes. Repeat until your schedule is full and click Publish so everyone can see it.
Shift planning is included with all ZoomShift plans. Prices vary based on which package you select and how many active employees are using the software each month. Check out our
Starter, Premium, and Enterprise solutions
to see what fits your needs the best.
---
Popular Articles from the ZoomShift Blog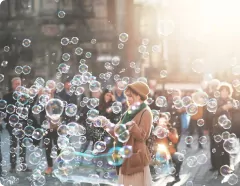 Are you a puzzle master? If you're not, and you've taken on the task of employee scheduling, you'll soon feel like you're constantly moving pieces of a puzzle to make everyone fit.
In this article, we're going to take the puzzle work out...
Make more informed decisions
Plan shifts for weeks or months in advance in a fraction of the time.
Book a Demo