Time clock software
Time clock software and app designed for hourly employees.
Track time from anywhere, prevent timesheet errors and run payroll in minutes.
Start Free Trial
Track employee hours and edit timesheets from anywhere.
Track time easily

Use our free web and mobile time clocks to track hours. No clunky extra hardware. Track GPS and whitelist IP addresses.

Save on labor costs

Avoid costly timesheet errors before they happen. Block early clock-ins, block overtime, and fix missed punches easily.

Run payroll faster

Customize your payroll report to export all the information you need and none that you don't.
Zoomshift came into my life when I was totally overwhelmed with making and maintaining a schedule for my employees. Staff was submitting request off's and preferred work days, etc. and it got really hard to manage on a simple spreadsheet. I knew there had to be a more efficient scheduling process of doing this and another small business in town connected me with Zoomshift. I haven't looked back since! Shannon McCarthy
Zoomshift has become essential to easily managing our staffing and schedule. With about 90 employees, it's so important to have everyone connected and Zoomshift keeps us all on the same page. The developers are fabulous and absolutely interested in making the program work for us as a client. I can't imagine operating without it! Anne Long
This staff scheduling software has a lot of pros. First, it's very easy to add staff, to make schedules, and to copy schedules to the following pages. The fact it has an app is a huge advantage. Also, the summary of the hours each work is really important for us because we have caps of how much we can schedule each employee. Also, the notes are great! Alissa W.
I'm currently using this software solution for over 60 employees. It's incredibly user-friendly. I probably spend about 1-2 minutes explaining how the app's scheduling feature works and my employees pick up on it right away. In addition to being a great app, the creators of the app are wonderful. They're also very receptive to feedback. The versatility of this app is great and I think it works for a wide range of business models. I highly recommend using it! David Wise
Previous
Next
Track employee time
Employee time tracking management can be a mess. Staying on budget. Knowing where and when employees are working. There's a lot riding on getting payroll right.
ZoomShift's time clock software puts you in control of employee timesheets.
Employees can clock-in for assigned shifts using the web time clock or mobile time clock.
You can edit timesheets on the fly from the free iPhone and Android apps.
Review and approve timesheets easily. Run payroll reports in minutes to save time.
Name
Date
Time
Wages
Duration
Position

BR

Ben Rector
May 24
9am - 4pm
$14.00
7.00 hrs
Manager

JM

Jon Mclaughlin
May 24
10am - 2pm
$8.00
4.00 hrs
Server

JK

Jackie Keen
May 24
10am - 2pm
$8.00
4.00 hrs
Server

GB

Grace Bahr
May 24
10am - 2pm
$8.00
4.00 hrs
Host

DB

Dave Barnes
May 24
2pm - 8pm
$8.00
4.00 hrs
Host
Totals
$194.00
19.00 hrs
Prevent timesheet errors
Employee time tracking errors can kill your bottom line. Early and late punches. Extra shifts. You can lose hundreds of dollars a month if you're not careful.
ZoomShift's timesheet rules give you control and prevent errors from happening.
Block employees from clocking in without being scheduled.
Track missed shifts, late punches, early punches, and extra shifts.
Get notified when a team member is nearing overtime.
Name
Scheduled
Actual
Status

JE

John Elias
9am - 4pm
---

Missed Shift

JE

Jeff Erickson
9am - 2pm
9am - ?

Missed Clock Out

JM

John Meyer
10am - 4pm
9:30am - 2pm

Early Clock In

SM

Sarah Marks
11am - 2pm
? - 2pm

Missed Clock In

JH

Josh Harper
---
9am - 2pm

Not Scheduled
Time clock benefits
1. Overtime
Use ZoomShift's time clock feature to track employees' hours in real-time, including work hours, various break hours, meal hours, and overtime.
2. Time Off
ZoomShift makes it easy for employees to request time off for vacation, events, errands, or sick leave. Managers can quickly approve or deny PTO requests, and all approved time-off requests are easily viewed via the main schedule page, ensuring everyone is on the same page.
3. Attendance Tracking
Attendance tracking is a breeze with ZoomShift. At a glance, you can see who's clocked in at what locations and who may be running late or out on PTO.
4. Timesheets
ZoomShift makes timesheet management effortless. You can generate detailed timesheets in seconds and make adjustments on the fly where necessary.
5. Reports
With timesheets approved, you're ready to use ZoomShift's payroll reporting tools. ZoomShift will break down who worked what hours and calculate gross pay for any specified period of time. Get even more granular by filtering for location, position, or team member in your payroll system.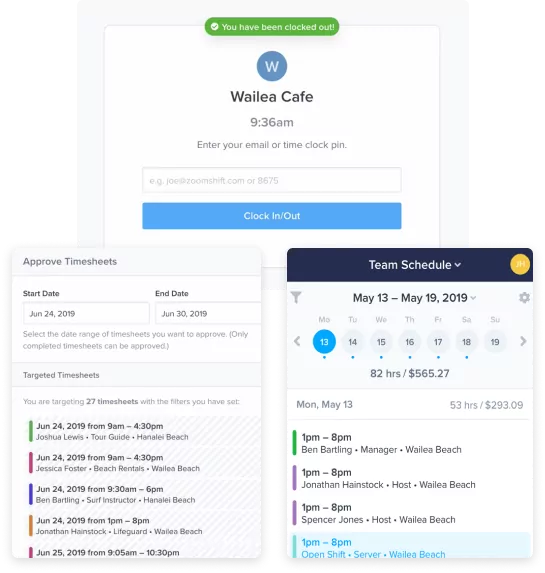 Book a Demo
Employee Time Clock
Frequently Asked Questions
Who uses the ZoomShift time clock feature?
ZoomShift's mobile-friendly time clock feature allows you to make changes from your phone, tablet, or laptop and provides timely notifications, so you know what's happening at work even when you're not there. Here are just a few industries that find ZoomShift's employee time clock software feature useful:
GETTING STARTED
How to
get started with employee time clock software
1. Create an account
To set up a time clock system, all it takes to get started is an email and password along with your name and the company's name. Did we mention you get a 14-day free trial?
2. Add team members
Click on the Team page from the navigation bar and select New to add employees. From there, all you need is their name, email, phone number, and compensation information like hourly wages and hours worked per week. The system will let you pick permission levels, position title, and location. When you're done, you hit Create, and they'll get an email invite so they can log in.
3. Clock in and Clock out
If you have a dedicated station at work, you can set up ZoomShift as a kiosk where your employees clock in and out using a pin. Another option is allowing employees to log in from a browser or the ZoomShift app.
Go mobile with ZoomShifts time clock app
An employee time clock app isn't complete unless employees and managers can take it on the go. Employees can clock in and out from the app, see their schedule, request shift changes, message teammates or managers, and pick up open shifts.
Managers can create employee schedules, edit timesheets, create payroll reports, and compare scheduled vs. actual hours and costs. The mobile app makes it easy to get shift reminders and open shift availabilities via push notification.
Pick up the ZoomShift mobile app on the Google Play Store for Android devices or the Apple App Store for iOS devices.
---
Popular articles from the ZoomShift blog
With the right tools in place, you can increase employee accountability. Here's how you can get the most of the GPS time clock feature in ZoomShift.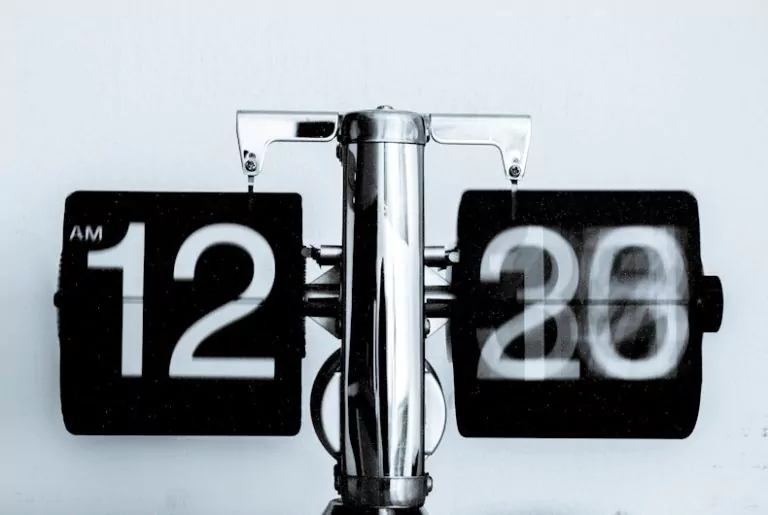 Do you trust your employees to clock in and out? Here's how to avoid common problems with employee timekeeping.
View your employee attendance in real-time
Ensure you have the right coverage and fill empty shifts with a few clicks
Book a Demo