Finally, a time clock built for small businesses.
Time clock software that simplifies your business. Use ZoomShift to track employee time, compare scheduled time to actual worked time, and export right into your payroll system.
Stop worrying about your employee timesheets.
We talked to countless managers about the manual process of comparing timesheets to the schedule. It was instantly clear that this process took way too long. Our time clock software is designed to make this process as quick as possible.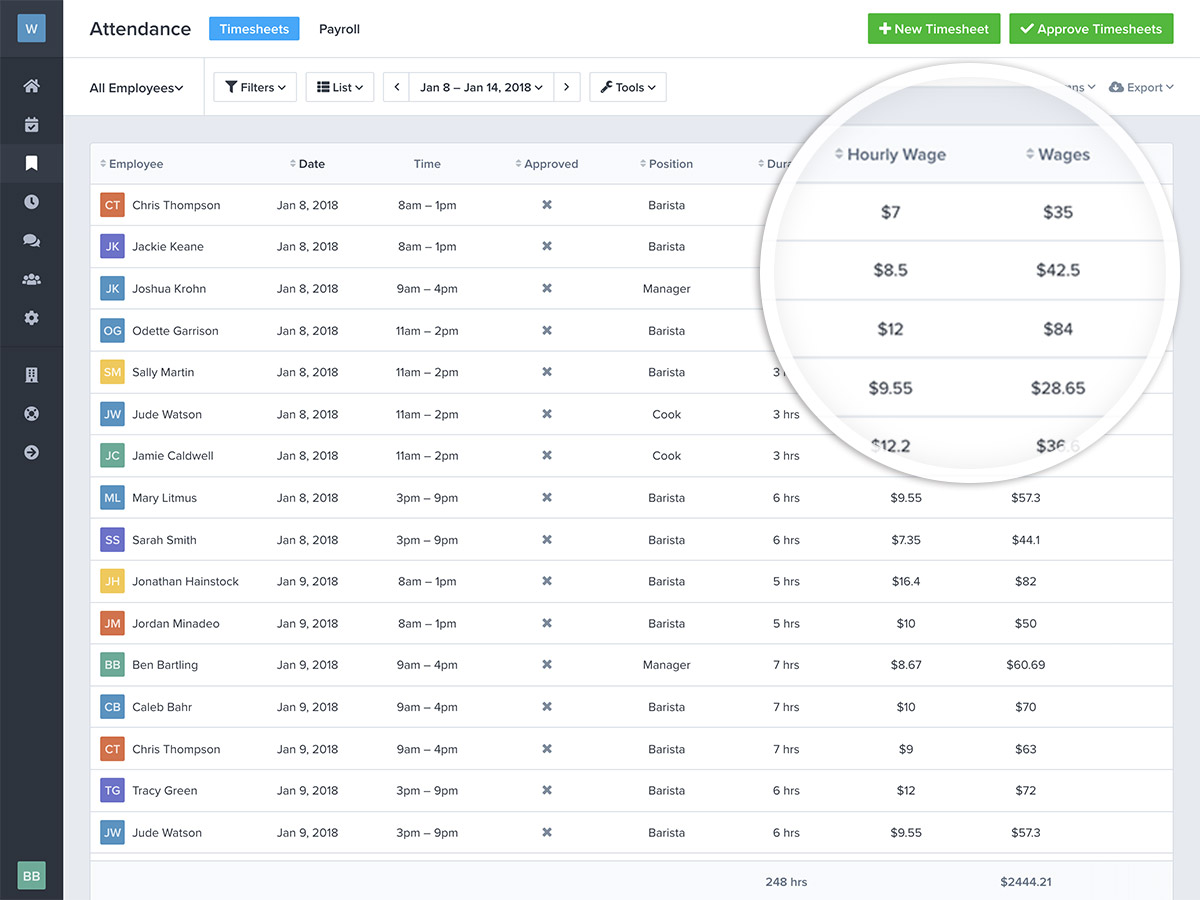 Scheduled vs. Actual

Instantly know which employees are milking the clock, or not working their full shifts. Compare scheduled shifts against actual timesheet hours without having to lift a finger.

Approve for Payroll

Control how you want to approve timesheets. You can approve them all at once, by each employee or position, or even one at a time.

Powerful Filters

Know how individual locations or positions are performing. Do you have a location that consistently works more hours than scheduled?
Expect more from your time clock.
Gone are the days of time clocks with designated hardware. Turn any device into a time clock. Use our time clock software to punch into your assigned shifts and reduce timesheet errors.
No Expensive Hardware

You already have all the hardware you need. Turn any computer, tablet, or phone into your time clock. No limits on the number of time clocks you can have.

Clock Into Shifts

Our time clock can see the schedule. Clock into your assigned shifts, or get warned when you are clocking in but not scheduled. Stop incorrect punches before they happen.

Realtime Budgeting

Forget about those spreadsheet formulas! Hour and wage totals are calculated on the fly as you build your schedule.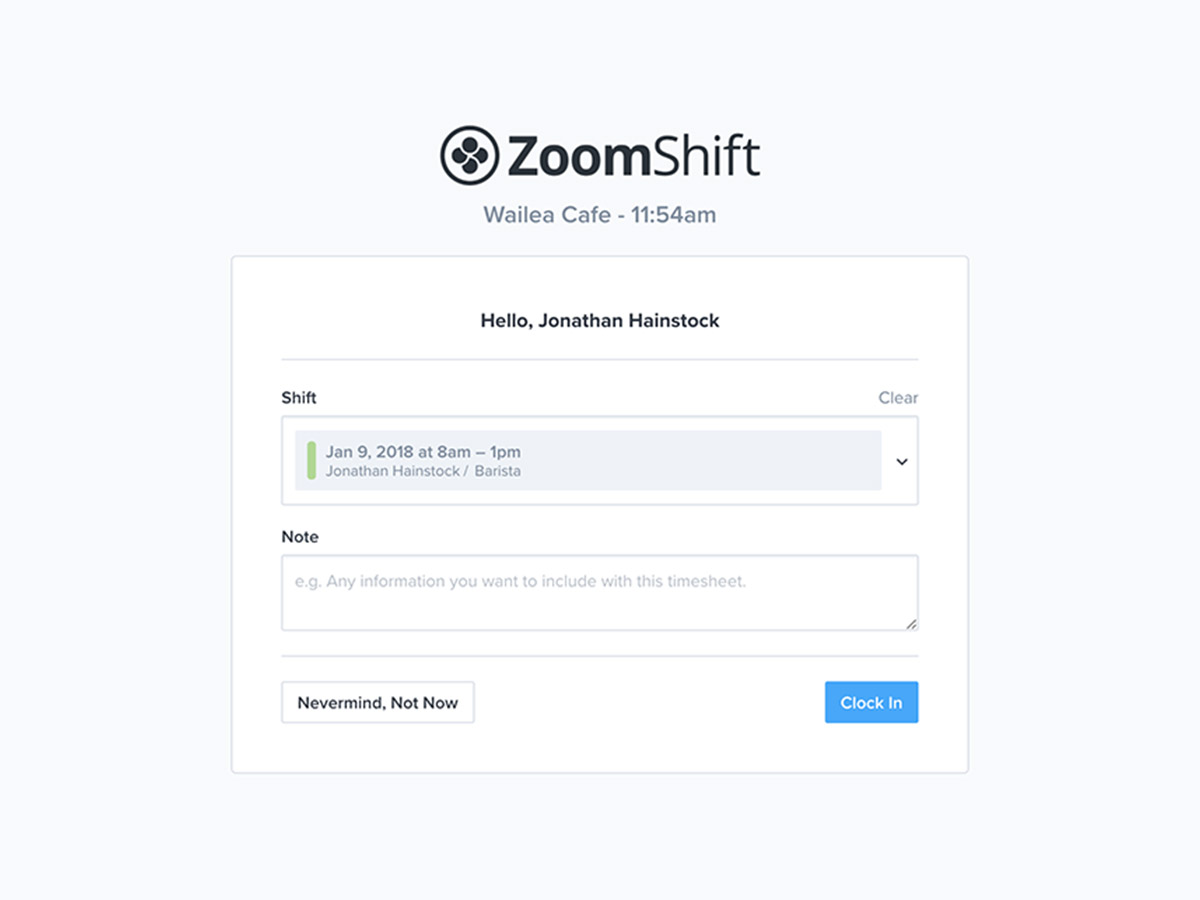 Punch the clock from anywhere.
Why have your time clock software attached to a wall or part of a clunky POS system when all of your employees have a super computer in their pocket? You and your employees will love how convenient it is to clock in with our work schedule & time clock apps.
Time Clocks for Everyone

Every employee already owns a time clock, just have them download the ZoomShift app. Punch in/out as employees switch jobs, shifts, or locations.

GPS Location

Always know if your employees are where they are supposed to be. See a map of when and where each employee clocked in and out.

Clock In Reminders

Employees will get notified if they forgot to clock in, and if they still haven't clocked in after a few minutes you will get notified as well. You'll always know that your workforce is running smooth.
Stay on track with attendance notices and reminders.
You can build the best schedule in the world, but it doesn't matter if your employees are not following it. Always know when an employee is late, missed a shift, or forgot to clock in.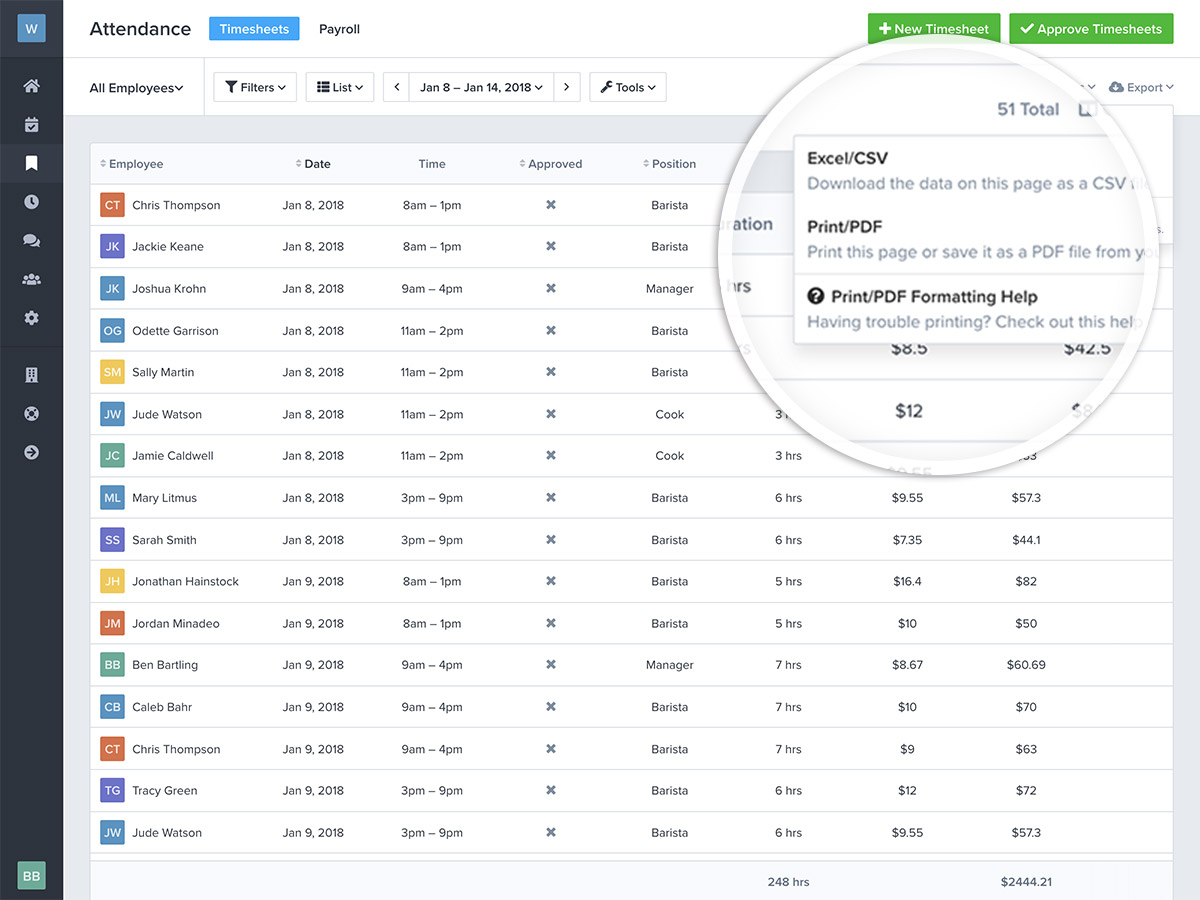 Export for Payroll

Approved timesheets are automatically piped into your payroll report. Export with a single click and then import into your payroll provider.

Overtime Calculations

We handle all of the complexity of weighted overtime calculations. Set your limits for daily and weekly overtime and relax knowing that you don't have to triple check the math.

Flexible Pay Periods

Run your payroll periods however you want. Weekly, bi-weekly, monthly, or bi-monthly it does not matter to us.
Reduce errors and have confidence in your payroll.
Watching your labor costs closely is key to the success of any business. Take the mystery out of your payroll reports and feel confident that your payroll numbers are accurate.
No Shows / Missed Punches

Easily see which employees have not showed up, clocked in late/early, or are clocked in but not scheduled. Start focusing on your business and stop taking role call.

Quick Fixes

Resolve any attendance errors right from your dashboard. You can clock other employees in/out, adjust timesheets, or even add someone to the schedule that you forgot about.

Performance Metrics

Load up your dashboard to see how your projections are matching up to actual worked time. Do you need to cut some employees early, or are you under budget today?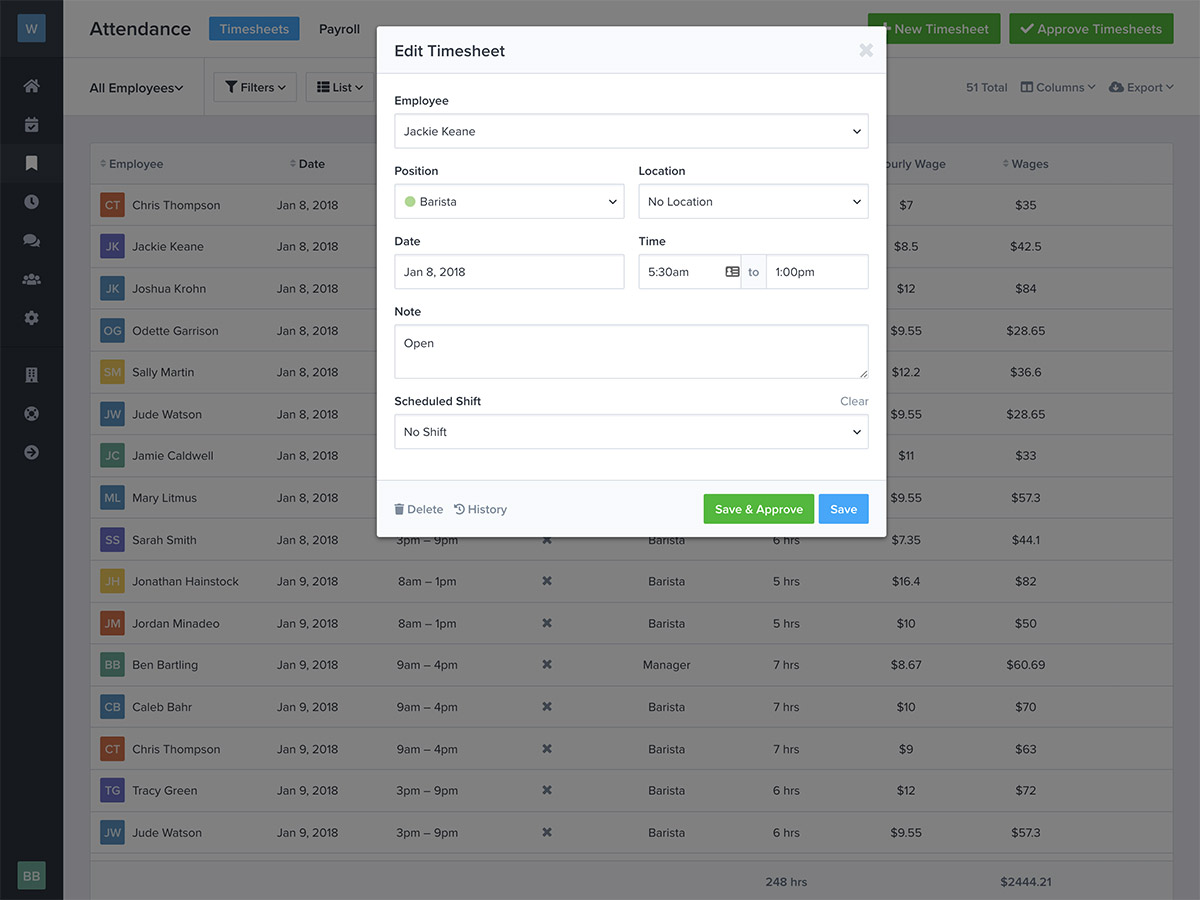 And much, much more.
With over a hundred powerful features, ZoomShift is the best way to schedule employees online.