Healthcare Scheduling Software
Mobility and freedom for the modern healthcare worker.
Anything you can do from your desk you can do on the go: Access your healthcare organization's schedule, communicate with colleagues, swap shifts, and log your hours.
Start Free Trial
Healthcare staff scheduling in a fraction of the time.
Schedules rarely stay the same, especially in the healthcare industry. Waiting rooms fill up, people call in sick, and your staff requires flexibility to handle their complex personal lives.
With ZoomShift's nextgen software solution, healthcare scheduling doesn't require hours of your attention so you can focus on patient care. You set the schedule, implement shift rules, and empower your staff to cover shift requests without you. Our self-scheduling is that easy.
All you have to do is set the first version, drag-and-drop shifts around to satisfaction, and send it out to the team. Save templates of your schedule to make next week or even next month's schedule even quicker.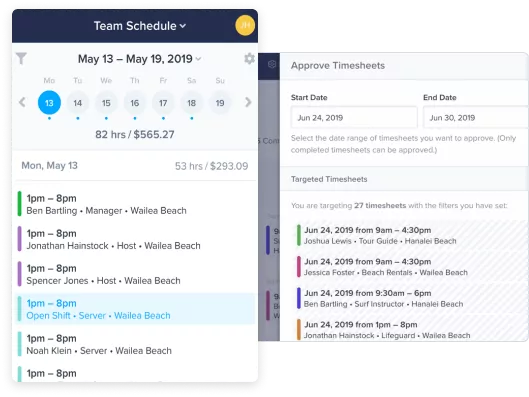 GPS time clock functionality for accurate time logging.
Staffing medical offices, medical practices, health systems, clinics, hospitals, emergency rooms, wellness centers, telemedicine practices, and mobile units are no easy feat. Proper staffing is a key to efficient practice management. It requires the right mix of people at the right place at the right time.
Thankfully, ZoomShift has a GPS time clock tool that gives you the confidence that your team is clocked in at the right time and the right location.
The best part? Your team can clock in from the web app or mobile app. Simply download ZoomShift on the Google Play Store for Android devices or the Apple App Store for iOS devices.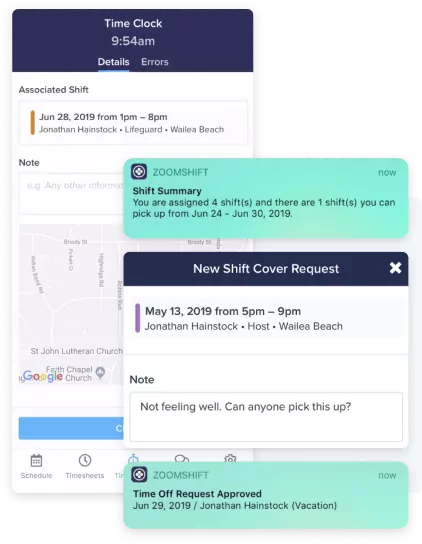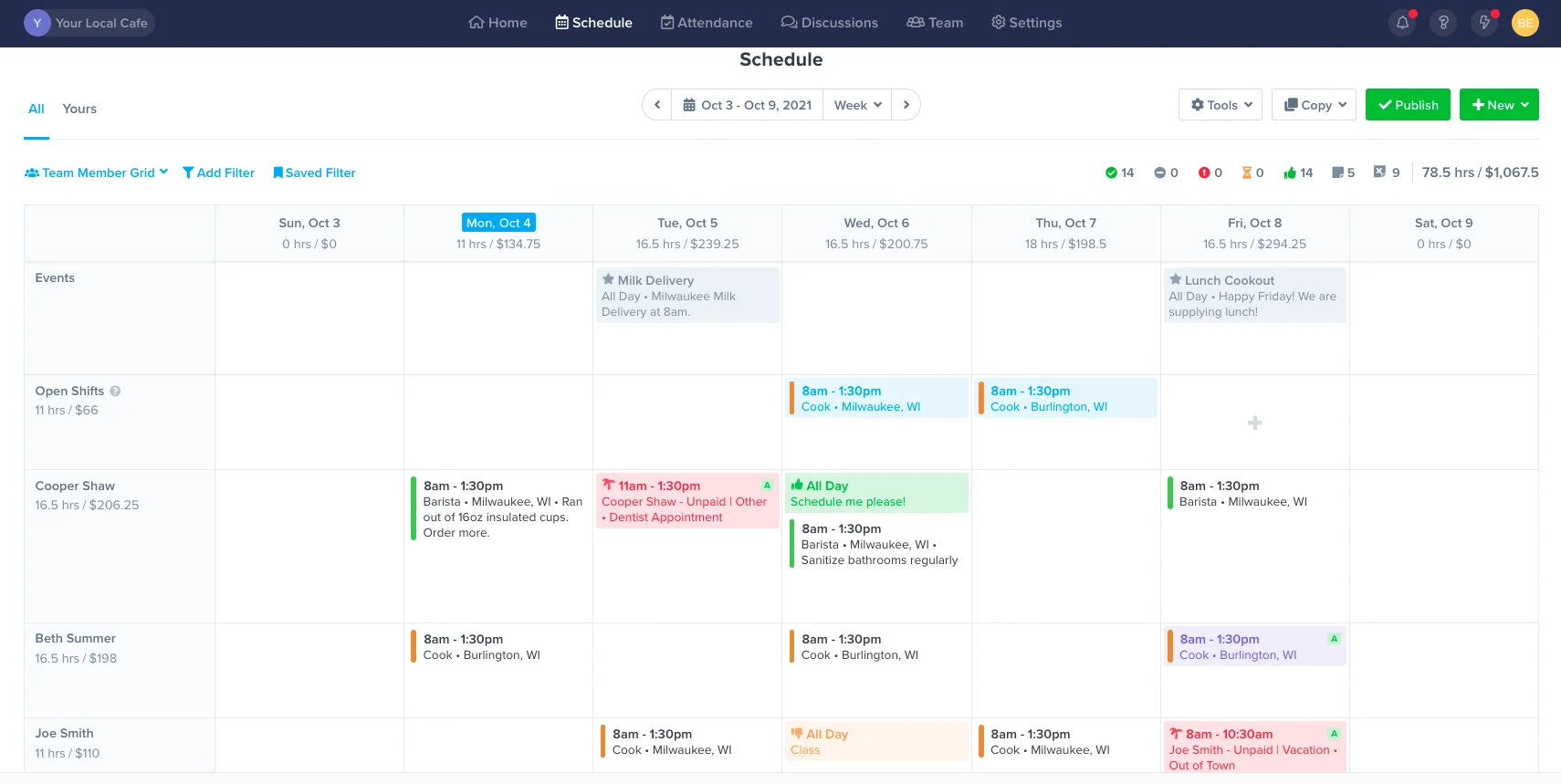 Streamline your healthcare staff scheduling.
Get everything you need in one place – availability preferences, time off requests, events, shift swaps. Use templates to build schedules, fast.
Copy work schedules

Use templates to schedule in minutes. Drag and drop shifts in place on the calendar.

Improve staff accountability

Share schedules via text message, push notification, and email. Automate reminders from team members so they are alerted before their shift starts.

Everything in one place

Invite your team to view their schedules, set their availability preferences, request time off, and pick up open shifts.

Track labor hours and dollars

Track labor to sales and keep an eye on overtime. Always stay in control of payroll costs.

Improve communication

Keep your team in the loop with event schedules, group chats, and direct messages.

Manage requests with ease

No more text messages or calls. Respond to shift swaps and time-off requests in one place.
Why do healthcare providers choose ZoomShift's staff scheduling software?
Seamless scheduling
The easy drag and drop scheduling tools let you create conflict-free schedules based on your hospital needs. As per the staff-to-patient ratios, create custom templates to use for daily, weekly, or monthly hospital schedules.
Eliminate human error
Streamlining the employee scheduling process and time tracking with ZoomShift helps managers stay on top of the labor budgets and cuts down on human error when calculating payroll. The managers save considerable man-hours and minimize human error.
Efficiently manage multiple locations
Our scheduling software seamlessly manages schedules across different locations and keeps you connected with your teams. Using filters, approve timesheets and run the payroll on the go. From a single dashboard, managers can communicate with employees across multiple teams at different locations.
Employee friendly scheduling
Empower healthcare workers with web and mobile apps to view and access their schedules from anywhere and anytime. Employees can request time off, swap shifts, pick open shifts or decline schedules, and communicate with their managers on the go in real-time from one single app.
Reduce employee cost
ZoomShift employee scheduling solution places worker schedulable and overtime hours limit. It helps forecast your labor costs while scheduling and preventing overtime expenses. It assists with shift swaps and any available shifts that need coverage. This reduces valuable time spent on finding team members to cover last minute shifts.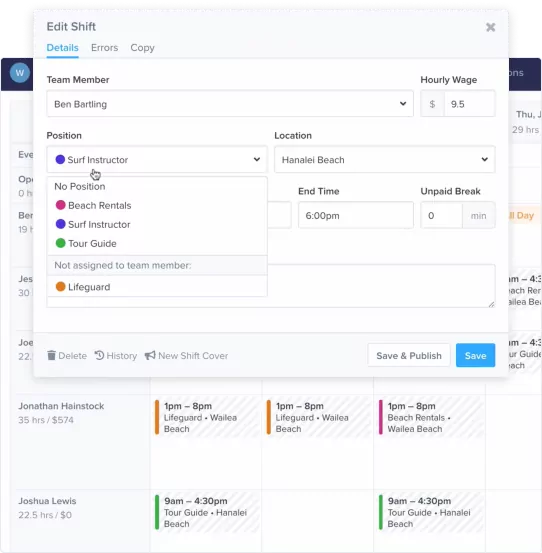 HEALTHCARE STAFF SCHEDULING SOLUTION
Frequently Asked Questions About Our Scheduling Software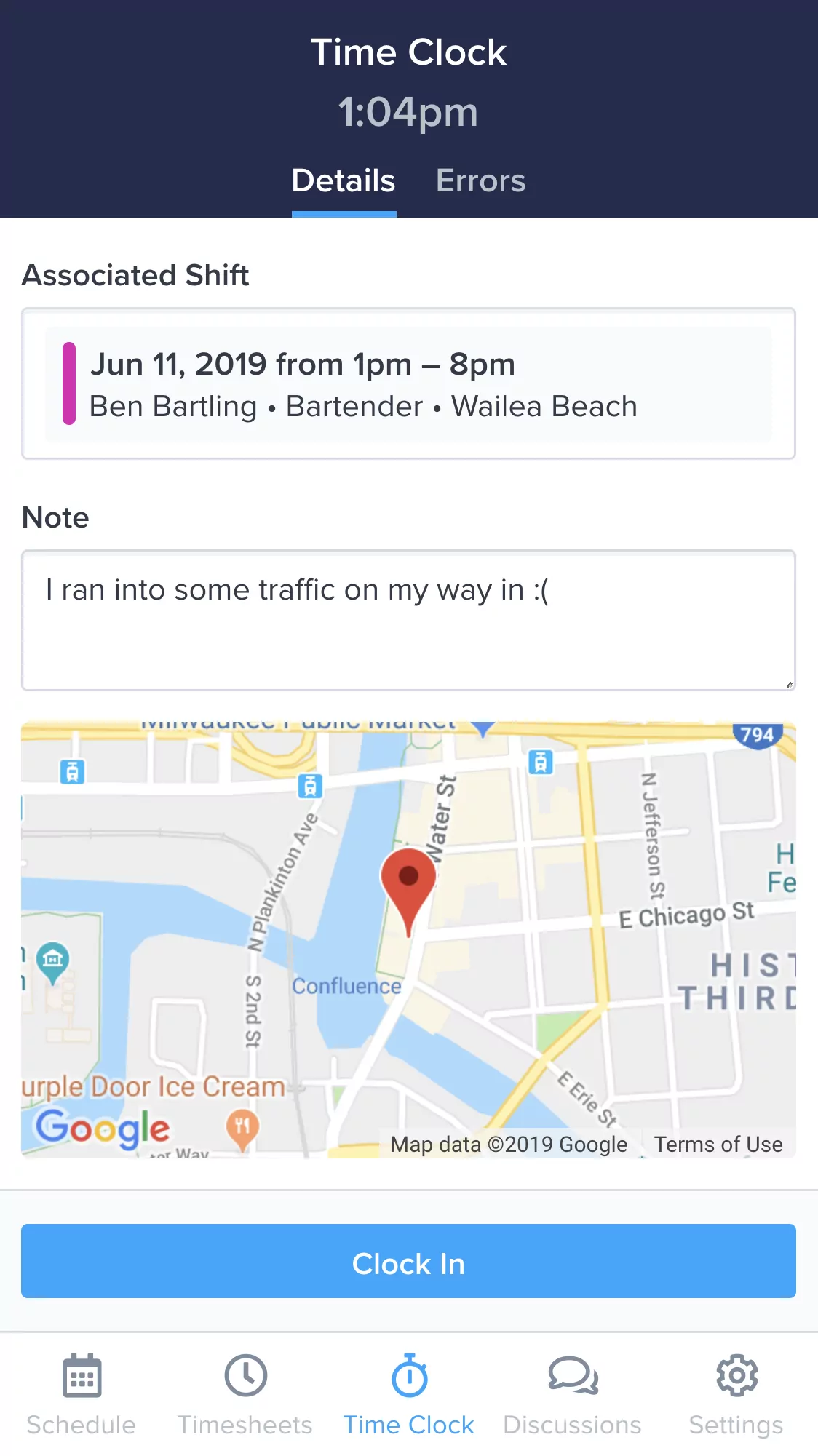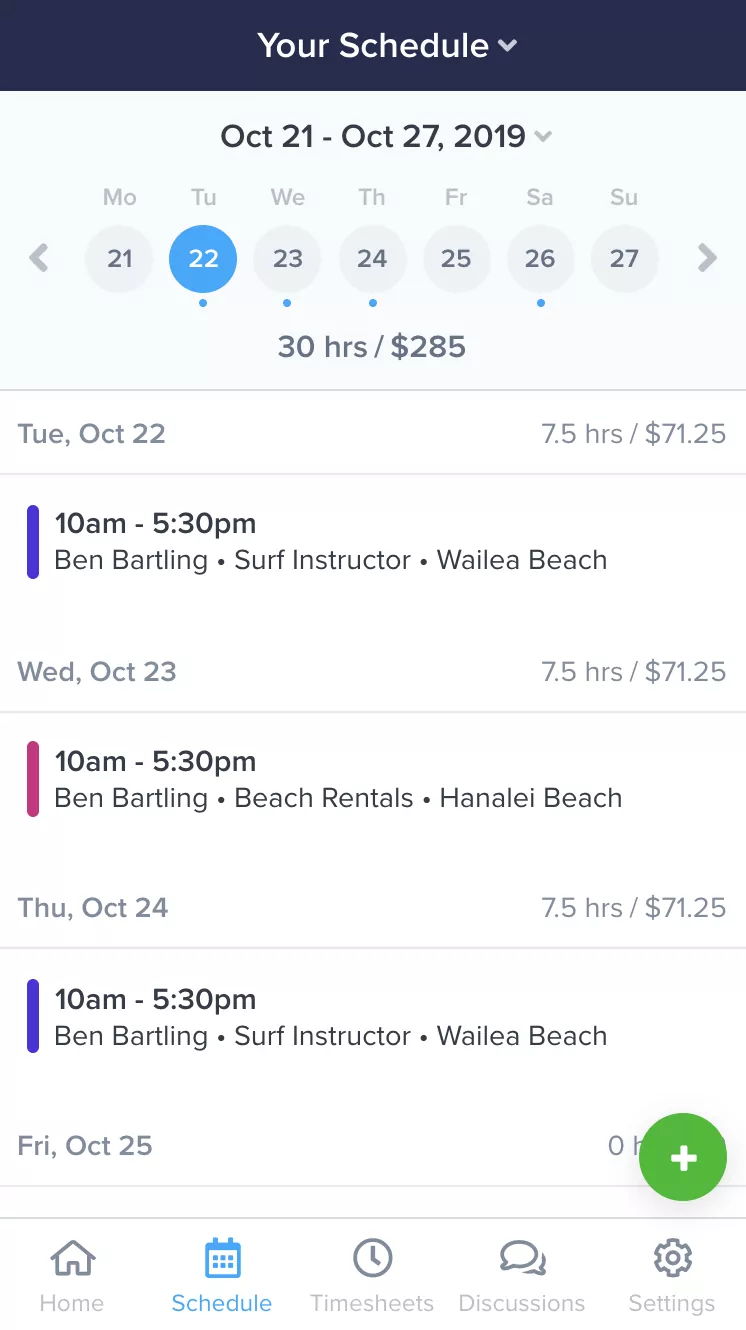 Everything you need to manage your team is in your pocket.
Make changes to the schedule and timesheets on the fly. Empower your team to collaborate anytime, anywhere. ZoomShift's mobile scheduling app is free for iPhone and Android keeping your team in sync and putting you at ease.
Learn More
Simplify your healthcare staff scheduling today.
Spend less time scheduling and more time investing in your team and business.
Start Free Trial