Employee Time Off Tracking Software
Comprehensive employee time-off tracking that gives you peace of mind.
Simple time-off tracking keeps your entire team on the same page.
Start Free Trial
TRUSTED BY 20,000+ BUSINESSES
Time-off tracking shouldn't be complicated
Built-in calculators designed to take the guesswork out of PTO balance tracking
Automatic PTO Accrual Calculation

ZoomShift's PTO calculator automatically tallies PTO balances based on how much each employee accrues over a given time period minus any used PTO.

Time-off Requests

Employee vacation tracking and time-off tracking are as simple as selecting the date and times requested along with an optional note.

Notifications when close
to Reaching Limit

Employee time-off tracking takes awareness to another level with its timely notifications. If any staff member is nearing their PTO limit, they'll get alerted.

Differentiate between Employees

Some employees accrue PTO at a higher rate based on role or tenure. ZoomShift helps you differentiate the two with its PTO accrual calculator.

Reassign Shifts

No time off tracker is complete without some added room for flexibility. If the need to reassign shifts pops up, you can easily assign the shift to another team member in seconds.

PTO Reports

PTO reports are especially handy for viewing employee PTO balances and any upcoming time off at a glance.
Book a Demo
Mobile App PTO Calculator
ZoomShift's employee vacation trackers have built-in calculators designed to take the guesswork out of PTO balance tracking. Not only do they streamline the time-off request process, but they also allow you to keep track of your time off balances on the go with the mobile app. You can review request PTO, make edits to existing requests, and review your time off balances on the app.
Download the ZoomShift app on the Apple App Store for iOS devices and on the Google Play Store for Android devices.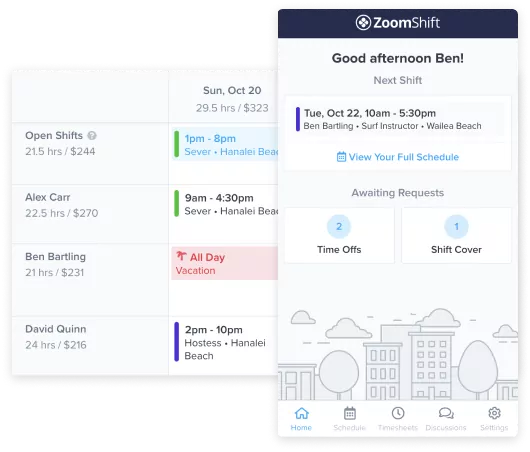 Save Time
Time-off tracking shouldn't be complicated, and thanks to ZoomShift, it isn't. Managers no longer have to stress over complex manual calculations or clunky spreadsheets. Employees can simply request time off on their work computers or directly from their mobile devices in seconds. Managers then get notified of requests instantly and can easily compare them to their existing balances and employee schedule to make informed decisions. When it comes time for reporting, managers also have the freedom to generate PTO reports that provide all the insights they need to keep operations running smoothly.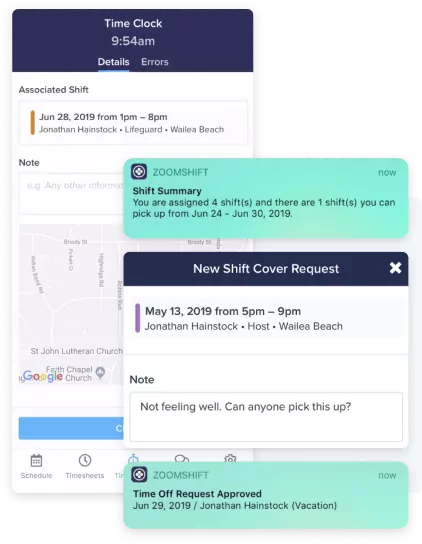 Zoomshift came into my life when I was totally overwhelmed with making and maintaining a schedule for my employees. Staff was submitting request off's and preferred work days, etc. and it got really hard to manage on a simple spreadsheet. I knew there had to be a more efficient scheduling process of doing this and another small business in town connected me with Zoomshift. I haven't looked back since! Shannon McCarthy
Zoomshift has become essential to easily managing our staffing and schedule. With about 90 employees, it's so important to have everyone connected and Zoomshift keeps us all on the same page. The developers are fabulous and absolutely interested in making the program work for us as a client. I can't imagine operating without it! Anne Long
This staff scheduling software has a lot of pros. First, it's very easy to add staff, to make schedules, and to copy schedules to the following pages. The fact it has an app is a huge advantage. Also, the summary of the hours each work is really important for us because we have caps of how much we can schedule each employee. Also, the notes are great! Alissa W.
I'm currently using this software solution for over 60 employees. It's incredibly user-friendly. I probably spend about 1-2 minutes explaining how the app's scheduling feature works and my employees pick up on it right away. In addition to being a great app, the creators of the app are wonderful. They're also very receptive to feedback. The versatility of this app is great and I think it works for a wide range of business models. I highly recommend using it! David Wise
Previous
Next
TIME OFF TRACKING
Frequently Asked Questions
Time off tracking for vacation time, personal time, holidays, sick leave, family leave, maternity leave, paternity leave, and jury duty are all easily tracked in ZoomShift by clicking +New on the Home Page or Schedule Page and selecting Time Off Request.
You'll enter your desired date, start and end times, and a note in the pop-up box. Once finished, you'll click Save & Approve. Managers will see the request and either approve and deny your request.
Under Settings in the main menu, you'll find the Time Off Requests sub-menu. In the menu, you'll find Time Off Request settings such as requiring supervisor approval, locking approved/denied requests, time off visibility settings, and request notice settings.
ZoomShift has the perfect plan for all your time-off tracking needs with our
Starter, Premium, and Enterprise solutions
. Prices differ depending on which package you choose and how many active staff members are using the program each month.
---
Popular Articles from the ZoomShift Blog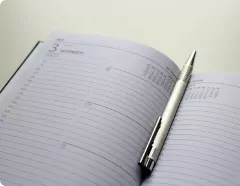 Inevitably, your employees are going to want some time off here and there, whether it's for personal errands or vacation time. But how do you handle a time off request? You want to be fair, but you also don't want to be left in a lurch. You need to be able to count on your team being present to help you run your business.
Time-off tracking shouldn't be complicated
Built-in calculators designed to take the guesswork out of PTO balance tracking
Book a Demo