Ditch Excel, there's a better way to schedule.
Employee scheduling software made simple. Use ZoomShift to reduce the time you spend making schedules and communicating with your staff.
Build the perfect schedule everytime.
We set out to build a schedule maker that we would actually enjoy using. This meant it had to be quick, intuitive, flexible for different types of businesses, and well designed. Countless iterations later we've landed on a version that sets a new standard for employee scheduling software.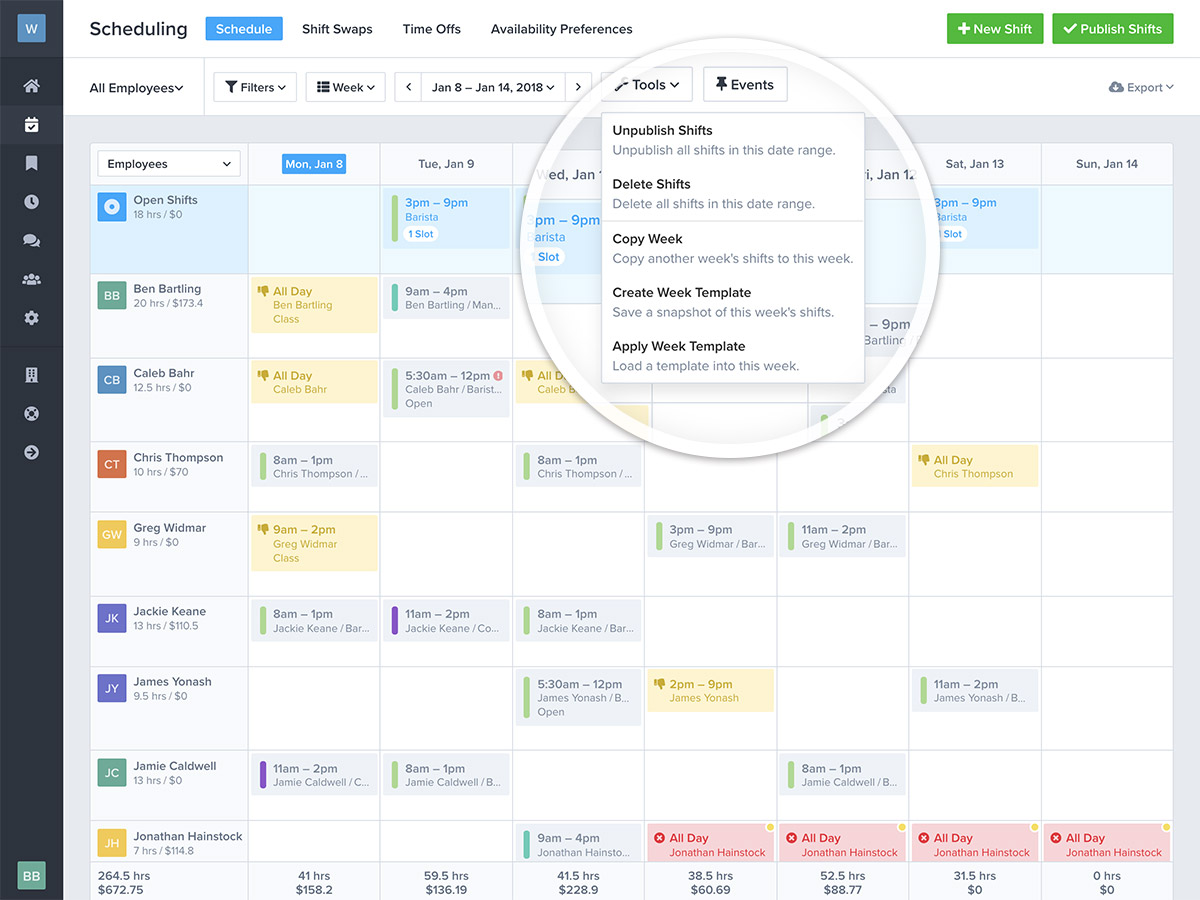 Flexible Views

Choose between day, week, or month, and filter your schedule hundreds of different ways. Find your perfect view.

Realtime Budgeting

Forget about those spreadsheet formulas! Hour and wage totals are calculated on the fly as you build your schedule.

Schedule Templates

No need to reinvent you schedule every week? Build up a library of schedule templates that you can apply with one-click.

Conflict Warnings

You do your thing, and we will let you know when something is awry with your schedule. Never miss a shift conflict again.
Foster communication with your employees.
Scheduling is all about communication. Getting next week's schedule to your employees is just the first step. Having an easy way to communicate about schedule changes is crucial to managing any group of employees. Your employee scheduling software should simplify communication - not just add more steps.
Mobile Notifications

Your employees can get notified via mobile push notifications, email, or text messages. They will always be in-tune to the schedule.

Shift Reminders

No more excuses for missed shifts. You can send automatic reminders to your employees before they are scheduled to work.

Notification Settings

Each employee can customize their notification settings. Get notifications for the things you care about, and put the rest on silent.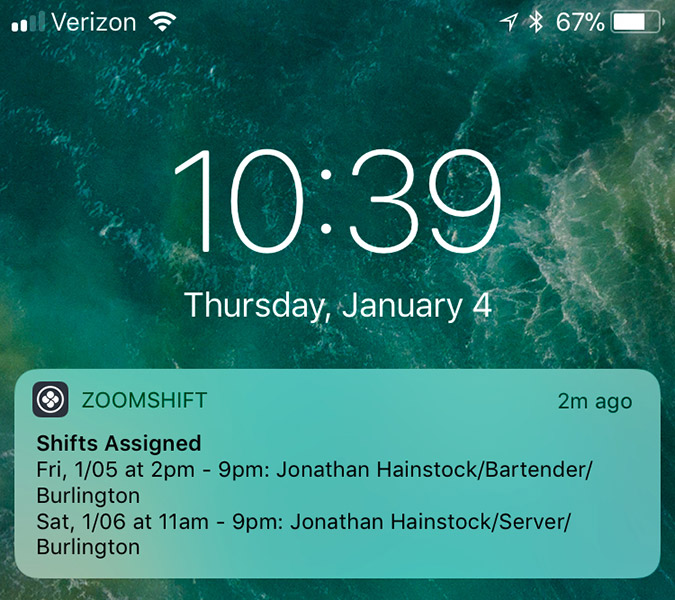 Track employee availability - no sticky notes required.
Stop juggling employee requests in your head. Keep all availability requests organized and tracked for compliance in your employee scheduling software. Most importantly, see all of them right where they belong - on the schedule.
Recurring Availability

Set availability preferences that roll from week to week. Perfect for setting an employees typical availability.

Time Off Requests

Ditch your old school time off binder. Track all your employee time off requests in one easy-to-use system.

Approve or Deny Requests

Allow your employees to submit time off requests, and all you have to do is approve or deny them with one click. Your employees will be notified when their requests updated.

Layered on the Schedule

View recurring availability and time off requests right on the schedule. You can even approve or deny requests right on the schedule as you move shifts around.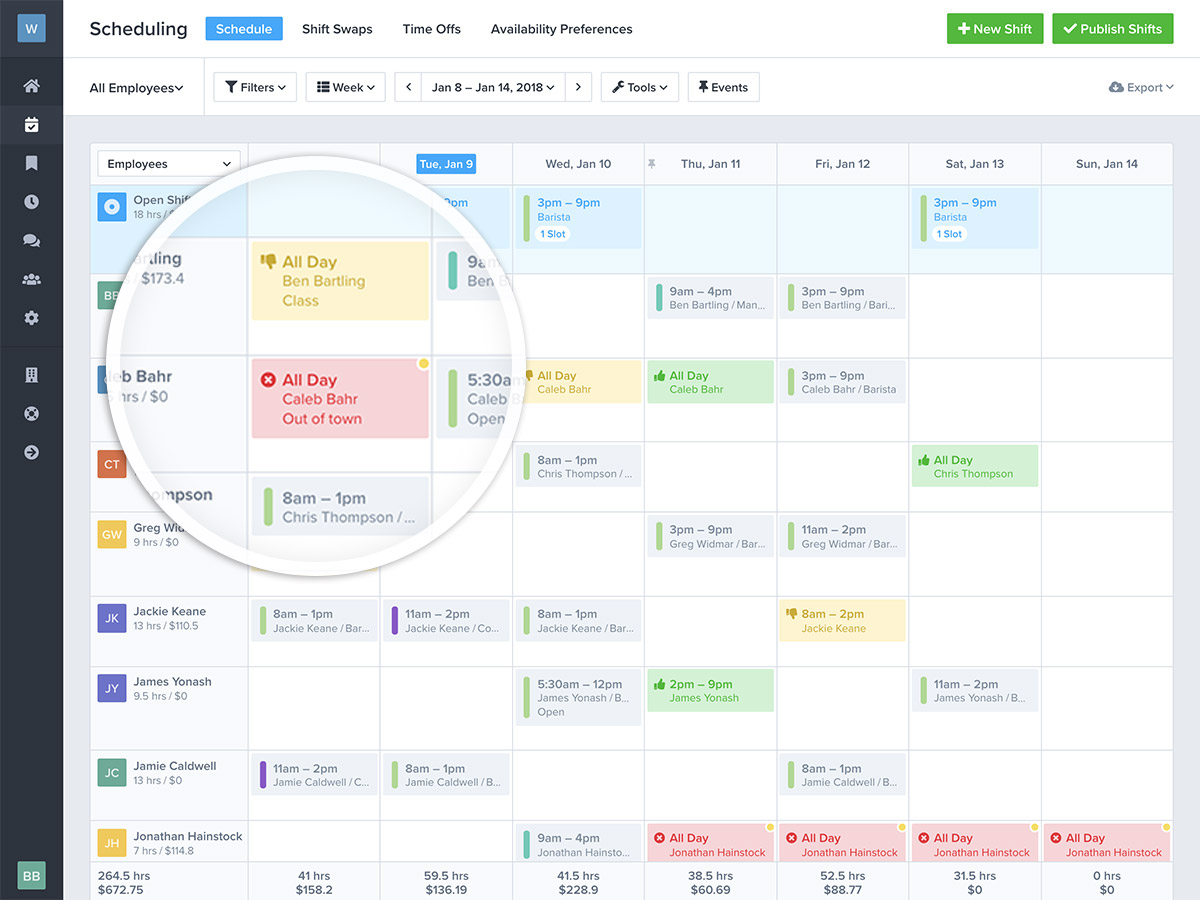 Empower your employees to swap shifts.
The days of email chains, group text messages, and last-minute freak outs are over. Using our shift swapping platform means less headaches for you, less uncovered shifts, and happier employees. This is a true win-win for managers and employees.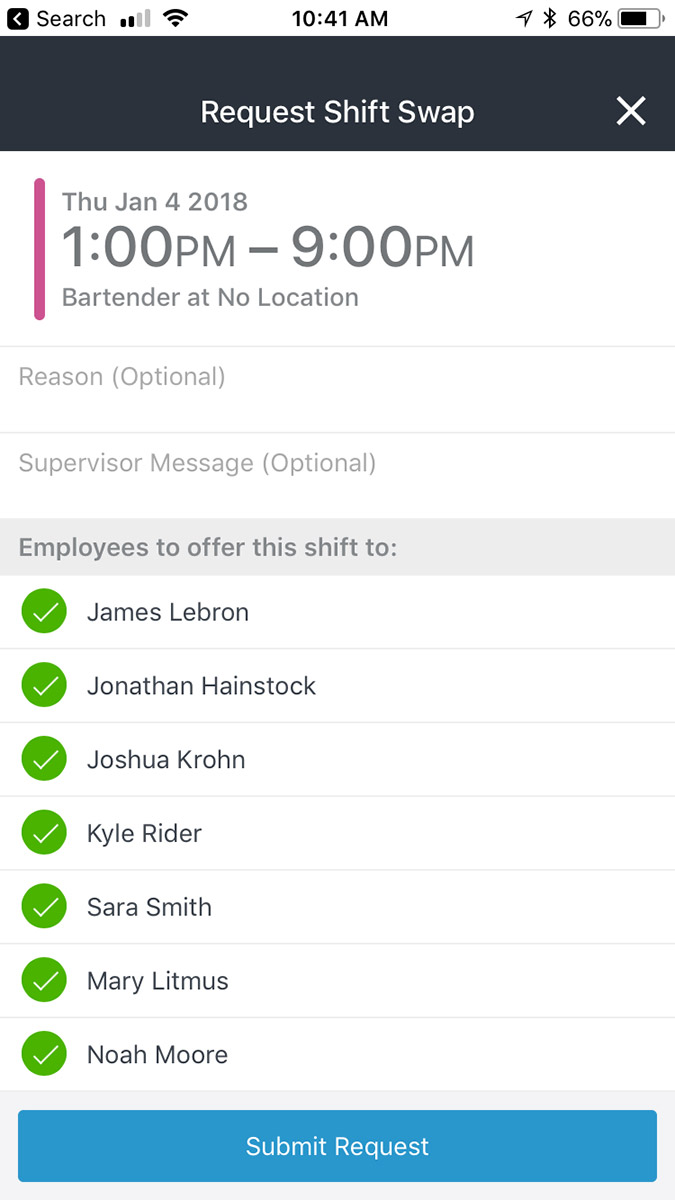 Simple Steps

We've worked to make this as simple as possible. An employee can initiate a swap with a group of eligible employees. Those employees can then offer to take the shift. A manager can then approve or deny the swap.

Employee Self-Service

Employees can inititate shift swaps from our mobile apps or from their web dashboard. Within minutes they can have coverage for their shift.

Manager Oversight

In the end, you have final say, but before that you don't have to lift a finger. Let your employees figure out shift swaps before you get prompted to approve or deny them.

Shift Accountability

No more pointing fingers. All shift swaps are recorded for compliance. You will always know who was supposed to work no matter how many times a shift got traded.
Start "zooming" through your schedule in no time.
Stop wasting time scheduling. It takes our average user less than 30 minutes to get fully acquainted with ZoomShift. After the initial setup you will be saving time and headaches every week!
Fast Setup

Nothing to install, no confusing settings, and our interface is dead simple to use. You will be a pro in no time at all.

24/7 Full Access

Access your employee schedule and timesheets from any device at anytime. Feel what it's like to be free from your desktop schedule.

Quick Employee Onboarding

Invite your employees into your schedule with one-click. Sit back and relax as they create accounts and start making your job easier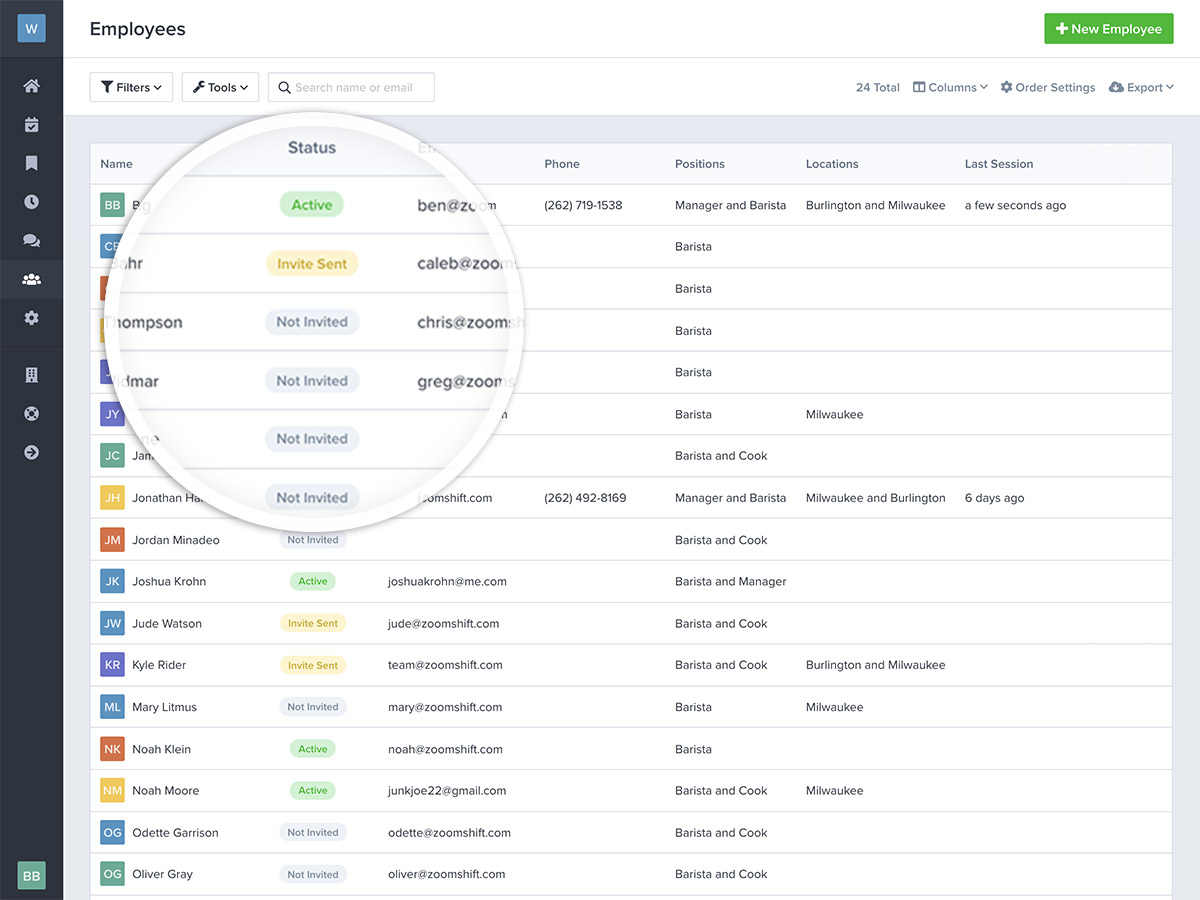 And much, much more.
With over a hundred powerful features, ZoomShift is the best way to schedule employees online.