Best Employee Scheduling Software
Employee scheduling software designed for hourly employees.
Create employee schedules in minutes, improve staff accountability, and reduce your labor costs.
Start Free Trial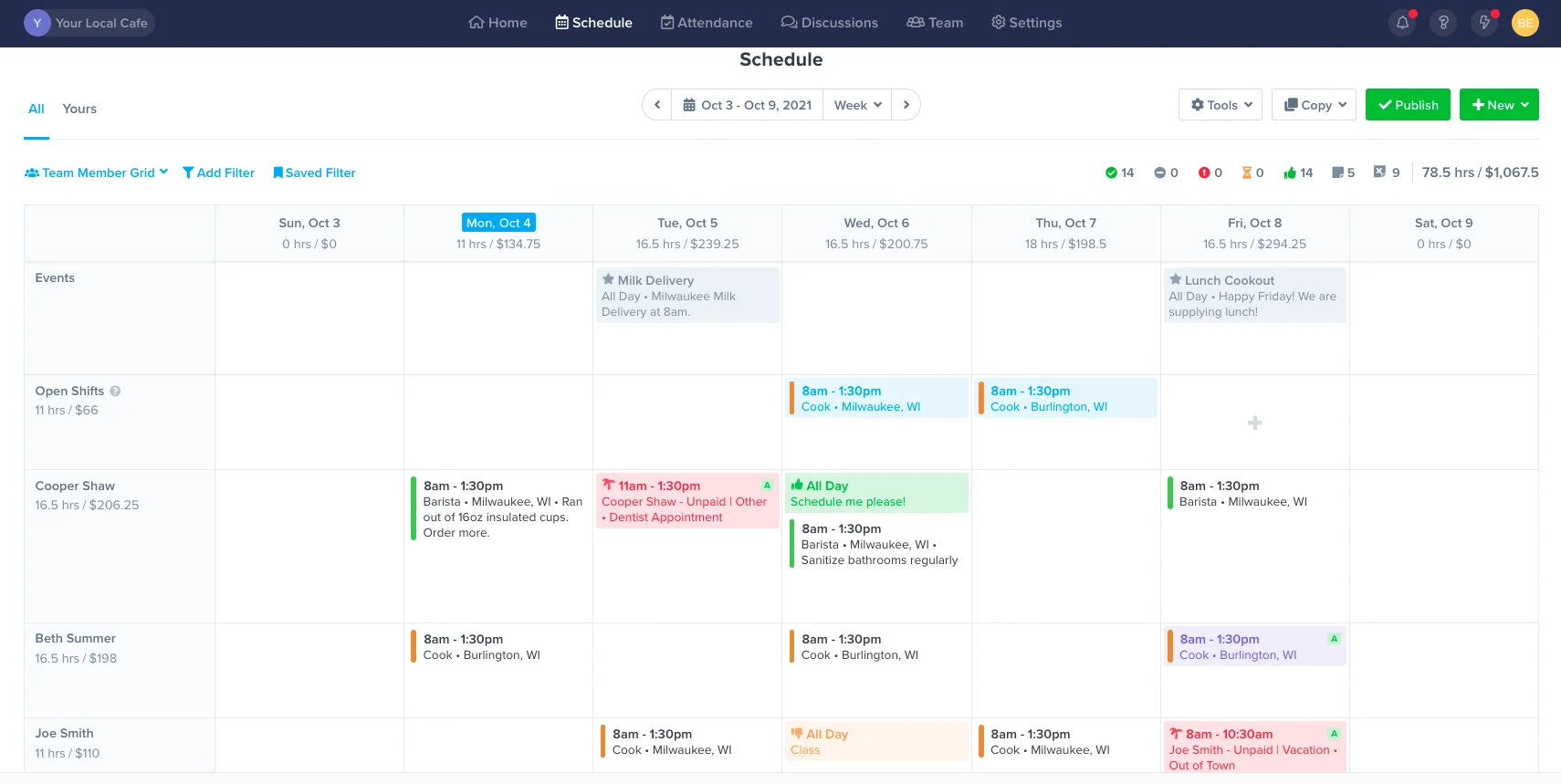 Schedule employees in minutes, not hours.
Ditch your spreadsheets, and gain total control of your work schedule.
Copy work schedules

Use schedule templates to schedule in minutes. Drag and drop shifts in place on the calendar.

Improve staff accountability

Share schedules via text, push, and email. Automatically remind team members before their shift starts.

Everything in one place

Invite your team to view their schedules, set employee availability preferences, request time off, and pick up open shifts.

Find replacements in seconds

Find a shift replacement when someone calls in. Select available team members assigned to the right position and location.

Always be covered

Empower your team to swap shifts. No more calling down a list. Notify your team with open shifts when you need extra help.

Get help with the schedule

Add supervisor and manager permissions to help respond to time off requests and make shift changes.

Track labor hours and dollars

Track labor to sales and keep an eye on overtime. Always stay in control of payroll costs.

Improve team communication

Keep your team in the loop with event schedules, group chats, and direct messages.

Manage requests with ease

No more text messages or calls. Respond to shift swaps and time off requests in one place.
Zoomshift came into my life when I was totally overwhelmed with making and maintaining a schedule for my employees. Staff was submitting request off's and preferred work days, etc. and it got really hard to manage on a simple spreadsheet. I knew there had to be a more efficient scheduling process of doing this and another small business in town connected me with Zoomshift. I haven't looked back since! Shannon McCarthy
Zoomshift has become essential to easily managing our staffing and schedule. With about 90 employees, it's so important to have everyone connected and Zoomshift keeps us all on the same page. The developers are fabulous and absolutely interested in making the program work for us as a client. I can't imagine operating without it! Anne Long
This staff scheduling software has a lot of pros. First, it's very easy to add staff, to make schedules, and to copy schedules to the following pages. The fact it has an app is a huge advantage. Also, the summary of the hours each work is really important for us because we have caps of how much we can schedule each employee. Also, the notes are great! Alissa W.
I'm currently using this software solution for over 60 employees. It's incredibly user-friendly. I probably spend about 1-2 minutes explaining how the app's scheduling feature works and my employees pick up on it right away. In addition to being a great app, the creators of the app are wonderful. They're also very receptive to feedback. The versatility of this app is great and I think it works for a wide range of business models. I highly recommend using it! David Wise
Previous
Next
Get everything in one place.
Building employee schedules can be chaotic. Things can slip through the cracks – staff availability preferences, time off requests, last minute call-ins.
ZoomShift's employee scheduling software keeps it all in one place.
View employee availability, time offs, shift swaps, and events from one place.
Create schedules by day, week, and month.
Copy schedules weekly and apply templates.
Improve staff accountability.
Dealing with no-shows and late employees is stressful. He said. She said. Communication gets lost in multiple systems.
ZoomShift holds everyone accountable by being the single source of truth.
Give your team 24/7 access to the schedule online and with free iPhone and Android apps.
Keep your staff informed when the schedule changes by sending email, text, and push notifications.
Automatically remind team members before their shift starts.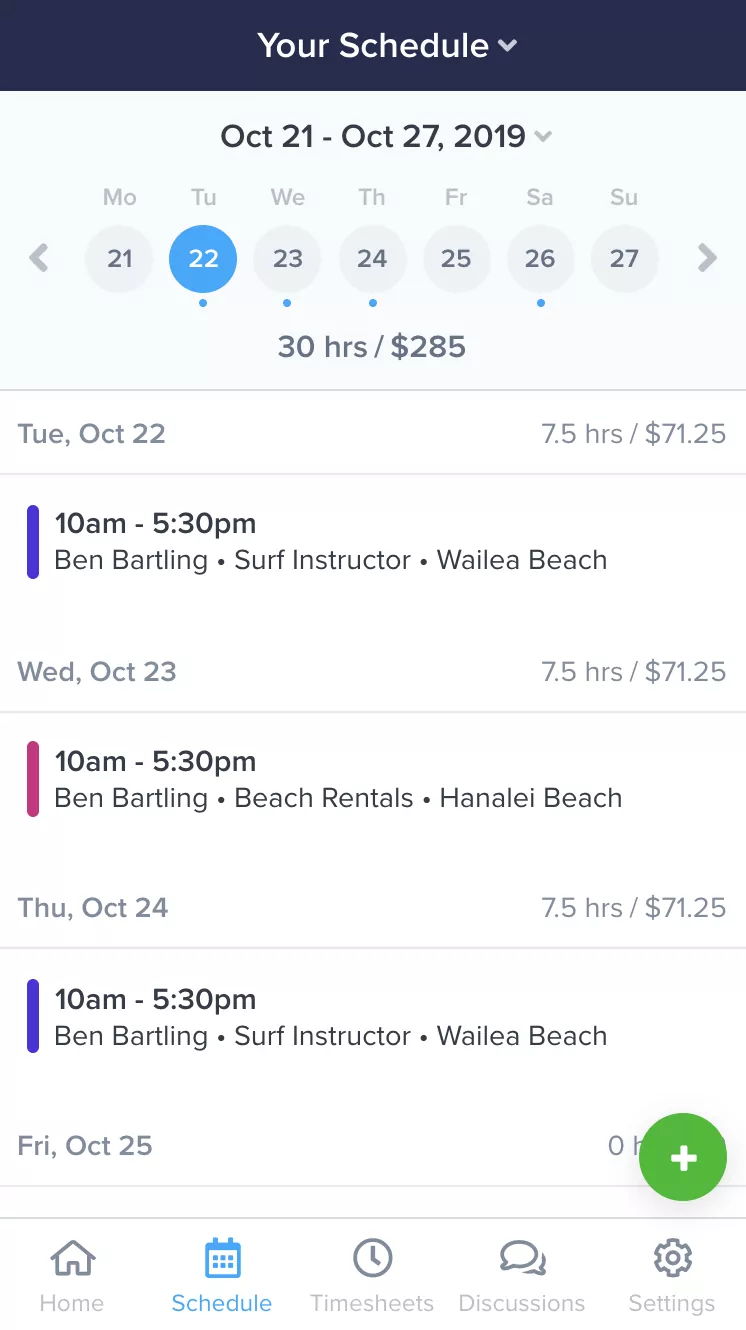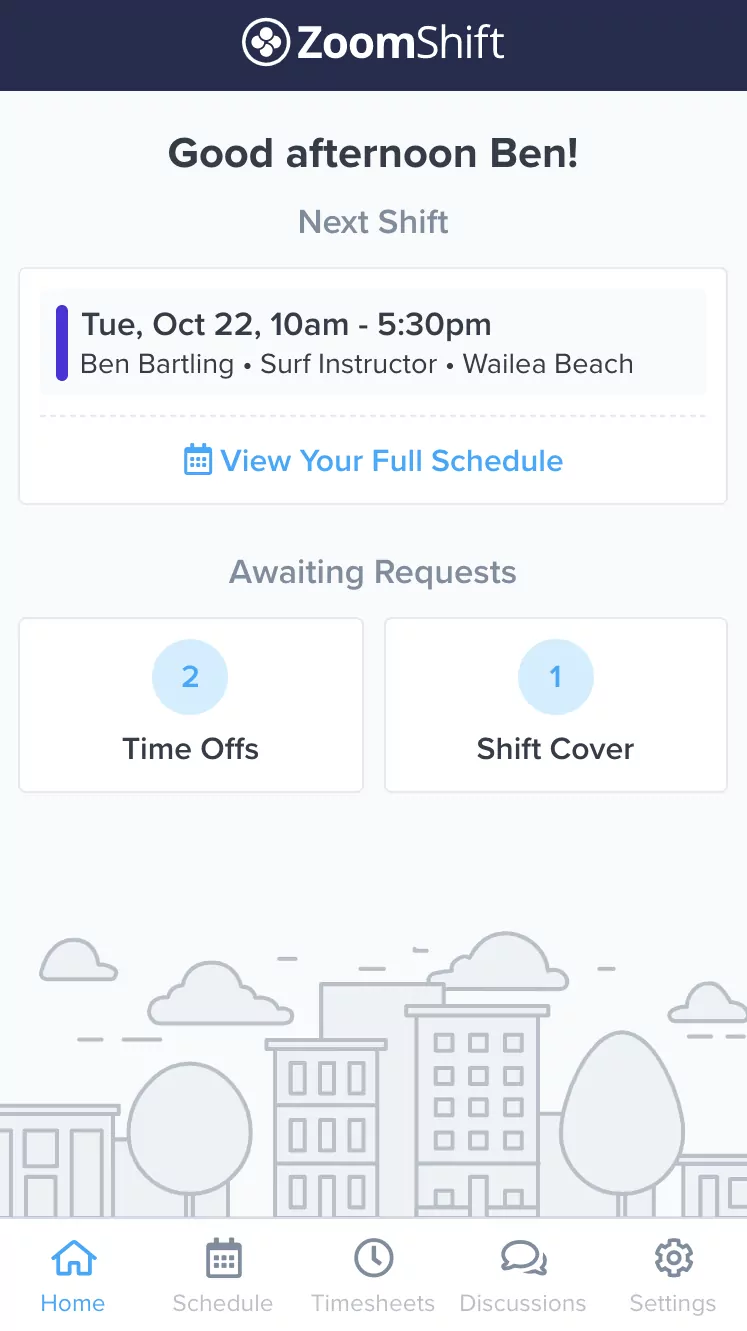 Employee Scheduling Benefits
ZoomShift is employee scheduling software at its finest.
ZoomShift provides clarity when your team needs it most. With the online employee scheduling, you'll get real-time views of the team's schedule and can easily make changes on the fly. Here are a few added benefits you can expect with ZoomShift:
Streamline Employee Scheduling
Time tracking is easier than ever with ZoomShift since the scheduling calendar is integrated with both the time clock and timesheets.
Leverage schedule templates to fill shifts in minutes, not hours.
Speed Up Payroll Processing
Effortlessly export timesheets where needed so you can import them directly into your payroll software. The tight payroll integration makes tracking scheduled labor costs vs. actual costs a breeze.
Quickly Find Replacements
Keep your workforce attendance at full capacity with convenient shift reminders via text, push, and email notifications. The all-in-one workforce management app makes filling vacant shifts a painless process free of endless list dialing.
Enlist Reinforcements
Adding other supervisor and manager roles can help you ease the burden of staff scheduling, covering shifts, and running payroll. The ZoomShift empowers your staff to stay on top of their schedule and help with shift coverage where necessary.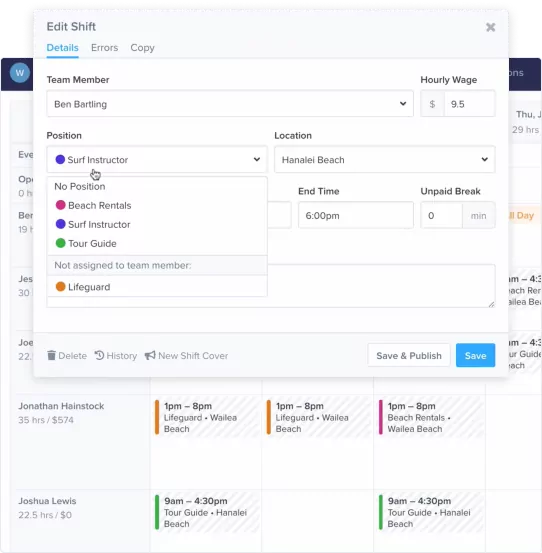 Mobile App
ZoomShift is a cloud-based employee scheduling software that's accessible from your desktop computer, laptop, tablet, or mobile device. Managers and employees both reap the benefits of ZoomShift's employee scheduling app on-the-go with capabilities ranging from clocking in and out to editing timesheets and picking up schedule shifts.
Pick up the ZoomShift mobile app on the Google Play Store for Android devices or the Apple App Store for iOS devices.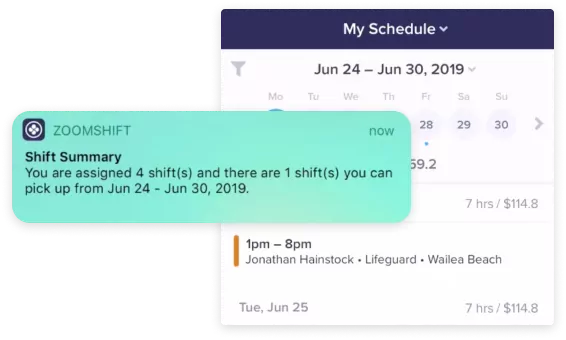 Other Zoomshift Features
Make work schedules, track time, and improve team communication.
Employee Scheduling App
Frequently Asked Questions
Who uses ZoomShift for Employee Scheduling?
Here are just a few industries that find ZoomShift's employee scheduling feature useful:
---
Simplify your staff scheduling today.
Spend less time scheduling and more time investing in your team and business.
Book a Demo