Employee Shift Swapping Software
Leave no shift uncovered with the shift swapping power of ZoomShift.
Less back and forth and more getting things done.
Start Free Trial
TRUSTED BY 20,000+ BUSINESSES
Ditch the leg work of shift swapping with instant notifications
No more calling down a list for cover
Reduce Employee Turnover

Keep your employees happy by empowering them to swap shifts without you. No more waiting for approval or calling down a list. Just flexibility and trust.

Mobile App Easy to Use

ZoomShift makes it easy to keep track of your schedule and swap shifts on the go.

Notifications

Ditch the leg work of shift swapping with instant notifications. The moment a shift request goes out, every qualified team member capable of covering gets notified. A second notification out when the shift gets covered. It's that easy.

Insert Notes with Requests

Sometimes, a little context for shift swapping goes a long way. With ZoomShift, you always have the option to bring attention to special shift circumstances or the reason you need it covered in the first place.

Ensure enough staff at all times

The advanced notification system will keep everyone in the know at all times, and managers have a birds-eye view over the shift schedule to see at a glance what shifts are covered and which aren't.

Overhead Costs

Labor cost forecasting and the ease of scheduling shifts month in advance means you can plan costs months ahead of time and make more informed decisions.
Book a Demo
Save Time and Effort
With ZoomShift, shift swaps are managed in-app, which means no fumbling with clunky spreadsheets or calling down a list. You set the schedule, and your employees request changes. When requests pop up, or issues arise, you're alerted, so nothing falls through the cracks. If notifications aren't enough, the built-in schedule calendar provides full visibility to which employees have open shift requests, what shifts were picked up, and which ones were denied. It doesn't get much easier than that.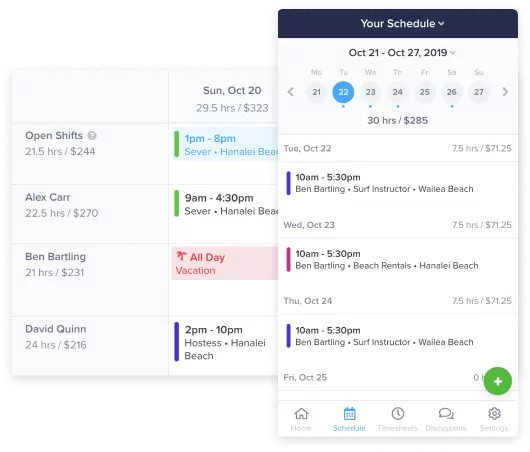 Employees can Swap Shifts in App
Shift trades in ZoomShift are a win-win for managers and employees alike. Employees benefit from the autonomy of covering their own shifts when the needs arise. Feeling sick? Last-minute errand pop up? No sweat. There's no need to run to your manager or call down some endless list. All you do is pop open ZoomShift on the web app or mobile app, select the shift, add in a note, and offer it up to anyone or specific team members. In no time, you'll have shift swap offers rolling in to accept or deny, and all the changes are logged for you on the schedule.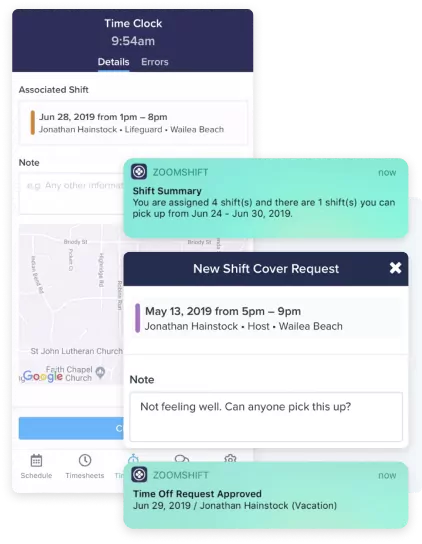 Zoomshift came into my life when I was totally overwhelmed with making and maintaining a schedule for my employees. Staff was submitting request off's and preferred work days, etc. and it got really hard to manage on a simple spreadsheet. I knew there had to be a more efficient scheduling process of doing this and another small business in town connected me with Zoomshift. I haven't looked back since! Shannon McCarthy
Zoomshift has become essential to easily managing our staffing and schedule. With about 90 employees, it's so important to have everyone connected and Zoomshift keeps us all on the same page. The developers are fabulous and absolutely interested in making the program work for us as a client. I can't imagine operating without it! Anne Long
This staff scheduling software has a lot of pros. First, it's very easy to add staff, to make schedules, and to copy schedules to the following pages. The fact it has an app is a huge advantage. Also, the summary of the hours each work is really important for us because we have caps of how much we can schedule each employee. Also, the notes are great! Alissa W.
I'm currently using this software solution for over 60 employees. It's incredibly user-friendly. I probably spend about 1-2 minutes explaining how the app's scheduling feature works and my employees pick up on it right away. In addition to being a great app, the creators of the app are wonderful. They're also very receptive to feedback. The versatility of this app is great and I think it works for a wide range of business models. I highly recommend using it! David Wise
Previous
Next
SHIFT SWAP
Frequently Asked Questions
From the Home or Schedule screen, click on the shift needing coverage and click Create Shift Cover Request. From there, you'll see a pop-up box prompting you to enter any pertinent notes and a couple of options around offering it to everyone or specific team members. Click Create at the bottom when you're done. Everyone specified in your request gets a notification, and as soon as someone picks up your shift in the app, you'll get notified of the successful transfer.
On the backend, management has a couple of settings they can toggle to customize ZoomShift's shift swapping experience to suit their needs. One is enabling shift cover requests so that staff can generate the shift swap from their end. The other is whether manager approval is required or not. The rest is on autopilot.
ZoomShift's shift swapping software makes shift trading easy by including it in all the pricing packages, including our
Starter, Premium, and Enterprise solutions
. The exact pricing will vary based on which package you choose and how many active employees are using the program monthly.
---
Popular Articles from the ZoomShift Blog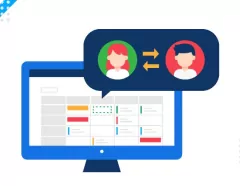 If you're a manager, then you probably know firsthand how frustrating and time consuming filling a shift can be. When an employee isn't able to make one of their shifts, it inevitably means calling an entire list of other employees to see...
Ditch the leg work of shift swapping with instant notifications
No more calling down a list for cover
Book a Demo