JD Spinoza

JD Spinoza

JD enjoys teaching people how to use ZoomShift to save time spent on scheduling. He's curious, likes learning new things everyday and playing the guitar (although it's a work in progress).

Aug 17, 2021
How To Manage Paid Time Off For Hourly Employees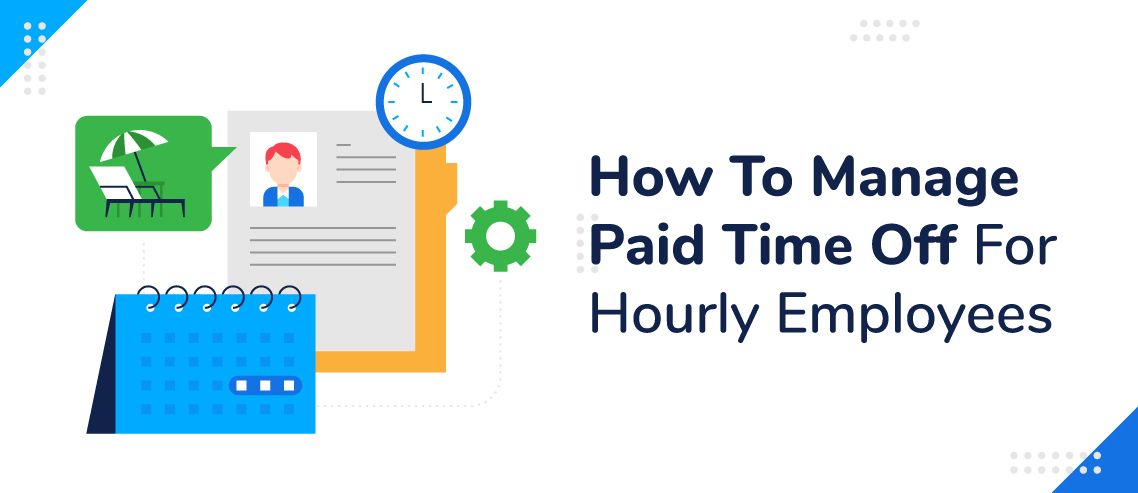 It can be hard to know whether to give your employees paid time off or unpaid time off.
But if you've decided to offer paid time off, then there are certain things you should consider and be aware of.
Let's explore how to handle paid time off for hourly employees.
What Does A Paid Time Off Policy Look Like?
There's no need to reinvent the entire wheel.
If someone's done it, chances are it already exists, and a paid time off policy is no exception.
While you will want to tailor yours to your specific circumstances, you can use other sample paid time off policies as a starting point for developing your own.
Check out Sample Paid Time Off Policy via The Balance to see what a policy like this might look like.
The 5 Types Of Paid Time Off
The five types of paid time off used by businesses include:
1. Sick time: If an employee is sick, or they're caring for a family member who's sick, they would take time off to deal with it.
2. Vacation time: Time an employee spends away on a trip. Vacation time may also be used when they have an emergency to deal with.
3. Personal holidays: Personal days can be used by employees for religious holidays, birthdays, anniversaries, or other emergencies.
4. National holidays: Days when your business is closed (such as during Christmas or New Year's Day).
5. Bereavement leave: This can be used when an employee's immediate family member passes away.
Should I Provide Paid Time Off For All Of The Above Scenarios?
In general, you are not required to provide paid time off for every contingency unless you're working with a union. Collective bargaining agreements may require you to provide paid time off in a variety of capacities.
Paid sick leave is perhaps the most important category, since many cities and states have laws requiring it.
If you have more than 50 full-time employees, then you are also subject to the Family and Medical Leave Act (FMLA). This act requires you to provide unpaid time off for medical reasons. Also, note there are many states that have other requirements you must abide by.
Paid time off is a good benefit for your employees, and many companies opt to provide it for sick leave and vacations. Retaining your key talent is something you should be thinking about as you put a policy like this in place.
In summary, on a federal level, you are not required to provide paid time off. But there are state and municipal laws that may require you to implement it.
Remote Team Members & PTO
These days, many companies are working with remote teams. This is another key consideration, as you will need to follow laws local to your remote workers too.
City and state laws usually address sick leave and accrued PTO pay. You can study up on state and city sick leave laws here.
Accrued PTO is where you would be required to pay out leave that the employee hasn't used and accrued in a situation where you're considering letting go of them.
Use a PTO Software
ZoomShift offers simple time-off tracking that keeps your entire team on the same page. With our built-in calculators designed to take the guesswork out of PTO balance tracking.
Requesting paid time off couldn't be any easier for employees. They simply have to put in a time off request in the mobile app or on the desktop. The great thing about ZoomShifts PTO capabilities is that employees and employers can see these requests weeks or even months in advance.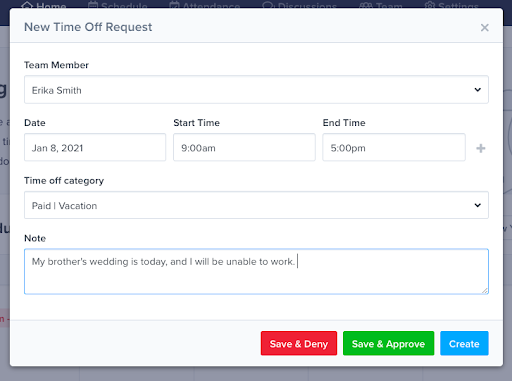 It's important to note that some employees accrue PTO at a higher rate based on role or tenure. ZoomShift helps you differentiate the two with its PTO accrual calculator.
Employee time-off tracking takes awareness to another level with its timely notifications. If any staff member is nearing their PTO limit, they'll get alerted.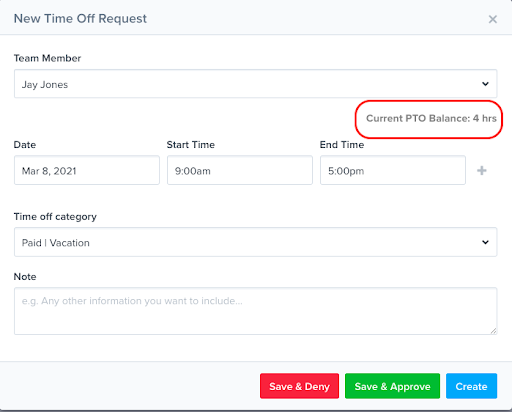 The paid time-off tracking shouldn't be complicated. That's where ZoomShift's PTO feature comes into play. Try for free today.
The Basics Of Creating Your Paid Time Off Policy
Here are the key items you should be thinking about as you create your paid time off policy:
How many paid sick days will you offer your employees?
Are you required by law to provide sick days?
How many paid vacation days will you offer your employees?
How many paid personal holidays will you offer, if any?
Will you offer paid time off for national holidays?
Will you offer paid bereavement leave? How many days? Which relationships qualify?
Will paid time off be accrued?
Will paid time off be "use it or lose it"?
Will you offer paid time off for all employees?
How long should they have worked with you before they receive these benefits?
Consult Your Legal Professional For Additional Advice
The above tips can help you create a paid time off policy that suits both you and your employees.
But it's important to do everything by the books, as there are repercussions for not abiding by local regulations and laws.
Depending on the state you operate in, there may be state-specific laws you'll need to follow.
For best results, talk everything over with your legal professional to dot your i's and cross your t's.
Final Thoughts
Customize your paid time off solution to match your situation.
Paid time off is a good benefit to offer your workers and can help retain them over the long haul. Everyone has things come up in their life, and it's comforting for your employees to know they'll have a bit of a safety net.
Time off requests can come in many forms. If you don't have a policy, or a strategy for handling them, they can quickly get out of hand.
Check out How To Handle Employee Time Off Requests to get this aspect of your business handled.

JD enjoys teaching people how to use ZoomShift to save time spent on scheduling. He's curious, likes learning new things everyday and playing the guitar (although it's a work in progress).