ZoomShift

ZoomShift

The leading scheduling software designed for hourly employees. Build your work schedule in minutes with ZoomShift.

Jun 10, 2020
Time Tracking
What Is Time Tracking?
At its simplest, time tracking refers to how a business measures the number of hours an employee has worked on a shift, project, or task.
It's primarily used for businesses where the employees are paid by the hour. It's also often used by freelancers and professionals who charge by the hour.
Granular time tracking allows employees to be paid accurately and makes entire organizations more productive. It also allows for better project management as milestones can be easily viewed and client expectations can be better managed.
With time tracking software, you can ensure that individuals or teams are not over or under capacity.
How to Use ZoomShift's Time Tracking Tool
So how does our time clock software work? It couldn't be simpler. Here's a quick step by step guide:
Step 1. Log into your ZoomShift account
Step 2. Navigate to Attendance and the Kiosk Time Clock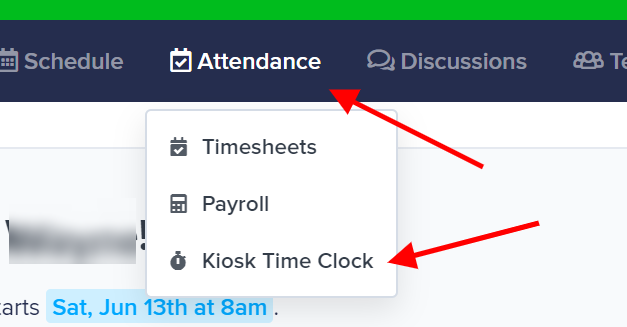 Step 3. You'll now be presented with a pop-up, enter in your email address or time clock pin and press Clock In. You're now tracking your time. It's that easy.
Step 4. You should now see a message to show that you are currently clocked in as seen in the image below.

Step 5. When you've finished working on your task/project or your shift has finished, click on the Clock Out button.
The time tracking software in ZoomShift is customizable, so each member of your team can be assigned a role.

There are also many other customizable features. Take a look at the numbered image below.
Each team member is clearly signposted.
You can add desired weekly hours and customize the hourly rate.
You can add position and location so that you can filter large lists of employees easily.
The hours that are clocked show up in the schedule.
You can also see a running total of hours worked and pay.

With the payroll feature, you get a summary of each team member, their hours, and gross pay.

Time tracking is a great way to project manage and ensure that employees, managers, and clients are happy. The time tracking feature in ZoomShift makes it easy to manage capacity and is a breeze for your team members to use.
******
See our full list of over 50 Small Business Terms here. 
The leading scheduling software designed for hourly employees. Build your work schedule in minutes with ZoomShift.