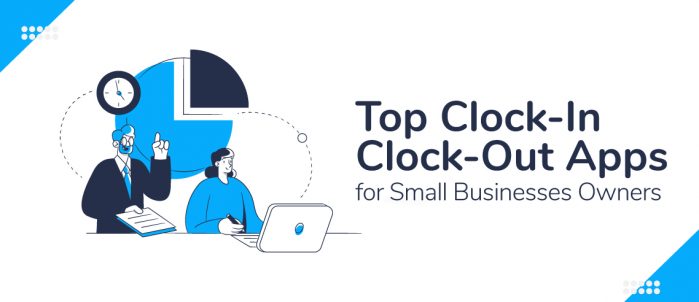 For many small businesses, it's imperative to keep account of employees' time – when they start, when they stop, how long they've worked.
A web-based app makes it much easier for managers to oversee each person's working hours, especially with a remote team, and even monitor more granular detail such as how long they've worked on different projects. 
That being said, recent research has suggested that 82% of people don't use a clock-in clock-out tracking app to keep abreast of their working hours, with 33% using a manual to-do list to manage their time. 
So what are the best clock-in clock-out apps available? Here are our top ten: 
1. ZoomShift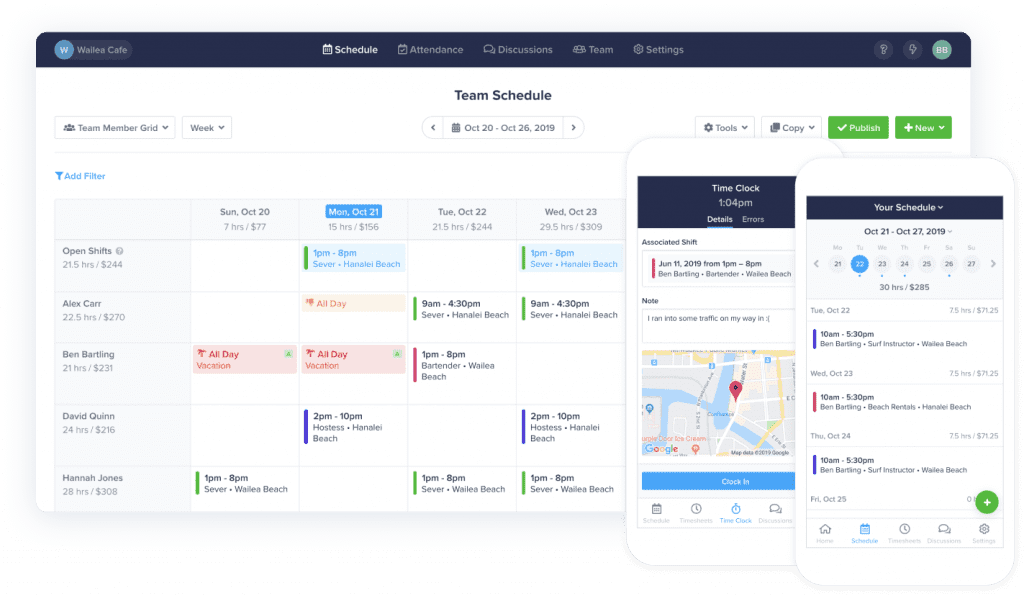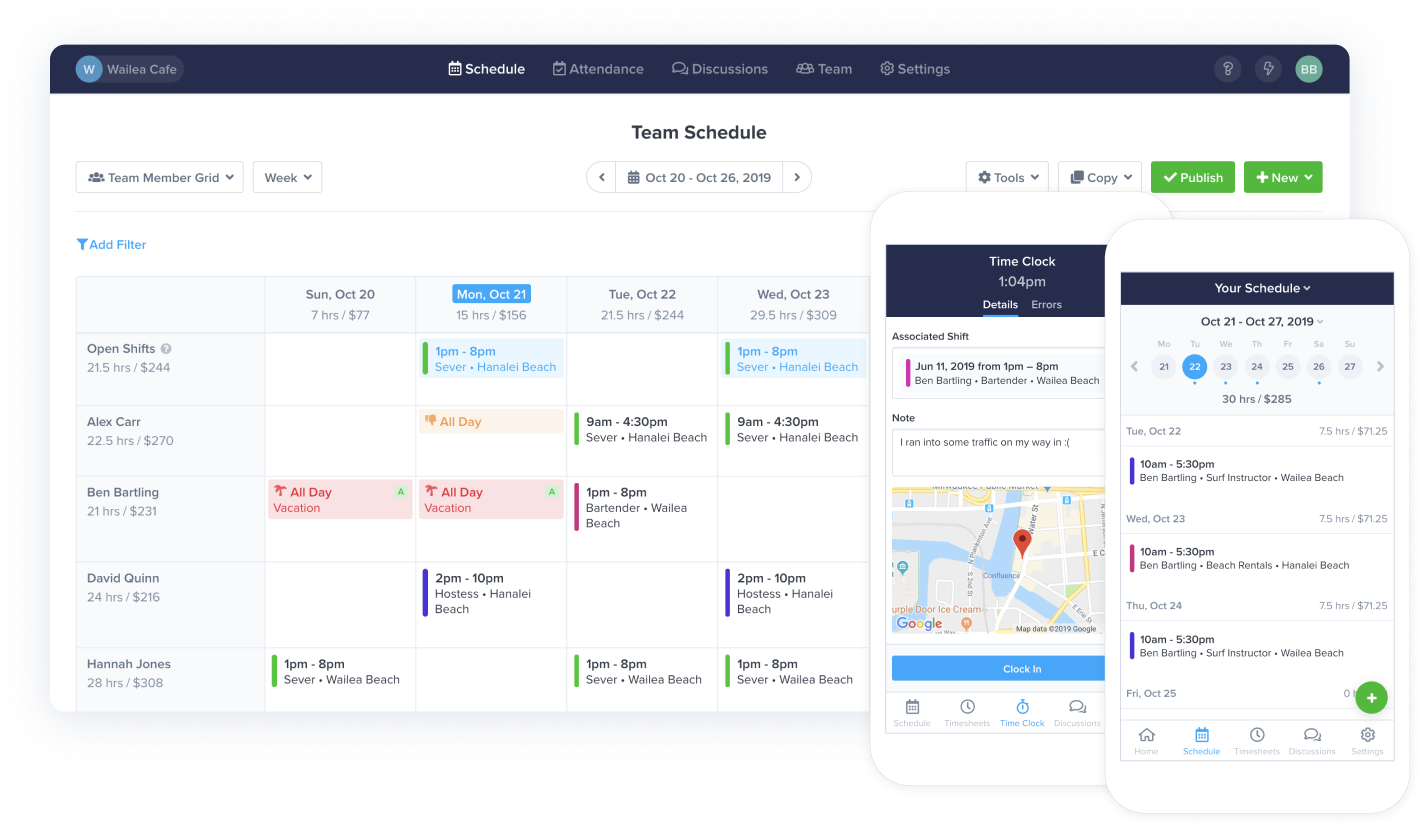 ZoomShift is available for both smartphones and desktops, and lets employees and managers organize everything from clocking in and out, to payroll, to shift planning, all from one place. 
With ZoomShift, businesses are more productive, better organized, and able to communicate via direct messages or group chat. Employees can clock in and out using both the mobile and the desktop time clock and can log their time, request time off, offer to swap shifts, or pick up extra shifts, alerting other team members via email, SMS, or push notifications. 
ZoomShift is a top choice for businesses in the service, retail or healthcare industries that operate on a shift basis. Its easy drag-and-drop interface lets users make changes and all team members are sent shift reminders with 24/7 access to their schedules. 
The business owners and managers can use the app to carefully plan shifts and budgets in advance, compare scheduled versus actual costs and hours, and also benefit from simply approving shifts and running payroll at the end of each week or month. 
How ZoomShift's Clock-In Clock-Out Software Increases Employee Accountability
Key Features:
Easy-to-use interface

Time tracking

Scheduling Templates

Time-off requests

Paid time-off tracker

Shift swap feature
Benefits:
Small learning curve designed to get you up and running as quickly as possible

Closes the gap in communication between management and staff

Empowers employees to manage their own time-off requests and shift swaps

Mobile and desktop-ready

All-in-one time management solution
Pricing:
The basic plan starts at $2 per user per month

14-day free trial
2. Timely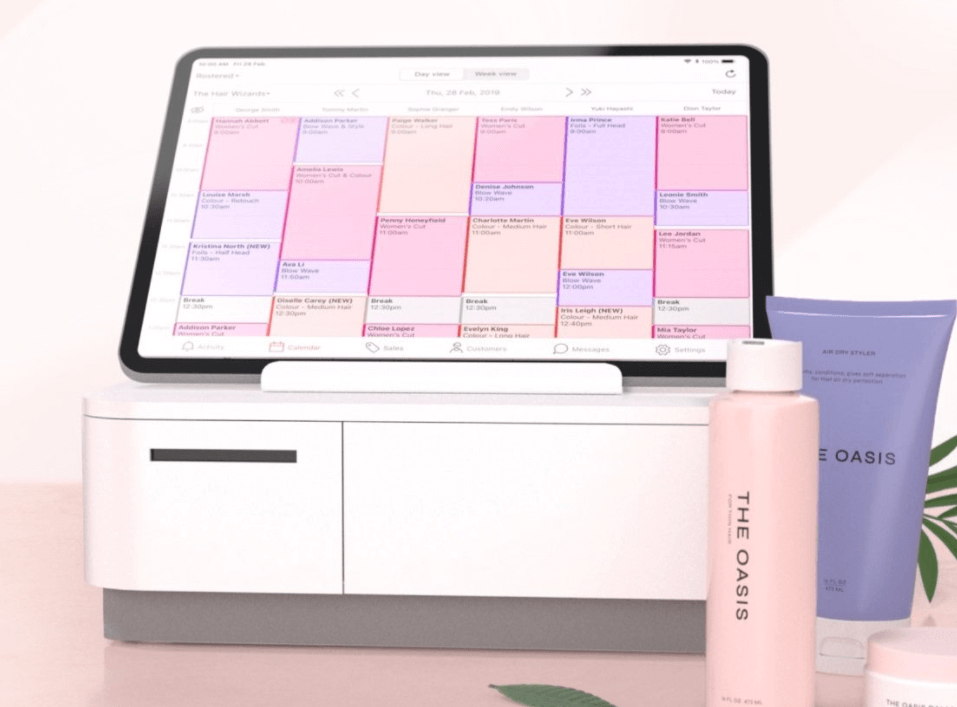 Timely will record all your work and store it in its Memory Tracker, grouping it together to then suggest time entries to you. It learns everything you enter so that the more you add and edit, the more the app learns so that it can automatically add details. 
Benefits:
User-friendly

Nicely designed

Clear overview of time spent on projects
Drawbacks:
It doesn't let you set up recurring time tracking events – you need to manually enter each time. 
Pricing:
The basic plan starts at $10/month per user

14-day free trial
3. Clockify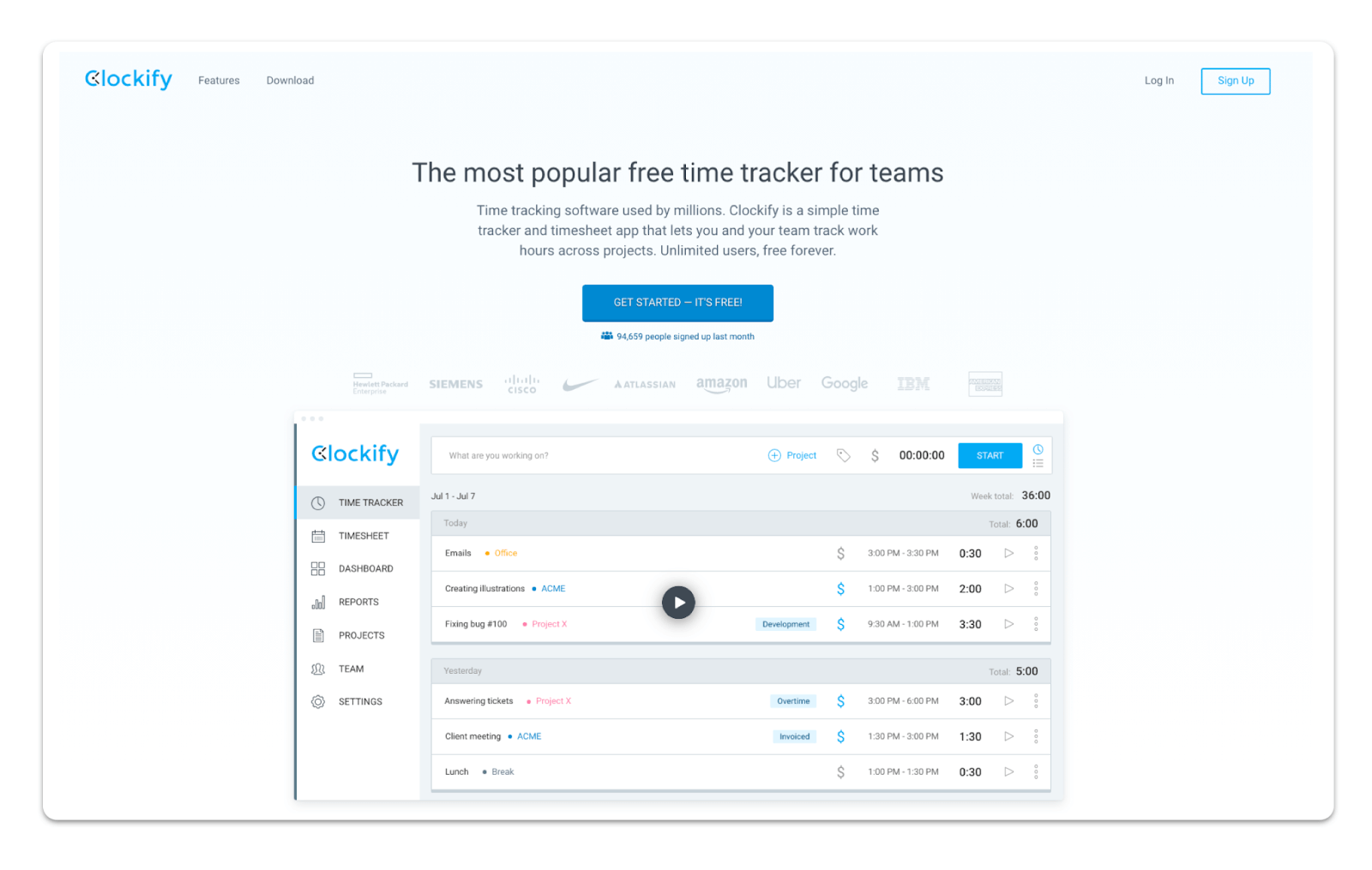 Clockify is a straightforward free clock in and out app that lets you monitor your time via a time clock, and also track your employees. You can categorize time by project and task so that you can see what time employees are spending on each task throughout their day. 
Benefits:
Simple to use. 

Allows you to collaborate within your team. 

Straightforward reporting
Pricing:
Free plan for an unlimited number of users

Enterprise Plan starts at $11.99 per user per month (billed annually) 
4. Timecamp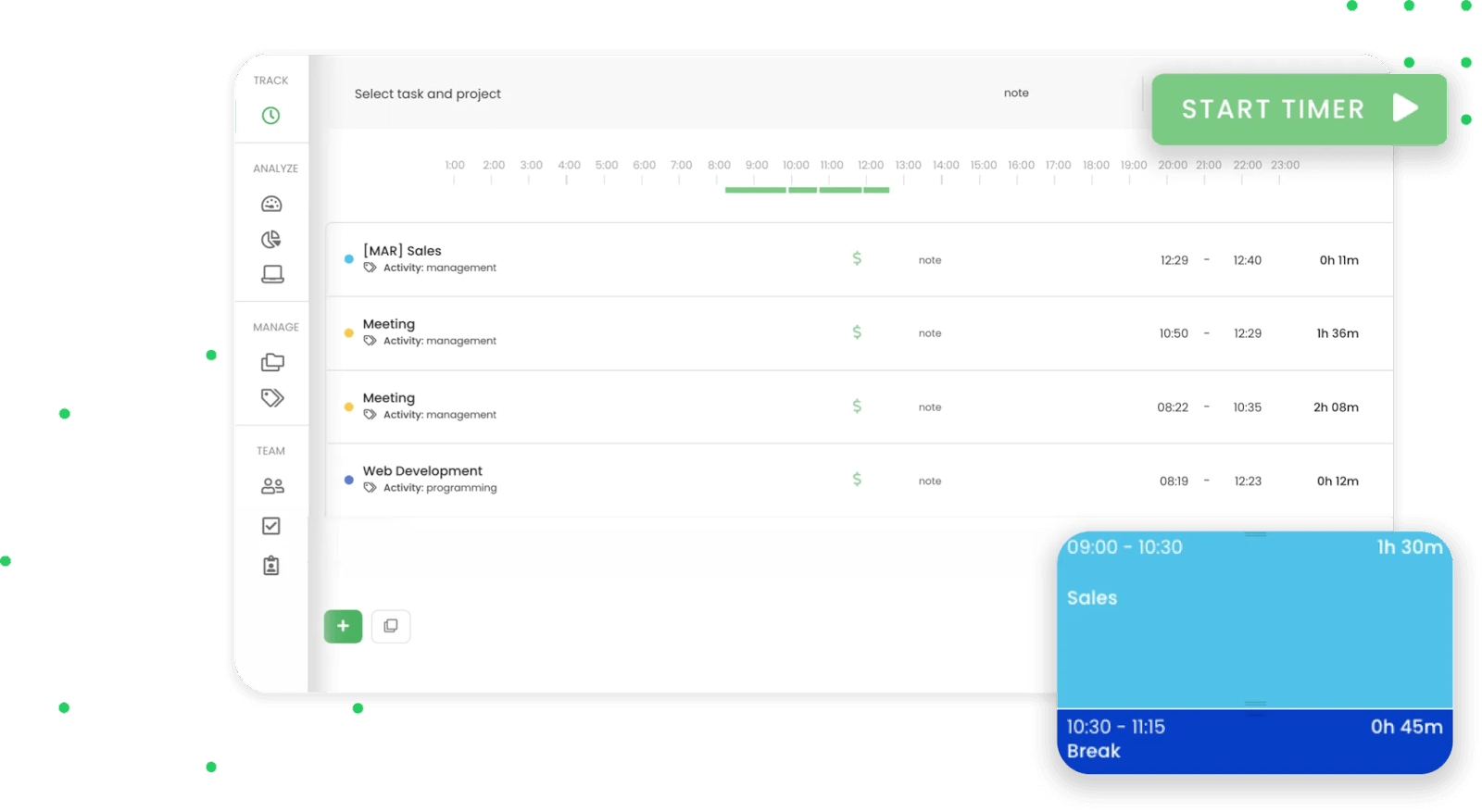 Timecamp is a good choice for both freelancers and teams. It's easy to use and will track your time in the background, allowing you to get on with your work, knowing your time is being monitored. 
Timecamp will complete timesheets which you can also turn into an invoice, along with billing rates, to send directly to clients. 
Benefits:
Easy to use. 

Good invoicing feature. 
Drawbacks:
Limited variety of features.

Can be expensive for larger teams. 

It requires integrations to run some of the features that make it useful. 
Pricing:
Starts at $7 per user per month

14-day free trial
5. Toggl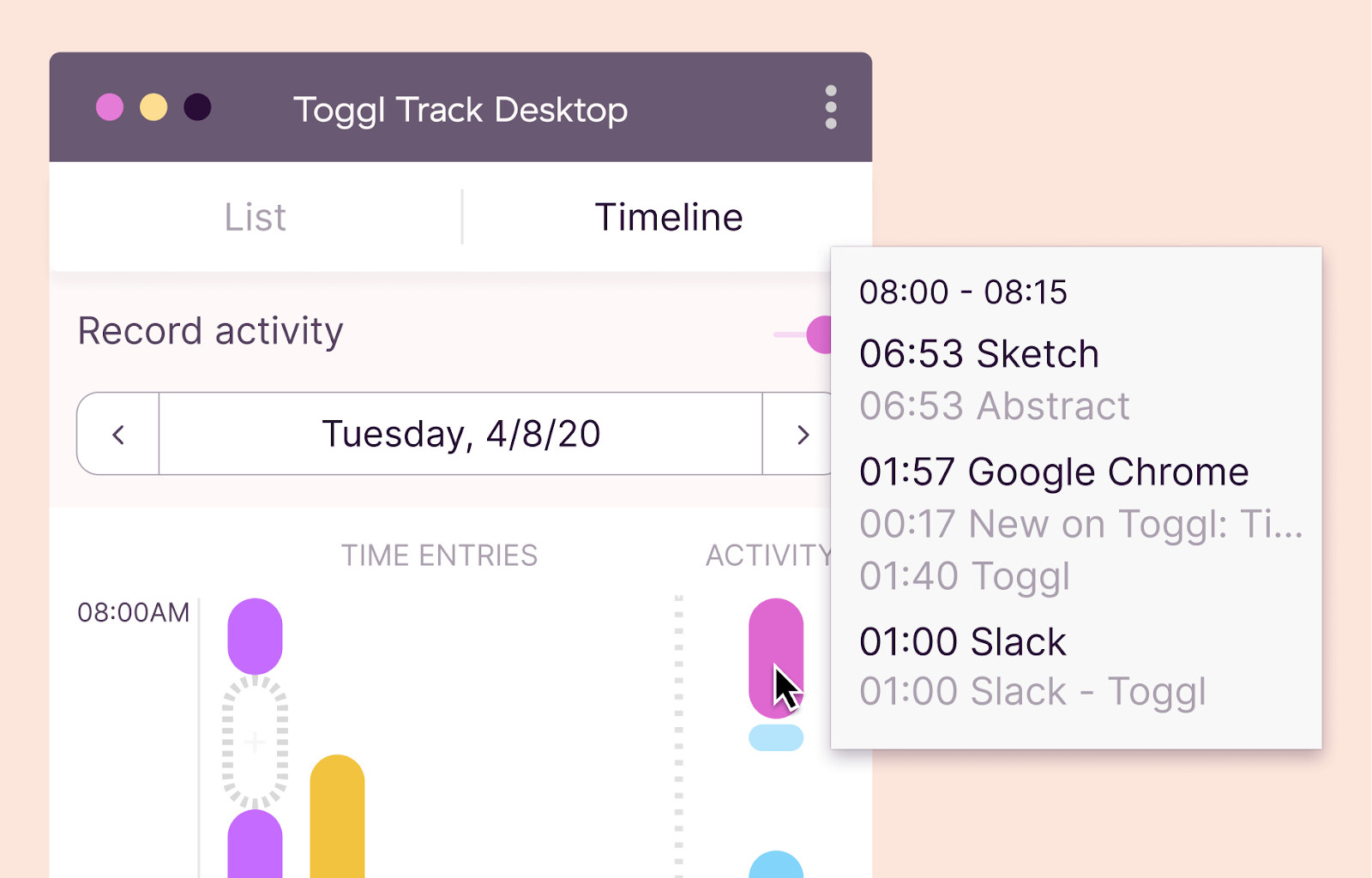 Toggl will let you clock in with just one click, pause your time and pick up where you left off. If you forget to start the timer, the app will send you a reminder. You can also enter your hours manually, or integrate your calendar. It will also trigger time entry suggestions based on the software you're using.  
This level of flexibility and user-friendliness makes it a good option for both teams and freelancers. You can also choose between time tracking, project planning, and candidate hiring modes within your plan. 
Benefits:
Easy to get started straight away.

User-friendly. 
Drawbacks:
The price plan to access all features is expensive. 

There are no invoicing features. 

Some features are hard to use. 
Pricing:
Starts at $10 per user per month

30-day free trial
6. Harvest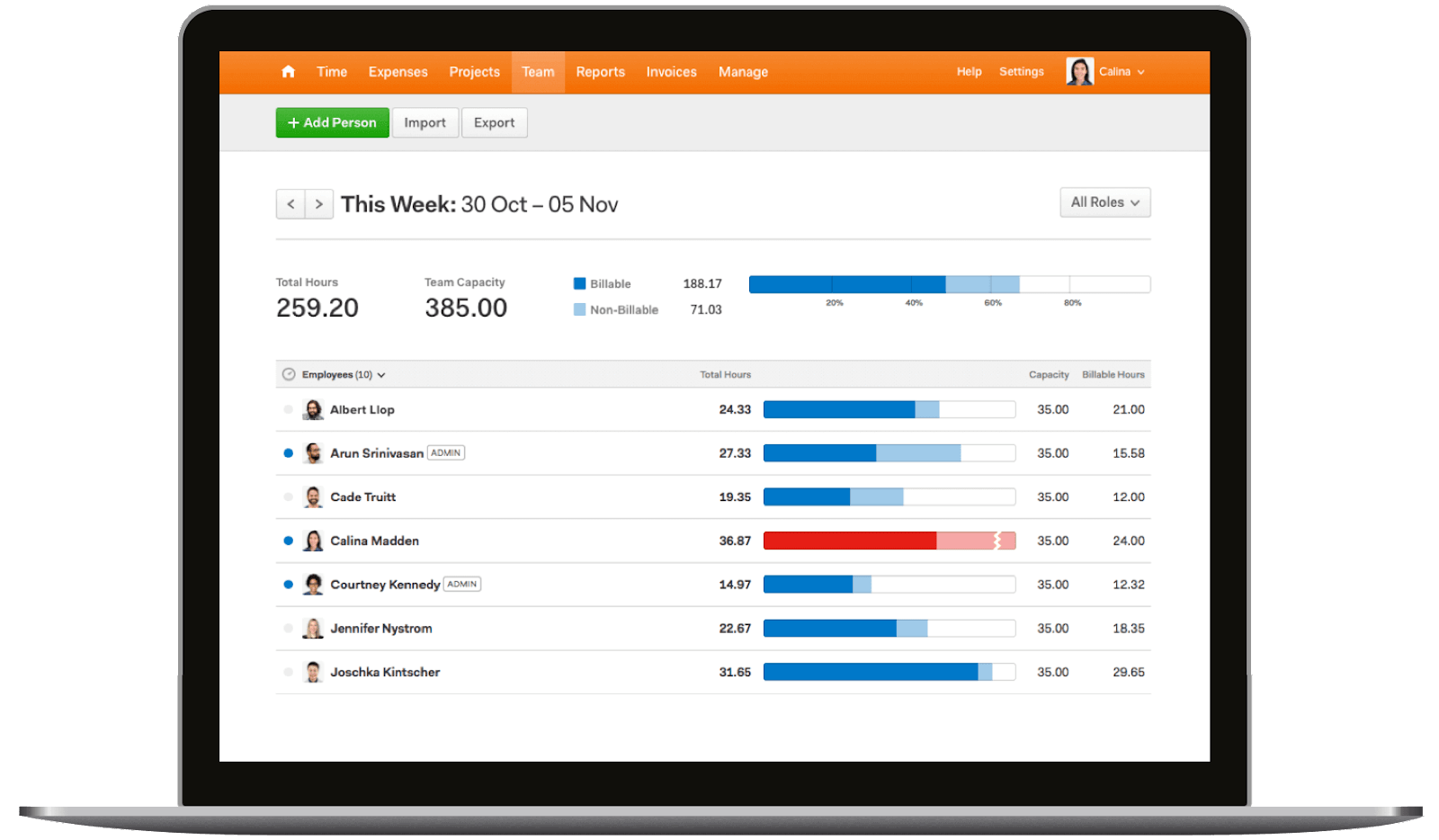 Harvest is available on both desktops and smartphones and allows you to track timesheets, time per client, project, or task. It also has a stopwatch which you can use to track time when you clock in or out. Alternatively, you can enter your time manually. 
Harvest also lets you track expenses, by uploading a photo of a receipt and adding the relevant details. 
Benefits:
Easy-to-use for reporting and invoicing. 
Drawbacks:
Some features are confusing to use.

No templates so some of the reporting or invoices have to be manually replicated each time. 
Pricing:
Starts at $12 per user per month

30-day free trial
7. Hubstaff 
Hubstaff is predominantly a time-tracking app that lets you track your hours with GPS location, invoicing, scheduling and payroll. You can track time in both offline and real-time mode, and it will sync when you're back online again. This is a particular benefit for those who work on the go. 
Hubstaff can be integrated with Asana, Quickbooks, and Trello among around 30 apps. 
Benefits:
30+ app integrations.

Automated payroll and reporting. 
Drawbacks:
Poor customer service. 

Clunky user-interface. 
Pricing:
Starts at $7 per user per month

14-day free trial
8. Tracking Time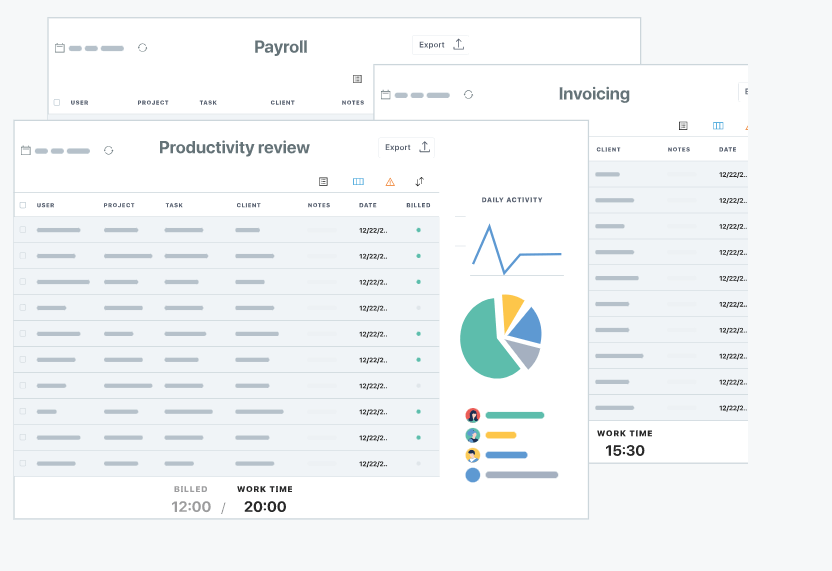 Tracking Time has a good amount of features and is a user-friendly time management tool. It allows users to share their reports with managers, although it lacks any integrations to bring it to the next level. 
Benefits:
Wide range of features. 

Good reporting and sharing feature.
Drawbacks:
Pricing:
Starts at $5 per user per month

14-day free trial
9. Homebase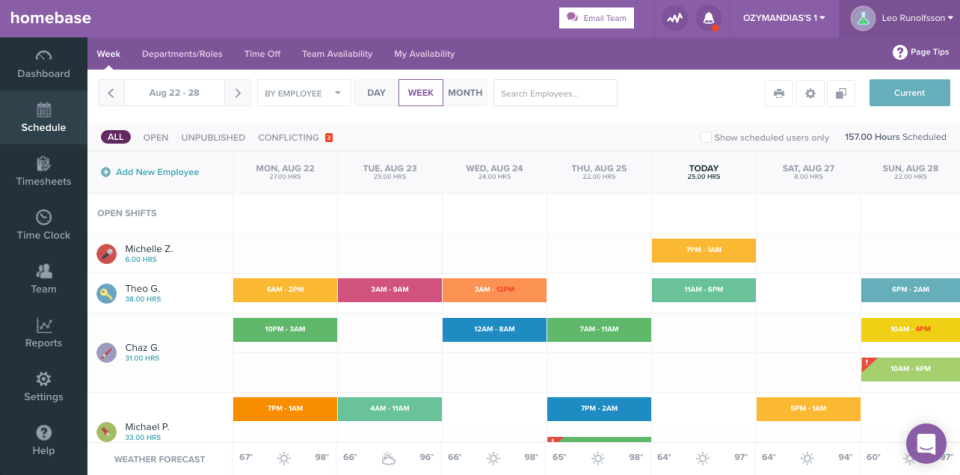 Homebase is another simple-to-use time clock app designed for managers to monitor when and where their teams start and end their workday.  
Its free version is comprehensive enough for an unlimited number of users, so is a useful tool for businesses with a tight budget.  
Benefits:
Cost-effective for small budgets.

Built-in messenger feature. 
Drawbacks:
Costly for those wanting access to the full range of features.
Pricing:
Paid plan starts at $14 per user per month

13-day free trial
10. Quickbooks Time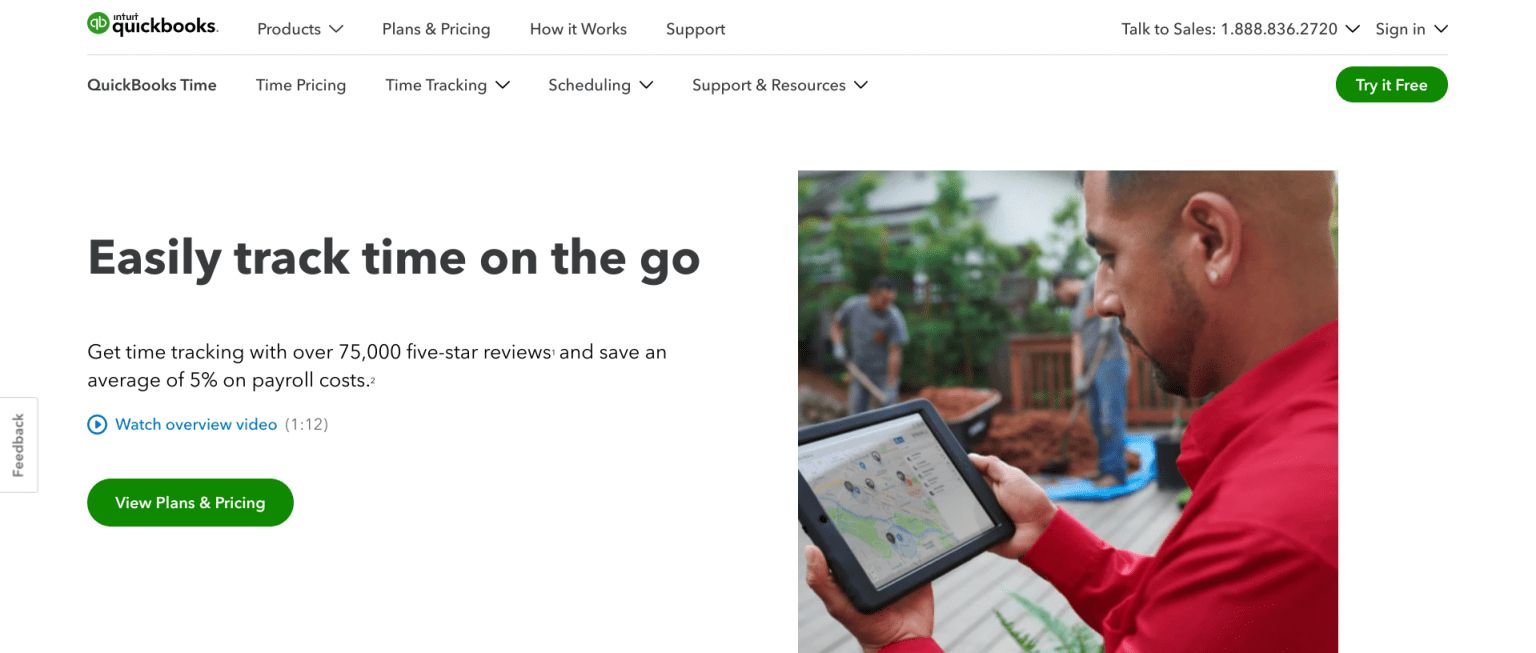 Quickbooks Time is the time tracking arm of the Quickbooks accountancy app. Unsurprisingly, it integrates with Quickbooks and its other features, allows users to clock in and out, and add details to timesheets. It comes with time card options that improve efficiency and limit user error. 
Benefits:
It offers a range of integrations. 

Easy to use. 
Drawbacks:
Poor customer support. 

Unintuitive user experience.  
Pricing:
The elite plan starts at $10 per user per month (+$40 additional monthly base fee)

30-day free trial
In summary 
Small business owners benefit from being able to track their team's time spent on projects and tasks, and no better way than via an app they can access from anywhere. 
These are just ten of a wide variety of clock-in and clock-out apps, each with its own specialty. 
As a small business owner, it's vital you understand what it is you're looking for in your time management app. What integrations do you need? Do you need it to simply track time, or facilitate your budgeting and payroll? Only when you know what you're looking for can you identify the best tool for your business. 
If you'd like to try ZoomShift, we offer a range of features particularly for shift-based businesses.
Not only is it one of the cheapest options on the market, but it also offers time management, in-app communication, budgeting and payroll, and easy-to-use scheduling.