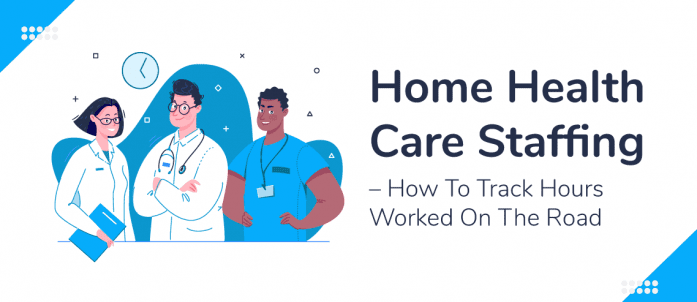 Home health care companies are able to meet unique market demand by sending employees directly to a patients' home. However, this dynamic creates certain challenges. For instance, home health care time tracking — a.k.a. keeping tabs on your team — is easier said than done.
Tracking health care employees' time can get confusing, leading to inaccurate metrics and pay. In addition, traditional time tracking methods are "gameable" — meaning employees can manipulate the true numbers.
So, let's look at some issues with home health care time tracking, better alternatives, including a home health aide timesheet template and home health aide scheduling software. That way you, your health workers, and your patients can be in full alignment.
The common challenges with home health care time tracking
1. GPS time tracking
Perhaps you have an employee who isn't happy with your timesheet app because it includes GPS tracking. They've told you this isn't legal.
Well, they're wrong. The courts have decided that this is reasonable because surveillance in the workplace is legal.
If the workplace is in another location, or the car, bosses are allowed to keep track of their employees when they are on work time.
Do check with your state though, as you might find some minor limits to GPS tracking.
2. Separate personal time
One such limit is that you're only allowed to keep tabs on your employees if they are clocked into your system or otherwise supposed to be working.
For example, if your employee clocked in at 10 am at the home of the person he was taking care of, that's terrific. If he clocked in at 10 am at the movie theater, then you know he isn't where he's supposed to be.
In this instance, you can ask your employee why he was at the movie if you expected him inpatient X's home.
You cannot track your employee's whereabouts after work hours.
3. Travel Time
One question that comes up time and again is how to account for a worker's travel time. After all, you don't pay them to commute to your office, so should you pay to travel to a patient's home?
Generally speaking, if the travel time is the same to your office as it is to a patient's home, then no, you don't need to pay them for travel time.
If they have to drive out of town, it does become necessary to track their hours worked while they are literally on the road from start to finish.
The best way to do this is with a time tracking solution like ZoomShift. It puts you in control of employee timesheets — know when they clocked in-out and where. Eventually prevent time theft and you get accurate payroll.
ZoomShift — the home health aide scheduling software
ZoomShift is software that makes tracking hourly employees incredibly fast and easy. It solves the problems associated with a home health aide timesheet. It lets your employees clock in and out from anywhere on the road, but it also gives you their GPS location so you know they're where they're supposed to be.
With the Excel or Google timesheet template, you can not easily automate or share that information. And because typical timesheets and templates can be completed on paper, there is a lot of room for inaccurate reporting.
With ZoomShift, you get an all-in-one home health aide scheduling software, with features like
Shift Scheduling: Automatically schedule team members with their associated availability to prevent redoing schedules.
Shift Swapping: Let employees change shifts with others easily online.
Time Tracking: Know exactly when health workers clock in and clock out. You can compare the employee's scheduled time with their actual time.
GPS Login: See if a home health aide was at a patient's residence.
PTO and Overtime: Automate the process of adjusting payroll for overtime and calculating PTO earned.
Attendance Management: Ensure workers meet attendance requirements in real-time.
Streamline payroll: You can approve timesheets at payroll time.
Prevent time theft: The ZoomShift time clock sees the schedule. It knows if an employee is clocking in but not scheduled. So, there's basically no cheating allowed.
Key benefits for employees who work on the road
Employees can use the time clock on their phone, computer or tablet. They just have to download the free ZoomShift app. They can punch in and out as they switch locations.
The system reminds your employees if they forget to clock in. If it's been a few minutes, you'll get notified too.
Employees can request time off as well as shift cover requests
Choose an open shift and choose the location they prefer to work
With ZoomShift, you can save time with your home health care time tracking and money on the payroll — all at scale.

Home health aide timesheet template
If you don't want to automate the time tracking system — download this home health aide timesheet template. It provides a simple system to keep track of hours worked and how they were spent.



Using a template like this is better than nothing. However, templates are static, meaning that you must input the data manually. And unlike software, they are not scalable or automatable. At the end of the day, using ZoomShift as your home health aide scheduling software is a better alternative.
Say goodbye to paper timesheets that are hard to read and often get lost — Get started with ZoomShift.
Take control of your employee management
Managing your home health care staffing and tracking hours worked on the road can pose some challenges. But using a platform like ZoomShift makes it easy.
Use ZoomShift to empower your employees. Give them the trust and respect they need to do their job on the road by allowing them to clock in and out using their own electronic devices.
This is the first step in your home health care worker retention by providing them a smooth and easy way to account for their own time.
Are you ready to leverage the power of ZoomShift? Smart business owners are freeing up their time by using employee scheduling and time clock software. You can get started right away with 14 days free trial — no credit card required.