JD Spinoza

JD Spinoza

JD enjoys teaching people how to use ZoomShift to save time spent on scheduling. He's curious, likes learning new things everyday and playing the guitar (although it's a work in progress).

Jun 08, 2022
9 Staff Scheduling Best Practices To Build A Better Schedule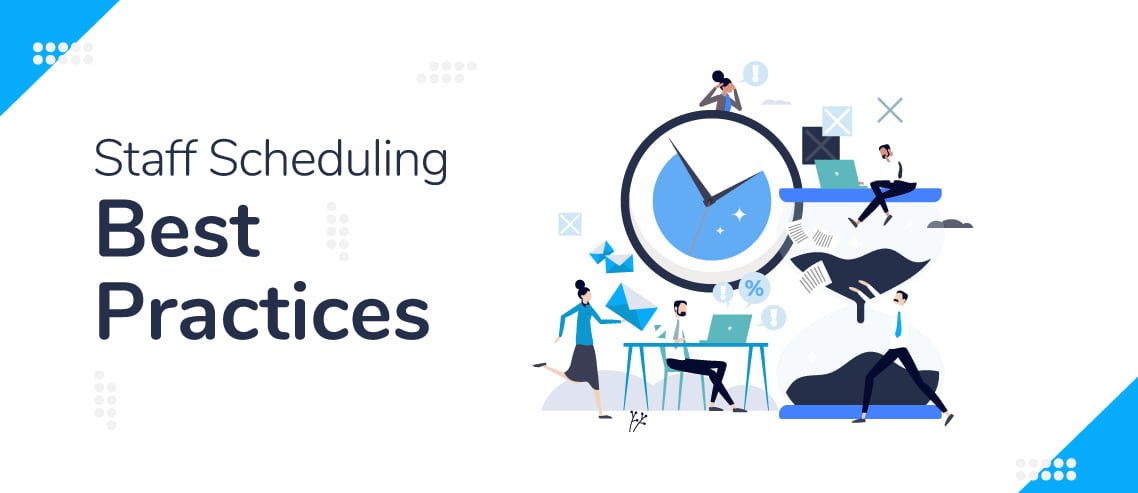 Scheduling staff is not easy. For most organizations, scheduling is a major crux because it takes an exorbitant amount of time to build the schedule, manage employee availability and facilitate shift trades each week.
Not only does it take you extra time to schedule your employees effectively (and we all know, time is money) but it leaves your process open to human error, leaving you with shift gaps or duplications, adding extra costs to your overheads. 
If this is you, then you need some tips on how to schedule employees effectively. 
Here are 9 staff scheduling best practices and employee scheduling techniques that will help speed up your staff scheduling process so you can get back to doing more important things, like growing your business.

9 Best Employee Scheduling Tips To Build A Better Schedule
1. Deal with availability first
Before you start scheduling, one of the best employee scheduling tips you should keep front of mind is to make sure that you have your staff's availability for at least the next two weeks. In ZoomShift, we manage availability by having employees mark what times and days they are not available.
There are two types of availability requests that you need to consider. General availability or default availability consists of days or times when a person is normally unable to work. Then there are overrides, which in general, are meant to handle time-off requests, but can also be used to override any default availability settings.
Dealing with availability first will give you the ability to make faster decisions when you build your schedule.
2. Schedule (at least) two weeks out
Scheduling is a time-consuming task so we find that it is best to do it in sprints where you can allocate a specific time every two weeks to work on the upcoming schedules. An employee scheduling app can schedule at least two weeks in advance giving you the ability to focus on creating schedules in one session. We find that it is helpful to create a schedule even if it is subject to change before you actually post it.
3. Use a template
Find a template that you are comfortable using that helps you get your job done faster. A lot of companies use Excel for this, which can be kind of difficult to manage, but pick something that works well for you. At ZoomShift we offer three kinds of scheduling templates. Schedule by day, by week, or by the employee.
4. Enforce time off request policies
Most organizations require time off requests to be submitted at least two weeks in advance. This really helps when you are collecting availability in the first step. In ZoomShift we timestamp availability requests on the bulletin board so there is accountability with all employee time-off requests.
You may also handle time-off requests with printed forms that get approved or denied by a manager. These time-off request forms are easy to create and can be provided in the break room or by the time clock for your organization.
5. Use efficient employee scheduling software
There's no doubt about it, using dedicated employee scheduling software will make your life much easier, saving you time and money, and reducing the risk of human error. Staff scheduling software takes skillset, available hours, and shift preference, and more into account to create an effective schedule. Not only does this save the business owner time, but it also ensures that employees are scheduled effectively. This leads to a happy workforce and a well-run operation
When it comes to employee scheduling, efficiency is key. The right staff scheduling software can make a big difference in terms of time and money saved. By automating the process of creating and managing shift schedules, staff scheduling software can help businesses to optimize their workforce and improve communication between employees.
In addition, staff scheduling software can help businesses to track employee availability and skills. This information can be used to create custom schedules that perfectly fit the needs of the business. As a result, staff scheduling software can help businesses to run more efficiently and effectively.
6. Create a schedule based on the employee's skills
When you're scheduling your employees effectively, it's important you create a schedule that matches the right team member to the job at hand. Staff scheduling software can help managers to create an effective schedule that meets the needs of both the business and the employees.
The software takes into account the skills of each employee and matches them with the requirements of each task. This ensures that the right person is scheduled for each job, and that all employees are working to their full potential. As a result, businesses can improve their productivity and efficiency, while also providing their employees with a better working experience.
Using a dedicated employee scheduling tool makes it easier for you to match the right skill set against the role you wish to schedule. For example, when a manager schedules his shift, they will typically have the ability to ensure that the right person is allocated to the shift. 
7. Make the shift swaps easy for employees
Flexibility is paramount in shift-based work. It ensures that employees are happy with their workload, and reduces the chance of last-minute cancellations or no-shows. That said, trying to manage shift swaps manually can be a headache for even the most organized manager. 
Using a tool that facilitates easy shift-swapping is an advantage, especially if it's user-friendly. There are many benefits to using staff scheduling software when it comes to employee shift swaps. For one, it helps to ensure that employees are only swapped with others who have the same qualifications and skillset. This helps to prevent any disruptions in service.
Additionally, staff scheduling software can help to keep track of shift patterns and preferences, making it easier to accommodate employees who need to swap shifts. Perhaps most importantly, staff scheduling software can help to minimize the potential for conflicts between employees. By allowing employees to see who is available for a swap well in advance, staff scheduling software can help to prevent last-minute call-ins.
In fact, because it's all carried out so democratically, it takes the manager out of the equation, allowing them to simply approve the swaps submitted by employees. 
8. Evaluate the scheduling process to improve
When you're scheduling your teams, it's useful to be able to monitor and evaluate your schedule in real time. It's also useful to be able to do this in a visual way so that you can easily spot gaps, overlaps, and potential errors in your employee scheduling process. 
9. Effectively communicate shift information
Any business knows the importance of communication, and no more important is effective communication than where employee schedules are concerned. 
Shift information needs to be communicated clearly so that staff members know when they are supposed to start and finish work, as well as which tasks they need to complete during their shift. Staff scheduling software can be an invaluable tool in this regard, as it allows businesses to quickly and easily share important shift information with employees. By using staff scheduling software, businesses can ensure that staff members are always aware of the latest shift information, preventing misunderstandings and ensuring that everyone is on the same page.
Final Thoughts
Companies that find themselves spending excessive time and resources planning and managing employee schedules will probably be looking for ways to save time, reduce human error and make the process far more efficient. 
Streamlining the process, especially with the help of a sophisticated tool and the above employee scheduling tips, will be advantageous to anyone in charge of managing employee schedules. Beyond reducing time and effort in the scheduling process, savings are made in simply minimizing no-shows or shift duplications.
ZoomShift offers you all this, and more, as a one-stop-shop for scheduling, time-management, and employee cost forecasting.
JD enjoys teaching people how to use ZoomShift to save time spent on scheduling. He's curious, likes learning new things everyday and playing the guitar (although it's a work in progress).