JD Spinoza

JD Spinoza

JD enjoys teaching people how to use ZoomShift to save time spent on scheduling. He's curious, likes learning new things everyday and playing the guitar (although it's a work in progress).

Sep 14, 2020
How to Use ZoomShift's Mobile App to Improve Team Communication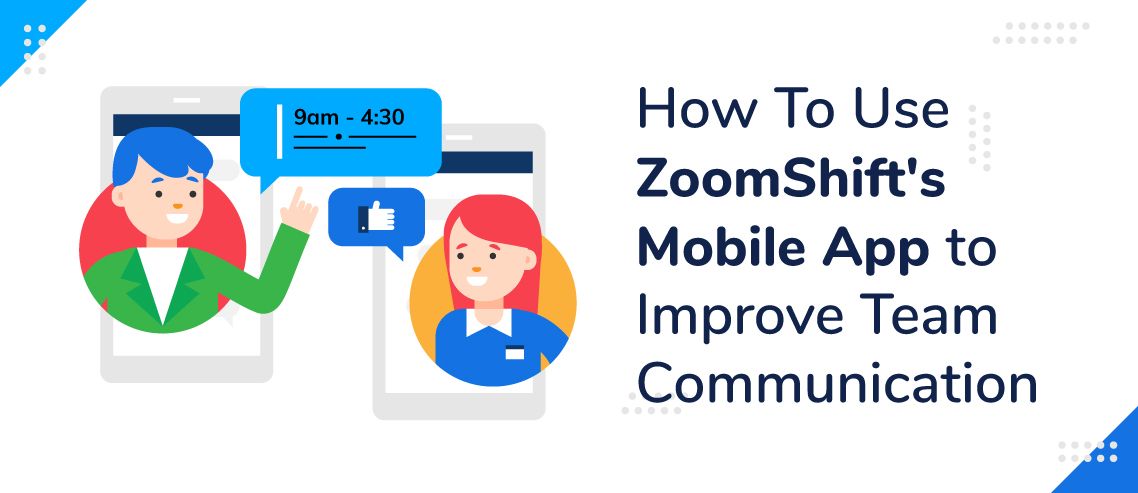 There's no two ways about it: traditional shift scheduling methods, like physical calendars, charts, and even spreadsheets, are simply outdated. Not only is manual scheduling inefficient and error-prone, but the issues that come with it can harm the employee experience, increasing employee turnover rates and wasting managerial resources on recurrent training.
Employees in 2022 expect a work experience that mirrors the rest of their lives: seamless, digital, and mobile compatible. In a world where texting has become more popular than talking, old-fashioned methods simply won't cut it.
At ZoomShift, we're tackling these issues head-on with a shift scheduling app that improves team communication, reduces scheduling errors, and enhances the employee experience.

In this guide, we're going to break down how ZoomShift can provide an improvement to traditional scheduling that will help your business stay agile, up to date, and competitive in today's digital world.
ZoomShift Features
At heart, ZoomShift is a cross-platform (desktop and mobile) application that aims to digitize work schedules. In the app, team members can see their schedules, request shift swaps, clock in and out, view timesheets, and request time off. Here are a few of ZoomShift's core features:
Real-time scheduling: Work schedules update in real-time when changes are made, so any team member looking at the schedule can be sure the information they're getting is accurate and up to date.
Clock in/out from mobile: The ZoomShift mobile app allows employees to clock in and out straight from their mobile devices. All employees' logged hours will automatically be added to their timesheets, which can be set to either be viewable by all team members or managers only.
Request shift swaps: If an employee can't make a shift, they can simply tap their shift and send a shift swap request. All team members will receive a notification that the shift is available, and when someone claims it, the change will immediately be reflected in every team member's work schedule.
Request time-off: Team members can also use ZoomShift to request time off. If the time off is approved, the changes will be added to the team's schedule so all team members can stay on the same page.
How the ZoomShift Mobile App Improves Scheduling and Communication
Let's look at a few examples of how ZoomShift can help your business operate more efficiently.
Less Room for Error
Picture this: you show up for work to find that Jerry didn't show up for his shift. You give him a call, and he tells you that he already told Lexi, his department manager, that he wouldn't be coming in today. When you ask Lexi about it, she says she's been overwhelmed and forgot to look for a replacement.
ZoomShift eliminates the risk of mistakes like this by enabling employees to take more initiative in their scheduling. In this situation, Jerry could have simply requested a cover for his shift through the app. After submitting his request, every team member would have been notified of the available shift, and if someone decided to take it, the change would immediately be added to the schedule, leaving no room for miscommunication.
In this way, employees can take full responsibility for their schedules, and you can be sure that everyone is always on the same page.
Improve the Employee Experience
According to a Gallup poll, text messaging has been the preferred method of communication among people under 50 since 2014. Importantly, this poll indicates that mobile phones have become the primary means of communication for many and that businesses that want to connect with their employees in a positive way should be speaking their mobile language.
Interacting with employees via the ZoomShift mobile app improves the employee experience and may contribute to reduced employee turnover rates.
Additionally, by allowing employees to take more control of their schedules and reducing the risk of frustrating human errors with automatic updates, teams can sidestep avoidable conflicts that would otherwise distract them from their work.
ZoomShift is helping to bring work scheduling into the digital age. With real-time schedules, an intuitive and easy-to-use mobile app, and tools to help employees take charge of their work, ZoomShift can help reduce human error, improve the employee experience, and lead to better, faster, and clearer communication among team members.
If you have any questions about whether ZoomShift is right for your business, click here and click Demo in the top right corner of the screen to chat directly with our sales team.
If you'd like to jump right into a free trial, click here.
JD enjoys teaching people how to use ZoomShift to save time spent on scheduling. He's curious, likes learning new things everyday and playing the guitar (although it's a work in progress).