JD Spinoza

JD Spinoza

JD enjoys teaching people how to use ZoomShift to save time spent on scheduling. He's curious, likes learning new things everyday and playing the guitar (although it's a work in progress).

Apr 01, 2021
How to Start an Employee of the Month Program (with Free Email Template)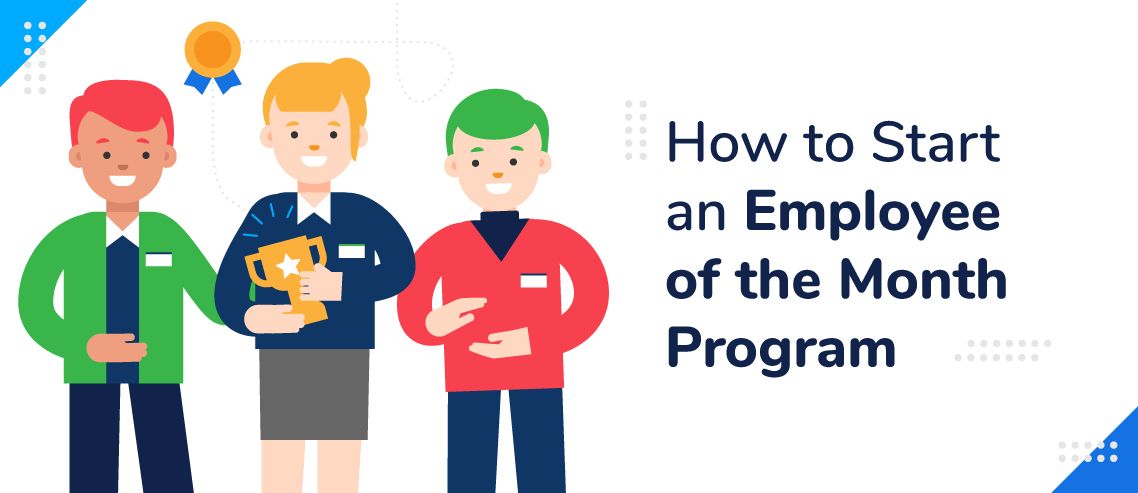 According to a recent report released by the Bureau of Labor Statistics, employee separation is at an extraordinarily high level. There are many reasons people leave their job, ranging from economic downturns to relocation. But another major reason is dissatisfaction.
Being unhappy with your job can stem from feeling underpaid, overworked, and perhaps even undervalued.
So, how can you make people feel satisfied with their role?
One way is to start an employee of the month program. According to Survey Monkey, 82% of employees are happier when they're recognized at work. What better way to acknowledge excellence than rewarding individuals for their contributions?
An employee of the month program has the potential to boost morale, increase productivity, minimize errors, spark employee engagement, and reduce attrition.
5 Tips To Launch An Employee Of The Month Program
1. Spark Some Creativity
Right off the bat, it's important to note that it doesn't specifically need to be called "Employee of the Month." For starters, it can be whatever interval you want. Monthly works, but so do quarterly or even annual awards if your company has a yearly party or "kick-off" event.
If you have hundreds or even thousands of eligible employees, you may want to rethink only choosing 12 people a year. Many employees may feel overlooked or feel resentful for never winning. Creating a higher frequency award or having multiple types of awards can solve this problem.
Some ideas to consider are:
Dependability Award – Showcases employees who have their company's and other employees' back and exhibit supreme reliability.
Value Victors – Many companies have core values. Give monthly awards to those who embody each core value.
Customer Excellence Award – Goes to an employee who went above and beyond for a customer.
If you want your employees to feel integral to your operation and display leadership qualities, volunteer more, or simply foster a sense of fellowship, then having multiple awards is a great option.
2. Specify The Parameters
Once you've identified the award(s), it's time to clearly map out the objectives and qualifications. Eliminate any gray area by answering as many questions ahead of time as possible.
If necessary, compile an FAQ document or slide deck that you can share with the announcement to make the rollout as smooth as possible.
Some details to iron out may include:
Can you win multiple times?
What happens if there's a tie?
Are part-time employees eligible?
What factors decide the winner?
When will the winner be announced?
The selection process should be as iron-clad and transparent as possible, so everyone feels like they have a shot at winning.
3. Get The Team Involved
Top-down recognition and awards are great, but adding a layer of peer recognition can amplify the award's impact and appeal.
People inherently want to do a good job for their boss and the company. Still, there's something special about being recognized as the "greatest" by your own peers, who likely understand your contribution even more than management.
Peer-nominated awards also have the added benefit of making the award feel more attainable since leadership can't play favorites or give participation trophies – it has to be earned.
Having the team assist in deciding on the awards and the award qualifications is an idea worth entertaining as well. You may get more creative ideas and generate more excitement by including them in the decision-making process.
If you're uneasy about giving too much free reign, you can send an anonymous survey and gather ideas and feedback to indirectly help you make your decision.
4. Tack On a Truly Amazing Prize
Pinpointing worthwhile incentives is always a challenge. Everyone's tastes differ, and there will always be some trade-offs involved, especially if you're on a tight budget.
Some simple choices are gift cards and cash incentives. If you can swing it, all-expenses-paid trips are a real motivator and can generate a lot of excitement.
If you're aiming to keep costs low, you can opt for something less flashy but still memorable like extra paid time off, a front row parking spot, and perhaps a little trophy or plaque to show off their accomplishment for years to come. Another viable option is offering up connection opportunities such as dinner with the CEO.
5. Make The Announcement a Big Deal
Making the employee of the month award feel genuinely exciting and worth pursuing comes down to how it's announced. Emailing a gift card and putting a trophy on their desk isn't enough. For many people, the prize is a good motivator, but what really drives them is public recognition.
To make the program more effective, announce it in a team meeting, share it on the company blog or newsletter, and even toss it up on social media. Let the whole world see your team's greatness.
To really kick it up a notch, have their manager or a close friend present the award and give a thoughtful speech about their impact on the team. The details here matter – if you nail the execution, they'll likely cherish the moment for a lifetime.
Final Words
Launching an employee of the month program can feel outdated or unimaginative, but it doesn't have to be. Make sure you engage your team, find a worthwhile prize, and make the announcement memorable. Get creative and show genuine enthusiasm when presenting the award, and your staff will be grateful and share in your enthusiasm.
JD enjoys teaching people how to use ZoomShift to save time spent on scheduling. He's curious, likes learning new things everyday and playing the guitar (although it's a work in progress).