JD Spinoza

JD Spinoza

JD enjoys teaching people how to use ZoomShift to save time spent on scheduling. He's curious, likes learning new things everyday and playing the guitar (although it's a work in progress).

Dec 07, 2020
10 Essential Team Management Skills for 2023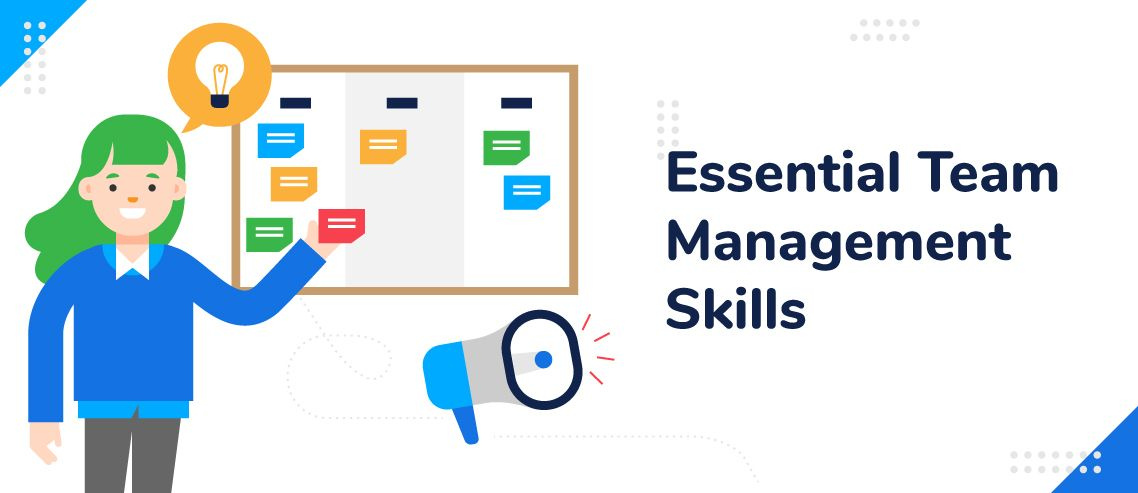 The role managers play in the success of a business cannot be overstated, particularly when it comes to employee satisfaction and retention. Indeed, when employees don't feel their work is recognized, they look for new opportunities elsewhere: some 21.5% of employees who reported they don't feel recognized when they do great work have interviewed for a job in the last three months, compared to just 12.4% who do feel recognized.
Unfortunately, many managers aren't as equipped to handle the job as one might think — at least without significant training. Most people who are promoted to managerial positions are those who excel at their current, non-management jobs. That means that in many cases, they have no managerial experience, and will need to learn fast or watch their team's morale suffer.
Despite these realities, management training is surprisingly uncommon: lots of new managers are simply pushed into the deep end without much support. It goes without saying that this is a mistake.
If you want to avoid these pitfalls, here are the 10 essential management skills you must be training your leadership team for in 2023.
1. Communication
Communication when managing a team is crucial. Companies and organizations that communicate effectively are significantly more likely to retain the best employees.
While this skill comes naturally to a lucky few, most people need training to get their communication skills up to management level.
Pro tip: while face-to-face communication is essential, you can use work scheduling tools such as ZoomShift to make your communication as effective and non-disruptive as possible.
In 2023, effective communication means being tech-savvy and communicating with team members – many of whom are now digital natives – in ways they are comfortable and familiar with.
2. Decision Making
When taking the leap from a non-managerial role to a management position, one of the biggest changes is the increase in decision-making power.
Previously, an employee's decision making may have mostly affected their own work, but now their decisions affect their team, budgets, and the business' bottom line.
In 2023, it's not just about making a decision, it's about using the data available to make the right decision. Let's face it – making gut decisions no longer cuts it when rivals are utilizing data to get it right every time.
This is why data-based decision making is such an important skill for managers to have in their arsenal in 2023.
3. Collaboration
The "do what I say not what I do" management style is old hat these days.
Collaboration allows you to harness the range of skills and perspectives on your team and combine these with your management prowess for the best outcomes. Failing to do so can negatively affect your team's workflow.
Indeed, as a manager, it's not just about collaborating with your team – it's about managing collaboration within your team.
4. Learning and Development
In days gone by, learning and development was something companies deployed if and when they felt their employees needed to upskill.
But now that employees move on more quickly – rather than the old "job for life" adage – it's vital that managers be L&D orientated. Consider this: one in three people leave their job within the first year. This high churn rate costs businesses huge amounts of money, and the secret to solving it could lie in L&D.
Failing to upskill team members at the pace they desire could result in poor employee retention rates, not to mention falling behind the rest of the industry skills-wise. Training doesn't necessarily come easily to managers – no matter how good they are at the task in question – which is why L&D training is key.
5. Remote Management
There's management, and then there's remote management. While the two concepts have a good amount of crossover, managing someone who's in front of you for eight hours a day, and managing someone you rarely see are two different skill sets.
Remote work has skyrocketed in popularity in the last few years, and the trend continues to snowball. Managers with remote workers on their team need to monitor user activity effectively, while improving their communication and technology skills to ensure those employees still feel engaged and part of the a dedicated team.
6. Diversity and Inclusion
Skills and knowledge surrounding diversity and inclusion are essential for the managers of 2023 With increasingly diverse teams in terms of gender, ethnicity, sexual orientation, gender identity, religion, and age, managers who don't cater to everyone on their team risk alienating talented employees, and missing out on results in the long term.
But this is not an easy task. It's not just about knowing your company's D&I policy back to front – it's also about understanding how best to manage employees with backgrounds different from your own. This means emotional intelligence is key here.
7. Feedback
While this one falls under the umbrella of "communication", it's so important that it deserves a special mention.
Did you know that companies who implement regular feedback have higher employee satisfaction levels and turnover rates that are 14.9% lower than for employees who receive no feedback? There are so many different ways to provide feedback, from annual appraisals to development meetings to awards to informal pats on the back.
The important thing is that the manager understands the most effective ways to give feedback , and that there is a consistent feedback structure in place that the team is aware of and happy with.
8. Project Management
These days, team managers often need to have project management skills in their arsenal too.
While some teams will have separate project managers, this is not always the status quo; regardless, project management will often bleed into a team manager's remit.
As corporate culture has shifted towards agile principles, and we're working in a much more project-based way than in the past, these skills are crucial for any manager worth their salt.
Managers can prepare for this by familiarising themselves with project management software and processes.
9. Integrity
A brand's social value proposition – or corporate social responsibility – is a huge deal in 2023.
Not only is it important for customers, but – especially among younger demographics – it influences job seekers' decisions. While "integrity" may not be a skill in itself, it's important that team managers work with their brand's social value proposition at their core.
It's essential that these values are genuinely felt throughout the company in order for the social value proposition to have the intended positive effect
10. Leadership
This one might sound obvious, yet so many companies fail to offer leadership training.
Some 83% of businesses say it's important to develop leaders at all levels, yet 63% of Millennials say their leadership skills are not being fully developed.
While leadership skills might come naturally to some, helping managers to become the best leader they can be is always going to require some training.
What skills do you think are most important for strong management as we progress through 2023?

JD enjoys teaching people how to use ZoomShift to save time spent on scheduling. He's curious, likes learning new things everyday and playing the guitar (although it's a work in progress).