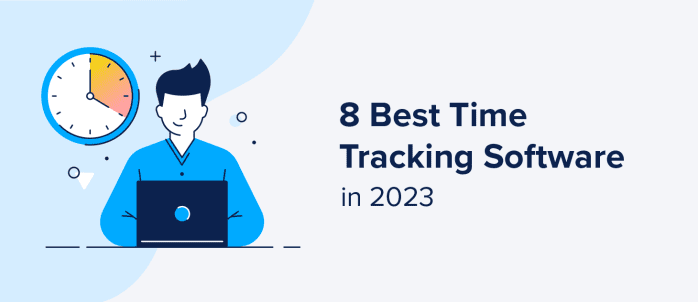 Time tracking software can make or break a workday.
With it, managers and employees can maintain efficiency throughout the day, working on tasks and projects that need the most attention. Without it, employees can become disorganized and projects can go off the rails — leading to missed deadlines and increased expenses. That's why time tracking software is so important for the stability of an organization.
Below, we have included our list of the eight best time tracking software options on the market. We give more background on what it is, features to look for, and how ZoomShift can revolutionize your organizational efficiency. 
What is time tracking software?
Time tracking software is a tool teams can use to keep track of hours worked.
Time tracking software can be utilized as an all-in-one employee management tool. It can create employee schedules, track employee PTO and other time off requests, improve the overall productivity of your team, reduce overtime expenses, and more.
It can also operate as a hub to organize the workday. Employees can easily clock in and out, while also keeping an eye on how efficiently they're operating. 
Key time tracking features
While time tracking software is a powerful tool, not all are created equal. Whichever provider you choose, you'll want to make sure it comes with the following features:
Easy-to-use time tracking:

While this feature may seem obvious, you'll want to be sure that time tracking in the software of your choice is easy to use. A clunky or confusing interface will only add frustration to the process.
Reporting:

Reporting features are crucial in time tracking software to evaluate the effectiveness of an employee or team. With reporting insights, you can better plan for the future and increase operational efficiency. 
Team-wide integration:

From managers to employees, you want to be sure that every member of your team can access the software. This makes it easy for management to create and distribute schedules, manage shifts in real time, and for employees to clock in and out and submit PTO requests. 
Payroll capabilities:

Time tracking and

payroll

go hand in hand, so it only makes sense that the software can easily implement payroll from previous schedules. The ability to export time into popular accounting software such as QuickBooks will save you a tremendous amount of time.
The 8 best time tracking software
1. ZoomShift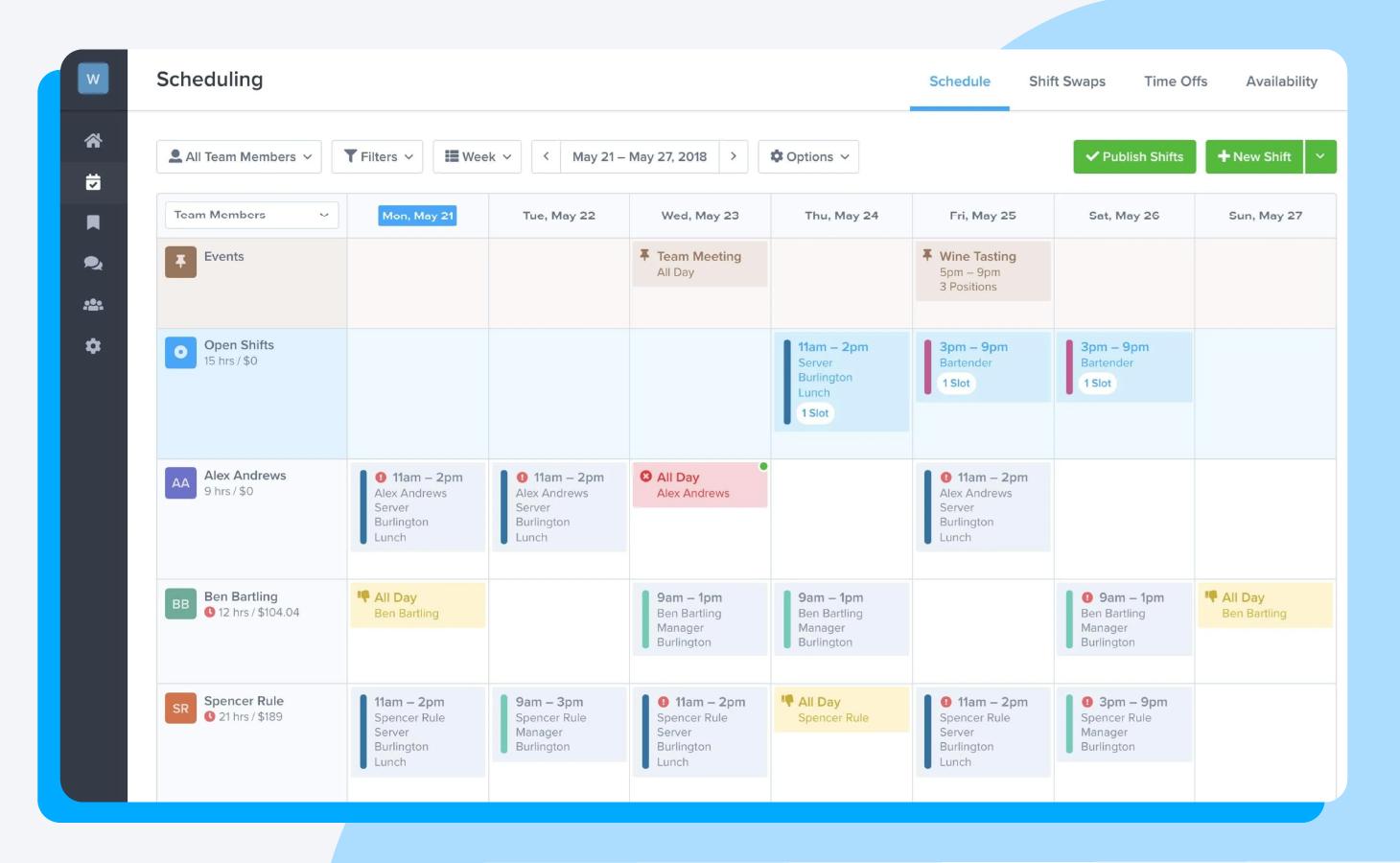 Best for:

All-in-one time tracking solution
Strength:

Create organizational stability with a platform that covers everything from time tracking to payroll
Pricing:

Plans start at $2 per user per month
ZoomShift is more than a time tracking software — it's a better way to work together.
Featuring an intuitive and easy-to-use interface, our software can bring organization to a manager's workday by creating and updating work schedules, tracking employee time off requests, and reducing labor costs across the board. Once you achieve organizational order, simply export the weekly report to your preferred financial software to run payroll instantly. 
This isn't just for management, however, as our platform itself operates as ground zero for all internal communications. Every member of your team can view the work schedule, creating the perfect hub for accountability, shift swapping, PTO requests, and day-to-day coverage.
With ZoomShift, mismanaged schedules and organizational confusion will be a thing of the past — get started today.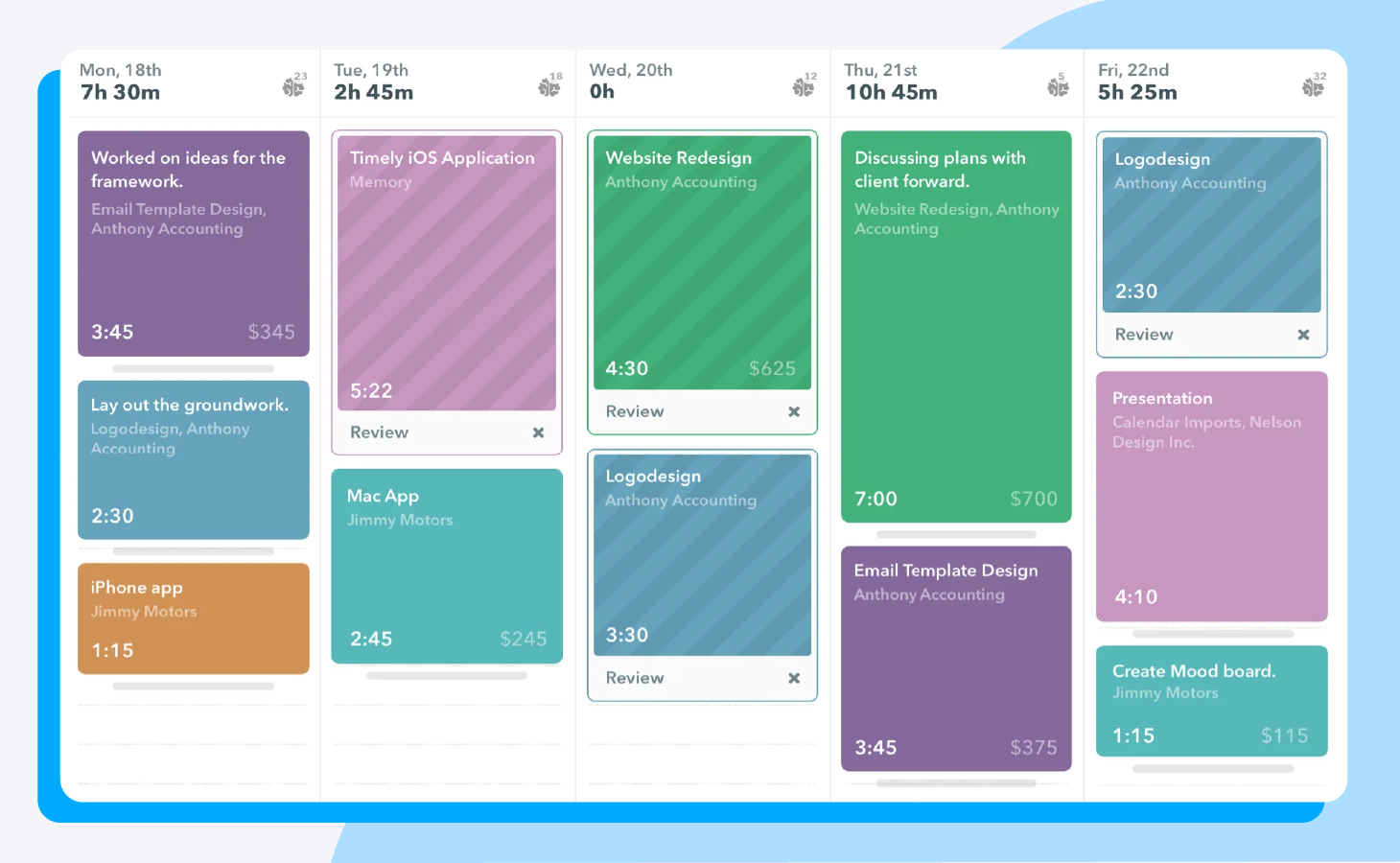 Best for:

AI time tracking
Strength:

From employees to managers, automate time tracking to focus on the tasks that matter
Pricing:

Plans start at $9 per user per month
Boasting assistance from artificial intelligence, Timely promises to automate the time tracking process, giving managers and employees more time to focus on other important tasks.
The platform is first installed onto an employee's work computer. From there, Timely automatically tracks time spent in work apps throughout the day to deliver an all-encompassing report. By collecting information in the background, workers can stay present in their work and log time when it makes sense to do so.
While at first glance this product may seem overly intrusive, its privacy promise guarantees to keep user activity private — meaning workers only share their workday information with management or clients once they have personally reviewed and approved the report.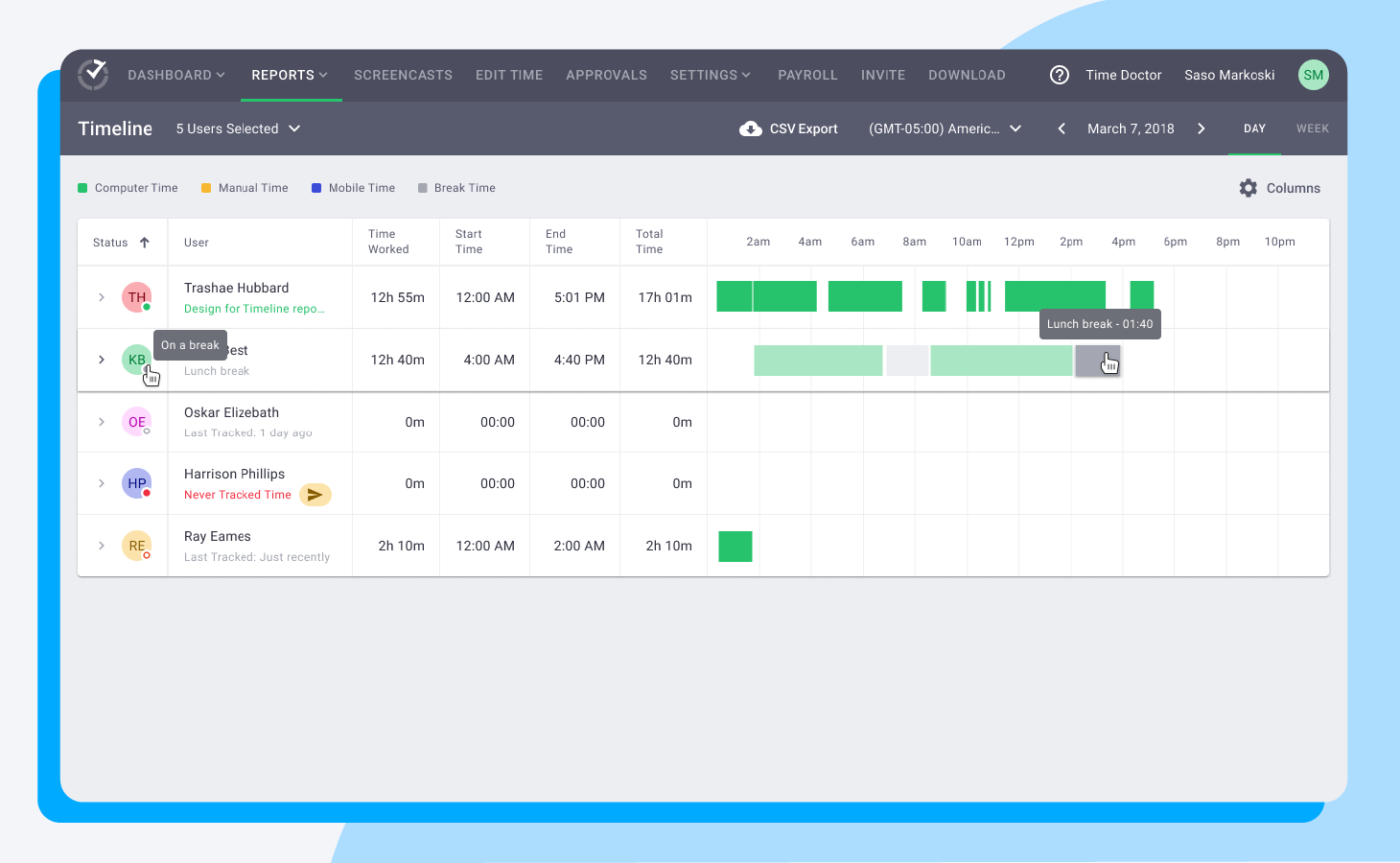 Best for:

Improving team efficiency
Strength:

Intuitive software that offers comprehensive reports that give both managers and employees valuable insight
Pricing:

Plans start at $7 per user per month
Focusing on the betterment of employees, Time Doctor is a platform that not only tracks time, but builds a better workforce.
Compatible with Mac, Windows, iOS, and more, the app features automatic time tracking to provide valuable insights into productivity and performance. Managers can analyze projects, with insights into individual employee performance and overall timeline. Employees receive comprehensive reports on utilization and specific areas of improvement for tasks that took too long to complete. 
Trusted by over 250,000 businesses, Time Doctor seeks to improve performance and employee morale in a work culture that is becoming more and more remote — striking a balance between employee positivity and organizational productivity.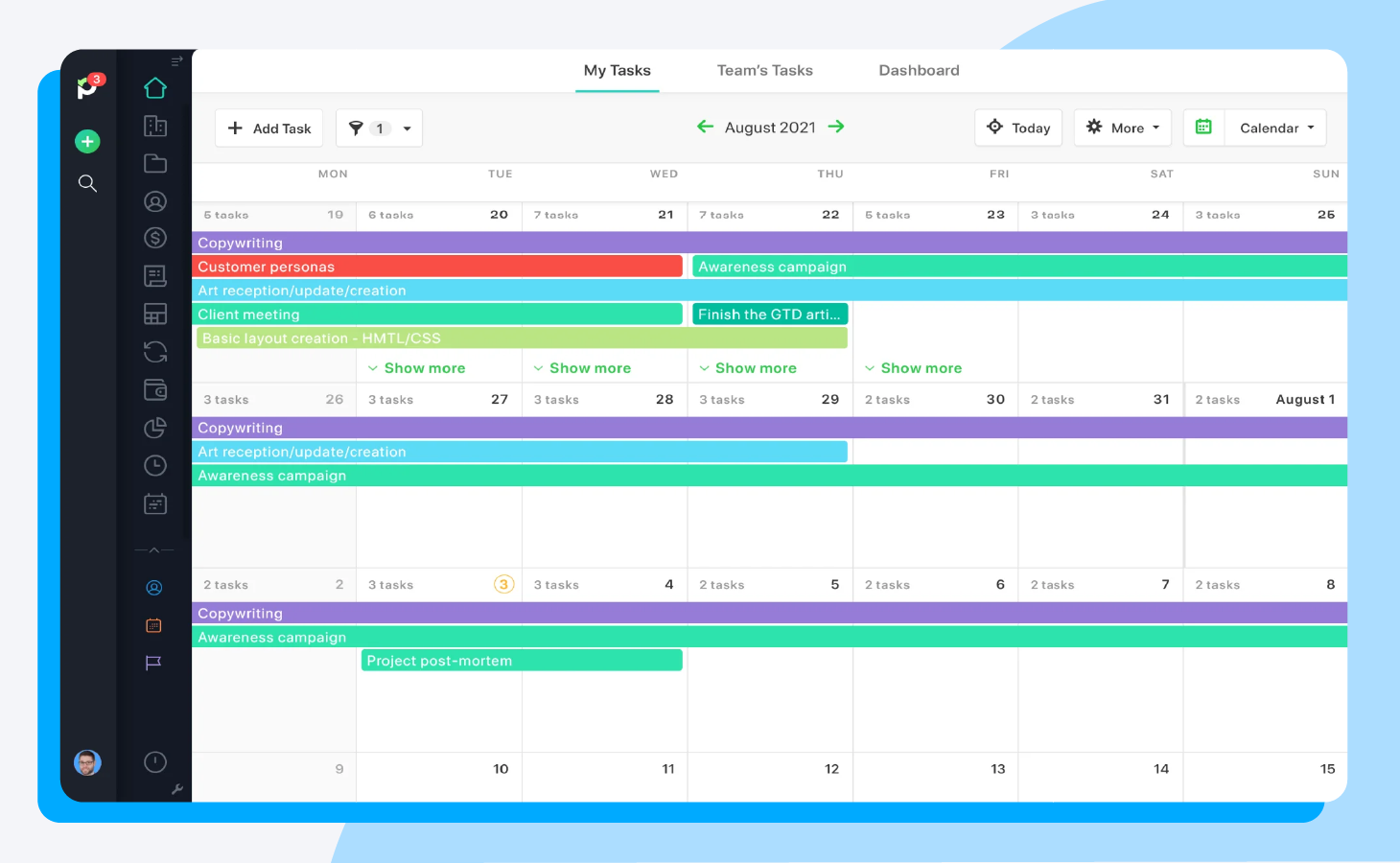 Best for:

Multi-use teams
Strength:

Track time, manage projects and resources, and handle invoicing all from one source
Pricing:

Plans start at $9.95 per user per month
Paymo is an all-encompassing app that offers time tracking, project management, resource management, and invoicing all from one platform.
Working directly from a browser or phone, managers can keep track of where time is being spent to improve organizational efficiency. The platform's team schedule feature provides the entire staff with work coverage and PTO information, while Gantt charts provide managers with valuable visualizations to get a bird's-eye view of project progression. 
On the time tracking side, employees can track their hours in real time — either by hand or with automatic features that monitor activity. From there, managers will receive reports on how employees have spent their time, allowing for improvement and employee development.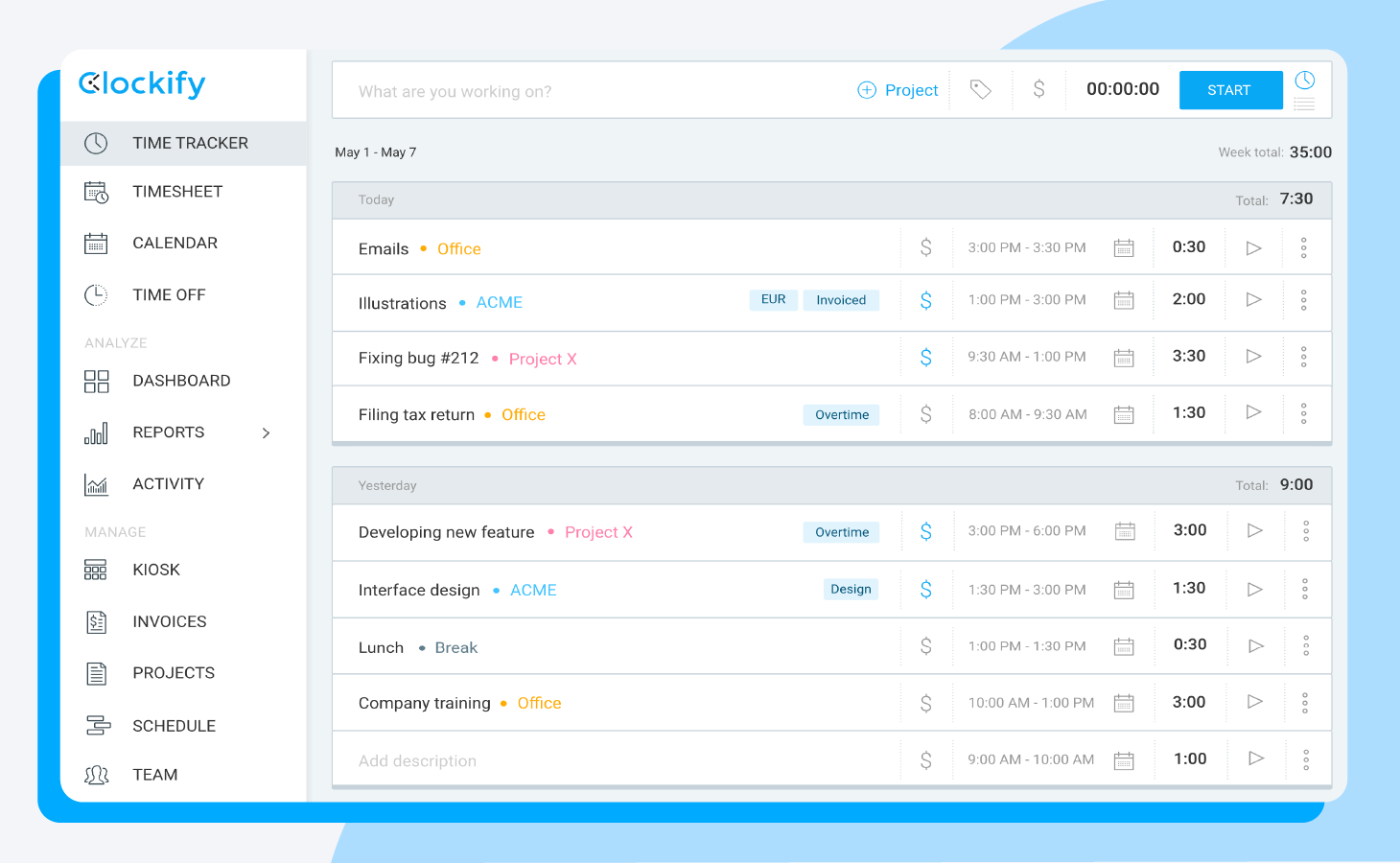 Best for:

Solutions on a budget
Strength:

Comprehensive solutions and support in a budget-friendly platform
Pricing:

Free option, with other plans starting at $3.99 per user per month
Clockify is a free time tracking solution that allows managers to improve work scheduling and employee productivity.
Featuring an intuitive platform that syncs data across all devices, this software boasts a number of features to boost productivity, bill clients, streamline work processes, and manage a workforce. Managers have the ability to create schedules, navigate PTO requests, and handle expenses — while employees can clock in and out from any device, view the team-wide calendar, and receive insights into their productivity. 
With 24/7 support and a 95% satisfaction score, Clockify is a great solution for teams that need organizational improvements without impacting their bottom line.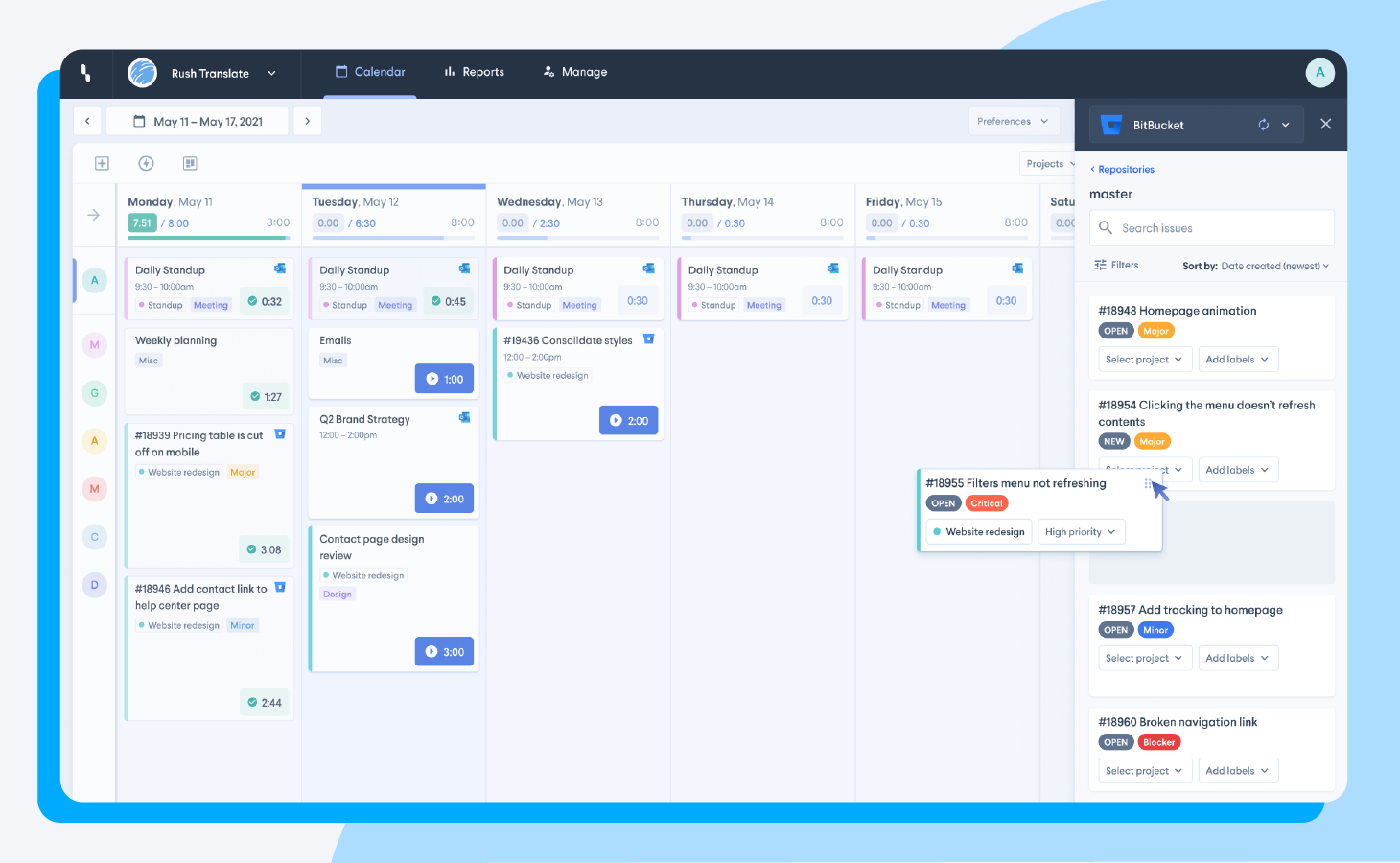 Best for:

Task management
Strength:

Task-focused approach to time tracking and overall productivity
Pricing:

Plans start at $12 per user per month
From project planning to completion, HourStack offers seamless task and time management to improve organizational efficiency.
Operating as a task-based platform, this app helps teams of all sizes track projects on both a short- and long-term basis. In the short term, employees can keep an eye on their daily and weekly schedules to track their time, while managers can plan and assign tasks to best fit immediate needs. In the long term, both employees and managers can gain insights on performance, with employees seeing areas of improvement, and managers seeing overall project performance and trends.
HourStack focuses on six main features — project management, task management, scheduling, time tracking, reporting, and team management — providing a comprehensive solution for teams looking to improve overall performance and efficiency.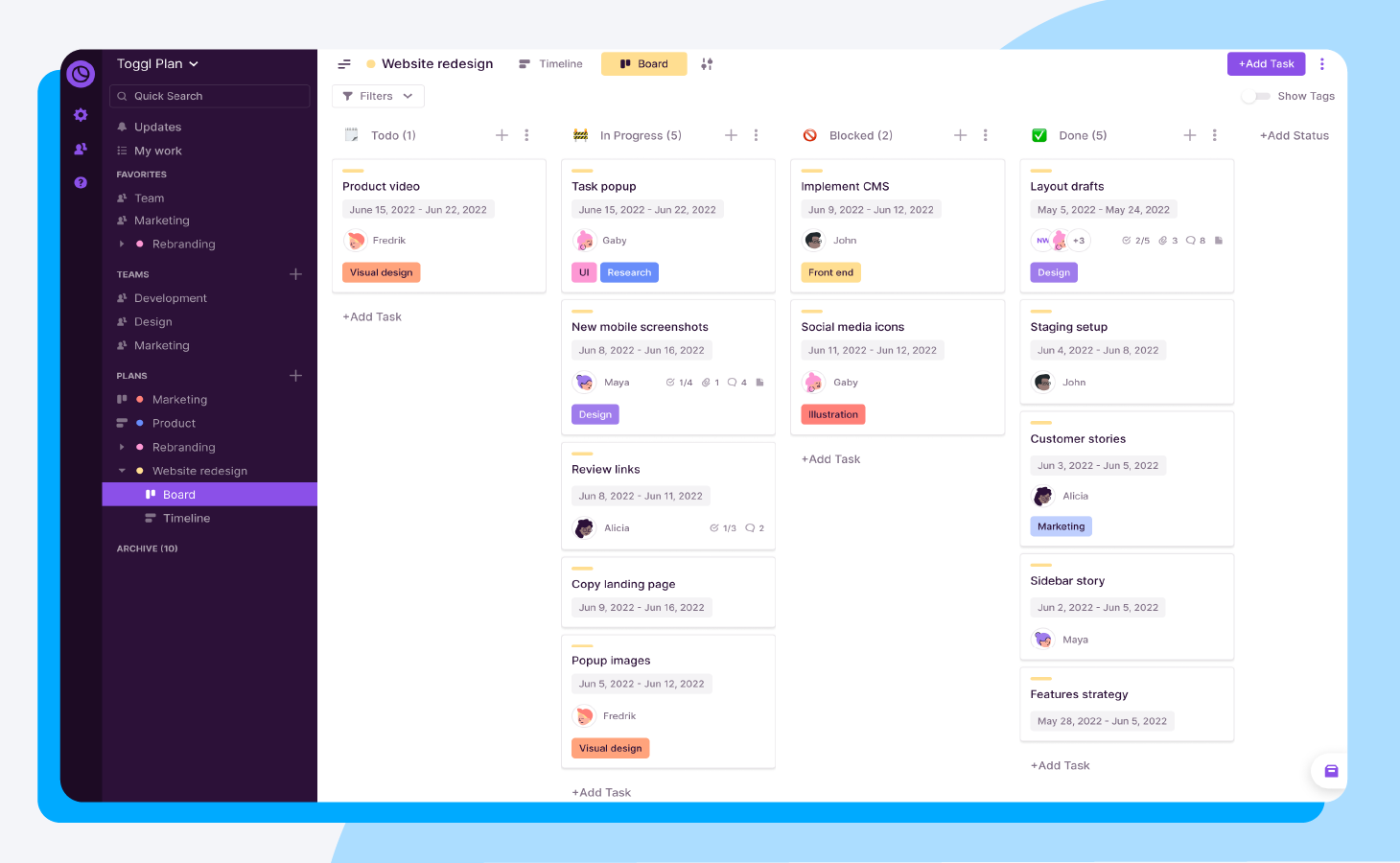 Best for:

Employee accountability
Strength:

Effortless time tracking and integration across teams and departments
Pricing:

Free option, with other plans starting at $9 per user per month
Boasting a time tracking solution that's easy, powerful, and frictionless, Toggl helps businesses boost their performance and get paid for every minute of work they do for clients.
With five main areas of focus — employee time tracking, billing and invoicing, project budgeting, reporting, and payroll — managers can stay on top of tasks and employees to run the most effective operation possible. Additionally, effortless work planning lets organizations deliver projects without going over budget or stretching employee capabilities. 
With Toggl's time tracking feature, employees can take a look at organizational tasks from their viewpoint or company-wide, improving accountability and timeliness. Throwing away the micromanagement approach that other apps offer, Toggl can empower employees to perform at their best.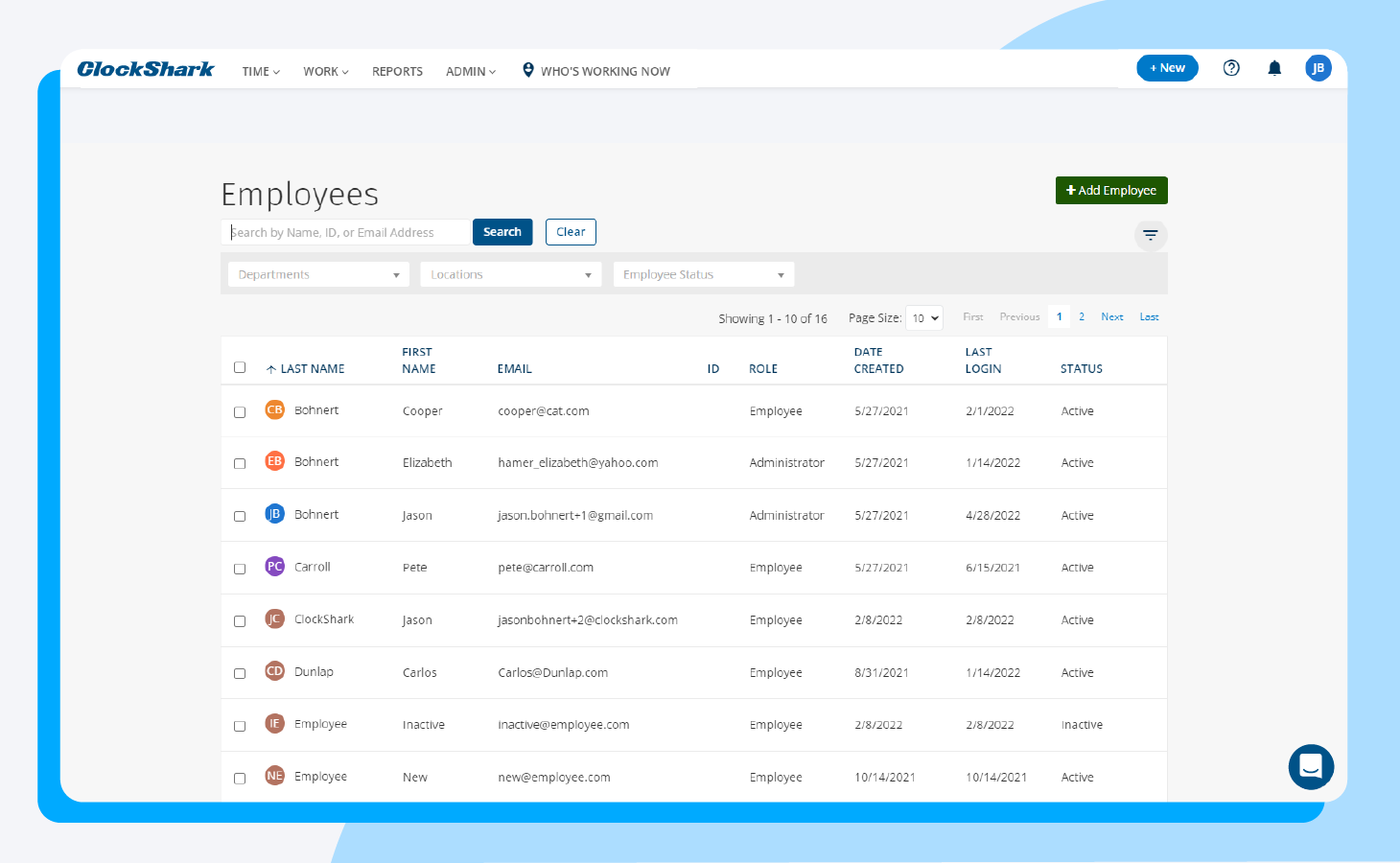 Best for:

Field service industries
Strength:

Time and GPS tracking for industries with jobsites
Pricing:

Plans start at $8, plus $7 per user per month
With a focus on field service and construction businesses, ClockShark is a time and employee tracking app that helps companies finish jobs quickly while getting paid faster.
This platform features four main solutions: time tracking, an all-in-one job management system, intuitive employee scheduling, and easy integration with quotes and invoices. With ClockShark's time tracking capabilities, employees can clock in and out directly from the app and keep track of their daily tasks. Managers can then use this information to evaluate and improve the productivity of their staff and jobs as a whole, while also leveraging the GPS tracking features to make sure their employees are exactly where they need to be at all times.
Once the week comes to a close, managers can use the software to easily export payroll information, making payday a breeze.
ZoomShift can help with time tracking
Time tracking software is key to maintaining organizational efficiency even in the wake of uncertainty and never-ending projects. Capabilities such as reporting, team-wide integration, organization, and easy-to-use payroll services can make a business run smoother than ever.
It can be tough to find a software that fits your needs, but for an all-encompassing solution, we humbly recommend ZoomShift. With extensive features for both managers and employees, our employee management software will be sure to foster organization within your business. 
Try it out today.