JD Spinoza

JD Spinoza

JD enjoys teaching people how to use ZoomShift to save time spent on scheduling. He's curious, likes learning new things everyday and playing the guitar (although it's a work in progress).

Jan 15, 2021
5 Things That Frustrate Your Employees (That They Won't Tell You About)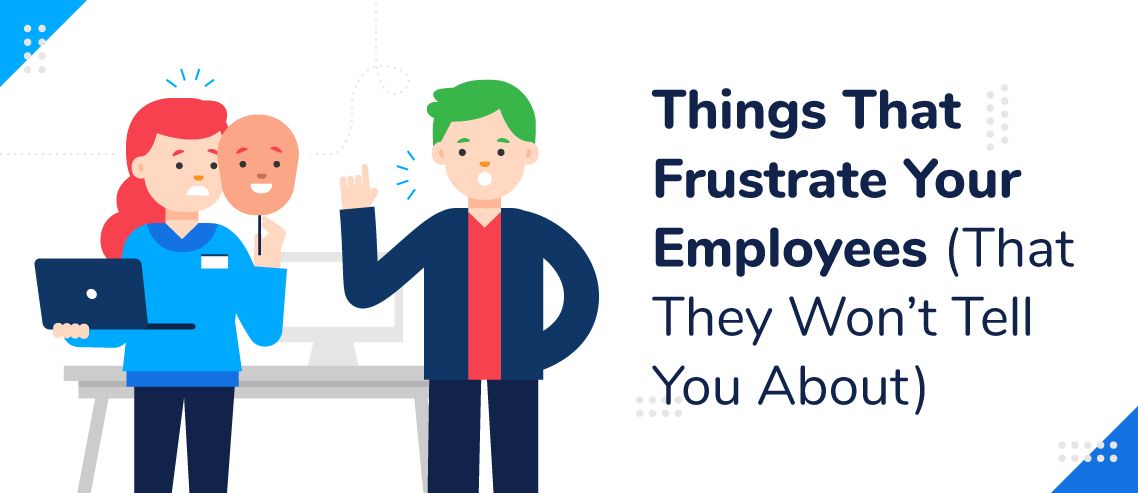 Keeping your employees happy is one of the most important jobs you have as an employer.
Employee morale affects productivity, culture, and even profitability.
From unwanted work schedules to not feeling recognized for their hard work, the workplace can be full of employee frustrations that you as an employer don't always know about.
While you can't make every day on the job perfect for all of your employees, knowing their potential frustrations and how to deal with them will help ensure that your employees are happy and that your company is functioning at its best.
Frustration #1: Pulling extra weight for lazy co-workers
No one likes having to pick up the slack when others aren't tackling their fair share of the work. And when this feeling is between co-workers, it can be a destructive force within your company.
Minimizing any imbalances in work will go a long way in building positive energy within your company. Instead of letting the less motivated ride the coattails of your hardest working employees, try assessing your training program to see whether you can even out the load while maintaining your quality standards across all staff. Sharing time management tips as part of your training program can help get all employees working efficiently and effectively.

Frustration #2: Lack of communication from the management team
Your strongest employees are those who genuinely care about the future of the company.
These employees often wish they could learn and contribute more to the company than they are able – but unfortunately, a lack of communication about the holistic view of the business from management teams keeps them from doing contributing at a higher level.
Although it's not always practical to be completely transparent about your business practices, providing a view into different areas of the company can go a long way in showing your employees that they are a trusted part of your company.
Once you've identified the employees who are invested, eager to learn and committed, you can begin to include them in additional pieces of the business. They'll appreciate the investment in their continued education in their field, and you'll have the added benefit of an additional brain to help with organizational challenges.

Find a communication system that works well with you and your employees. Communicating online with your employees helps you communicate quickly and efficiently. Streamline communication in your organization by using some sort of collaborative software. At ZoomShift we offer the discussion board that gives people a place to communicate around scheduling. Not only does this improve communication in the workforce it also empowers employees which in turn leads to greater productivity.
Frustration #3: A change-resistant environment
The greatest ideas often come from those who know your company best – your employees. Since they face the ins and outs of the business every day, they have the information and motivation needed to come to unconventional solutions. The problem is that most companies don't have a good system for collecting these ideas and turning them into actionable changes that can improve your business and your culture.

Try holding a quick brainstorming session at the beginning of your next staff meeting, where employees are encouraged to bring new ideas that streamline work, improve customer service or bring unique company culture. Make these brainstorms a standing event and before you know it, your employees will come to the table with ideas ready to share.
Also, be sure your employees know that you're always open to and willing to hear their ideas. Whether by email, phone or in person, communicating that your company believes that good ideas can come from anywhere is a great way to get fresh thinking delivered to your door.
Frustration #4: Gossip and workplace politics
Workplace gossip is as common as doughnuts at the coffee station.
Small talk is good for morale and while part of the office gossip machine depends on the personalities, it is possible to keep the rumor mill to a minimum, curbing politics and keeping your teams pleasant and productive.
Rallying employees around a common goal is a great way to channel energy into something productive. The team mentality builds camaraderie and collaboration, and achieving something new together is a great way to focus on each other's strengths and bask in the glow of a goal achieved together.
And don't forget that creating a positive, productive work environment and promoting trust in coworkers, management and the company will keep your employees focused on doing their best every time they're at work.
Frustration #5: Not getting the recognition they feel they deserve
Everyone likes to feel appreciated for the work they do, but many employees are left feeling like their hard work is exchanged for a paycheck and nothing else. In order to truly feel valued and, it's important to recognize and, when appropriate, reward your employees for a job well done.

But don't overlook the power of random positive feedback as well – whether in the form of a simple thank-you note, praise or a small spot bonus or employee appreciation days, it's a great way to let your top employees know that you recognize their hard work and appreciate their contributions to your company. Most importantly, it's a gesture they'll never forget.
And most importantly, don't wait for big milestones to offer your thanks for an employee's hard work. Remember that small wins are just as important as big wins, and that everyone deserves a pat on the back to remind them that they're valued.
Conclusion
Show your employees that your workplace is open, supportive, and that they're encouraged to share concerns and frustrations. Show them that they can work together to make your company the best that it can be.
It starts with you and your actions. Lead by your example and listen to your employee feedback so you know where you can improve.
What have you done to help alleviate frustrations in the workplace? Have have you applied this to your scheduling process? Let us know in the comments!
JD enjoys teaching people how to use ZoomShift to save time spent on scheduling. He's curious, likes learning new things everyday and playing the guitar (although it's a work in progress).