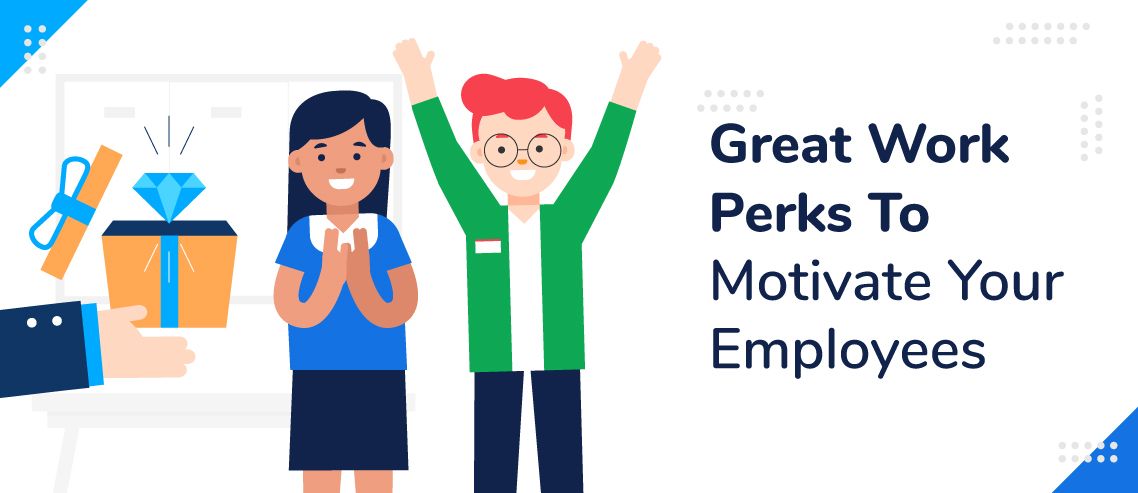 Perks and benefits are important, especially to the newer generations of workers. In fact, most people say that benefits and perks are a big factor in considering whether to accept a job offer. 80% of employees would even choose additional benefits over a pay raise.
These days people want to have a work-life balance, and want to feel appreciated by their company. Providing perks for your employees can help with this, but can also serve other purposes. Offering great perks and benefits will entice quality employees to join the company. These same bonuses or rewards will become markers of culture and morale in the office. You will find you have more motivated staff members, and they will be much more productive.
When employees feel engaged and appreciated, they care more about the company. They'll be much more motivated to do their best work to achieve the business's goals. So here are nine great perks you can introduce that will keep your employees engaged and motivated.
Employee recognition.
Whether or not you consider it a perk, recognition is something that many companies fail at. Although we might hope that giving recognition is common, the statistics say otherwise. 69% of workers say that motivation and morale would improve if managers noticed good work.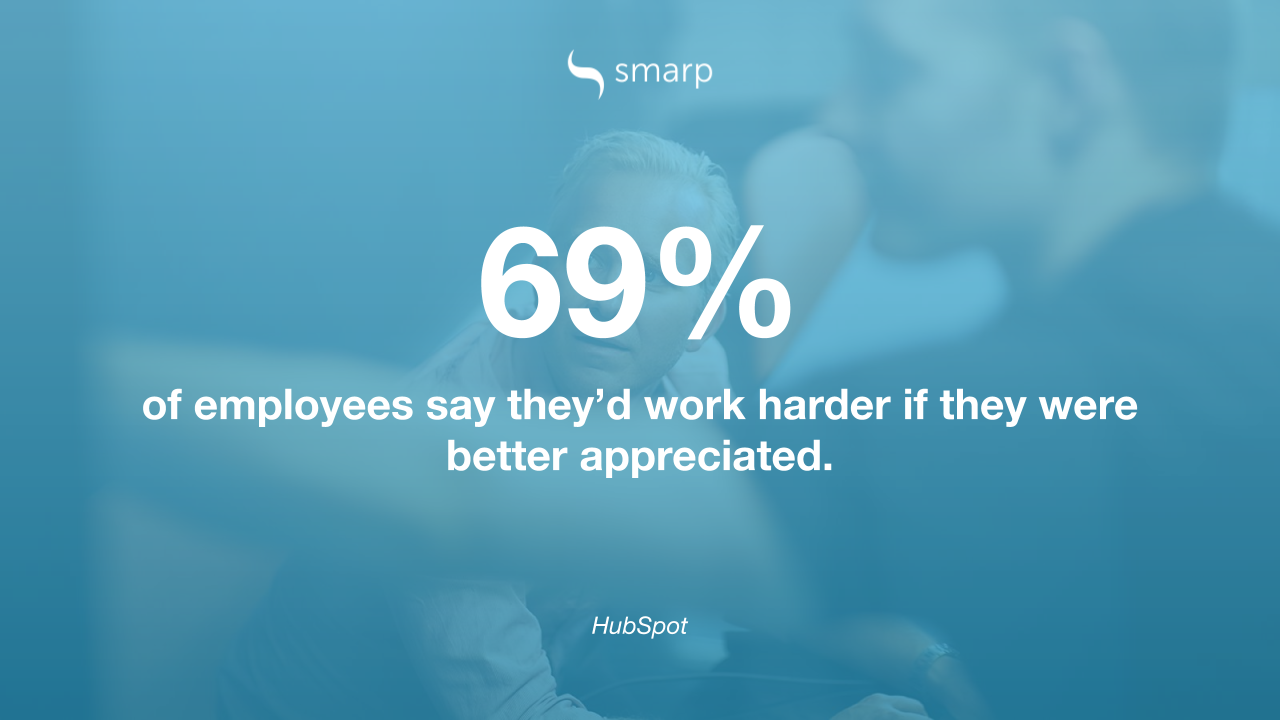 Source: Smarp
More than one-third of senior decision-makers surveyed don't agree. They don't think regular recognition or thanking employees has a big impact on staff. There is clearly some disparity here.
Don't become part of the problem and neglect this area; it is incredibly important for staff. Praise employees when they do a good job. Acknowledge their contributions to projects, either individually or as a team. Thank them for going above and beyond, and show appreciation for their loyalty and effort.
There are so many ideas for recognizing and rewarding employees for their good work. You could set up a recognition program or even ask your staff what they value most. Perhaps they'd prefer an extra day off, or a team lunch. Or try using a gift certificate creator to make your own unique reward system. If appropriate, you could even consider giving recognition in a more public way.
Flexible working.
In 2022, businesses are having to learn all about the best ways to support remote working. While this isn't an option for all workplaces, flexibility is becoming more important across the board.
Working from home also isn't for everyone, but many employees thrive off it. The best businesses are asking their staff how they want to work, and actually listening to them. Going forward, companies will need to adapt to provide a balance of office and remote working.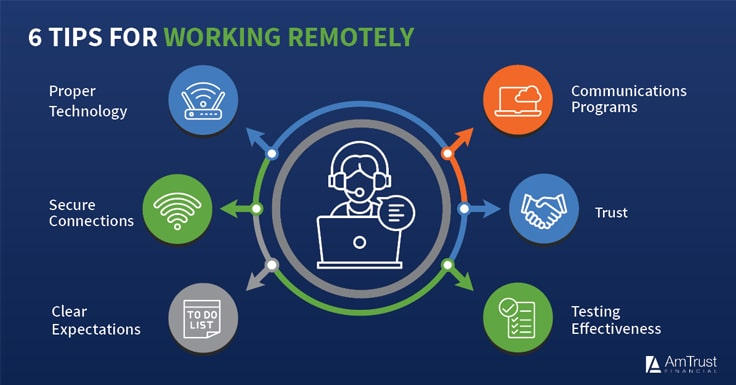 Source: AmTrust Financial
But flexible working doesn't only apply to being either in or out of the office. Proper flexible working allows employees to set their own time. This needs to be done within reason, of course, and employees still need to do their hours and get their work done. But if a parent is allowed to work around the school drop off, it will make a huge difference to them. According to the Bureau of Labor Statistics, both parents work in 60% of the households with children in the U.S.
Some people also just prefer to start earlier or later in the day and manage their hours accordingly. Keep your employees happier by letting them suggest their own times. If you need to have core hours, that's fine too. But maybe reassess if it's actually important, and if there can be some flexibility around them if so.
Professional development and training.
No one wants to feel like they are stagnant, they want to feel like they're working towards something. Upskilling your workforce is the perfect way to show your employees you care about them. In fact, most employees list professional development as very important to them.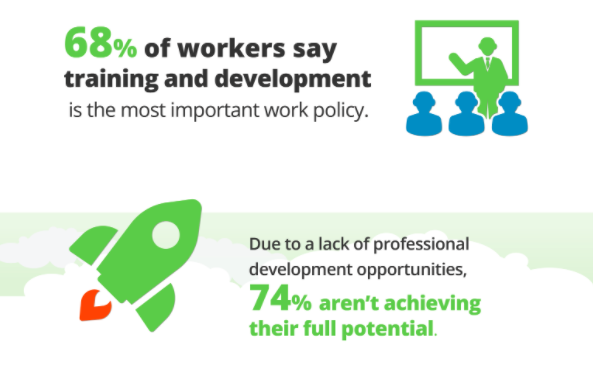 Source: BetterBuys
More than just showing your workforce you care, prioritizing development unlocks their potential. It makes employees feel more invested in business goals and more loyal to the company's values. It gives them tools to feel more prepared in their role so they can perform their duties better.
This increases overall performance and confidence in the workplace. And of course, staff learn new skills that can be utilized for your business. Providing professional development and training is a win-win situation.
Whether it's offered in-house, or through an external company, training is important. The increase in remote working can make it difficult to provide learning opportunities. Remote learning can be a good way to let employees learn from home, and in their own time. A business VoIP system can also be a good option for facilitating staff-wide training. It's a perfect solution for the remote workforces of 2022.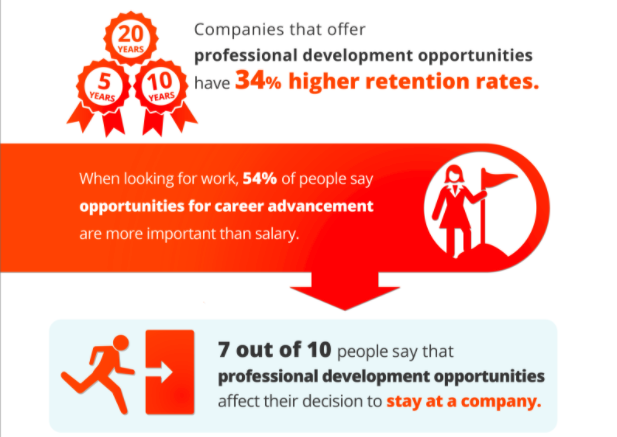 Employee discounts and rewards
There are lots of ways you could offer some kind of discounts or rewards for your employees. There are already plenty of established schemes and platforms that promote this. But if you want something more personalized, you could consider a few more innovative options.
For example, trying to arrange discounts with local businesses. Or helping staff pay for their gym memberships. Helping pay for healthcare can also be a good perk to offer employees. Or you could subsidize lunch costs. Even things like free breakfast or fruit in the office, and tea and coffee can make a difference.
Promote a good work-life balance.
Many studies have been done on mental health in the workplace, and the effects of stress. Stress leads to low employee morale. Disengaged employees could cost an organization an additional 34% of their salary.
This could be due to job dissatisfaction and reduced efficiency. It could be from high turnover rates, illness, or even death. Not to mention absenteeism, alcoholism, poor decision-making, indifference, apathy, and lack of motivation.
Burnout is defined as "chronic workplace stress that has not been successfully managed". It is difficult for employees who experience it, but it's tough on businesses, too.
Employees with burnout are far less productive, and are:
63% more likely to take a sick day.
Six times as likely to be actively seeking a different job.
13% less confident in their work performance.
50% less likely to discuss performance goals with their managers.
Employee burnout is a very real thing. Unless your staff are getting the time off they need, it will become inevitable. People need to be able to properly switch off and take proper rest time when they need it.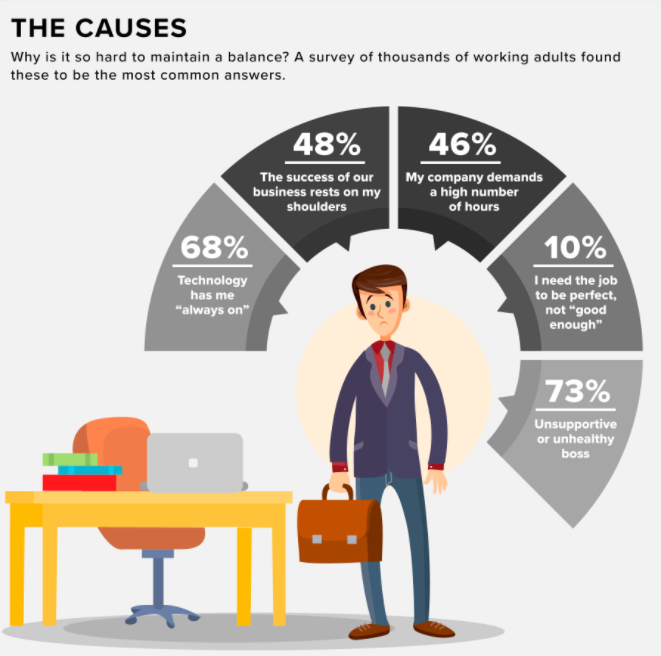 Source: The Wireboard
72% of people consider the work-life balance an important factor when selecting a job. But 66% of workers feel they do not have work-life balance in their lives. Make sure you are providing an appropriate number of leave days.
Giving employees their birthdays off work is a great way to make them feel appreciated. Paid sick days are also a great incentive for employees and help to manage stress. Employees will feel safer, and will be able to properly recover before returning to work.
Make sure staff have the tools they need to do their jobs properly.
Studies have shown that up to 90% of employees are doing boring and repetitive tasks. If employees are continually doing these types of tasks, morale will be down. But there are many tasks which can be easily automated, freeing up staff for more engaging work.
There are many tools that can help staff feel more supported and better equipped to do their jobs. That might look like providing a virtual phone service for managing calls more easily. Or perhaps using a predictive dialing system in order to best utilize algorithms.
Managing repetitive, time-consuming tasks also boosts productivity. Employees can focus on more challenging tasks, where they can add more value. Using the right tools will result in everything running more smoothly. Your workforce will be more motivated, and the business will also benefit.
This area is important to account for if your business is consumer-based, and available 24/7. For example, a wholesale online store needs to be in service for all hours of the day. Make sure you use automation tools to ensure as much of the process is managed without having staff on call. Though, if employees do have to work awkward hours, make sure you are paying them appropriately for it.
Trust your employees by giving them autonomy and responsibility.
No one likes to be micromanaged, employees like to feel they're trusted to do their job. This is particularly the case for millennials. Millennials want to be trusted with big projects, not just the small ones. If work becomes too routine and mundane, they get bored and start looking for work elsewhere.
People like to have responsibility, so trust your employees with challenging projects. It demonstrates you're willing to give them a chance to use their skills and talents to solve problems. They may not succeed in their efforts every single time, but that's where coaching and mentoring comes in.
Implement coaching or mentorship programs.
Coaching comes down to unlocking a person's potential to maximize their own performance. It helps to improve self-awareness and alignment with values, strengths, and goals. And according to research, this is exactly what people want in a manager.
Discover what motivates your staff and help them find meaning and purpose in their work. Then work on building accountability with them. A recent survey has shown that nine in ten workers would take a pay cut in order to engage in more purposeful work. This is clearly an important aspect of work for employees today.

Mentoring is great for younger employees, especially new graduates. Look to your most loyal staff with longevity to find the best mentors. They can teach professional business etiquette and give guidance where needed.
Mentors can guide new staff through the onboarding process. If you give this support right from the beginning, they'll become valuable employees. Help them navigate office culture and provide them with career insight.
Coaching and mentoring can also be a great opportunity to offer constructive feedback. It can give employees the guidance they need to improve and do a better job the next time.
Encourage team building and create a fun work environment in the process.
Humans naturally love to connect and interact, and no one enjoys a workplace where no one chats or smiles. Ignoring team building is a sure way to kill company culture and morale. Everyone will be much happier and work together better if they get to know their peers. Having fun also facilitates creativity within teams, which leads to higher levels of innovation.
Team building will also help with collaboration between employees. Collaboration boosts morale, productivity, and retention rates. Give your employees a day or afternoon off work to do a group activity together. It doesn't have to involve falling backwards into each other's arms, or cringy trust exercises. Your team could even suggest some ideas – maybe it's a ping pong tournament or bowling. Or they might just want to order pizza and chat or play some games.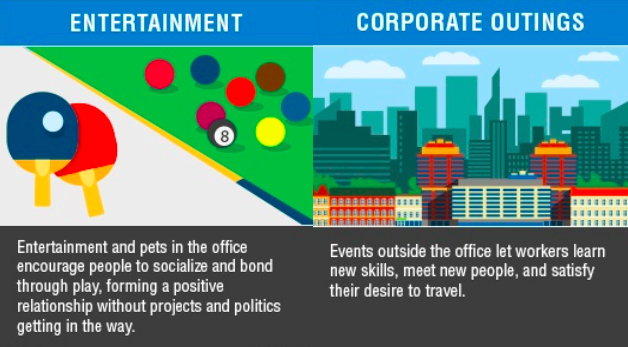 Source: Ragan
Having fun together will lower stress levels and allow closer connections to form. There are lots of options for virtual team building. Virtual happy hour could be worth a try at the end of the week, using video conferencing. Virtual scavenger hunts or games sessions could also be a fun way to get teams to bond.
Whatever you choose, don't neglect the people in your team just because they're not in the office. Connection and inclusion are just as important now, and perhaps even more so. Make sure you schedule the time in advance, otherwise people will be more inclined to miss it or work through it.
To Summarize…
It shouldn't be brand new information that employees like to be appreciated. Or that they want their company to show they care about them. But implementing these things can take time and effort, and can mean some changes for the company. But it will be worth it in the long run.
Focus on these nine areas, or at least pick a couple to start with and go from there. You'll see an increase in motivation, efficiency, and productivity. And your employees will be performing at a higher level than ever before.
**Guest Post**
Bio:
Richard Conn – RingCentral US
Richard Conn is the Senior Director, Search Marketing for RingCentral, a global leader in unified communications and teleconference services provider.
He is passionate about connecting businesses and customers and has experience working with Fortune 500 companies such as Google, Experian, Target, Nordstrom, Kayak, Hilton, and Kia.