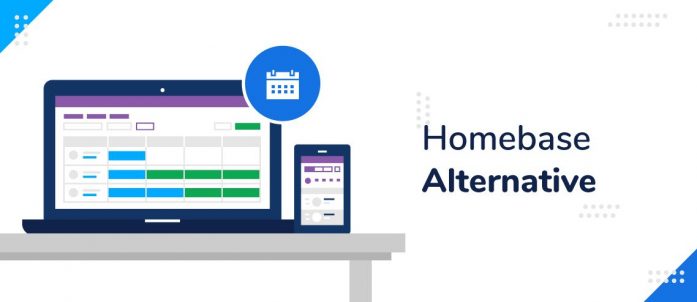 According to an Expresswire report, the employee scheduling software market is poised to double in size from 2017 to 2023. In 2023, the market is set to reach half a trillion dollars in sales alone.
Why such massive growth?
To match a massive need for automating the process of creating and maintaining schedules.
Small businesses and large enterprises all have employee scheduling needs ranging from tracking work schedules and vacation time to compensation reporting – all activities that have traditionally been manual and reliant on complex spreadsheets.
Such a need for modernization has sparked the formation of a colossal industry that shows no sign of slowing down. The market is filled with companies trying to automate and streamline your scheduling needs, and as with any market, some are doing a better job than others.
Why Choose an Alternative to Homebase?
Some reviewers say Homebase's interface is slick and easy to learn, while others find its design "unintuitive and not customizable." Some customers find the support staff friendly and hospitable, while others say they "don't understand the product well enough to troubleshoot anything."
For some, it's an issue of peace. When first trying the software, new customers cite being hounded with text messages, emails, and phone calls to "chat about your new account." There's also an endless stream of chat pop-ups that appear on every log-in attempt. Your reasons may vary.
As with all software, there are trade-offs, growing pains, and unmet expectations. Homebase has plenty of good reviews as well, but there's enough data to support the quest for better alternatives.
5 Homebase Alternatives to Consider
If you're looking to get more out of your scheduling and make your team more efficient, then there are lots of software options out there. Here are some of the top Homebase alternatives you should consider.
ZoomShift is all about taking the hassle out of scheduling.
It brings all the information you need together in one place and uses intuitive templates and a simple drag and drop system to create optimized schedules. Manage shift swaps, vacation requests, and shift details all in your schedule builder so you're not flicking between pages and applications.
As soon as your schedule is complete, an automated message will be sent out to your staff, who can access all their shifts from the free mobile app. This facilitates easy communication between you and your team and ensures everyone is on the same page.
Allow your employees to check-in through their mobile devices and access attendance records directly through the app. In just a few clicks, you can approve your team's hours and sync timesheets to payroll, ready for everyone to get paid.
It's a seamless, simple system that makes you more efficient from scheduling all the way through to payroll.
Main Features:
Employee Scheduling: Create optimized schedules in seconds. The simple drag and drop system puts all the information you need at your fingertips and smart templates reduce the time you spend making schedules.
Timesheets and Time Clocks: Turn any device into a time clock, amend timesheets through the app and effortlessly sync data to payroll.
Paid Time Off: Take the guesswork out of PTO with balance tracking so you can accurately assign paid time off to your employees.
Availability, Time Off, and Shift Cover Requests: Get an instant overview of who is available to work each shift. Manage availability, time off, and shift cover all from your schedule builder.
Automatic Reminders: Instantly alert your team to schedule changes and improve communication with the easy messaging system.
Pricing:
Starter: $2 per active team member per month
Premium: $4 per active team member per month
Enterprise: Enquire for customized pricing
2. Deputy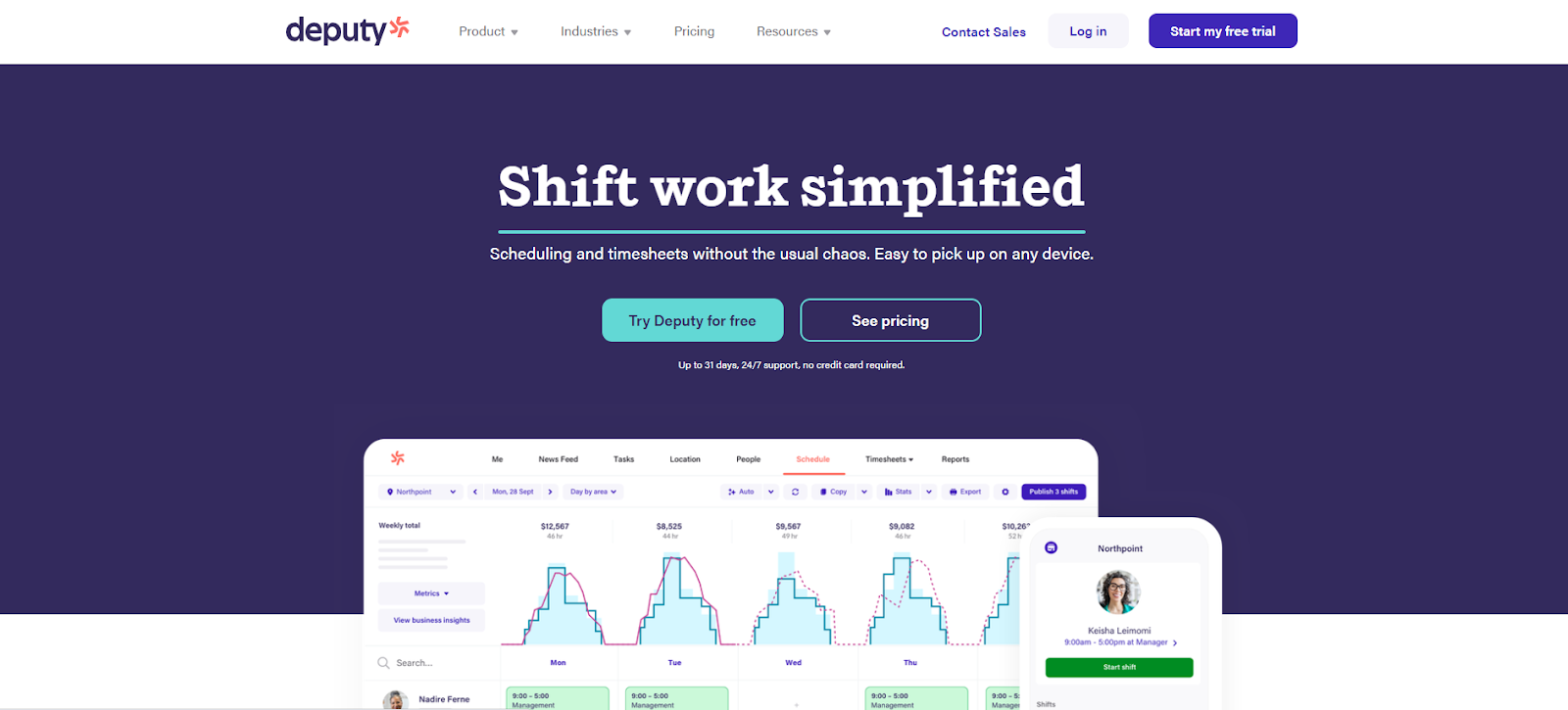 Deputy aims to help managers do their best work by simplifying scheduling, making it easy for staff to verify when and where they've worked, and engaging your team through efficient communication.
This allows you to reduce labor costs, manage leave in one place, and streamline communication for better performance.
Main Features:
Employee Scheduling: Create smart rotas in minutes. Manage shifts with the click of a button and make sure you have the right people working.
Time Clocks: Make it easy for staff to clock in wherever they're working.
Team Engagement: Allow team members to track their shifts, request leave, and stay up to date in one central app.
Pricing:
Starter: Free for up to 100 shifts per month
Premium: $4.50 per user per month
Enterprise: Enquire for customized pricing
3. When I Work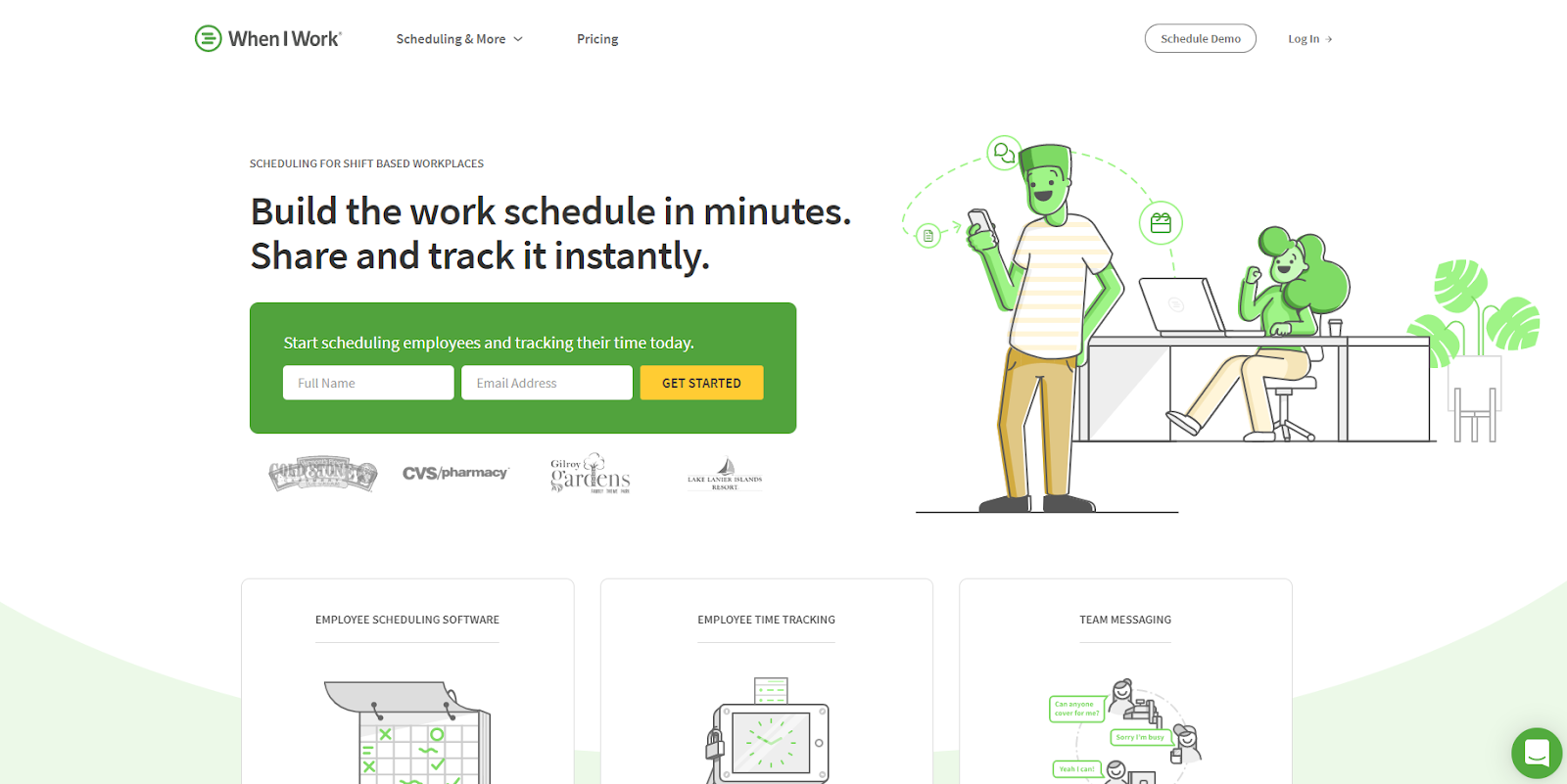 When I Work wants to help you to schedule faster, track time easier, and communicate better. Central to this is an easy-schedule builder with built-in team communication.
Its system helps you to reduce chaos, costs, and turnover.
Main Features:
Team Management: Improve your team management with optimized schedules, manage time-off requests, and keep an eye on labor costs.
Team Communication: Send personalized messages or communicate to the group as a whole. Instantly notify your team about schedule changes.
Team Accountability: Keep your team accountable with shift confirmations, mobile clock in, team tasks.
Pricing:
Small Business: $2.00 per user per month for up to 100 employees
Enterprise: Enquire for pricing for businesses with over 100 employees
4. QuickBooks Time (formerly TSheets)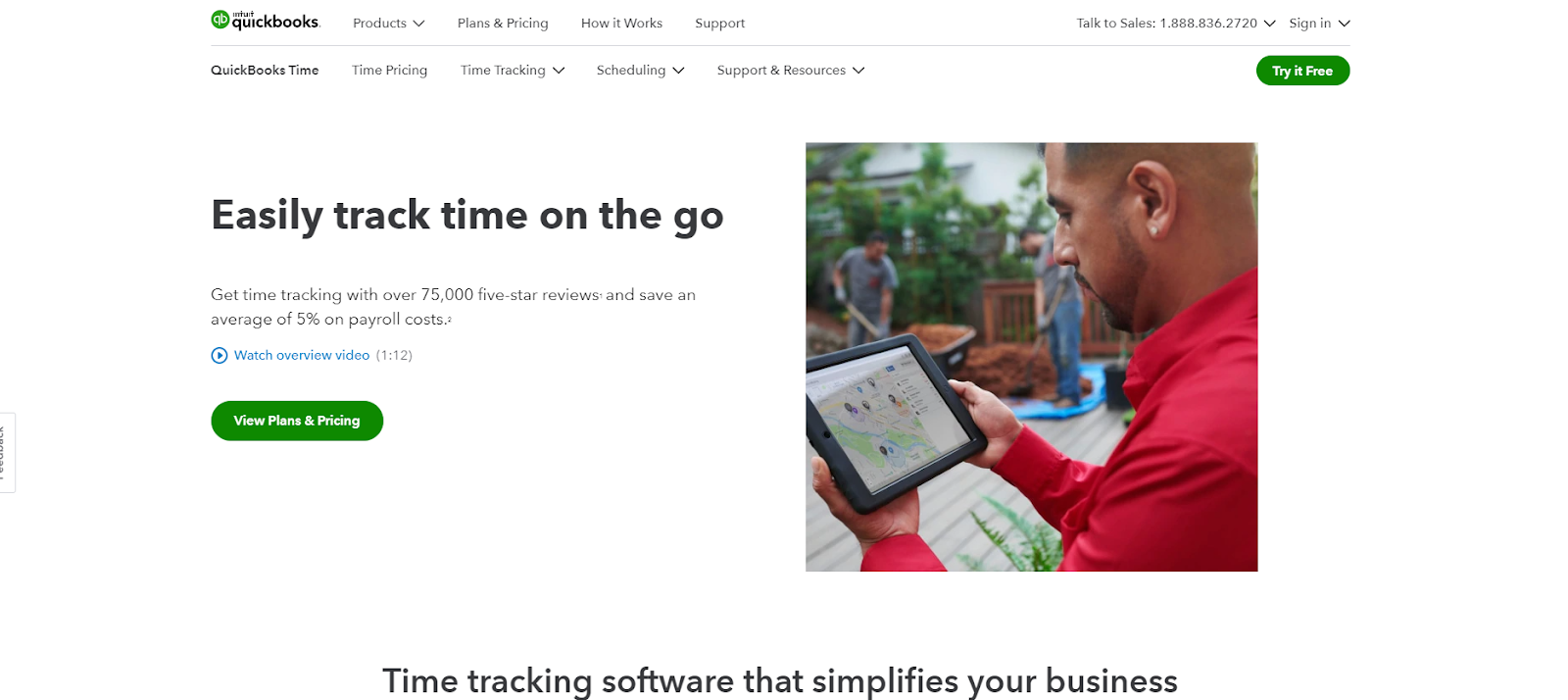 QuickBooks Time helps you schedule your team using helpful insights. Create optimized schedules on the go and allow employees to clock in and out instantly, log breaks, and add timesheet details from the app.
Valuable business insights will help you with job costings and allow you to understand your time needs better.
Main Features:
Time Tracking: Allow employees to clock in remotely, pause for breaks, change job codes, and add timesheet details
Scheduling: Edit, publish, and share schedules with the streamlined schedule builder.
Insights: Use reports to better understand your job costs, plan payroll, and boost profitability.
Pricing:
Simple Start: $12.50 per month for 1 user
Essentials: $25 per month for up to 3 users
Plus: $40 per month for up to 5 users
Advanced: $90 per month for up to 25 users
5. Buddy Punch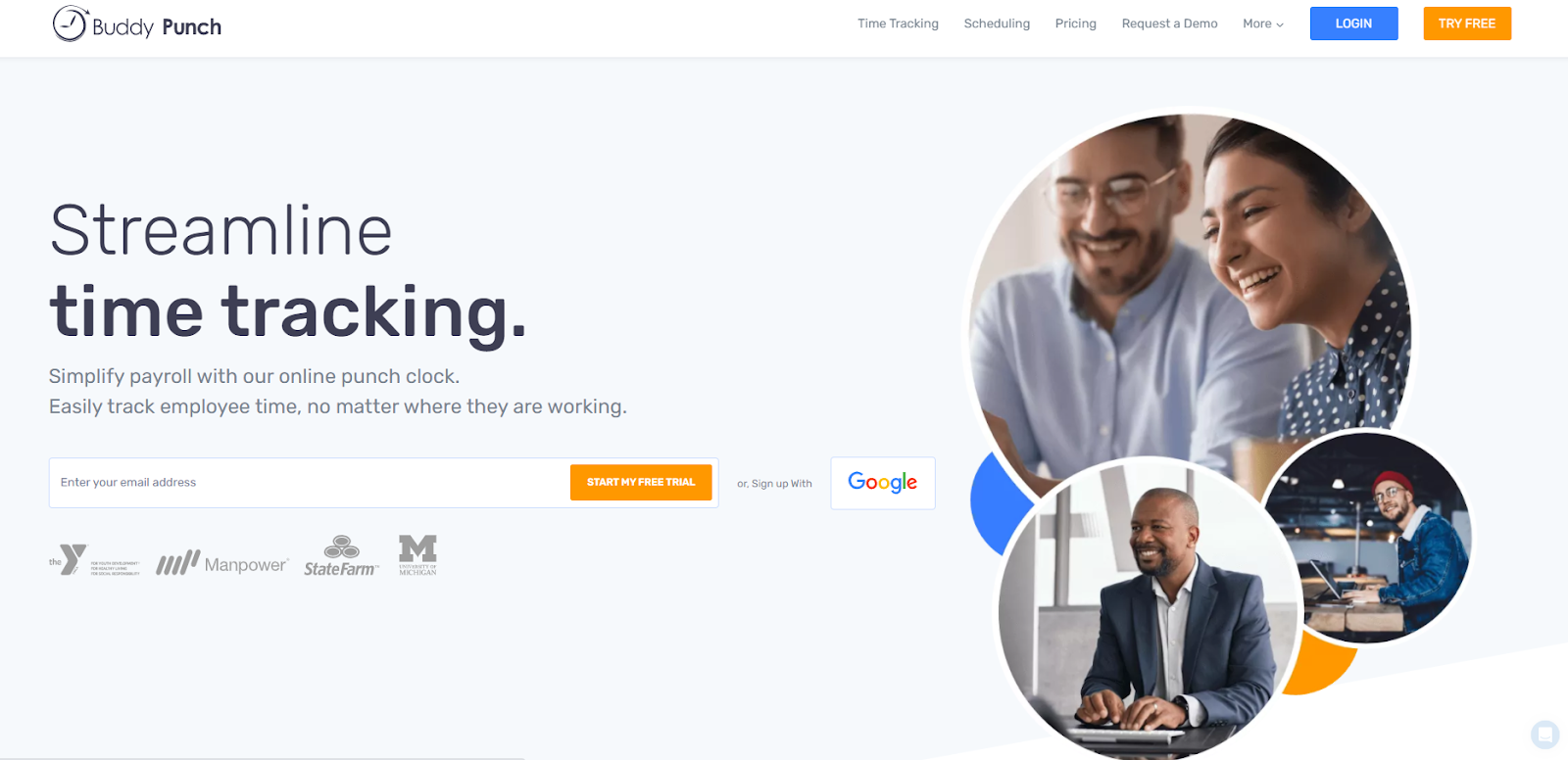 Buddy Punch is focused on time tracking, offering simple time clocks to help you stay on top of attendance, time off, and overtime.
This allows you to track hours, even for remote workers, with customizable reports, and seamless integration with your payroll.
Main Features:
Flexible Punch Options: Enable employees to clock in through a 4 digit pin, QR code, facial recognition, or the traditional username and password.
Simple Payroll and Budgeting: Run customized reports to help you plan your costs and effortlessly sync data to payroll.
Monitor Overtime: Keep track of your expenses and sure employees aren't overworked with overtime tracking.
Pricing:
Time and Attendance: Starting at $25.99 per month for up to 4 employees
Time and Attendance + Scheduling: Starting at $35.99 per month for up to 4 employees
Enterprise: Starting at $45.99 per month for up to 4 employees
What to Look for in Employee Scheduling Software
ZoomShift, for example, is a central hub for both management and employees, providing insights into all relevant company work information at a glance. Both employees and managers can see their most vital work data in the app, such as upcoming shifts scheduled, what shifts are available to cover, who's on leave, and who may be running behind.
Having such critical data available to everyone helps everyone stay on the same page and make more informed decisions.
All-In-One Streamlined Solution
The biggest game-changer when switching from spreadsheets to an employee scheduling software is having everything in one application. No cross-referencing other spreadsheets or rigging together several pieces of software – it's all in one easy to use and up-to-date package.
Beyond ease of use, employee scheduling software also saves you time. For managers, copying schedules is as easy as loading up a previous week or grabbing a pre-made schedule template.
When it comes to making changes on the fly, you can create shift swapping rules and build them into ZoomShift to make maintaining your employee scheduling feel like it's on autopilot. Another perk for managers is the ability to make approvals in bulk and delegate tasks to other managers.
Your staff reaps the rewards as well by downloading the mobile apps onto their phone or tablet so they can clock-in and out right from their pocket. Or if they prefer, they can clock in from the web version.
Enhanced Communication Tools
ZoomShift sports an impressive suite of communication tools as well. You'll have the ability to share work schedules via push notifications, text, and email. Your staff can start group chats, see event schedules, direct message each other, and swap shifts on their own.
Calling down a list of replacements or trying to keep it all straight in your head is a thing of the past, thanks to the all-in-one app and communication tools. These tools empower your staff and remove you as the middleman so you can spend less time working in your business and more time working on it.
If giving your team that much control makes you uneasy, remember that you have complete control by setting up the shift swapping tools we mentioned above. The software also has built-in historical tracking, so you know who made changes and when.
Last but not least, you can encourage your staff to arrive on time and reduce no shows through automatic shift reminders. There's no excuse for anyone to "forget" about a shift with communication tools like these.
Labor Cost Reduction Features
Ease of use and enhanced communication are helpful, but what about tools that can cut costs and help you make more informed decisions about scheduling? ZoomShift's got you covered there too.
You can easily forecast labor hours in-app, and with a built-in time clock app, you can see who's showing up early and who's often late. Tracking attendance and comparing what hours were scheduled to what was actually worked is a breeze as well. The enhanced view allows you to see at a glance if you've over scheduled staff or are at risk for paying overtime this week.
ZoomShift compares clock-ins to the schedule and will warn an employee against clocking in if they aren't scheduled. You can take it a step further by whitelisting IP addresses, which tells you if they're clocking in onsite or on the bus when they're running late.
When it comes time to run payroll, you have the ability to review time cards quickly, do bulk approvals, and easily adjust scheduling errors to speed up the process. As soon as everything looks satisfactory, you can approve timecards all in one go. If you need more flexible reporting, you can also easily export to CSV for further data manipulation or storage.
As you collect your thoughts, consider not only your company's needs today, but in 5-10 years. Chances are you have lofty growth goals, and you'll need a system that will scale alongside you. ZoomShift can help you ditch the clunky spreadsheets and free up bandwidth to focus on more important matters.
Are you interested in how ZoomShift can streamline your business? Try it for free (no credit card required) or schedule a demo with us.