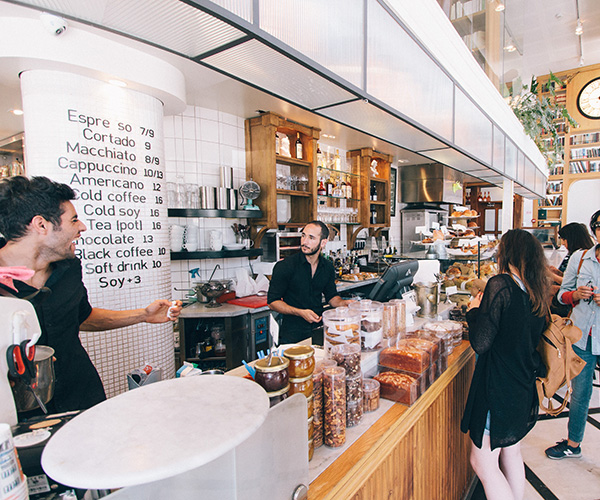 2020 certainly hasn't started out the way anyone had planned, and the foodservice industry hasn't had an easy go of things amid pandemic-related lockdowns and forced closures.
With most states now starting to open back up – and cases still on the rise across the country – it's essential to be prepared with necessary precautions and to prioritize your customers' safety.
Here's a handy guide we've put together to help you make sure you've checked all the boxes as you reopen for dine-in service.
Provide Directions
It's imperative to give customers the knowledge they need to keep themselves (and your staff) safe when you reopen your restaurant. Consider the following: 
Signage in your establishment – you'll need clear and concise signage. Your customers will be excited about returning, but they need to be aware of any safety measures that you'll be implementing. Make sure you lay out the rules explicitly and succinctly.

Maximum capacity in the restaurant – when you reopen, you're going to be providing fewer covers. Advising customers of capacity as soon as possible will help reduce friction. 

Moving seating outside (if you can) – make sure you are still following the current guidelines on how far apart the tables need to be. 

Table service – for both food and drink, if at all possible. While you can't keep people at their table for their entire visit, you need to try to limit movement wherever you can. 
Incorporate Safety Features
Dining at a restaurant won't be the same for the foreseeable future, and you'll need to implement various safety measures to minimize spread. Here are some recommendations: 
Installing splash screens in front of cash registers – this is both for the benefit of your team and your customers. Payment by card rather than cash should also be encouraged. You may even want to consider banning cash payments altogether.

Leaving at least six feet between tables – spare tables should also be kept in storage if possible, to prevent customers from attempting to use them. 

Adding wall and floor decals – these can be useful to remind customers and staff to keep a safe distance between themselves and others. With the best intentions in the world, both your team and your customers are going to forgo social distancing at some point. Floor and wall decals can act as an extra reminder. 

Providing staff with sufficient personal protective equipment (PPE), such as gloves and masks.

Encourage regular hand washing for both your team and customers – additional signage can help with this. 

Think about how far you're willing to go for safety – some restaurants are trialing temperature checks for guests as they come in, for example. 

Swap tabletop condiments for single-use containers – this includes salt, pepper, and sauces. 

Ensure that your staff isn't carrying out routine tasks across different areas of your restaurant that may put people at risk – whether that be fetching clean cutlery or refilling water glasses. Make sure your team sticks to their designated sections. 
Keep Your Restaurant Clean
It's always been essential to keep your restaurant clean, but it has never been more important than it will be post-lockdown.  
Make sure that you provide hand sanitizer gel stations. You should also encourage staff and customers to sanitize their hands after touching doors and pulling out chairs, and discourage customers from using their phones. Your restrooms should be cleaned and disinfected before reopening, as well as on a routine after opening – a minimum of four times a day. 
As the restaurant manager, it's up to you to help keep your staff and customers safe. Don't cut corners, and make sure you have the capacity to implement necessary safety measures before you reopen.