JD Spinoza

JD Spinoza

JD enjoys teaching people how to use ZoomShift to save time spent on scheduling. He's curious, likes learning new things everyday and playing the guitar (although it's a work in progress).

Jun 02, 2020
Performance Review Examples and Best Practices (with Free Template)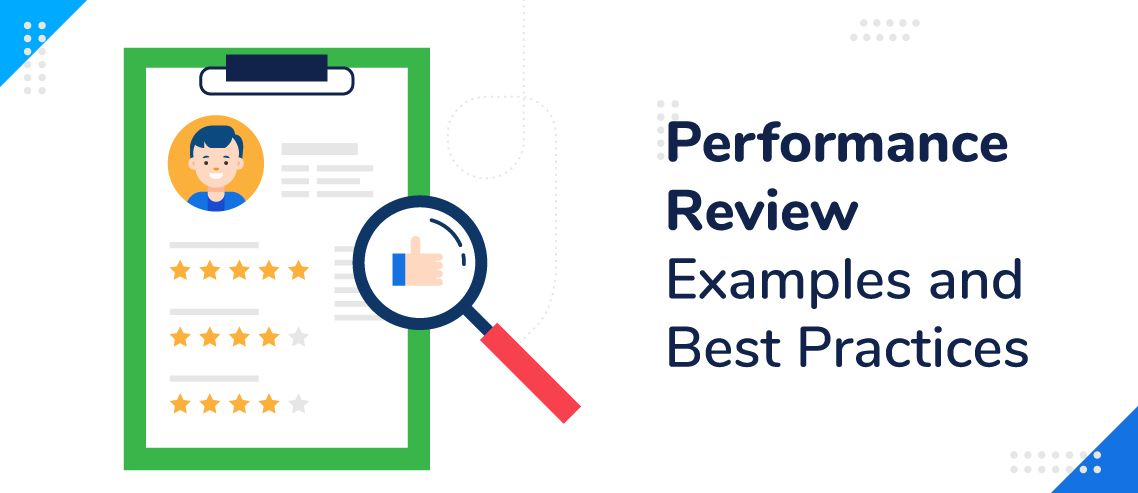 Whether your business model is measured in gigabytes, food cost percentage, or appointments booked, every company ultimately depends on people – some a lot more than others.
Every company also has its rockstars that consistently achieve massive results, as well as its under performers that often need a gentle nudge. The one constant is that they all will eventually go through the same performance review process.
Performance reviews are a critical component of employee development. One that engages your staff, gives them a voice, and facilitates personal development and career growth.
Unfortunately, many employees don't see it that way.
According to Gallup research, a mere 14% of employees strongly agree that their performance reviews inspire them to improve. Too often, they find them one-sided and too infrequent to make a difference. Unsurprisingly, few people look forward to a performance review any more than a root canal.
It's obviously time for a change, and we're here to help you. Here are performance review best practices and examples that both you and your staff will find relevant and effective:
Find Opportunities To Give Feedback Throughout The Year
Many employees find the annual performance review interval soul-crushing and widely inaccurate when gauging their overall performance. A lot can change in a matter of months – not to mention a full year – which is why a quarterly cadence at a minimum is advisable.
If you pair your performance reviews with merit increase or promotions, then consider the quarterly reviews "check-ins" or "pulse-checks" to ensure that everyone is on the same page with their expectations.
The great thing about regular check-ins is that they prevent any surprises come annual review time. Chances are you're talking about what's working and what's not several times a year, and either they're making improvements or they're not.
To get you started, put a quarterly check-in on the calendar and send them a survey or doc with some relevant questions so you can have a productive conversation.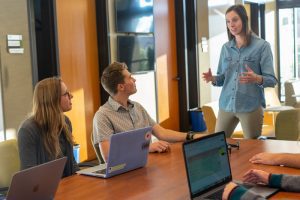 Make Them Feel Heard
Active listening requires focus and a commitment to determine the intent and emotion behind someone's words. Make sure you're fully engaged during every performance review and listen closely to what the other party has to say.
To prevent the review from feeling one-sided, have them come up with a list of accomplishments and areas or opportunities for improvements they see for themselves. Let them know you'll do the same for them.
Some examples of questions to prepare include:
What have you accomplished since your last review?
What are you most proud of and why?
What would you like to accomplish in the next three months?
Where would you like to improve or grow?
Tell me about a situation you wished you'd handled differently.
Tell me about a situation you wish I'd handled differently/better.
Not only will you find that they feel more invested and engaged in the process, but you'll also be able to see whether or not you come to similar conclusions.
Provide Constructive & Actionable Feedback
Sharp criticism without a clear answer as to how to correct their behavior will only further entrench bad behavior or poor performance. Avoid vague cookie-cutter responses and opt instead for direct feedback. Be straight with them about what you hired them for and what the company expects of them.
If you feel the need to criticize, do so by sandwiching the criticism between compliments to lessen the blow. This will prevent them from getting defensive and help them be more amenable to receiving negative feedback.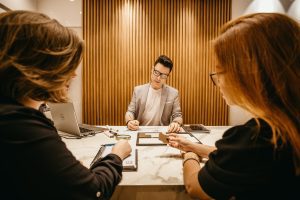 Regularly Update The Role Scorecard
Going over the job description or scorecard during the performance review is a must.
They were hired to perform a specific set of duties, and it makes sense to tie their success back to the role's responsibilities. If possible, keep a scorecard for the role itself and a personal one for each employee with personalized goals.
For example, if the employee is struggling to maintain 70% of their monthly goal, you could customize their goal to be 80% instead of the typical 100% with a sliding scale month-over-month to get to 100%. Or if punctuality is an issue each week, give them a goal of only being late twice the entire month.
This is also where you'll find out if their role has shifted. Oftentimes, you'll want to address that in their review and make an effort to update their job description.
If you find that they're spending an inordinate amount of time on tasks outside of the responsibilities you originally agreed upon, you can change the scorecard to reflect that, discussion compensation, or proactively find ways to reduce or eliminate these new tasks from their plate.
Leverage 360 Degree Feedback
Another tool gaining popularity is the 360-degree survey that management sends to peers throughout the company who work closely with the employee being reviewed. It's a different approach that relies on gaining a broad set of perspectives to provide more holistic feedback.
The beauty of the 360-feedback is that they're likely to take the criticism better since it's coming from anonymized survey results. Similar to sandwiching criticism, the survey threads in questions, giving the employee praise and positive feedback as well.
Goldman Sachs, for example, uses a 360-review system that involves ratings from six colleagues with an emphasis on qualitative feedback rather than numerical scores. The six employees range from seniors to peers and even direct reports. Feedback is collected and delivered earlier in the year, and Goldman Sachs is making strides to provide more real-time feedback.
Performance evaluations are an imperfect solution that exist for the sole purpose of laying a foundation for a potentially great conversation. Ultimately, the best managers set the stage to provide continuous, valuable feedback to their staff.
When's the last time you updated your performance review process? Let us know in the comments below what unique approach you take or plan to take.
JD enjoys teaching people how to use ZoomShift to save time spent on scheduling. He's curious, likes learning new things everyday and playing the guitar (although it's a work in progress).