JD Spinoza

JD Spinoza

JD enjoys teaching people how to use ZoomShift to save time spent on scheduling. He's curious, likes learning new things everyday and playing the guitar (although it's a work in progress).

Oct 26, 2021
10 Retail Management Software for 2023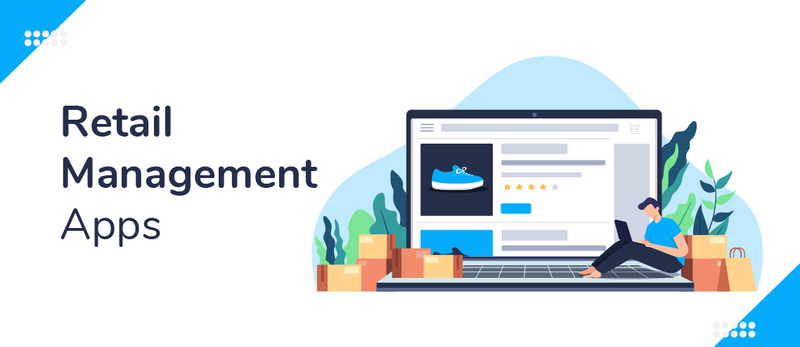 The retail world has changed drastically over the past few decades. Just over 20 years ago, retail was completely dominated by brick-and-mortar stores, and e-commerce, along with retail management software, were barely a blip on the radar.
Fast forward to 2021, and technology has integrated itself into every aspect of retail, from scheduling to employee management to inventory and beyond. These days, any retailer that wants to stay competitive needs to have the right tools to ensure they're operating efficiently.
Here, we'll cover 10 of the best retail management software options and retail management systems so that you can outfit your store with the cream of the crop.
What is Retail Management Software?
Retail management software is a broad term that refers to software applications that help facilitate and automate various retail processes, such as employee scheduling, inventory management, online store development, and more.
Many of these tools provide automation features so that retailers can take a more hands-off approach to their day-to-day work and put some of their more menial tasks on autopilot.
The end result is that retail store management software, when used effectively, helps increase revenue, reduces human error, improves efficiency, and ultimately leads to a more pleasant retail experience for managers, employees, and customers alike.
We've divided our list of top retail software solutions into 10 categories that cover the spectrum of retail needs:
1. Employee scheduling
2. Accounting
3. Payroll
4. Inventory management
5. Point-of-sale (POS)
6. HR & Recruitment
7. Price tracking
8. Marketing
9. CRM
10. E-commerce platforms
Each of these categories serves a different but vital purpose in the retail pipeline. Retailers should evaluate their most pressing needs and prioritize their software investments accordingly.
Our 10 Best Retail Management Software Picks
Let's jump right into our top retail management software picks.
1. Employee Scheduling — ZoomShift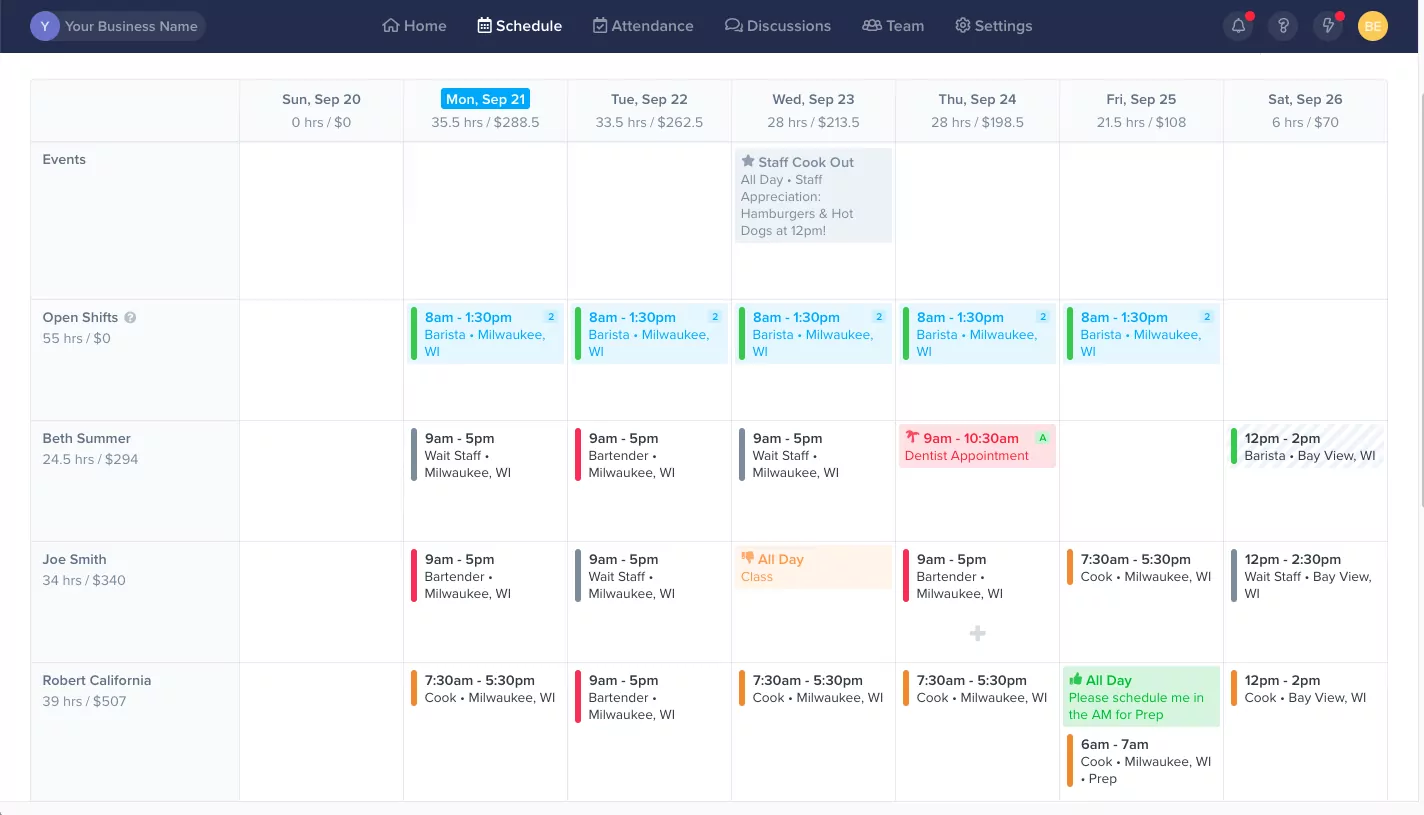 ZoomShift is an app that helps businesses stay efficient with their employee scheduling. Unlike traditional scheduling solutions, such as paper and pencil or spreadsheets, ZoomShift automatically updates any changes to the schedule in real-time so that all team members can stay on the same page, which helps reduce employee errors and missed shifts.
Employees can also take more control over their schedules using the shift swap feature, which allows employees to easily find team members to cover for them when needed. Manager approval and involvement is optional, so they can focus on other more pressing tasks.


Key Features:
Drag-and-drop schedules
Updates in real-time
Send updates via text, push notifications, and email
Automatically track hours and sync them to your payroll.
Shift swap features
PTO balance tracking
Mobile and web apps
Pricing:
Starter: $2 per active team member/month for:

Employee scheduling
Timesheets and time clock
Payroll reports
And more

Premium: $4 per active team member/month for everything in Starter plus:

Overtime warnings
GPS time clock
Shift rules
And more

Enterprise: Custom pricing for everything in Premium plus:

Priority support
White-labeling
API access
Subaccount management
2. Accounting Software — Zoho Books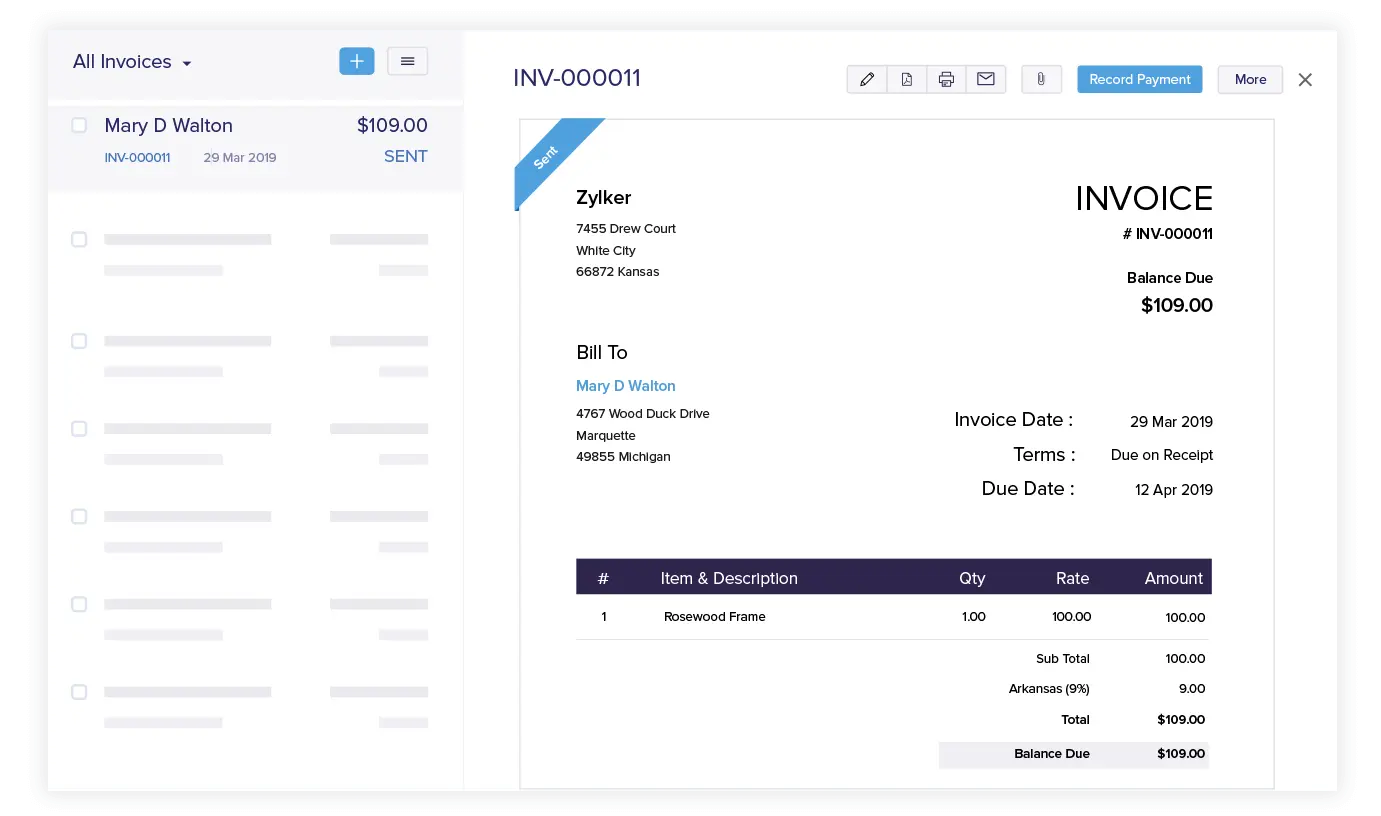 Zoho Books is an online accounting software tool that's designed to help businesses with end-to-end accounting, tax compliance, time tracking, banking, and more. It automatically calculates tax on taxable transactions and maintains a record of all previous tax payments, creates 1099 and sales tax reports, facilitates estimates and invoicing, and more.
Key Features:
Customized invoices
Create quotes and estimates
Track expenses
Inventory monitoring
Bill-tracking
Send and confirm sales orders
Mobile app
Accept online payments
Record, categorize, and reconcile bank transactions
Pricing:
Free: Available only for businesses with less than $50K revenue per month. Includes:

Licensing for 1 user and 1 accountant
Expenses and mileage tracking
Client portal
Recurring invoices

Standard: $15 per organization/month. Includes:

Everything in Free
Invite 3 users
Invoice management
Transaction locking
Sales tax tracking
Custom views and fields

Professional: $40 per organization/month. Includes:

Everything in Standard
Invite 5 users
Sales approval
Purchase orders
Currency adjustments

Premium: $60 per organization/month. Includes:

Everything in Professional
Vendor portal
Custom domain
Webhooks
Custom reports
3. Payroll Software — Gusto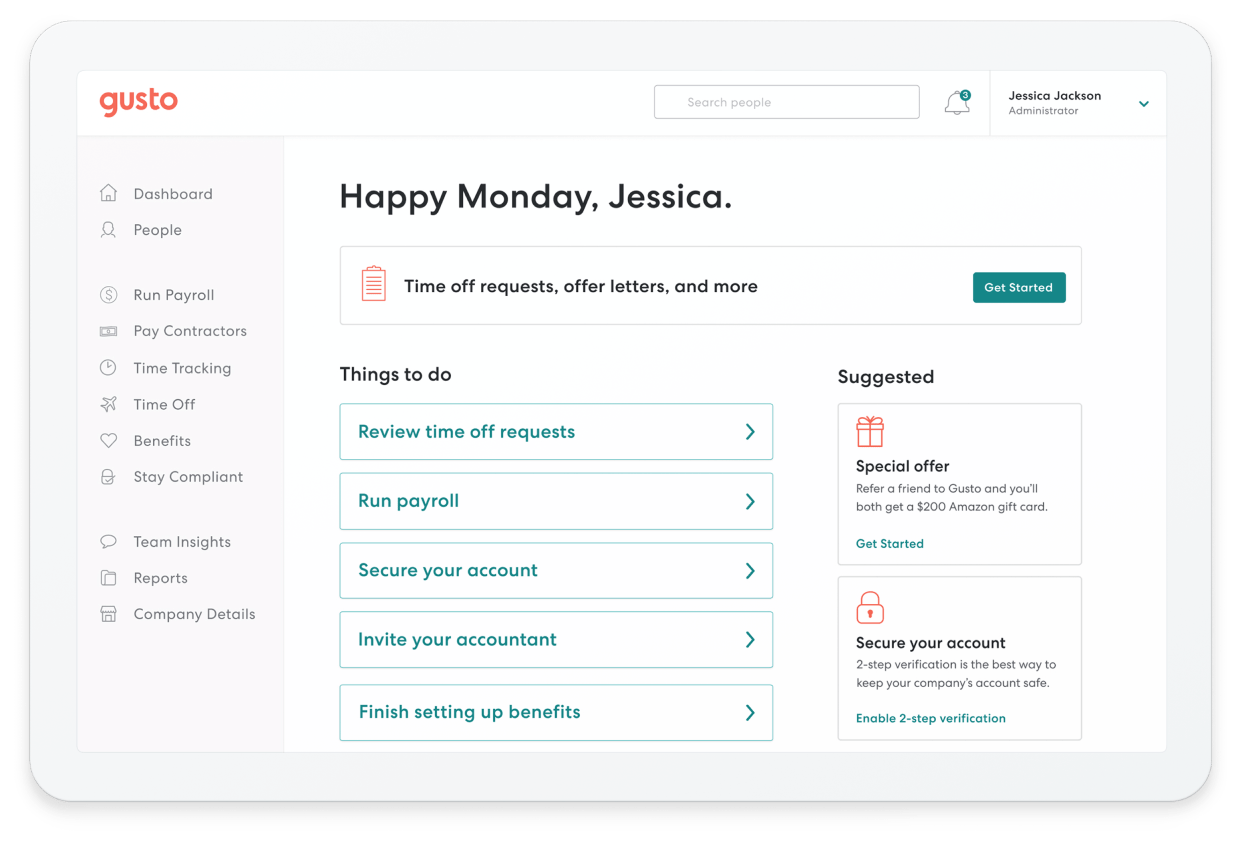 Gusto is a software solution for payroll, HR, and benefits management. In addition, it provides tools for time tracking, hiring, and onboarding. Overall, Gusto aims to make payroll management easier for businesses, especially in these difficult times.
Key Features:
Payroll management
Time tracking, PTO, and other time tools
Benefits management
Access to HR experts
Hiring and onboarding tools
Gusto wallet (a tool that employees can use for saving and spending)
Pricing:
Core: $39/month base price plus $6 per person/month. Includes:

Full-service payroll
2-day direct deposit
Health insurance administration

Complete: $39/month base price plus $12 per person/month. Includes:

Everything in Core
Time tracking
Permissions
Project tracking and workforce costing

Concierge: $149/month base price plus $12 per person/month. Includes:

Everything in Complete
Dedicated support
Certified HR pros

Contractor: $0/month base price plus $6 per person/month. Designed for businesses that have not hired employees, only contractors. Includes:

Unlimited contractor payments
Contractor self-service
Form 1099 creation and filings
4. Inventory Management Software — EZOfficeInventory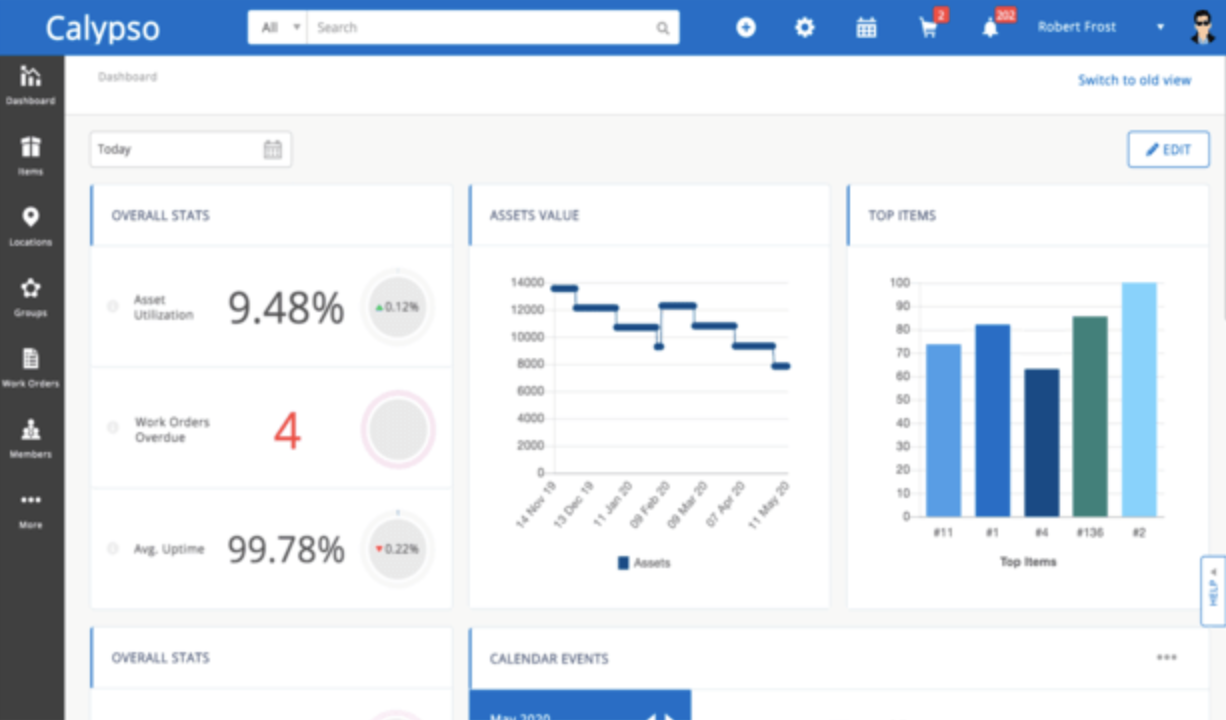 EZOfficeInventory is designed to help businesses track their equipment and inventory from anywhere. It's trusted by major companies including Intel, CNN, Amazon, and more.
Key Features:
Operational workflow
Asset lifecycle tracking
Print barcode, RFID, and QR code labels, tag your products, scan them with the app
Custom user roles
Reporting and analytics
Pricing:
Essential: From $40/month for up to 250 items to $610/month for up to 14,750 items. Custom pricing for item counts beyond that. Yearly discounts available. Includes:

Asset tracking
Alerts
Maintenance
Reservations
Basic reporting

Advanced: From $52/month for up to 250 to $964/month for up to 14,750 items. Custom pricing for item counts beyond that. Yearly discounts available. Includes:

Everything in Essential
Carts
Purchase orders
Advanced reporting
Scheduled services

Premium: From $60/month for up to 250 items to $1,200/month for up to 14,750 items. Custom pricing for item counts beyond that. Yearly discounts available. Includes:

Everything in Advanced
Custom substates
SSO and Google Workspace integration
Advanced access control and custom roles

Enterprise: Custom pricing only. Includes:

Custom security
Custom integrations
Custom terms of service
Option for global private cloud
Account manager
5. Point-of-Sale Software — Square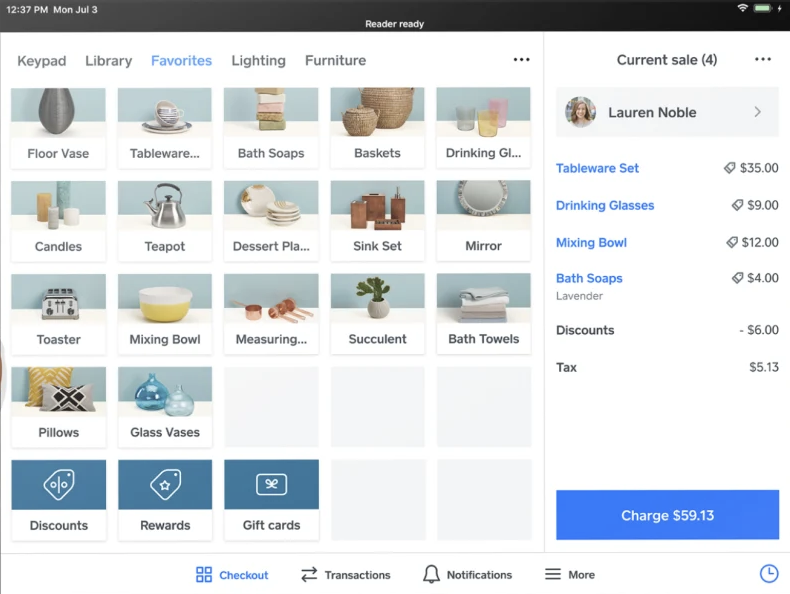 Square is a leading point-of-sale software that allows businesses to process payments both in-person and online.
Key Features:
Accepts major credit cards, Apple pay, gift cards, Google pay, and more
Refund processing
Encrypted payments, PCI compliance, and fraud monitoring
Integrated hardware
Order manager for third-party pickup orders
Receipts
Automatic discounts
Online ordering
Pricing:
6. HR and Recruitment Software — BambooHR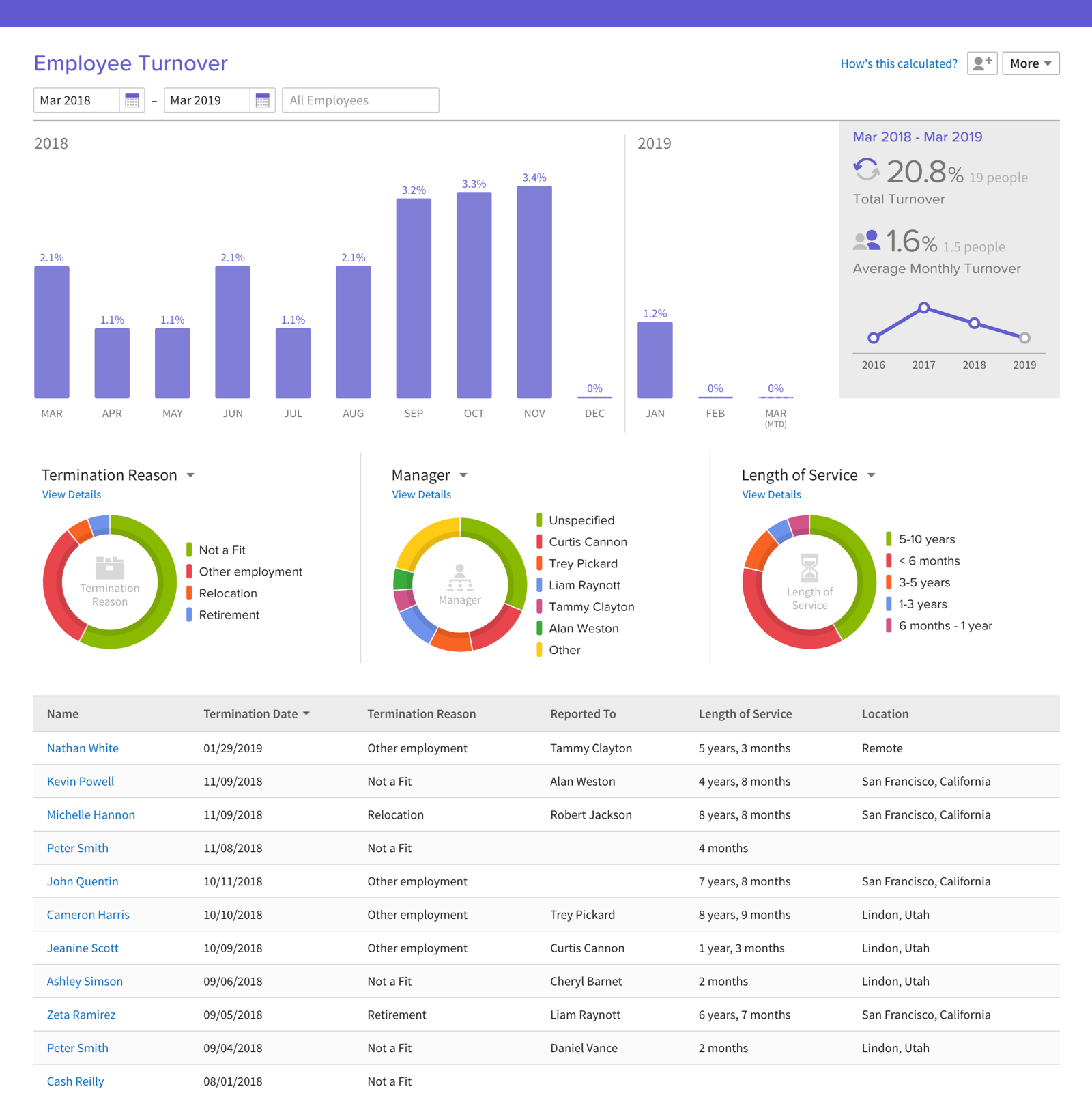 BambooHR aims to help businesses save time on administrative tasks, get new hires up to speed quickly, and ultimately spend more time serving customers.
Key Features:
BambooHR Performance Management allows employees and managers to collaborate and set goals
Payroll administration
Mobile app
BambooHR Applicant Tracking System
Pricing:
Essentials: Custom pricing. Includes:

Employee records
Benefit tracking
Time-off management
Applicant tracking system
Audit trail
And more

Advantage: Custom pricing. Includes:

Everything in Essentials
Telephone support
Advanced reporting
Onboarding and offboarding
Training tracking
And more
7. Price Tracking — Prisync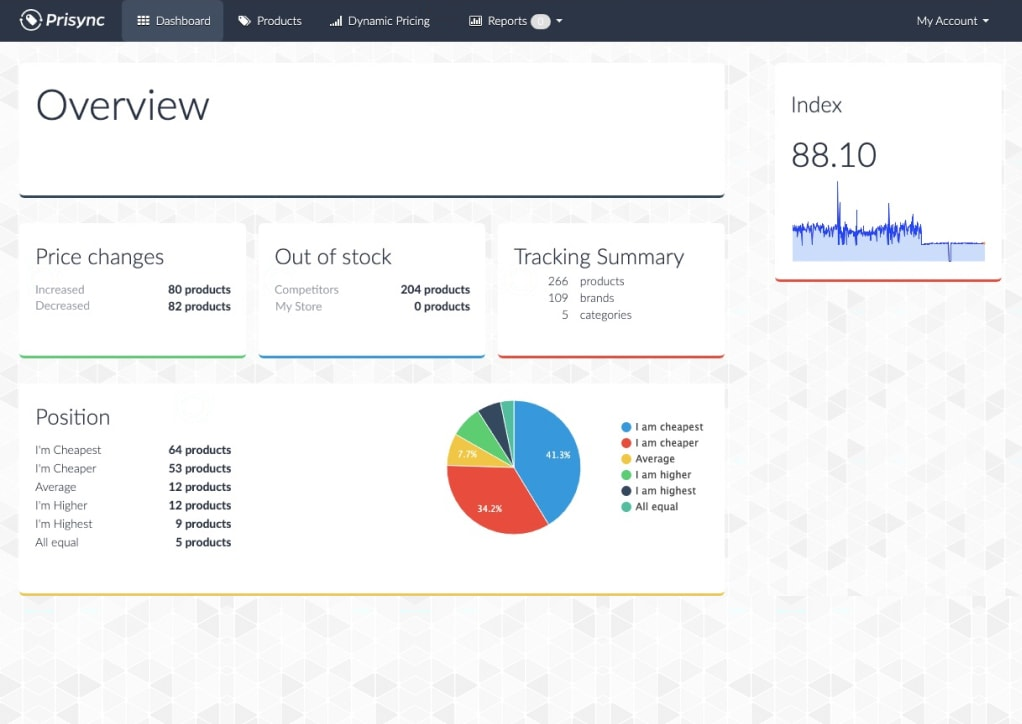 Prisync is a software tool that allows businesses to monitor competitors' prices. This helps companies keep an eye on where their product's prices stand in the market as a whole.
Key Features:
Bots that are hard to detect
Support
Distributed technology
Batch data importing
Product variance price tracking
Monitor stock availability
Pricing:
Professional: $59/month. Includes:

Track up to 100 products
Unlimited competitors
Price updates four times per day
Advanced filtering
Stock availability monitoring
Price position comparison

Premium: $129/month. Includes:

Track up to 1,000 products
Marketplace price tracking
Pricing analytics
API access

Platinum: $229/month. Includes:

Track up to 5,000 products
Price history
Advanced mail reports
Instant price change notification
Advanced pricing analytics
8. Marketing Software — Emarsys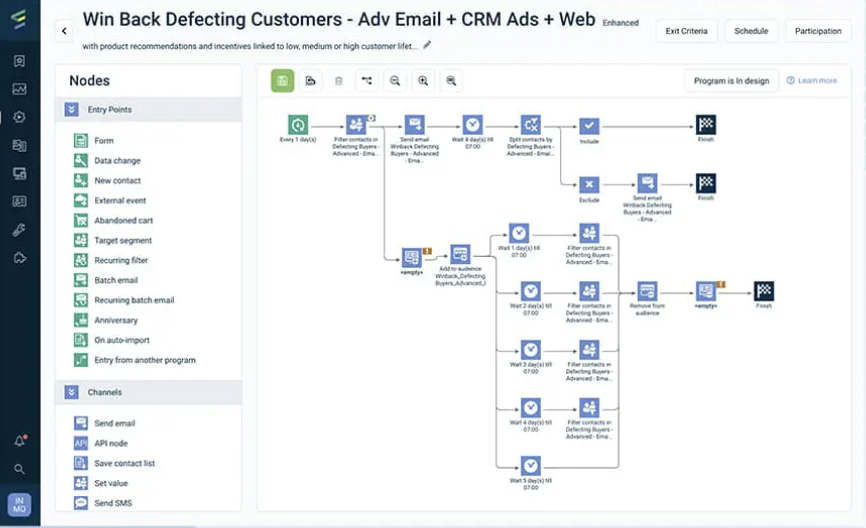 Emarsys is an omnichannel customer engagement platform that leverages AI marketing, personalization, automation, and more to drive profits for your business. The cutting-edge tools integrated into Emarsys's feature set can engage customers in deeper ways than many standard marketing methods can.
Key Features:
AI Marketing
Loyalty programs
Analytics
Automation
Personalization
Pricing:
9. CRM — Vend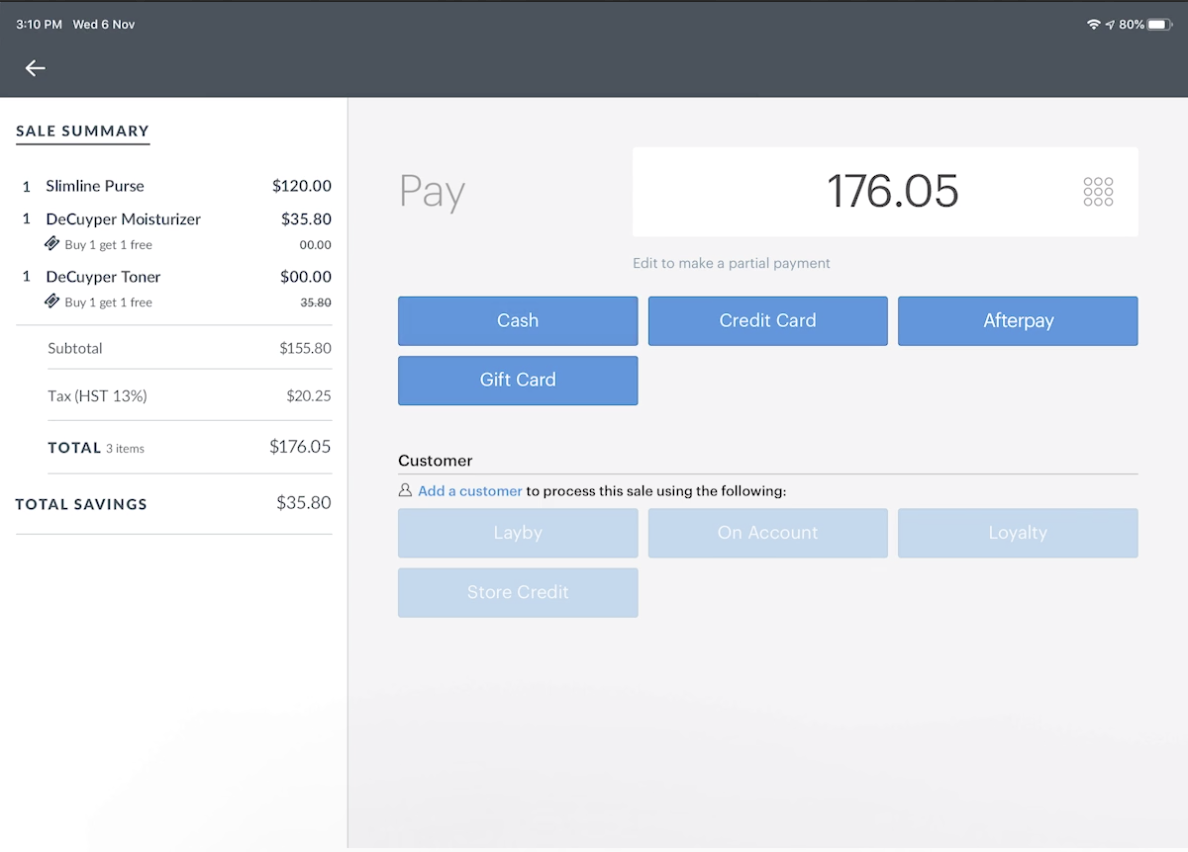 Vend is a broad retail management software solution that includes point-of-sale, inventory management, and more. Its CRM, however, stands out because of its powerful integration with its point-of-sale features, easy setup, and loyalty program features.
Key Features:
Add new customers at point-of-sale
Create customer profiles
Import customer lists via CSV
Utilize gift cards
Central database management
Store credit issuance
Segment your customer base
Pricing:
Lite: $99/month billed annually or $119/month billed monthly. Includes:

Licensing for 1 location
Up to $20K monthly turnover
0% transaction fees
Gift cards and promotions
Cloud backup
Real-time inventory management
Support

Pro: $129/month billed annually or $159/month billed monthly. Includes:

Everything in Lite
Licensing for multiple locations
Unlimited turnover
API access
Multi-outlets retail management
Apps and e-commerce channels
Unlimited products and users

Enterprise: Custom pricing. Includes:

Everything in Pro
Premium API access
Dedicated account manager
Customized onboarding
10. Ecommerce Platform — Shopify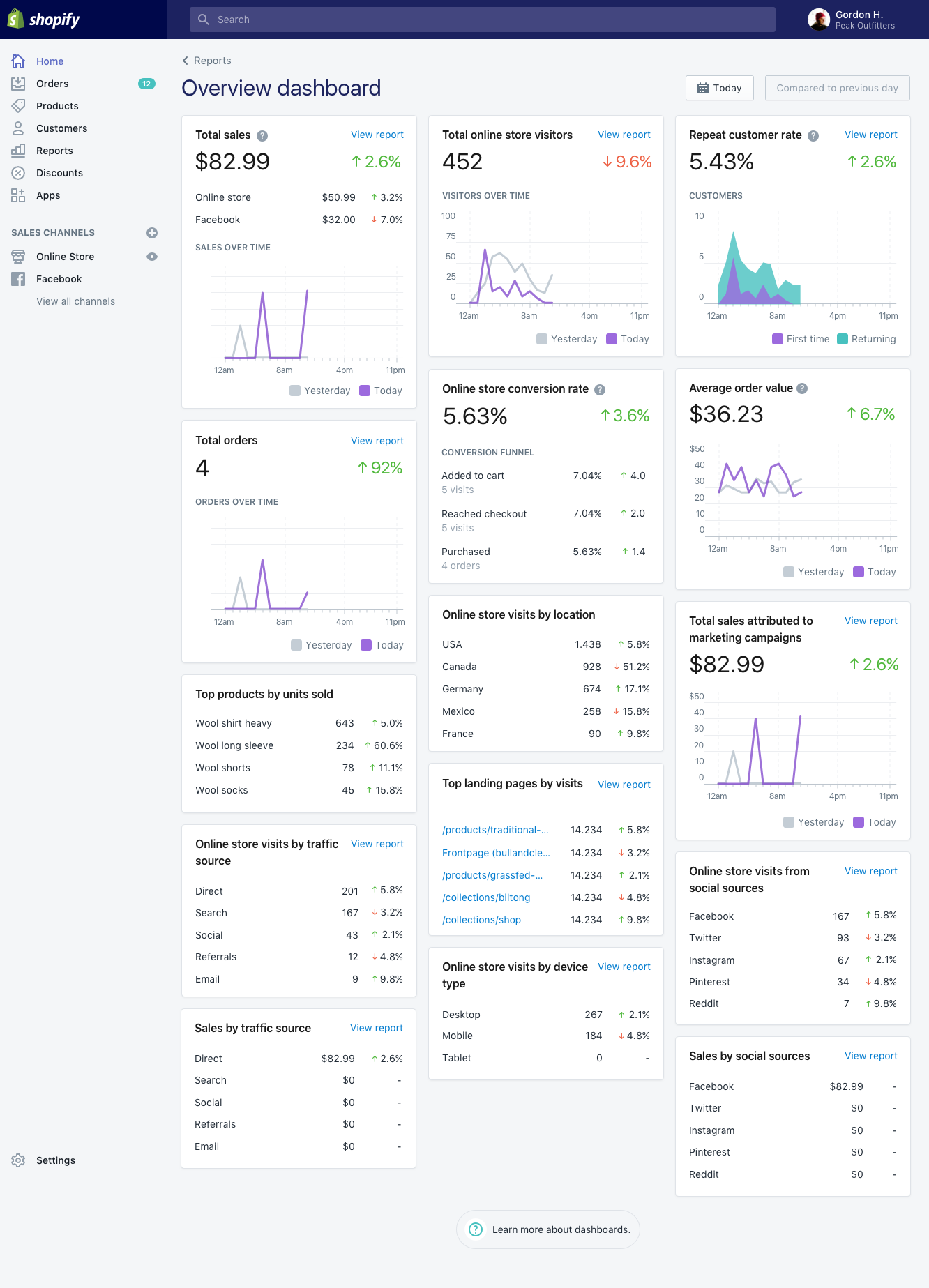 Shopify is one of the most well-known ecommerce platforms. Over the past few years, it has risen in popularity due to the fact that it makes setting up an online store easy and pain-free, no coding knowledge required.
Key Features:
Easy-to-use online store builder
Point-of-sale
Digital marketing
Analytics
Sales integration with TikTok, Facebook, Instagram, and more
Pricing:
Basic Shopify: $29/month. Includes:

Online store
Unlimited products
2 staff accounts
Up to 4 inventory locations

Shopify: $79/month. Includes:

Everything in Basic Shopify
5 staff accounts
Up to 5 inventory locations
International domains/pricing

Advanced Shopify: $299/month. Includes:

Everything in Shopify
15 staff accounts
Up to 8 inventory locations
Key Takeaways
The retail world is a tough one to navigate, to say the least. It can be hard enough to manage the day-to-day tasks of running an enterprise. You'll save both time and energy if you have the right tools in place to help automate your management processes so that you can focus on your customers and improve your business.

JD enjoys teaching people how to use ZoomShift to save time spent on scheduling. He's curious, likes learning new things everyday and playing the guitar (although it's a work in progress).