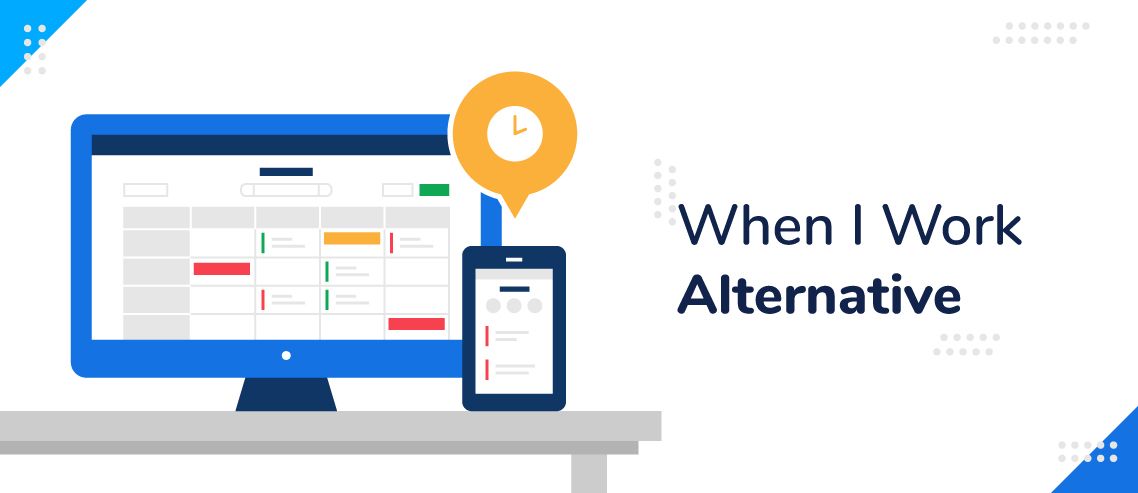 Whether your business is big or small, it can be challenging to manage your workforce.
Making sure the right people are working at the right time, and communicating with all your employees can be a complicated puzzle that takes up far too much of your time. There's lots of software out there that are designed to help you with this, but which one offers you the most benefits?
We take a look at 10 of the top When I Work alternatives and run you through the best employee scheduling software.
10 When I Work Alternatives for Scheduling Employees
1. ZoomShift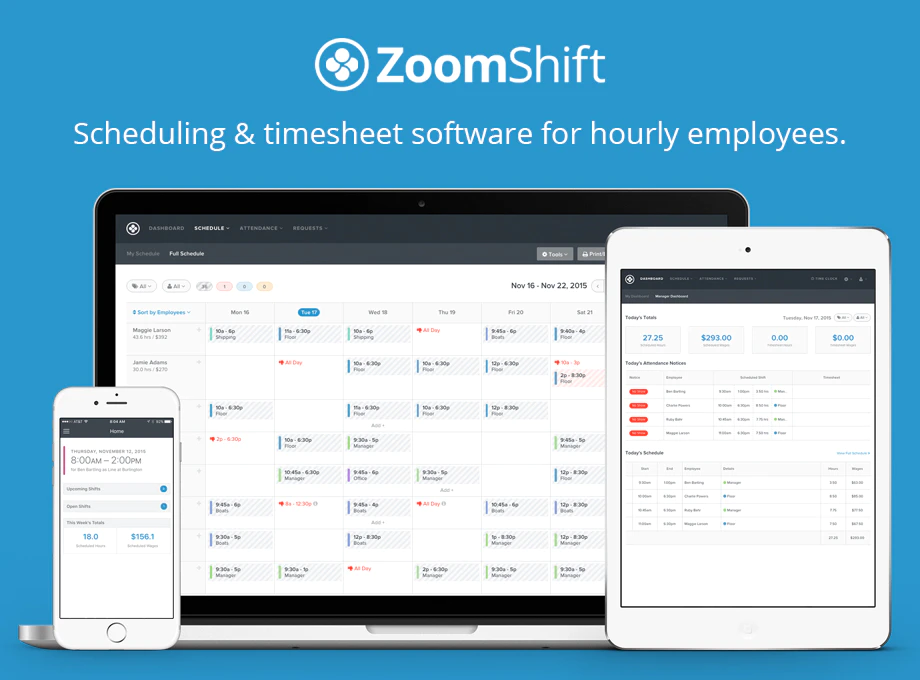 ZoomShift is an employee scheduling software that is one of the best When I Work alternatives. It enables small business owners to track their hourly employees' time, swap shifts with ease, and prevent errors on timesheets with additional features that make payroll options a breeze.
ZoomShift improves communication with your team, helping to keep everyone on the same page. Invite your team to check their schedule and manage their availability all through one central platform. With a simple drag and drop schedule builder, and intuitive templates, ZoomShift reduces the time you spend on scheduling, allowing you to get on with other important tasks.
Easy sharing allows you to send your schedule via text or email to remind your team and keep them updated and accountable and the in-app communication feature facilitates real-time discussion. This helps create a better work environment, increase productivity, and improve quality of work.
For small to medium businesses that need efficient scheduling and improved communication with their employees, ZoomShift is the perfect fit and the best When I Work alternative.
How you can use ZoomShift to schedule your employees:
Main Features:
1. Create Work Schedules Faster
Access all the information you need in one place. Check availability, time-off requests, shift swaps, and more with just a few clicks. The built-in templates mean you can quickly save shifts and schedules for later, minimizing the time it takes to build effective, accurate schedules.
2. Tracking GPS
GPS tracking allows employees to clock in with convenience and accuracy. The geofencing time clock helps you log employee clock in and clock out times based on your virtual perimeter, meaning you get accurate information to sync to your payroll.
3. Prevent Timesheet Errors
Make sure you're not overspending on payroll. Use intuitive scheduling to better forecast your costs, and compare them with your timesheets. With ZoomShift, you can compare scheduled and actual hours to find errors:
See late or missed shifts easily.
Adjust missed or late punches.
Visually scan and approve timesheets in bulk
4. Run payroll faster
Automatically tack hours and sync them to your payroll. ZoomShift calculates wage and hour totals for all employees, giving you one less thing to worry about. View timesheets by day, weeks, and month and easily export them to your payroll provider.
5. Paid Time Off — PTO
ZoomShift time-off tracking keeps your entire team on the same page. Take the guesswork out of PTO with balance tracking so you can accurately assign paid time off to your employees. It's simple for your employees to request time off with ZoomShift's mobile app. Both employers and employees can see these requests weeks or even months in advance, making it easier to make long-term plans.
6. Everything in one place
The beauty of ZoomShift is the ability to manage everything in one place. Make changes to your schedules on the fly and communicate with your team in an instant. Allow your team to view their work schedules, set their availability preferences, request time off, and pick up open shifts.
Other Notable features:
Create Private Notes visible to managers only
In-app team messaging
Easy to use clock-in and clock-out functionality.
Free iPhone and Android app
Pricing:
Free trial of 14 days.
Starter plan is $2 per user/month.
Premium Plan is $4 per user/month
Enterprise plan is custom per user/month.


What customers say about ZoomShift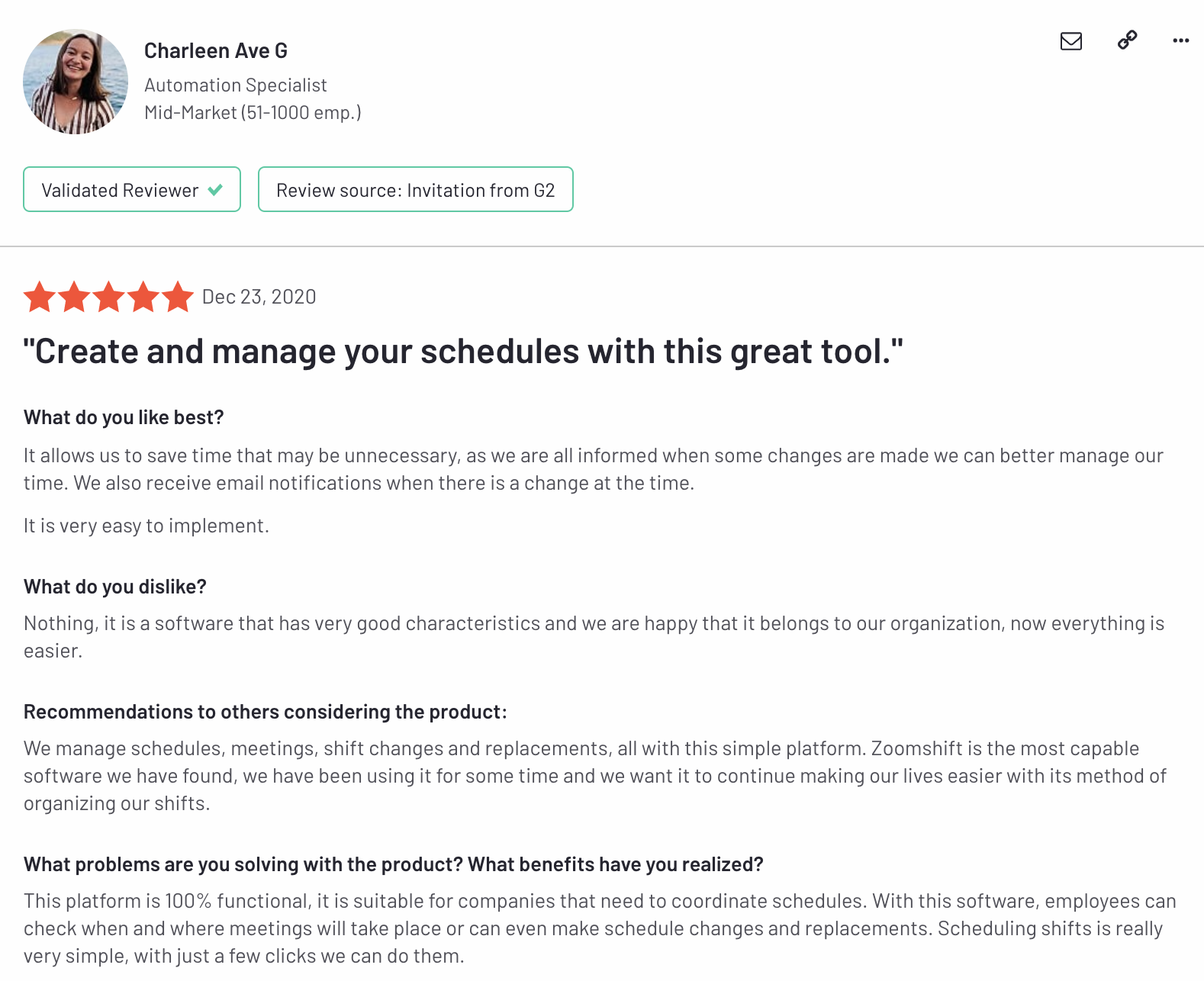 2. 7Shifts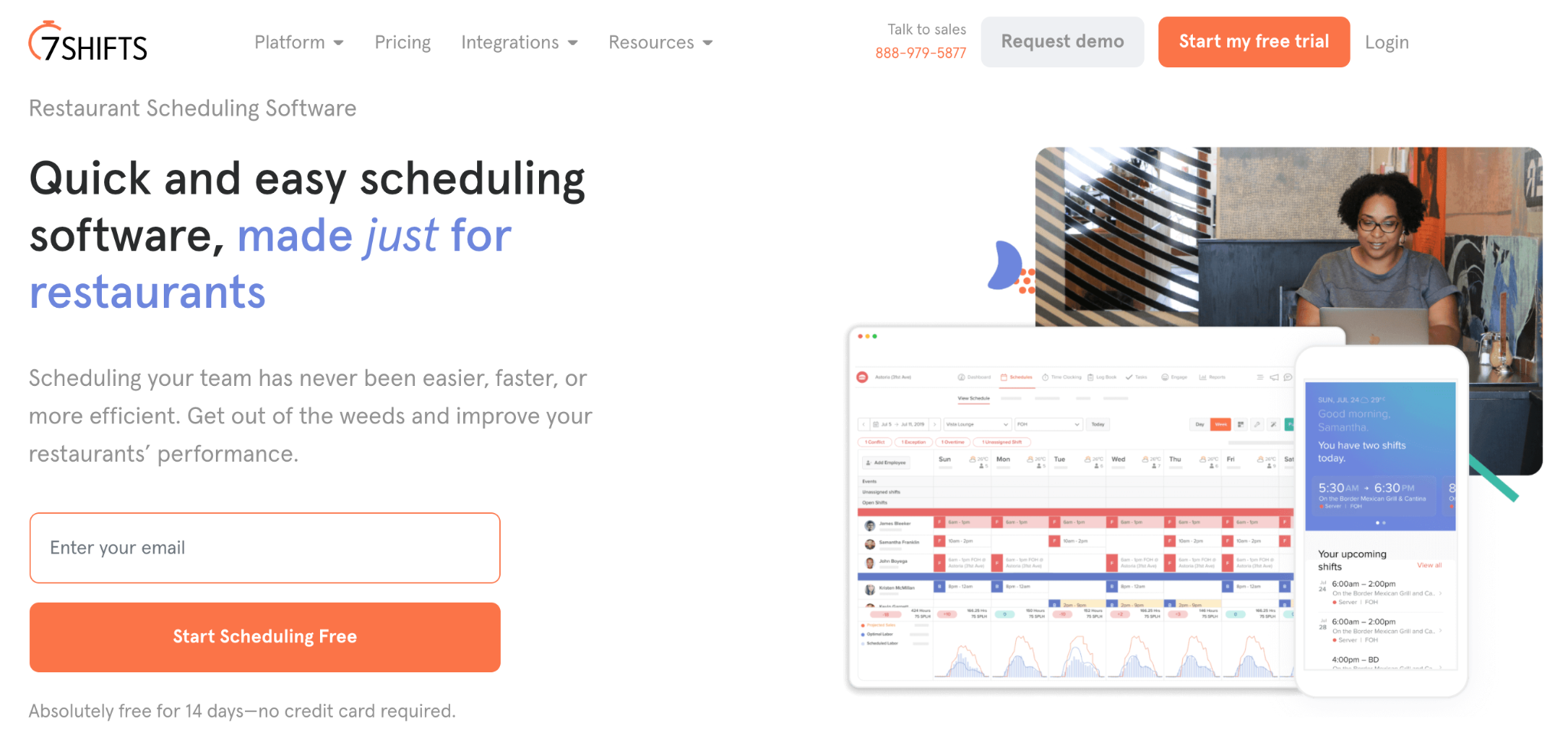 7Shift is a team management tool with a particular focus on restaurants. The team management toolkit helps keep track of hours, get feedback from employees, and drive accountability.
With dozens of integrations with external applications such as Quickbooks, Gusto, and Square it's designed for quick setup within a restaurant setting. A variety of pricing options allows you to take advantage of the features you need without paying for the bits that aren't necessary for your business.
Another feature 7Shifts offers for restaurants is tip pooling which takes some of the hassle out of making sure tips get split fairly.
Main Features:
Scheduling: Build schedules with just a few clicks
Time Clocking: Track the hours your employees work and simplify payroll
Communication: Communicate with your team in one place
Hiring: Find, engage, and hire new team members
Task Management: Assign tasks and standardize processes
Manager Log Book: Keep managers in sync with daily operations
Engage: Get staff feedback and reduce staff turnover
Tip Pooling: Customize tip pools and make sure employees get tips paid on time
Pricing:
Free trial of 14 days.
Comp Plan is free for single locations
Appetizer Plan is $17.99 per location/month
Entrée plan is $39.99 per location/month.
The Works is $69.99 per location/month.
3. Deputy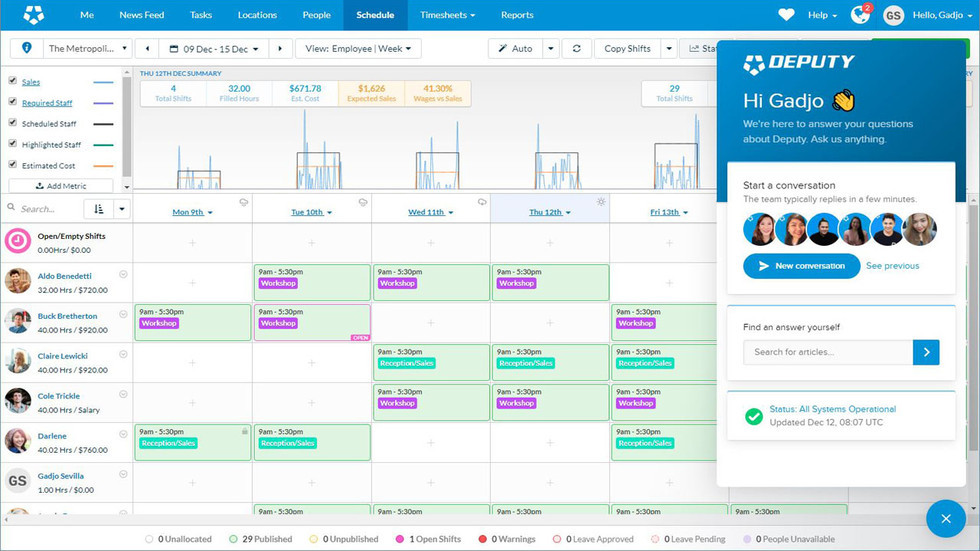 Deputy is designed to make scheduling and time tracking easier.
The drag and drop system allows you to create schedules and assign shifts to your employees. Its time tracking and time clock apps seamlessly link with leading payroll, POS, and HR systems to simplify your operations.
With features designed for clinics, retail, hospitality, manufacturing and logistics, and security, it's a popular option in many industries.
Main Features:
Scheduling: Scheduling tools allow you to build schedules in minutes, effortlessly sharing them with your team
Time Tracking: Collect and verify timesheets and automatically perform pay calculations
Time Clock: Allow employees to check-in effortlessly
Labor Compliance: Smart tools and guardrails to ensure you're complying with labor laws
Mobile App: Manage your work on the go and stay connected with your team
Pricing:
31 day Free Trial
Scheduling – $2.50 per user/month
Time & Attendance – $2.50 per user/month
Premium – $4.50 per user/month
Enterprise – custom per user/month.
4. Sling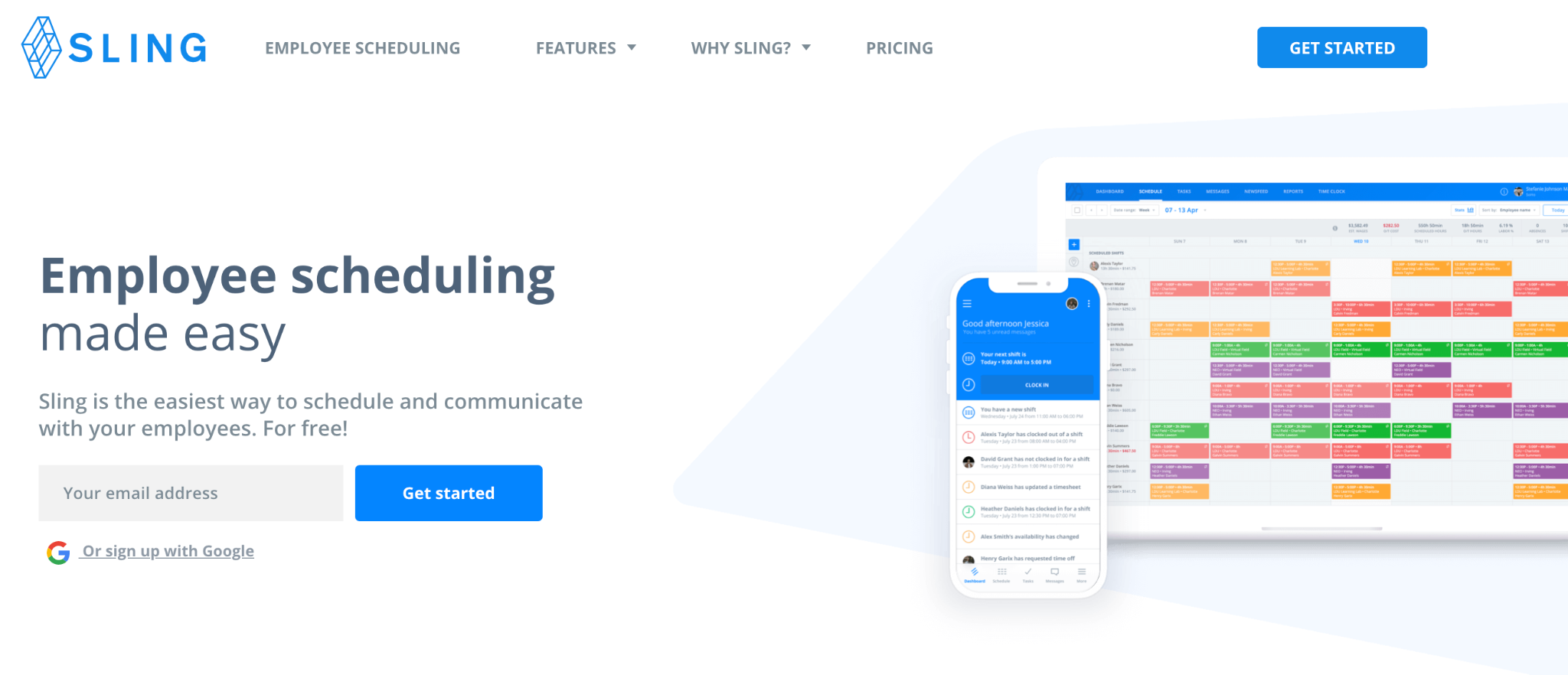 Sling offers a scheduling tool along with many other features to help you run your business.
Its platform allows you to access your schedules, time records, and more on the go, giving you greater control over your business. Again, it has a focus on restaurants but is suited to any industry where shift work is common.
On top of scheduling, Sling helps you manage your PTO, labor costs, and communication among other things. It prides itself on being simple to use, saving you time, money, and hassle as you organize the day-to-day running of your business.
Main Features:
Labor Costs: View your labor costs as you build your schedules
Time Clock: Track employees' hours and export spreadsheets to payroll
Communication: Communicate with your team from one central platform
Task Management: Add tasks to shifts so your employees remain accountable
Pricing:
Free Plan – includes all the basics
Premium – $2 per user/month
Business – $4 per user/month
5. OpenSimSim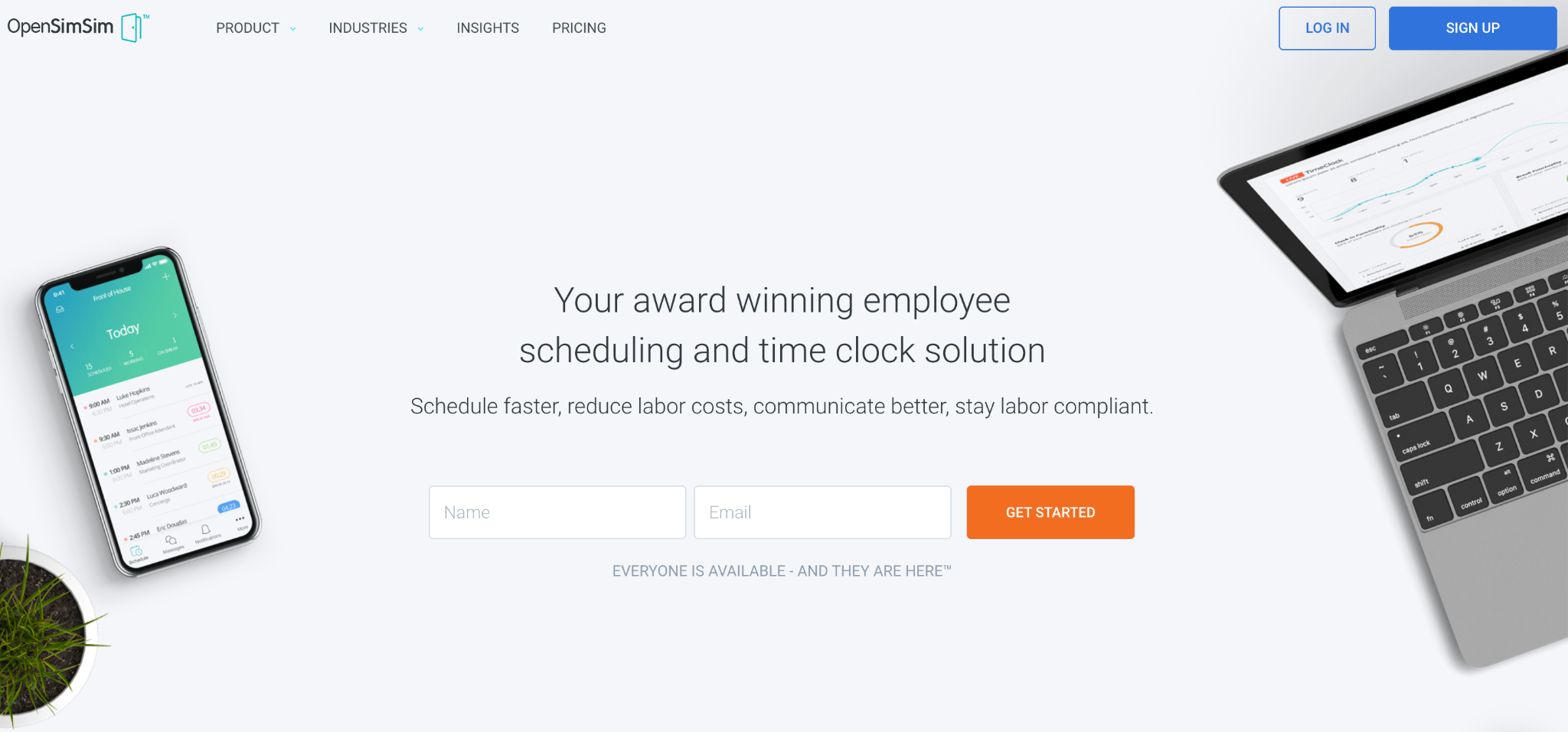 OpenSimSim is a complete scheduling tool that's designed to help you optimize your labor operations. Create schedules, manage on the go, communicate efficiently, and notify your employees of shift changes.
With OpenSimSim, you can stay in control of your labor expenses and streamline your operations. This When I Work alternative allows you to quickly plan out your rota's, and communicate schedules with employees.
Simple integrations with a range of payroll, HR, and POS systems, mean it's simple to integrate OpenSimSim into your business.
Main Features:
Employee Scheduling: Create clean, error-free schedules in minutes, manage employee's shifts and time off
Team Messaging: Private and group messaging and automated shift reminders help keep everyone on the same page
Time Clock: Track attendance and automatically link it to your timesheets and payroll
Compliance Tools: Plan breaks, manage overtime, and keep track of compliance
Pricing:
Free Basic Plan
Starter Plan – $12.99 per location/month
Premium Plan – $33.99 per location/month
Enterprise plan – custom pricing per location/month
6. Humanity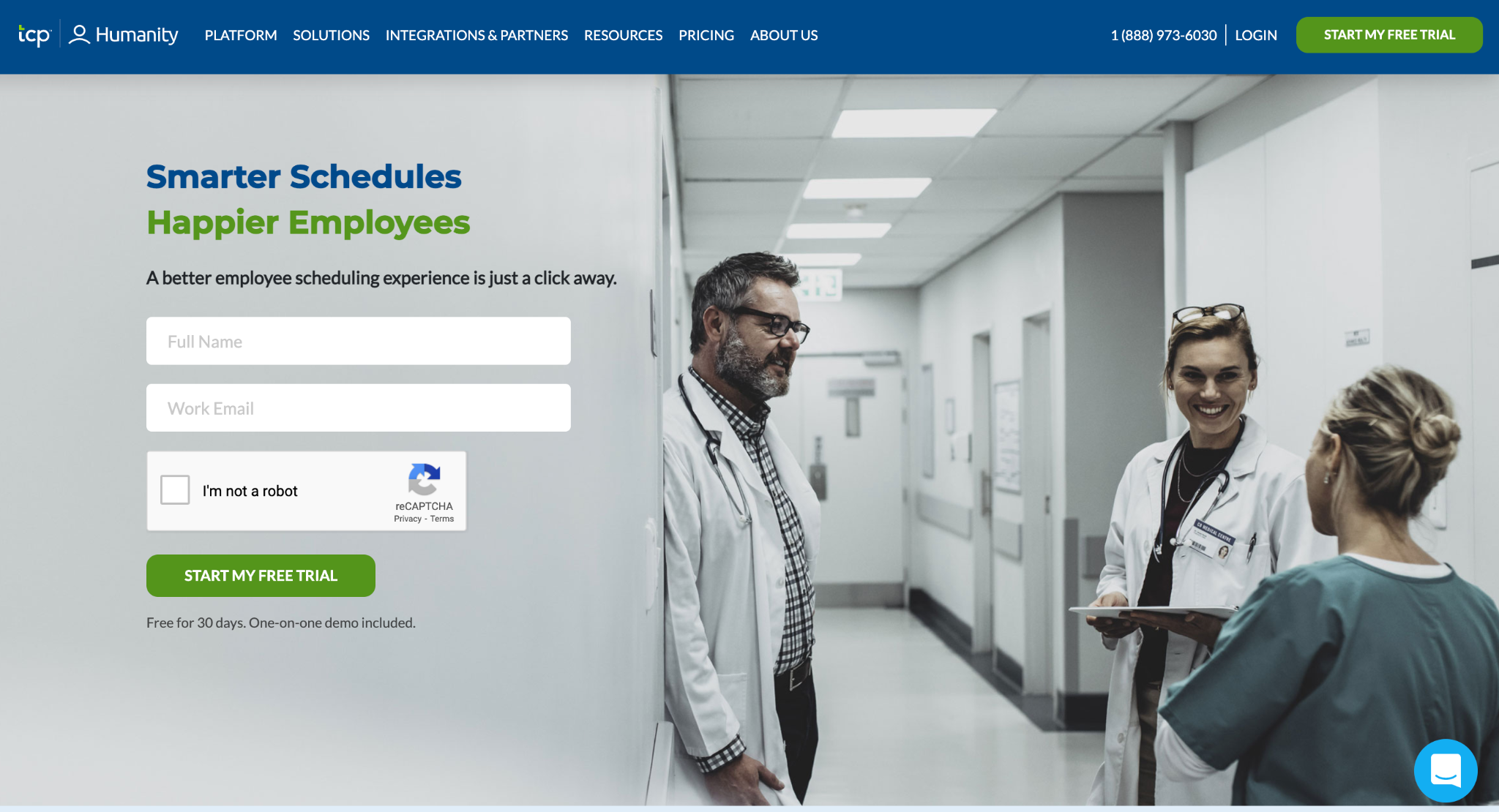 Humanity is targeted toward larger businesses and major corporations. Its shift management software scales with your business, allowing you to organize large workforces efficiently.
Through predictive rule-based scheduling, Humanity believes it can reduce the time you spend on schedules by up to 80%, all while producing compliant, efficient rota's. The platform is built with employee experience in mind, offering mobile access and a user-friendly interface.
The software is flexible, so it works in a wide variety of industries, helping to reduce costs and optimize operations.
Main Features:
Demand-Driven Scheduling: Manage peak and quiet periods using staffing data to inform your staffing needs
Compliance: Compliance warnings that update with legislation to ensure you're always compliant
Auto-Scheduling: Automatically assign shifts based on custom variables such as seniority, job title, preferences, etc.
Mobile Shift Management: Allow employees to manage their schedules from their own devices
Flex Scheduling: Post open shifts, release shifts for pick up, find replacements for absences
Time Clock: Track employee attendance and ensure accurate time records
Pricing:
Starter Plan – $3 per user/per month
Classic Plan – $4 per user/per month
Enterprise Plan – custom pricing per user/per month
7. Whentowork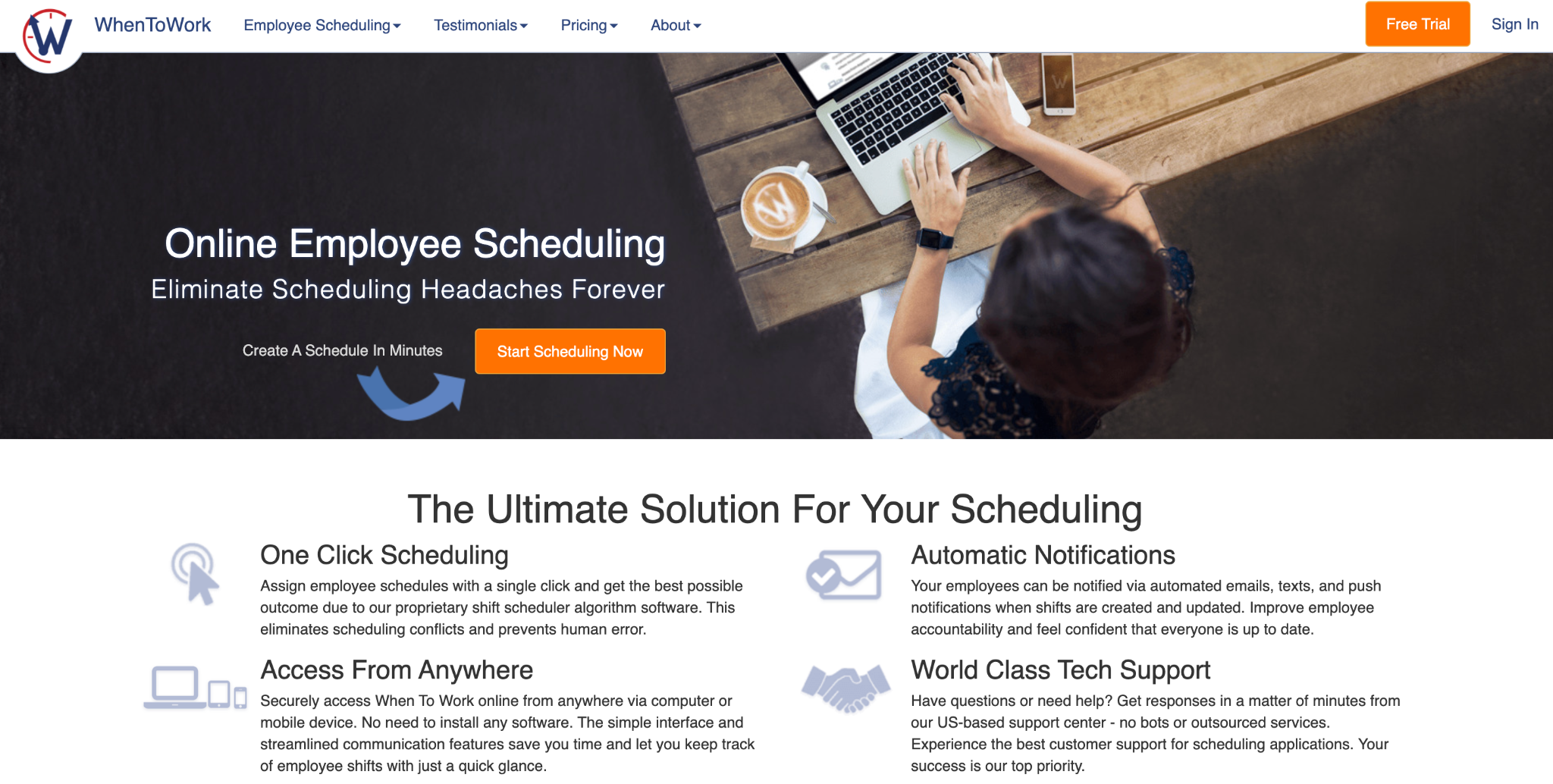 Whentowork is a slightly older option, which is reflected in its interface.
Its one-click scheduling software gives you access to your schedules from anywhere and allows you to communicate with your team. It also prides itself on tech support, helping you to get the most out of your scheduling.
Like the other options in this list, Whentowork's main function is to help you create efficient schedules on the go, but we find that this When I Work alternative can take a little longer with its slightly clunky interface.
Main Features:
Create Schedules: Create varied or repeating schedules using the "autofill" feature
View Schedules: View schedules in 12 configurable layouts from anywhere
Change Schedules: Make it easy to change shifts around by adding them to the trade board for employees to pick up
Track Schedules, Employees, and Managers: See which employees have viewed the schedule, notify people immediately when changes are made
Pricing:
Free 30-day trial
Pricing is done on a subscription basis depending on the number of employees.
8. ClockShark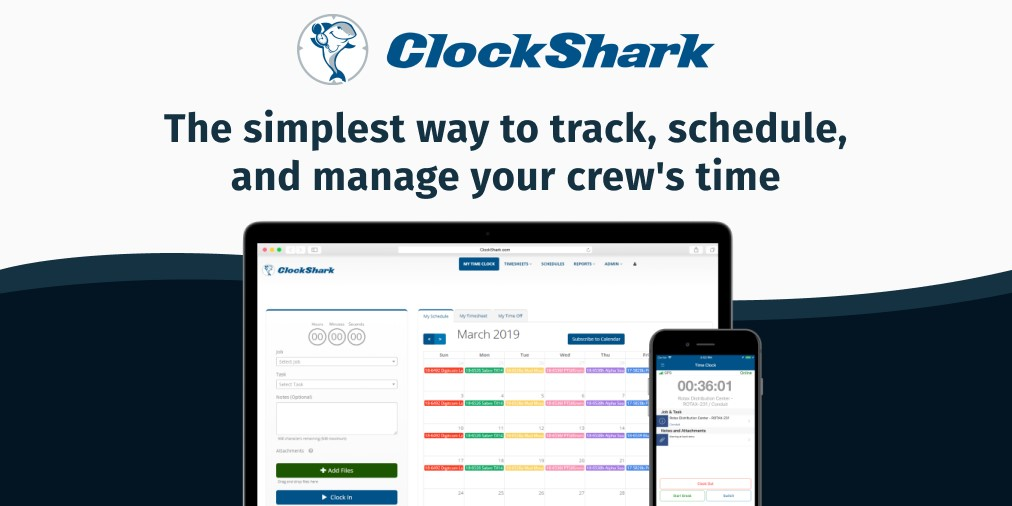 ClockShark is a timesheet app that works particularly well for construction businesses.
It allows your employees to clock in online, and keep track of their hours from the field. This links directly with your payroll, making it easier to cost out jobs and keep track of your expenses.
With paperless job management tools that give your employees all the information they need at their fingertips, it also helps you become more efficient, getting the most out of each worker's day.
It's an all-in-one toolkit that's trusted by more than 7,000 field service and construction businesses worldwide.
Main Features:
Time Tracking On the Go: Employees can clock in from their mobile devices, helping you to better understand your costs
Paperless Job Management: Manage jobs on the go without having to return to the office to get more details
Team and Employee Scheduling: Quickly create schedules and see where your employees are and when
Quotes, Invoices, and Payments: Easily create quotes and invoices, and get paid faster by accepting payments online
Pricing:
Basic Plan – $ 3/month per user +$15/month base fee
Standard Plan – $ 6/month per user +$25/month base fee
Pro Plan – $ 8/month per user +$45/month base fee
9. Shiftboard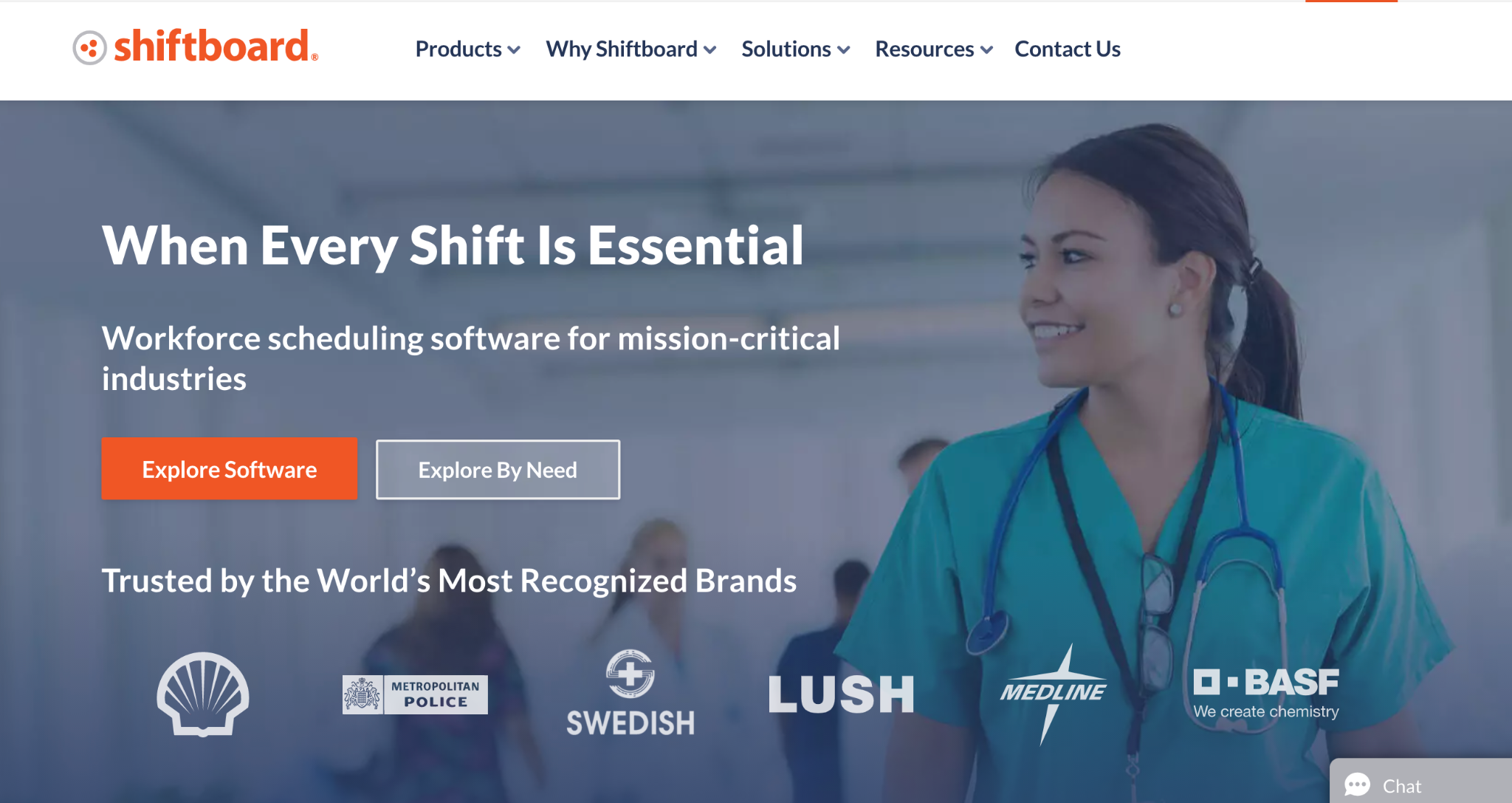 Shiftboard is marketed toward mission-critical industries, where every shift counts.
With two different scheduling programs, one for production-centric organizations, the other for service-centric organizations, it aims to give businesses the tailored solutions they need.
Shiftboard's algorithms constantly work in the background to make your scheduling more efficient, helping you to provide a great working environment for your employees. With employee retention, compliance, fatigue management, and labor cost management, it offers diverse solutions across many industries.
Main Features:
Staffing Level & Shift Pattern Control: Predict demand and make sure you have the right staffing levels
Configurable Scheduling Workflows: Create compliant schedules that meet your business needs
Flexible OT Detection and Equalization: Manage overtime and protect against employee burnout
Mobile Punch Clock and Geo Scheduling: Track employee hours conveniently and accurately with a mobile punch clock
Pricing:
Business Plan – contact for pricing
Enterprise Plan – contact for pricing
10. Homebase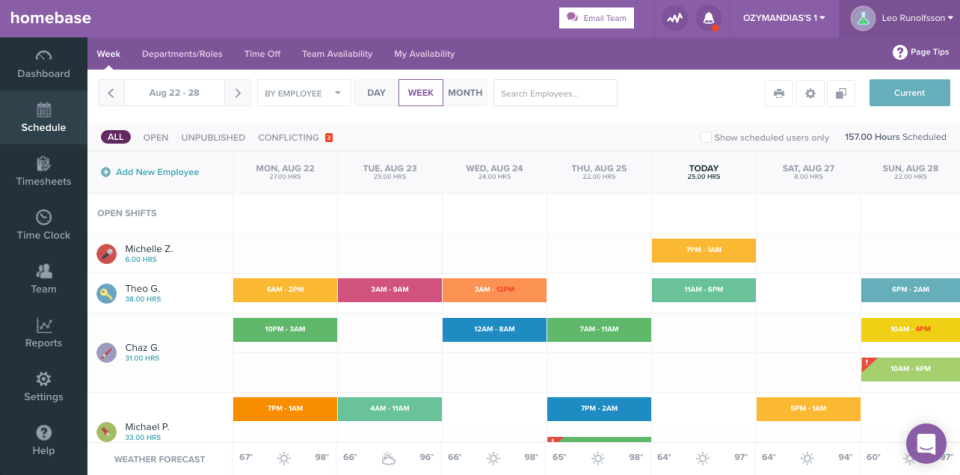 Homebase was built with businesses that use hourly work in mind. It can turn virtually any device into a time clock, helping businesses and employees track hours, breaks, and overtime.
It's designed to be quick and easy to use, eliminating the need for paper and spreadsheets, and linking directly with your payroll. Homebase makes your schedules easily accessible for everybody, making it easy to collaborate and come up with effective rotas.
More advanced packages also offer a host of different HR solutions such as new hire onboarding, employee documents, and compliance.
Main Features:
Scheduling: Create and share schedules to keep your business running smoothly
Time Clock: Allow employees to clock in and out with ease, so their hours can accurately be tracked
Timesheets: Automated timesheets make it easy to calculate hours, breaks, and overtime
Payroll: Link scheduling and timesheets to your payroll
Communication: Quickly communicate with your team for better scheduling
Pricing:
Free Basic Plan
Essential Plan – $14 per month per location
Plus Plan – $35 per month per location
All in One Plan – $70 per month per location
Final Thoughts
Organization is vitally important to any business. You need to be able to efficiently schedule your teams and track the hours they work. Luckily, modern technology makes this much easier and takes some of the hassle out of scheduling and payroll.
If you're looking for a When I Work alternative, then there are lots of options on the market, but we recommend you start by looking at ZoomShift.
With everything you need to make your business more efficient, it's well worth starting a free trial today.