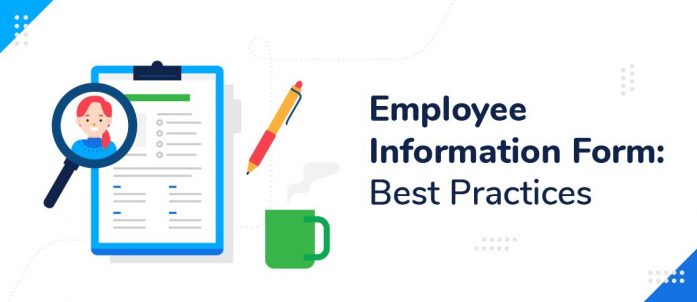 Employee information forms are a must for any business with any number of employees at all, from tiny start-ups to huge conglomerates. They should be filled in by every single new hire as standard on day one of the onboarding process – you never know when you're going to need to use the information they provide.
Furthermore, these forms should also be updated when anything changes – whether the employee in question is promoted, given a pay rise, or their living situation or contact details change.
Failing to properly keep track of employee information can put employers in sticky situations should they need to work out who worked for the company and when – in a legal situation for instance – or should an emergency arise in which the employee becomes incapacitated in some way.
Let's find out a little more about what employee information forms are, why businesses need them, what to include on your form, and best practices. We've also included a handy employee information form template at the end of this guide to make implementing the system super easy.
What Is an Employee Information Form?
An employee information form is exactly what it sounds like: it's a form that contains all useful information about each and every employee at your business. It doesn't matter whether they work full time, part time, or even just remotely for a couple of hours every month – this is vital information.
It's important to underline that most employee information forms are not particularly detailed – they don't go into the individual's employment history, or disciplinary matters. This is not a complex document, and neither should it be. You don't want to have to search through pages of contractual information to find an emergency contact number.
Instead, they should simply be a record of the most basic information you need to record about each employee. The most basic information is often the most important – and sometimes the hardest to find. Having a well-oiled system for filling in, updating, and filing your employee information forms makes it simple.



Employee information forms should be filled in on day one of employment and kept by admin staff within a secure, organized filing system – ideally incorporating both hard copies and electronic copies. They must also be updated whenever the contact details of either the employee or their emergency contact change, when the employee moves house, if a relationship status changes, or when the employee is given a promotion or pay raise. Remember to update the form when employees leave the company too.
Why Do You Need an Employee Information Form?
While the details recorded within an employee information form are basic, this is the most important information to have about an employee – and this information isn't always easy to find when employers are put in a situation where they will need to use it.
First and foremost, employee information forms always include details of that individual's emergency contact. In the case that any issues arise, they get sick or are involved in a workplace accident, the employer can feel assured that they know where to go to contact the right people.
Employers may also sometimes need to get in touch with former staff members after they have left the company, which, without the information form, can be near impossible.
Should there be any discrepancy as to the length of someone's employment, or the duration they worked within a certain salary tier, it is also super useful to have these records. This can be used to assist in any legal matters that may arise.
What to Include in an Employee Information Form
Employee information forms should – at a minimum– include:
Contact information and address
Government ID or Social Security Number
Date of birth
Marital status
Spouse's information
Emergency contact information
Job information, including title and salary
You may also want to include additional information pertaining to your specific industry. For example:
Driving license information
Information surrounding relevant qualifications
Employment history
Best Practices
Employers should never include any information on the form that could be used to discriminate against an employee, such as race, nationality, religion, or disabilities.
In addition, ensure that a strong confidentiality policy is set up around the records – they should not be accessible by just anyone.
It's also important to create a filing system that is backed up by online records to ensure none of the forms get lost, as well as to establish a system to ensure forms are always updated when the employee's circumstances change.