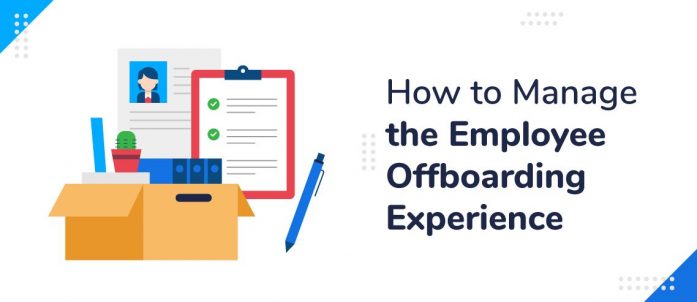 People leave companies – it's a natural part of life, and it shouldn't come with animosity or added stress. However, it often does. Emotions run high, and people can experience a wide range of negative feelings.
Thankfully, it doesn't have to be that way. A thorough employee offboarding experience can alleviate those problems. If you ask the right questions, nurture those departing, and uplift those sticking around, you'll find the experience is much more tolerable.
Naturally, you want to start by acquiring the employee's notice of resignation letter or email. It's also customary to provide written acceptance of their resignation letter. Or, if the company is prompting the separation, you'll want to present the employee with your decision and begin the offboarding process.
If things didn't end on a good note, it's best to pay out their two weeks, have them hand in their equipment, and make today their last day.
If it ended on good terms, then you'll want to manage their final days with the company in as graceful a manner as possible. Here's how to manage the employee offboarding experience.
1. Create a Compliance Checklist
Offboarding can be tricky. Sometimes it will be amicable, other times it will be far from it. Either way, it's important to ensure you do your offboarding properly and the easiest way to do this is by following a checklist.
Modern businesses use an endless number of applications to help them run efficiently, which means employees have access to information through different sources. Once an employee ends their employment, they shouldn't have access to these accounts and the information that was formerly available in them.
While the vast majority of employees will have no interest in logging back into their accounts and having a look around, there are some that will, and you can't afford to take this risk. Your business holds sensitive information, so it's vital that employees don't maintain access to this once their employment has finished.
If you miss steps in your employee offboarding, it can potentially lead to important information ending up in the hands of your competitors or even worse.
This is the last thing you want, so make sure you're giving your offboarding process the attention it needs and creating an exhaustive checklist.
2. Create a Communication Plan
Employee departures tend to affect more than those leaving the company. To quell any rumors and smooth over any sticky situations, it's best to tell the team sooner rather than later. If you time it right, you can avoid any spreading of misinformation and reassure everyone that there's nothing to worry about.
Too often, any uneasiness among the team finding out about an imminent departure of a peer comes from wondering how it all affects them. Thoughts range from:
Will they have to take on more responsibilities for a while?
What might those added duties entail?
When will a backfill be chosen for their position?
Are there possibilities for promotions now?
Why are they leaving? Should they think about leaving also?
The list goes on, and getting ahead of it puts you in control of the situation. If they need extra resources or support temporarily while taking on a higher workload, then clearly explain that. If the interview process is in progress or nearly complete, then get that out there also. Transparency goes a long way here.
3. Schedule the Exit Interview
The exit interview is a crucial piece of the employee offboarding process that many companies overlook. It's arguably the most important event in the offboarding experience because it's a chance to find ways to better your organization.
There are also some housekeeping aspects like reminding them of any privacy or non-compete clauses they signed. You can't avoid that. However, the real shining moment is when you get to ask them questions. Some excellent questions to ask include:
What prompted you to start searching for another job?
Did you feel like our company gave you everything you needed to succeed?
Did your job change since you were hired?
Did you feel the company recognized your achievements and hard work?
If you could wave a magic wand and change one thing about your work, what would it be?
If you're feeling good about the departure, you might even prompt them to share their experience on Glassdoor so other candidates can learn from their time at your company.
Tying up loose ends will make the whole process feel effortless for both you and the employee. Take note of all the steps it takes to offboard an employee and package them into a neat checklist, as you do with employee onboarding, that makes the whole process easier next time around.
4. Plan to Limit Productivity Drop-Offs
Your business is a well-oiled machine. Different parts come together to maximize your efficiency and boost output. When you take one cog out of that machine it can have a big impact, even if it might not seem so.
You employ your workforce to maximize efficiency, and one person leaving can make a big difference to productivity. When someone leaves unexpectedly, this can be a big shock to your planning and you need to be able to adjust to ensure you maintain productivity.
It's important that you put plans in place to limit productivity drop-offs and that you communicate well with your remaining employees. If you fail to do this, then it can add to the load your existing employees are under, doing serious damage to employee morale as well as reducing productivity.
Look at how you can adjust your schedules, bring in temporary workers, or invest in your software to ensure operations remain unaffected. If you've already got a replacement lined up, then make sure your onboarding is up to scratch so they can hit the ground running.
One thing that can make this process much easier is making sure you get all the relevant information from the outgoing employee. What projects were they on? What did their day-to-day look like?
The more information you have, the easier the transition will be.
5. Help Them Go Out on a High Note
You may not always be happy when an employee leaves, but the way you handle adversity is the precedent you set for your team. If you panic or seem unsure of the future, then they'll follow suit. Alternatively, if you're calm and confident, then for the most part, they'll follow your lead.
Plus, there's a strong chance the departing employee still has friends on the team, and if you talk poorly of them or treat them differently after giving notice, you'll run the risk of harming your relationship with existing employees.
The best way to avoid such circumstances is to help them go out graciously. Schedule a little get together to say goodbye or a Zoom meeting if people are working remotely. Get them a goodbye card and have as many people sign it as possible. Order some drinks and reflect on the past.
If they're leaving on good terms, offer to help them with a reference letter if they ever need it and do what you can to make sure they land on their feet after leaving the company.
6. Make the Final Day Feel Seamless
The last day is always strange. There are always things they can still do to help the team, but there's typically a cutoff time that makes sense. Plan on them leaving early that day and make it easy to hand in equipment, turn in keys or access cards, and handoff responsibilities.
Make sure management has access to all their work accounts. Sometimes customers will keep emailing former employees, and it's good to get ahead of that. Also, make sure they get paid for all hours worked and, if applicable, any PTO accrued.
Ensure that they know when any applicable benefits will end and how to access any retirement or Health Spending Accounts (HSA) that the company set up.
7. Foster an Ongoing Relationship
If your employee is leaving on good terms, then it can pay to foster an ongoing relationship. You invested in this person's development and built a relationship with them and it's a good idea to maintain a mutually beneficial relationship.
You can see some examples of big companies doing this with programs like Chevron's "Bridges Program." In these programs, former employees can choose to be exclusively considered for contract assignments or other benefits.
The great thing about this is that you're working with a known quantity.
Say an employee has left you to start their own business. In some cases, you may well find that working together on certain projects is mutually beneficial. If this is the case, then you've already got an existing relationship and can build on it to optimize your business operations.
Not only is this an incentive for employees that keep them loyal to your brand, but it can also be a big benefit for your own business.
Your employee might no longer be working directly for your business, but that doesn't mean they can't continue to be of service to you. You've invested in their development and helped them build their career, and you can continue to do so while seeing tangible rewards for your investment.
Make sure to keep communication channels open, and create an environment where future collaboration is encouraged.
FAQ's
What does offboarding mean for a job?
Offboarding is the process of separation between an employee and the company they work for. It's generally prompted by termination, resignation, or retirement, and helps facilitate the separation between the two parties. It can be an awkward situation when someone leaves a company, so it's important businesses have set offboarding policies for dealing with the situation. In many cases, this will involve a checklist that involves managing security details, thanking the employee for their work, and understanding the employee's experiences with the business by conducting an exit interview.
What is one thing you should do when offboarding an employee?
Offboarding can be a complicated process that's sometimes emotionally charged. One of the key things is to try and keep it amicable as any bad blood is only likely to harm your business. Create a process you can follow and ensure you keep things structured. Of course, you don't want it to seem overly planned out, so make sure you personalize it and make sure it's tailored to the employee.
Why have an offboarding process?
Offboarding can be difficult for both employees and businesses. It's generally in both party's interests to ensure that the separation is amicable and a good offboarding process can help ensure this. Employees have access to a lot of sensitive information and can be a source of important insights. It's also important to use the offboarding process as a time to learn what your business can do better and make sure that sensitive information doesn't leave with the employee.
How do you offboard an employee?
To offboard an employee, you should have a checklist of steps that you ensure you cover. This might seem like a rigid way to deal with such a human interaction, but it's important you don't miss important details. It's important that you recognize the emotional element of the situation and make things as easy as possible for the departing employee, but at the same time, there are certain steps you need to take. Remember that it's best to make this process as amicable as possible, so focus on how you can improve your offboarding experience.