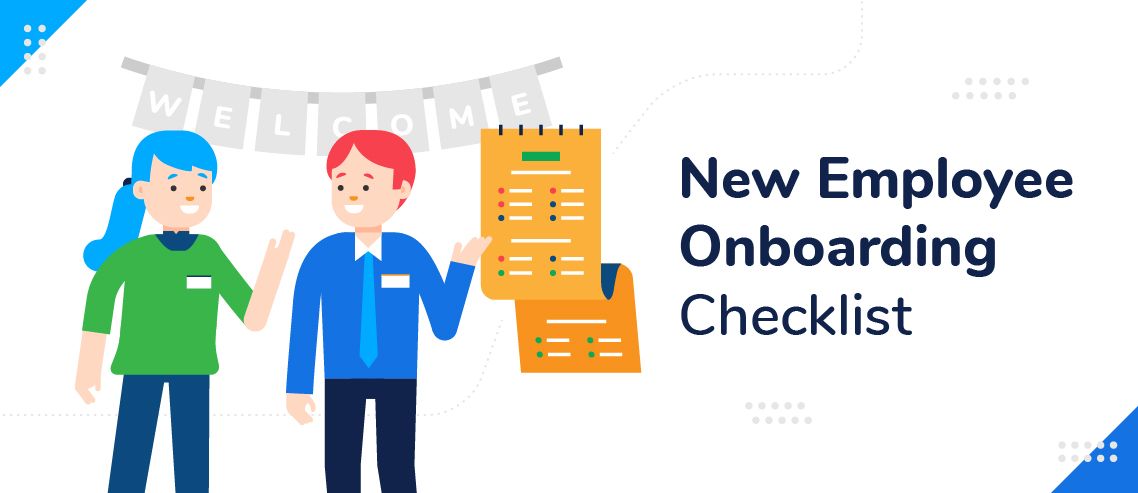 Onboarding new employees bring many challenges, especially after 2020. We have created the ultimate new employee onboarding checklist to keep you in check for 2022.
New Hire Checklist
Interviews are over, you've made an offer, and they've accepted it. Now it's time to get all the behind the scenes details sorted out before they start.
1. Complete all new hire forms for the human resources department:
W-4: Employee's Withholding Certificate to withhold the correct federal income tax
W-9: Request for Taxpayer Identification Number & Certification (contractors only)
1-9: Employee Eligibility Verification to verify authorization to work in the United States
State Tax Withholding forms (if applicable)
Direct Deposit forms so they can receive their paycheck via ACH deposit
Non-disclosure and non-compete agreements
Alcohol and/or drug test consent agreements
Security and confidentiality agreements
Job analysis forms such as goals, responsibilities, and performance evaluation criteria
Emergency contact designation and contact details
Medical history and food allergies
2. Call the employee to confirm first day details, such as:
Workplace location, start date and start time
Attire including specifics like tattoo/jewelry policy and shoes
Equipment needs specific to their job like tools, kitchen gear, safety gear, etc.
What to expect their first day such as facility tours, introductions, and training
3. Set up employee computer, software, and account access:
Ensure they have the proper login credentials to email accounts and relevant software
Create an onboarding or training program for learning work-related software
Review company IT rules and procedures
Add them to all relevant email groups, so they don't miss updates
Add them to your scheduling software and explain how they can access their schedule
4. Order new hire materials and set up an onboarding packet:
Name tags, uniform, headgear, footwear, and any safety items
Key cards, physical key copies, passcodes, and alarm codes (if applicable)
Provide them with a new hire welcome kit, a welcome letter along with contact names, phone lists, and company vision
5. Make a socialization plan:
Introduce them to their new team and all leaders
Schedule a welcome lunch or dinner
Schedule regular reviews and 1-on-1 time
First Year Onboarding Checklist
Being a new person is rarely a comfortable experience. You're full of ambition and enthusiasm, but you don't want to step on toes. You want to ask questions, but you don't want to be a bother. You want to share your opinions, but you're unsure if you've earned the right. Needless to say, it's an emotional rollercoaster for the first year or so.
As a leader, there's a lot you can do to make the onboarding experience pleasant and relatively seamless. Proper onboarding can assimilate new hires to your workplace more quickly and likely make them productive members of the team sooner. Ideally, employee onboarding will last a year with critical milestones placed along the way to ensure they're set up for success.
Here's a one-year onboarding checklist you can use or modify as necessary:
Day One:
The first day on the job is all about setting expectations, introducing objectives, and making them feel comfortable in their new work environment.
Schedule team introductions

Arrange social lunches, coffee dates, or virtual sync ups

Schedule a workplace tour

Show them the restrooms, break areas, kitchen, storage rooms, offices, and anything else relevant to their day-to-day duties

Setup their workspace

Whether they're waiting tables or working a desk, it's important that they know where they can leave personal belongings and access work materials

Security orientation

Provide access to access badges, keys, security codes, computer access, phone setup, and any relevant HIPAA or compliance training

Culture and code of conduct review
Review job description and responsibilities

What can they start doing today, and what should they work up to
What performance metrics are you tracking
Discuss how their job fits into the bigger picture for the company
Go over policies for time off, sick time, holidays, vacation, etc.

Begin new hire training
Week One:
They're getting comfortable, but as time goes on, they have more questions, and it's up to you to make sure they get answers.
Ask other employees to check in on them to ensure they feel supported
Schedule out regular evaluations and set goals for the first week, month, 90-days, etc
Ensure all their systems functioning properly
Schedule weekly or bi-weekly one-on-ones so you can provide feedback and answer any questions they have
Month One:
The basics are down, and it's less about the day-to-day and more about sustaining what's working well and working on their weaknesses.
Review month one performance and provide coaching
Ensure payroll and PTO accrual are functioning properly
Check-in on employee training to ensure adequate progress
Set month two goals to challenge them
3-Month Check-in:
Training is over, and it's time to dig into what's working and what's not. If they need supplemental training, then the time is now.
Review all their metrics from the last ninety days and measure it against the goals you've set for them
Set new goals for the next three months and switch to more of a quarterly check-in
Get feedback on how you're doing as a manager supporting them
Find out who's been helpful on the team and see if there are any suggestions they have for improving new hire onboarding
Invite them to fill out a Glassdoor review to help attract more great talent like them
6-Month Check-In:
You set goals for 3-months so it's time to see what they've achieved, what they're still working on, and where they may have fallen short.
Review the goals set last quarter and provide coaching where necessary
Assign additional duties if they're ready for it
Consider having them train any new hires
Set new goals for the next quarter
Schedule their next quarterly check-in
9-Month Check-In:
Similar to their six-month check-in, you'll want to review their goals and set new ones. Assess any coaching opportunities and lay the foundation for their annual review.
Review the goals set last quarter and provide coaching where necessary
Set new goals for the next quarter
Prepare them for their annual review
Annual Review:
Look back at the previous year, congratulate them on their first anniversary, and find ways to challenge them as they enter into their second year.
Review their quarterly goals and look back at their performance for the whole year
Assess their strengths and discuss any future opportunities you see for them
Discuss additional compensation or potential promotion opportunities
Employee Onboarding Frequently-Asked-Questions (FAQs)
1. What software can make onboarding new hires easier?
HR software is helpful for document storage. And employee scheduling software like ZoomShift makes scheduling new employees a breeze. You can show them how to download the application on their phone, see their schedule, see their time off balances, and how they can request time off. The entire onboarding process via ZoomShift will take you minutes, not hours.
2. How can I create a custom employee onboarding checklist for my restaurant or business?
Take the checklist we've provided above and copy it into a word document. Remove anything that's not relevant to your restaurant or business and make adjustments where necessary to make it even more applicable to the way you do business. Save a copy of that in case your onboarding process evolves, and make a copy of it each time a new hire starts.
3. Are there legal considerations my hiring and onboarding checklist should include?
Each state will have its own set of laws and regulations you'll have to adhere to, so we highly advise consulting an attorney and an accountant to see if there are any forms you're missing or training items you should be going over.
4. What happens if someone's a quick learner and doesn't need as much training?
There's a good chance you'll hire people with various levels of experience and education, so think of the employee onboarding checklist as a guideline instead of a strict document that can't flex. You'll have to check off forms and procedures, but the training plan can and should be customized to the individual's needs.
5. What should I do if I'm hiring multiple employees at once?
Onboarding multiple employees will likely save time and resources since you can batch a lot of onboarding tasks and new hire training sessions together. It's still essential that you make sure each individual's needs are met throughout the process. The best way to do that is through regular check-ins with their frontline manager.