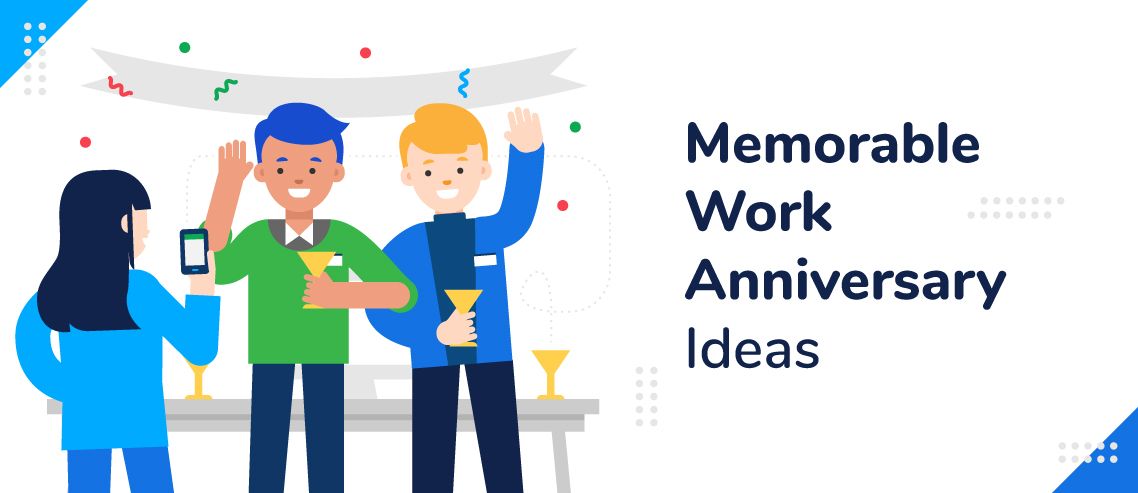 Celebrations at work are always fun – whatever the occasion. Who doesn't enjoy a free slice of cake on a Tuesday, or office beers on Friday afternoons? But when it comes to work anniversaries, there are many more reasons to celebrate than simple enjoyment.
If someone has worked for you for one, five, or ten years, this is something to be celebrated, for both them and you. They've reached an important career milestone, and you've retained them.
There's a clear link between employee recognition and productivity. Indeed, 69% of employees say they'd work harder if they were better appreciated. Furthermore, feeling under appreciated in the workplace can lead to employee burnout.
While regular "thank yous" from managers can go a long way to ensuring employees feel valued, marking work anniversaries compounds this sentiment. Work anniversaries can be a tricky moment for employee retention, but by ensuring that your team feels valued in their current role, you'll reduce the risk of them panicking about the milestone and looking for a job elsewhere.
With this in mind, here are 30 memorable work anniversary ideas to celebrate your employees:
1. Company Shares
Gifting an employee company shares is a genius move, as it gives the individual more of a vested interest in working towards the overall success of the business.

It's worth saving this one for a special anniversary such as five or ten years.
2. Monetary Bonus
It's hard to go wrong with a monetary bonus for your employees. This is a very tangible way to show your appreciation for employees' dedication to the business.
Bear in mind, however, that if you choose to go down this route for one employee, it will need to be a standardized process for all employees' work anniversaries. If you fail to do this, it could cause resentment amongst colleagues, and ultimately do more harm than good.
It's also a good idea to tie the amount to the number of years the individual has been at the organisation. For instance, you could give a $100 or $1,000 bonus for one year at a company, and $500 or $5,000 for five years.
3. Gift Cards
Gift cards are a more personalized way of rewarding your employees with money. This gives you the opportunity to show your employees you know them well.
For instance, if one of your employees is a beauty addict, get them a Sephora gift card, or if they're really into mountaineering, opt for an Osprey card. Meanwhile, the foodies in your ranks would no doubt appreciate a gift card for the hot new restaurant in town.
4. Experience Days
What's at the top of your employees' bucket lists? Skydiving? A hot air balloon ride? Getting behind the wheel of a supercar?
Gift them a once-in-a-lifetime experience day that allows them to realize their long-held dream and they will appreciate it. They will always remember that their unforgettable experience was made possible by the company, and their loyalty will be boosted as a result.
5. Office Party
This is a classic option for a reason. When you throw an office party to celebrate a work anniversary, it's not just the employee you're honoring who benefits, but all their colleagues too.
So get the champagne in, order a cake, put some music on, and encourage your team to let their hair down.
It's worth noting that – especially if you have a big team – it's best to do this only for big anniversaries, such as five or ten years. If you end up throwing a party every week, the value of doing so will be reduced.
6. Personalized Gift
Getting your employees personalized gifts for work anniversaries is your chance to show you understand them. Buying the same gift for every employee is a no-no, but you should ensure they are roughly worth the same amount of money.
This present could be anything – a signed shirt from the football team they idolize, the designer handbag they've wanted for months, a meal at a Michelin-starred restaurant. The important thing is that you take the time to work out what gift they will really appreciate. After all, it's the thought that counts.
7. Support Their Chosen Charity
If your employees are socially conscious individuals, they no doubt have a few charitable causes close to their hearts. By supporting a cause that they deeply care about, you're aligning the business with their own values.
This isn't a work anniversary gift for everyone – many employees will prefer money or a present. However, the individuals who would appreciate a charitable donation will be seriously moved by this present.
8. Feature Them on the Company Website and Social Channels
Make a big deal about your employees marking their work anniversaries. Show you're proud to have them as a part of the organization, and that you're interested in them.

9. Lunch With the Boss
The boss can often seem like an untouchable, intimidating figure – particularly in large organizations. Making them more accessible has myriad benefits.
Why not offer up a lunch with the boss for employees celebrating work anniversaries? Not only will this ensure they feel seen and valued at work, but it's also a great opportunity for the boss to scope out talent within the business and find out what's happening on the front line.
10. Extra Vacation Days
In the US, workers are notoriously given fewer vacation days than their counterparts elsewhere in the world. However, US companies do tend to boost vacation leave in line with tenure.
Work anniversaries are a perfect time to present your dedicated employees with a few extra paid days off per year. They'll thank you – and so will their families.
11. Hold a Ceremony
A work anniversary is a big deal, so mark it with the attention it demands. Hold a ceremony at the office, or during a company-wide meeting to celebrate the employee on their big day.
Ask their manager to say a few words about their achievements and what they bring to the company, and use the opportunity to present them with their gift.
12. Sleep In
This is a great option for those one and two-year anniversaries. It might not be a big bonus, but who doesn't enjoy a late morning?
Give your employees the morning off work on the day of their anniversary to allow them to catch up on sleep or enjoy a brunch with their loved ones.
13. Fine Dining Experience
A fine dining experience is a fantastic experience for foodies, and one that they may not get to experience that much due to the expense.
If you know your employee is into their haute cuisine, gift them a fine dining experience with a loved one or colleague. It's a present they won't forget.
14. Invite Them to Give a Talk in Their Area of Expertise
This is a practical work anniversary idea that gives the employee a chance to shine, while also providing free training for other employees.
Invite them to give a talk or lecture on their own area of expertise to a select group of colleagues.

15. Game Night
Whether it's card games or board games, a game night is a fantastic way to bring your team together for a fun evening that doesn't have to involve alcohol.
This is a great alternative to the classic office party and will give everyone in the office something to look forward to.
16. Order in Their Favorite Food
This is a simple but effective way to mark a work anniversary. At lunch time, order in the employee's favorite food for the whole team. Whether it's pizza and burgers, Chinese takeout, or dessert, it will provide a mood boost for the whole team.
17. Creative Workshops
Similar to the experience day option but with a little more productivity, giving your employee a creative workshop will give them a chance to wind down and get the creative juices flowing.
The workshop could be on anything from drama or life drawing to flower arranging or pottery. The point is that it's something a little different: it will provide a break from their usual routine that they'll always remember.
18. Career Planning Session
For ambitious employees, a career planning session will be more welcome than gifts that err on the "fun" side. Give them a career planning session – either with their manager or an external consultant – and watch them blossom.
This option should also give their manager more insight into their ambitions, which is very useful for motivating them in future.
19. Create a Fun Video
Show you care with a fun video dedicated to the employee in question.
A simple option is to ask their colleagues to say a few words on camera about why they enjoy working with them, or to recite a funny memory of them.
20.Give Them a Seat at the Table
If your employee has been with you for a while, one of the most important things you can do for them is to give them a seat at the table.
In practice, this means including them in higher level business decisions. Ask for their opinion on various strategic moves, and – where appropriate – invite them to meetings concerning the future of the company. This is one of the best ways to gain long-term buy-in from experienced employees.
21. Training Course of Their Choice
Everyone wants to improve their skills and you can help people do this by offering them a free training course. Your company probably offers regular training anyway, but this is an opportunity for your employees to learn about the things they're passionate about.
This is not only a great incentive for your staff, but your business also benefits from more skilled employees.
22. Desk Upgrade Contribution
We spend a lot of time at our desks!
A nice way to celebrate a work anniversary is to create a fund to allow your employees to invest in upgrading their desks. Whatever they want to add (standing desk, new chair, ergonomic mouse), whatever it might be, allow them to create a better work environment.
Making sure you offer a good working environment is a big part of employee satisfaction, so offering a desk upgrade of the employee's choice is a great way to reward them.
23. Upgraded Parking Spot
Parking can often be a point of contention, especially in big offices and factories.
It's no fun driving around for ages looking for an open spot, so a nice way to reward people on their anniversary is by offering an assigned parking spot.
Remember there are only so many prime parking spots to give out, though, so think about when you offer this option.
24. Company Sponsored Trip
People love to travel. There's a whole world out there to explore, and you can help your loyal employees do just that.
If someone is marking a particularly special anniversary, then you can pay for them to take a trip. This is an opportunity to create memories that last a lifetime, and your contribution won't be forgotten in a hurry.
25. Fun Gift Box
Gifts aren't just about value, they're also about entertainment and the thought you put into them.
A fun gift box that contains all the things your employee loves is a great way to mark an early anniversary. It gives you a chance to get to know your staff and show them you take an interest in their lives.
26. Puppy Party
This one is a little bit more out there – but who doesn't love puppies?
To bring a little cheer to the office, give your employee the option of a puppy party.
Allow dogs in for the day and everyone can enjoy the emotional support of some furry friends.
It might not be for everyone – you'll want to be sure to check for any dog-related allergies – but it can be an unforgettable way to celebrate a work anniversary.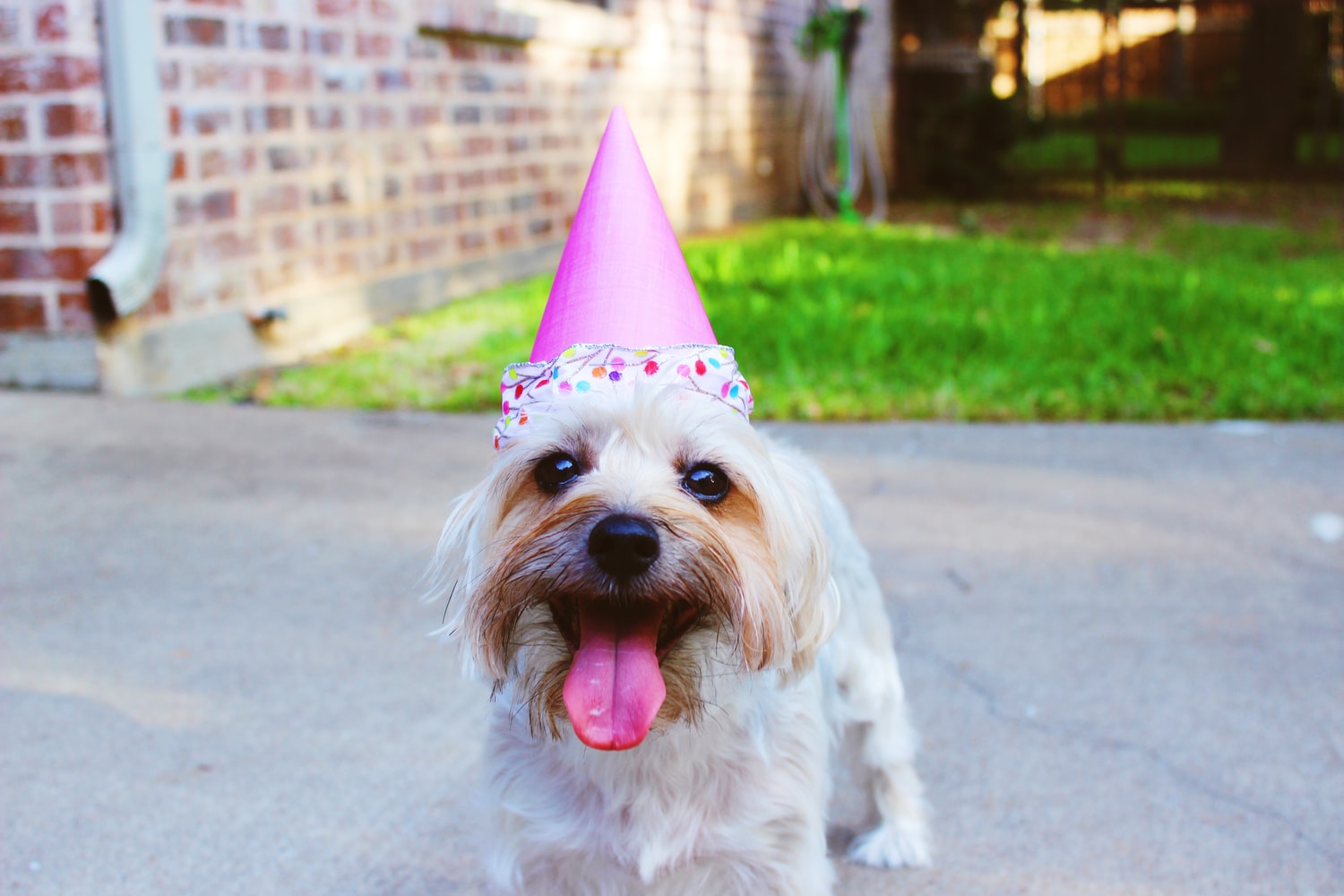 27. Commission a Piece of Art/ Portrait
If you've got some art lovers in the office then this could be a perfect option.
A piece of art is something you can keep forever, so it makes a great gift. Whether it's a portrait, bust, painting, or something else is up to you, so it's another good way of creating something personal for the recipient.
28. Scrapbook
Another way to create a personal gift is by making a scrapbook of the employee's time at the company. You will actively have to work on this one, as it needs plenty of photos, quotes, and other interesting "scraps" to be successful.
It's a small gift you can give to people with early anniversaries, and it shows them how much you value your time working together.
29. This Day in History
This is a nice one for people celebrating early anniversaries.
Create a nice certificate of all the events that happened on the day your employee joined the company, culminating in your employee starting their journey with your business.
It's a nice way to mark the importance of the anniversary.
30. Take Something Off Their Plate
People often say time is the one thing you can't get back, but you can make it easier for your employees to manage their time in the future.
Find out what you can take off your employee's plate to make their life easier.
Not only can this be a great anniversary gift, but it might also allow them to do their key tasks more effectively.
What's your favorite way to reward your employees on their work anniversaries? Will you be trying out any of the 30 options on the list? Let us know in the comments!