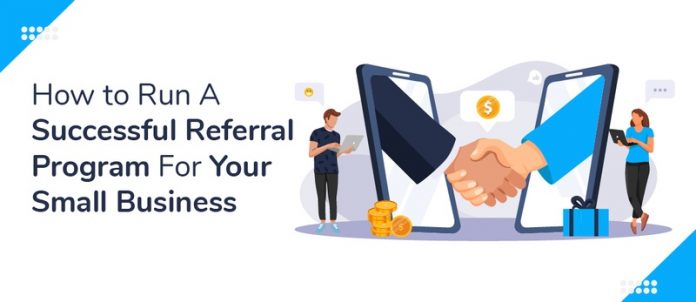 Word-of-mouth is one of the most effective ways to learn about a new business and a successful referral program can help you achieve this.
We ask for product recommendations from friends and family because they're the ones we trust the most. They're also paying customers who are aware of our preferences. As such, their positive reviews can pique our curiosity and encourage us to try something new.
In fact, ReferralCandy found that 49% of consumers believe their friends and family are their top sources for brand awareness. Similarly, a consumer is 50x more likely to buy a product recommended by close friends or family.
These numbers show that referrals can have a huge impact on your small business. However, while referrals can take place organically, building a referral program can also help you grow your customer base.
How to build a referral program? Here are the tips that you need to know.
What is a referral program?
A referral program incentivizes brand advocates to make a referral.
Participants can receive rewards like freebies, discounts or coupons in exchange for making a successful referral.
For example, Love Wellness' referral program lets brand advocates and their referred friends get $20 off store credit. By incentivizing brand advocates to make referrals, brands motivate them to spread the word about their business.

How referral programs can benefit your business?
Referral programs are a powerful marketing strategy but what are the perks that it can bring in the long-run. Here are the advantages that you need to know.
Referred customers are more loyal
Interestingly, referred customers are more loyal than regular ones.
A study found that referred customers spend 200% more than the average customer and make 2x as many referrals themselves. Despite similar demographics and time of acquisition, the lifetime value of referred customers is 16% higher on average.
Since their friends have a positive perception of your business, they're more likely to follow their example. Likewise, when their friends continue to patronize your business, they're more likely to make repeat purchases to.
Referral programs can boost customer retention
People love talking about brands and products that they love. It's something we do unconsciously when we meet-up with friends or post on social media. Thus, the possibility of receiving rewards for sharing a business we patronize, may compel us to stick around in the long-run.
Referral rewards like discounts and store credit can also motivate us to return to our favorite e-commerce stores to make a purchase. But referral programs don't just boost retention for e-commerce brands.
For instance, if you have a SaaS company, you can use your referral program contacts to host an exclusive webinar sharing industry expertise to further solidify your company and yourself as an industry expert.
Referral programs can boost customer acquisition
Would you trust a sponsored ad or your friend's recommendation? Of course, the answer is obvious.
A word-of-mouth referral can easily persuade new customers to convert. It's much faster than sending sponsored posts or branded content—then waiting for these leads to convert.
According to Statista, 37.6% of surveyed respondents believed word-of-mouth influenced their decision making process when dining out. Plus, 33.% of respondents reported similarly in regards to the influence of purchasing electronic goods.
How To Create A Referral Program
Generating referrals requires a systematic approach. You'll need to set goals, determine your incentives and build the referral program.
Here's how it's done.
Step 1: Set Goals
Goals determine the focus and direction of your referral program, as well as the resources you need.
During the pre-pandemic era, a study found that only 3% agreed that customer referral can provide the best ROI. Yet, after COVID-19, 49% agreed that customer referrals are their most effective tactic.
These numbers show that you shouldn't be left behind. Have brainstorming sessions with your core team to come up with SMART (specific, measurable, achievable, relevant and time-bound) goals for your referral program.
Here are some questions you might want to consider:
How much of your sales will be attributed to the referral program?
How many new customers do you hope to gain from your referral program?
How many current customers will join the program and become brand advocates?
How much are you willing to invest in the program? What is your timeline?
Once you've set your goals, monitor your referral program results. That way, you're on track to achieve your goals and objectives.
Step 2: Understand your customers
Have you been soliciting customer feedback on a regular basis?
Feedback provides invaluable information about customer expectations on your business and referral program.
In the early stages of referral program development, you can brainstorm incentive ideas by interviewing and surveying your most loyal customers. Then, you can get their opinions on the rewards that you are planning to consider.
You can also put yourself in your customers shoes. Think about the prizes which would entice them to join the program and continuously recommend your business.
An alternative option is to launch a survey. You can get this done with tools like Google Forms, SurveyMonkey, Tidio, Alchemer and SurveySparrow, among others. You can distribute these surveys online by using social media, email and SMS campaigns and even from offline sources in-store or on product packaging by using dynamic QR codes, to drive customers to your survey forms.
The answers you get could be the basis for the referral rewards that you'll offer to customers.
That way, brand advocates will be motivated to refer their friends and make an actual purchase.
Step 3: Choose the Rewards Structure
There are two types of referral program rewards: a one-sided and two-sided incentive.
A one-sided incentive only rewards either the advocate or the referred friend. This rewards structure is easy to execute and requires less investment.
In contrast, a two-sided incentive rewards both. Take for instance a referral program where the brand advocate will get $20 in store credit while the referred friend will get a 5% discount. This is much more effective in driving more customers down your sales funnel.
For example, in Samsung's referral program, the referred friend can get a 5% off discount while the brand advocate can get $1000 in rewards. Earned points can be redeemed to get gadgets like digital storage accessories or smartphones.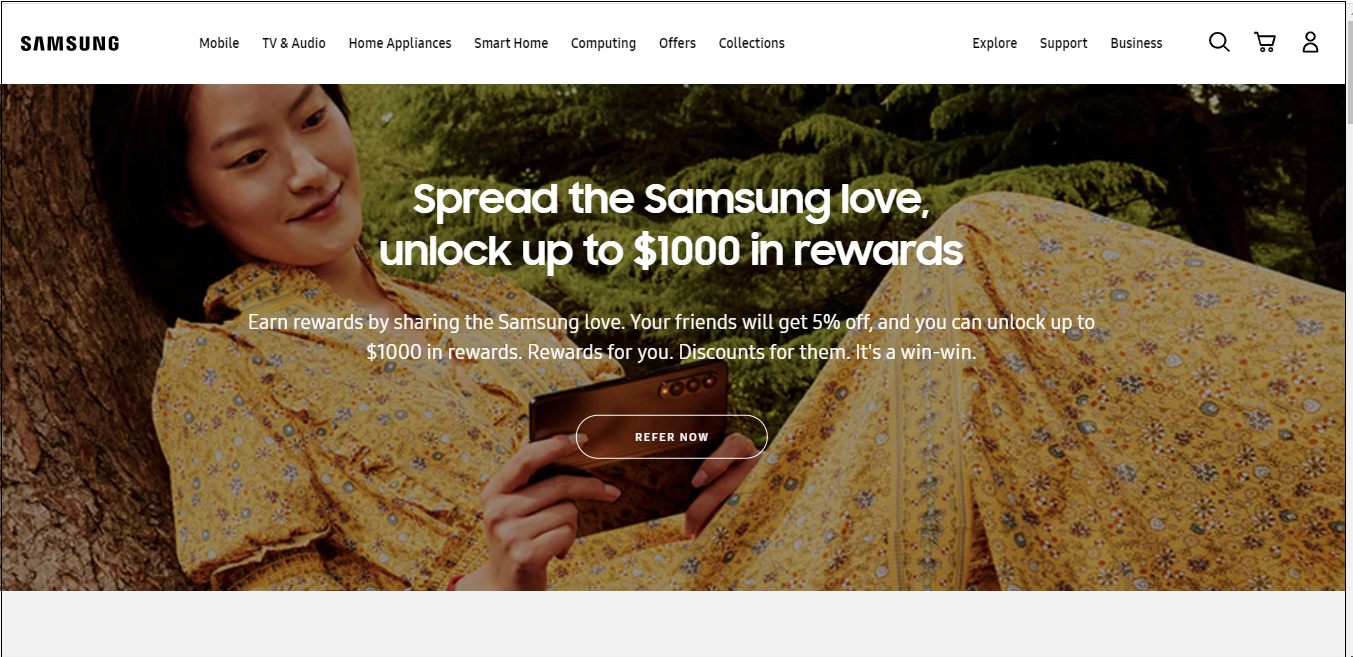 Step 4: Choose referral reward
There are a variety of ways you can offer referral rewards to customers.
For starters, you may want to begin with a one- size-fits-all approach. In this setup, the reward is the same for every participant that fulfills the referral program's conditions.
As you grow your customer base and referral program budget, you may adapt a tiered structure. This setup offers different rewards based on the tier where the customer belongs.
For example, Justworks lets brand advocates earn $200 for referring a company with 2 employees. However, they can earn $10,000 for referring a company with 100 employees.

Which rewards to offer? Popular types of referral rewards include cash, discount, store credit, gift card, free subscription/membership, and points.
Here's how to choose the best reward type for your business:
1. Cash
Cash is more enticing since it can't be used anywhere. This is a popular option for financial services or companies that rely on one-time purchases.
In Payoneer's referral program, both customers and brand advocates can get a $25 cash reward.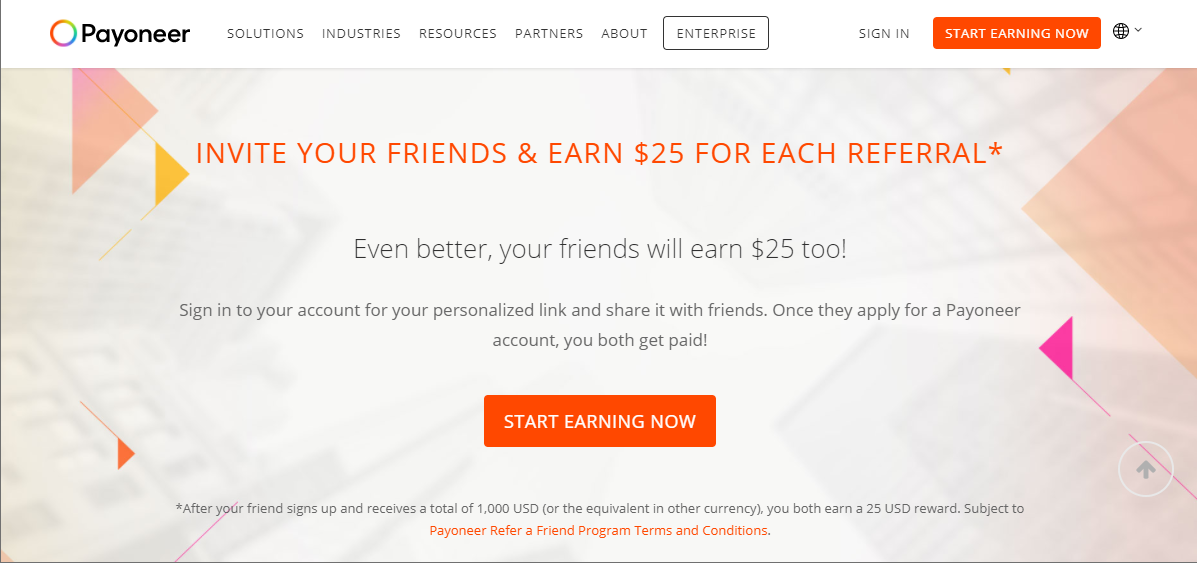 2. Discount or Store Credit
According to a Nielsen report, 51% of businesses believe discounts are their most-valued benefit. This reward is useful for businesses that rely on repeat purchases (i.e. clothing retailers, restaurants).
MeUndies utilizes both store credit and discount rewards. The referred friend gets a 20% discount on their first purchase while the brand advocate receives store credit worth $20 for their next purchase.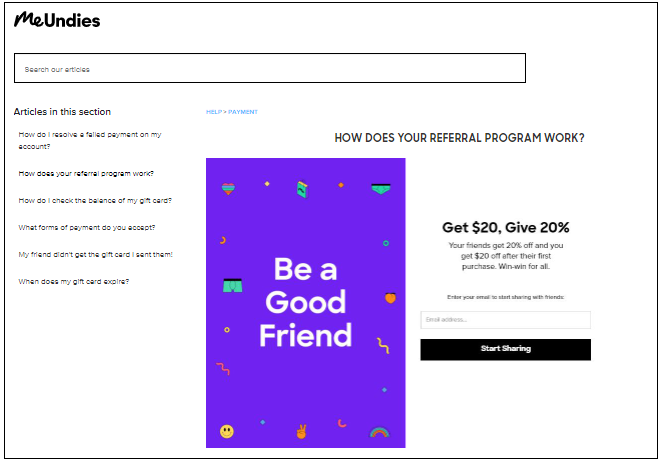 3. Gift Card
Third party gift cards are rewards that you can use in popular retailers like Amazon, Apple Store, Adidas, Starbucks, or Netflix.
For example, Endy lets brand advocates earn a $55 gift card while referred friends can get $55 in store credit. The gift card can be used for Amazon or Visa purchases, which increase its usability.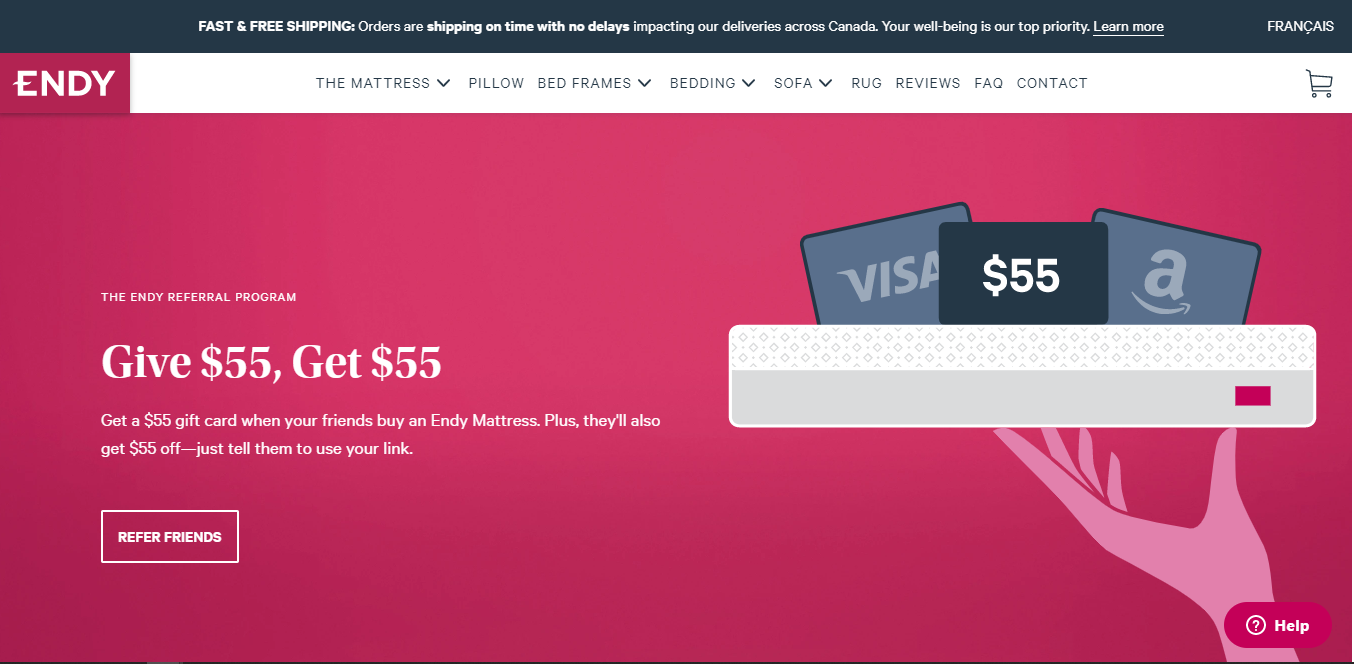 4. Free Subscription/Membership
This reward is applicable to businesses that utilize a subscription model.
For example, Tempo's home fitness workout lets brand advocates earn three months of membership for referring a friend.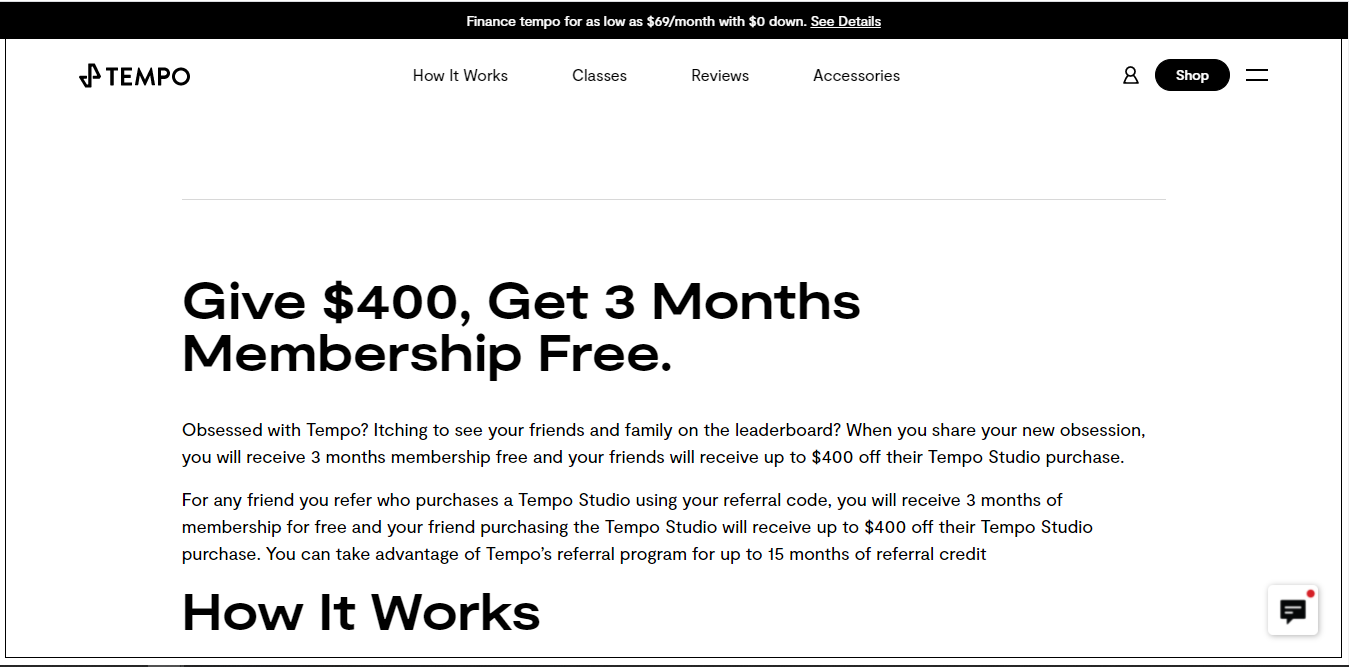 Simply put, brand advocates must remain delighted with your referral rewards. This way, the motivation to promote your business will come naturally.
Step 5: Build a referral program
Now that you've figured out your rewards structure, it's time to build a referral program.
Retailers can opt to build a referral program from scratch. But if you're not well-versed in creating landing pages and setting up your own referral program, you can use a referral program tool.
Most referral program softwares let you build a referral program within minutes. All you need to do is to create an account, choose the rewards, and the software will automate the entire process for you. It will send automated emails and instructions to your brand advocates, and distribute the referral rewards.
Thus, a referral program may be a cost-effective marketing tactic to reward your loyal customers and get new customers down the sales funnel.
Wrapping up
Referral programs provide a cost-effective way to boost your customer base. After all, brand advocates can also be the most ideal brand ambassadors.
Since their words are trusted by their friends and family, their positive referral can easily convince potential customers in their network.
With the right tools, referral programs are also easy to launch. Just sit back and relax while it automates the entire process.