JD Spinoza

JD Spinoza

JD enjoys teaching people how to use ZoomShift to save time spent on scheduling. He's curious, likes learning new things everyday and playing the guitar (although it's a work in progress).

Apr 09, 2021
Restaurant Food Safety: 6 Best Practices and Solutions for 2023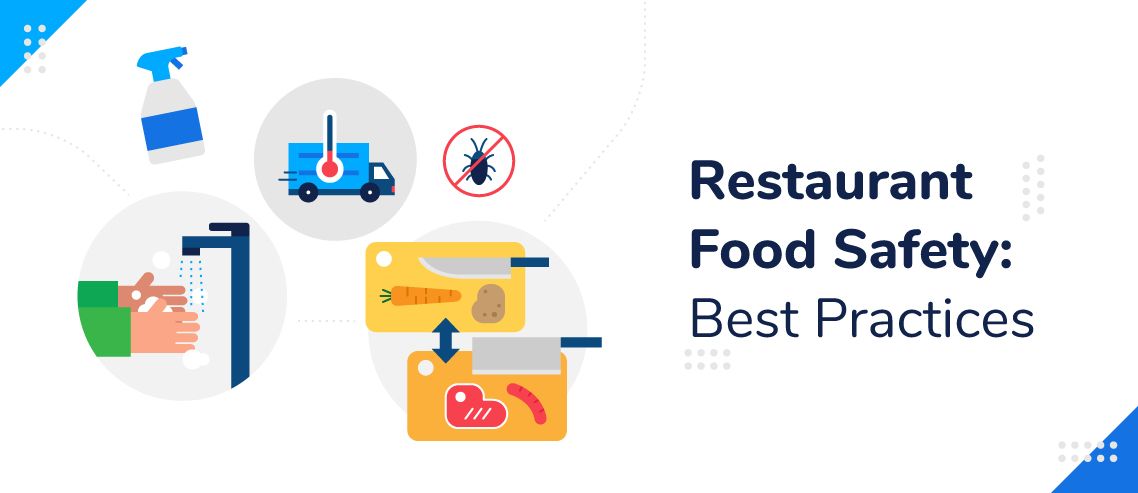 When managing a restaurant, food safety has always been of the utmost importance, but there's no doubt that the Covid-19 pandemic has brought the topic to a heightened public awareness. With sanitation constantly on the minds of consumers and restaurant goers, restaurants need to not only adhere to guidelines, but they need to ensure that patrons know that they're doing so.
In this guide, we're going to cover six tips that you need to keep your restaurant safe in 2022 and beyond. These tips won't just ensure your patron's health, but they'll keep your business safe from potential lawsuits.
What Is Restaurant Food Safety and Why Is It Important?
Restaurant food safety refers to the process of properly storing and preparing foods to minimize the risk of food-borne illness within the context of a restaurant. Some food safety practices, like washing your hands after using the bathroom or wearing a hair net, are widely known, while others are a bit more obscure and less intuitive.
Even though food safety may not be one of the most glamorous parts of the restaurant business, it is one of the most important. Each year, an estimated 48 million people in the United States suffer from food poisoning, of which 128,000 are hospitalized and 3,000 die, according to the CDC.
Although extremely rare, lawsuits for severe cases of food poisoning can be extremely damaging to your business. For example, a California man settled for $1 million after he ate at a restaurant and came down with a severe case of food poisoning.
Of course, even if you don't end up with a lawsuit on your hands, a reputation for unsafe food will not do your business any good.

6 Best Restaurant Food Safety Practices for 2022
1. Read Through Your Government's Guidelines
The first step when devising any type of plan should always be to do your homework. Food safety is a frequently studied subject, and there is a wealth of evidence-based data available on how to mitigate the risks.
Many countries have government organizations that lay out specific guidelines for best food safety practices. In the US, your first stop should be the FDA Food Code. In the UK, you'd want to look at the guidance from the Food Standards Agency, and the EU Commission has guidelines designed for businesses as well.
You should be sure that your internal procedures are in line with the recommendations from the relevant governing body.
2. Ensure All Workers Properly Wash Their Hands
Over the past year, the importance of hand-washing has been drilled into everyone's minds. But hand-washing isn't just for Covid – it was an important way to reduce the spread of illness before the pandemic, and it will remain essential long after the world has returned to normal.
Restaurant employees should make it a habit to wash their hands with soap and water for at least 20 seconds after:
Using the restroom
Clearing tables or handling dirty dishes
Sneezing, coughing, using a tissue, or otherwise touching their face or body
Eating, drinking, or smoking
Using chemicals
Before and after handling raw meat
Touching dirty aprons or clothing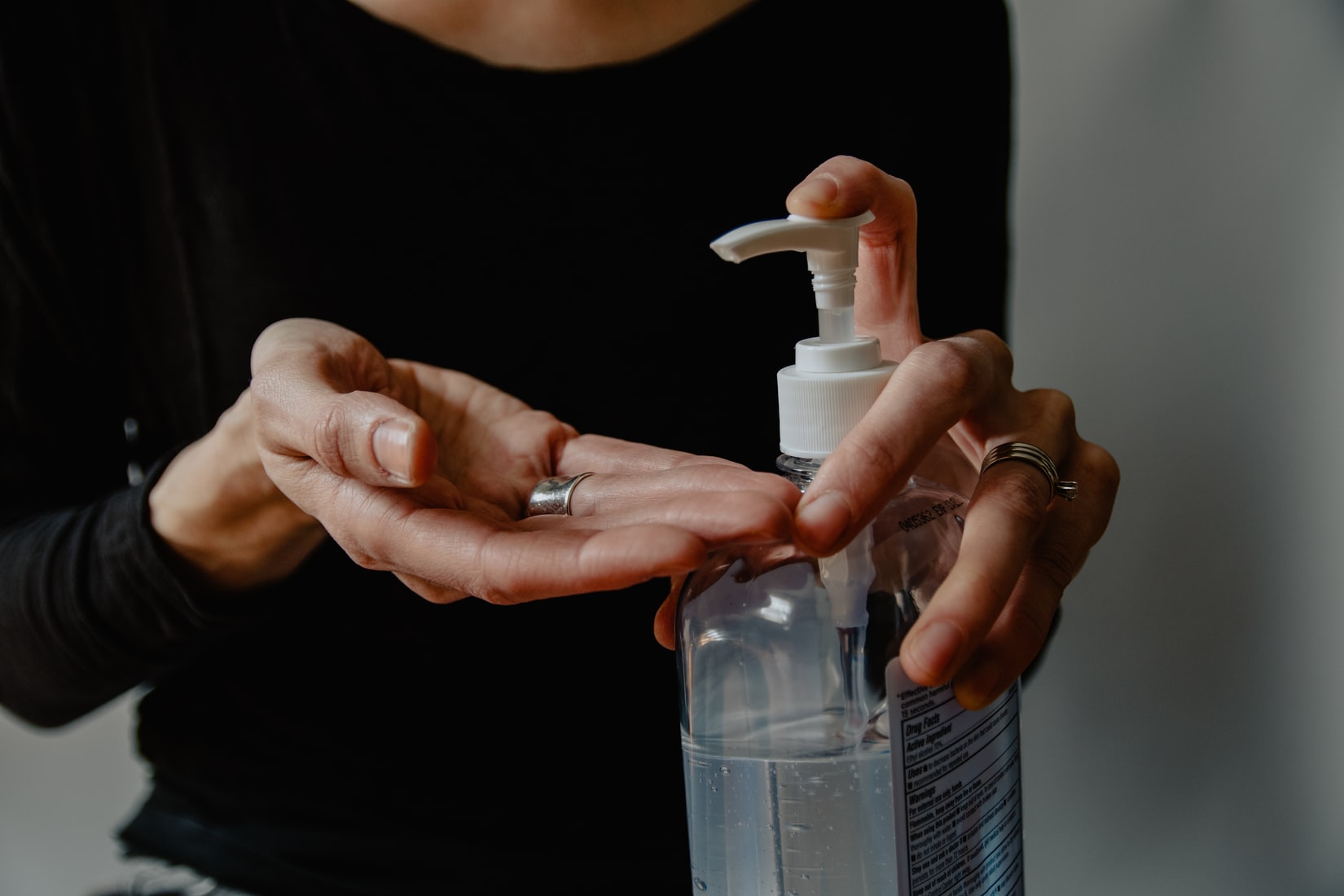 3. Abide by the 2-Hour Rule
Food that is left out at room temperature can spoil quickly. While non-perishable foods, like peanut butter, oats, and bread, can be left out indefinitely, other foods, like meats, dairy products, and sauces can make people sick if they're eaten after being left out for too long.
As a rule of thumb, it's generally a good idea to toss food that has been left out at room temperature for over two hours. At that point, the risk of sufficient bacteria colonies forming on the food is high enough that some people may get sick.
As troubling as it may be to toss out food that seems fine, remember that food spoilage doesn't always look, taste, or smell like anything out of the ordinary in the early stages.
4. Separate Cooked and Raw Food
Besides adding flavor and texture, the main purpose of cooking food is to kill bacteria that may have contaminated the raw product. However, if you're keeping your cooked and raw food in close proximity to each other, you're defeating the whole purpose.
Foods can easily be cross contaminated. For example, if you pick up a raw steak and then touch a cooked one right after, you could transfer over some of the bacteria from the raw product. In the same way, keeping raw and cooked foods too close can lead to accidental touching of the two, which is not safe for your patrons.

5. Don't Overuse Disposable Tools
Everyone has seen a sponge sitting on the kitchen sink at someone's home that looks like it should have been retired some time ago. While it may seem innocuous enough, disposable kitchen tools, like sponges, can harbor bacteria.
Since they aren't regularly washed and disinfected like utensils and plates, the bacteria can continue to build up over time, and eventually make people sick.
If you use disposable tools in your kitchen, make sure to swap them out frequently. You can also opt for sustainable options to reduce waste and environmental impact.
6. Monitor and Train Employees
Even the best restaurant food safety program is worthless if it isn't followed. That's why employee training is so important.
All restaurant workers should be thoroughly educated on all the aspects of your restaurant's food safety policy. This includes instructing them on proper hand-washing technique, best practices to avoid cross contamination, proper attire, etc.
It's also a good idea to make sure employees know which foods are most likely to cause food poisoning so that they can take extra care when handling these products.
Top 5 Restaurant Food Safety Software
Here is a list of the 5 best food safety software that will help keep your restaurant in compliance with food safety laws and to protect your brand and reputation.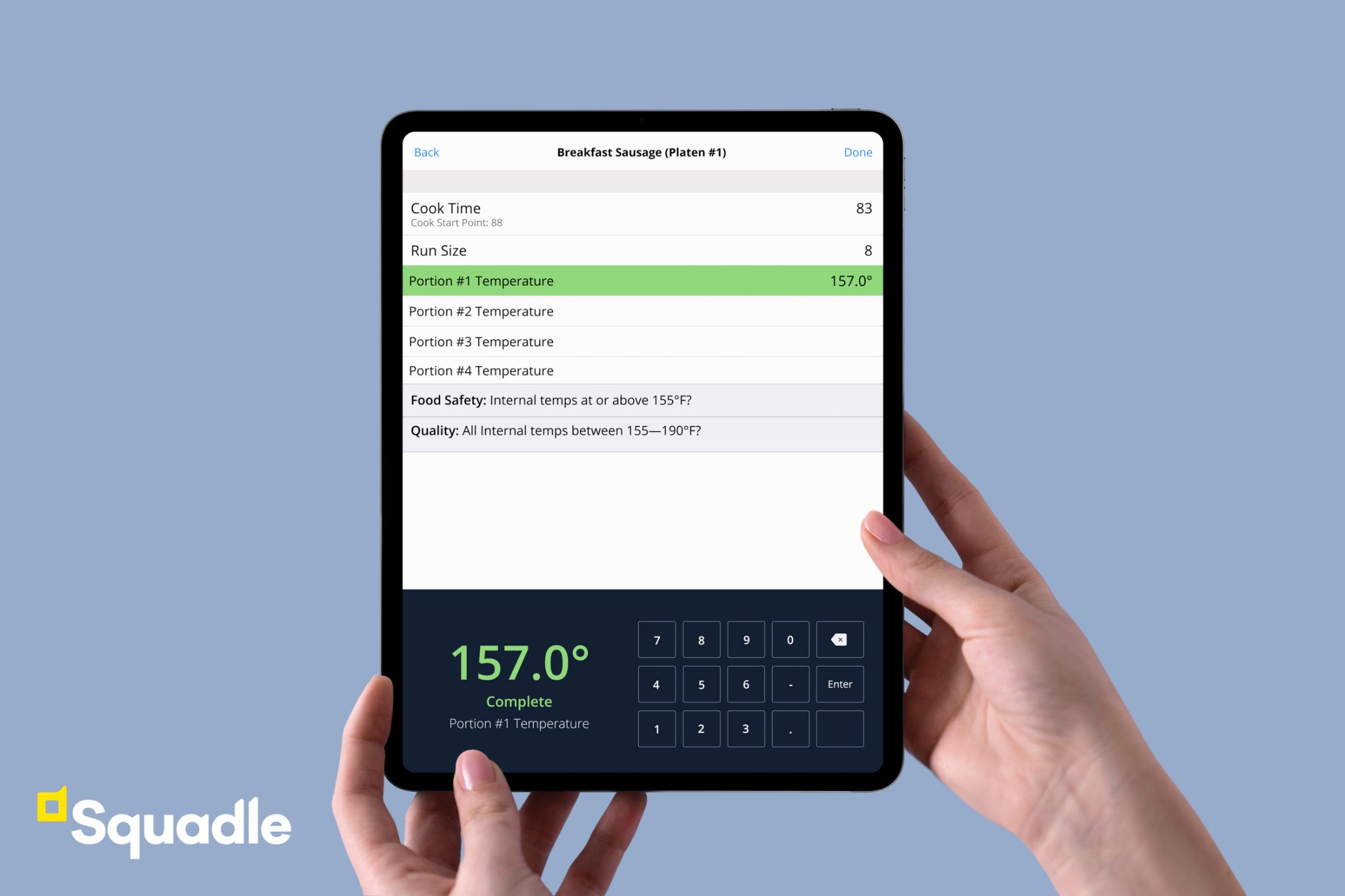 Squadle is a workflow automation company committed to delivering a flexible, user-friendly platform which enables multi-unit operators, convenience stores, and retailers to simplify complex operations and streamline food safety.
By combining its proprietary digital checklists, patented sensor automation, and machine vision technology with its customer first approach, Squadle delivers intuitive, out-of-the-box ready products. Squadle Checklists™ has stored more than one billion records and completed tasks, while the ZeroTouch™ technology has measured over 40,000,000 bluetooth temperatures.
Squadle's customers operate tens of thousands of locations worldwide and include the largest and most respected brands in their industries.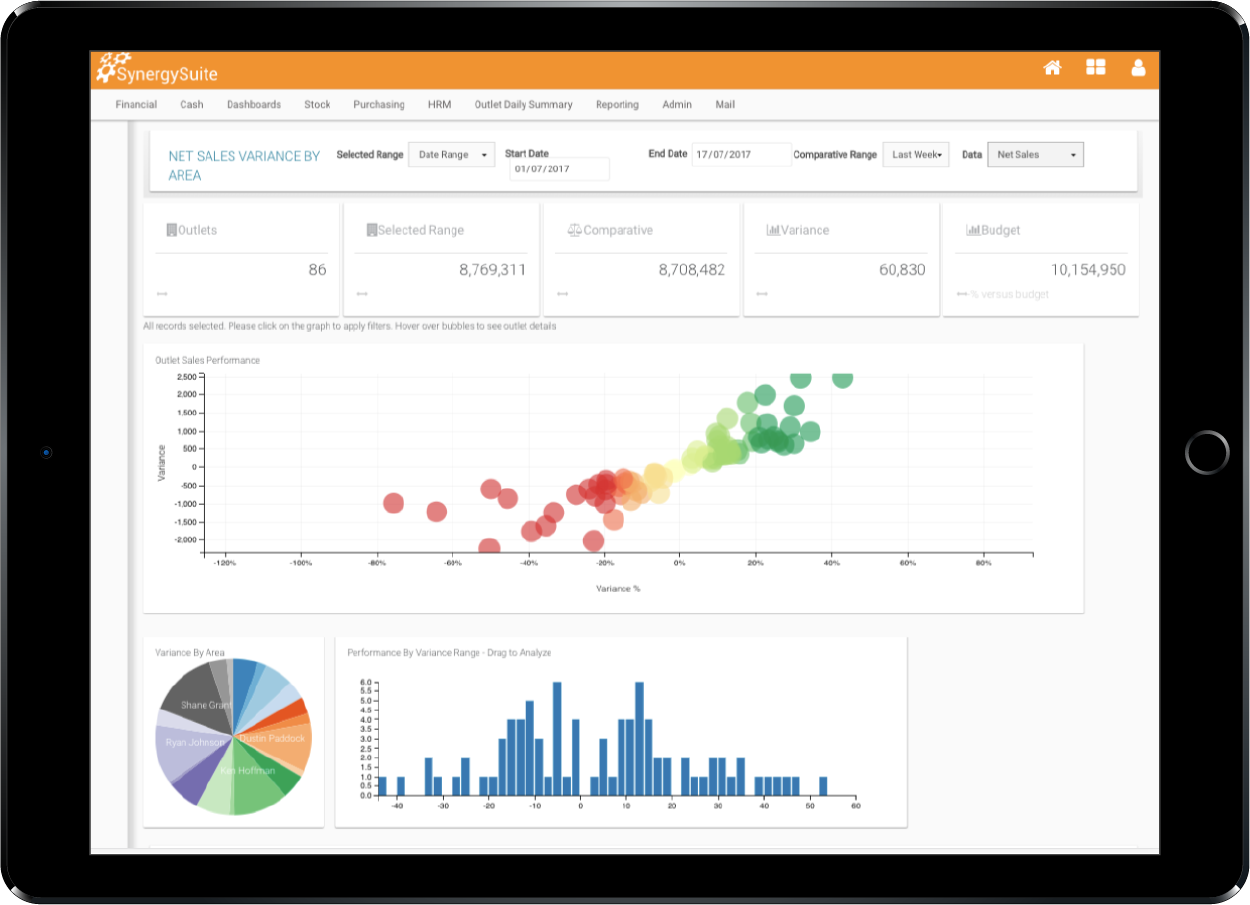 SynergySuite is a company led by restaurant professionals that develops back-office restaurant tech. Its food safety software offers a HACCP-compliant solution that helps ensure your customers are kept safe through reducing human error in food safety protocols.
SynergySuite's food safety software makes it easy to record temperatures with Bluetooth thermometers, take HACCP logs, and get notified when corrective actions need to be taken, like increasing or decreasing the temperature of disposing of food.
For added safety, restaurants can require manager sign-offs on all HACCP tasks to ensure that employees have done them correctly. Other useful features include supplier monitoring, equipment failure alerts, and the ability to set acceptable delivery temperatures.
Pricing starts at $225 per location per month for the Essentials Plan, which includes inventory, purchasing, and reporting.
Safefood360 is a tech company that focuses exclusively on products designed to help with food safety, quality, and compliance. Its products are used by major brands, such as Wegmans and Kikkoman.
Safefood360 integrates six functionalities into one, complete solution:
HACCP/PCP
Management systems
Prerequisite programs
Monitoring
Supplier management
Document control
The software stays up to date with international food safety guidelines released by agencies such as the FSMA, USDA, CODEX, EU Legislation, and Australian Legislation, as well as retailer standards from organizations like Walmart and Tesco. This makes it easier than ever to ensure your plans and protocols meet the proper standards.
All reports are stored in one place and are accessible 24/7. You can quickly generate reports, and receive automated email and SMS notifications for important events.
For pricing information, you'll need to contact the company directly.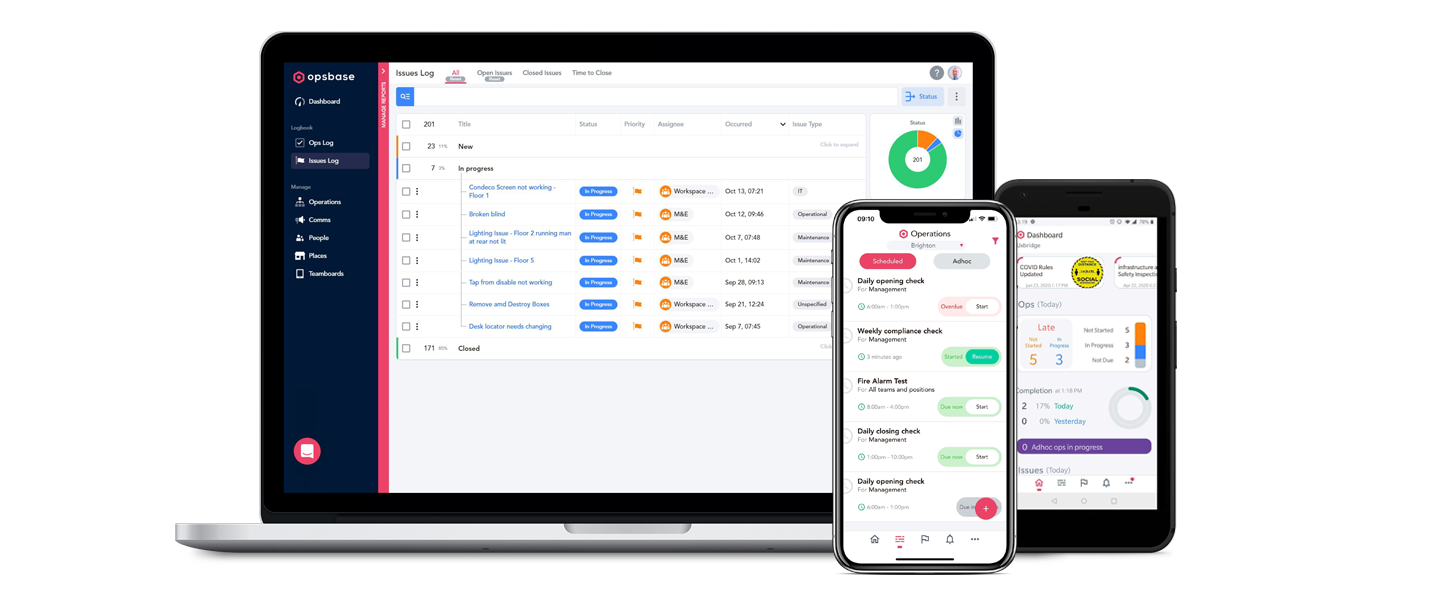 OpsBase provides a complete solution for food safety in both restaurant and manufacturing applications. The software makes it easy to craft customized food safety checklists or use premade templates that meet common compliance standards, like HACCP or PCP.
To ensure no steps are overlooked, OpsBase can schedule tasks in advance and send automated reminders to the relevant staff so that your business always has the required records in hand. You can also automate additional record keeping tasks, like temperature logging, which can be accomplished with IoT sensors, eliminating the need for staff checks entirely.
OpsBase keeps all your records in one place, so you will always have access to a digital audit trail for HACCP, ISO 22000, BRC, etc.
For pricing information, you'll need to reach out to the company directly.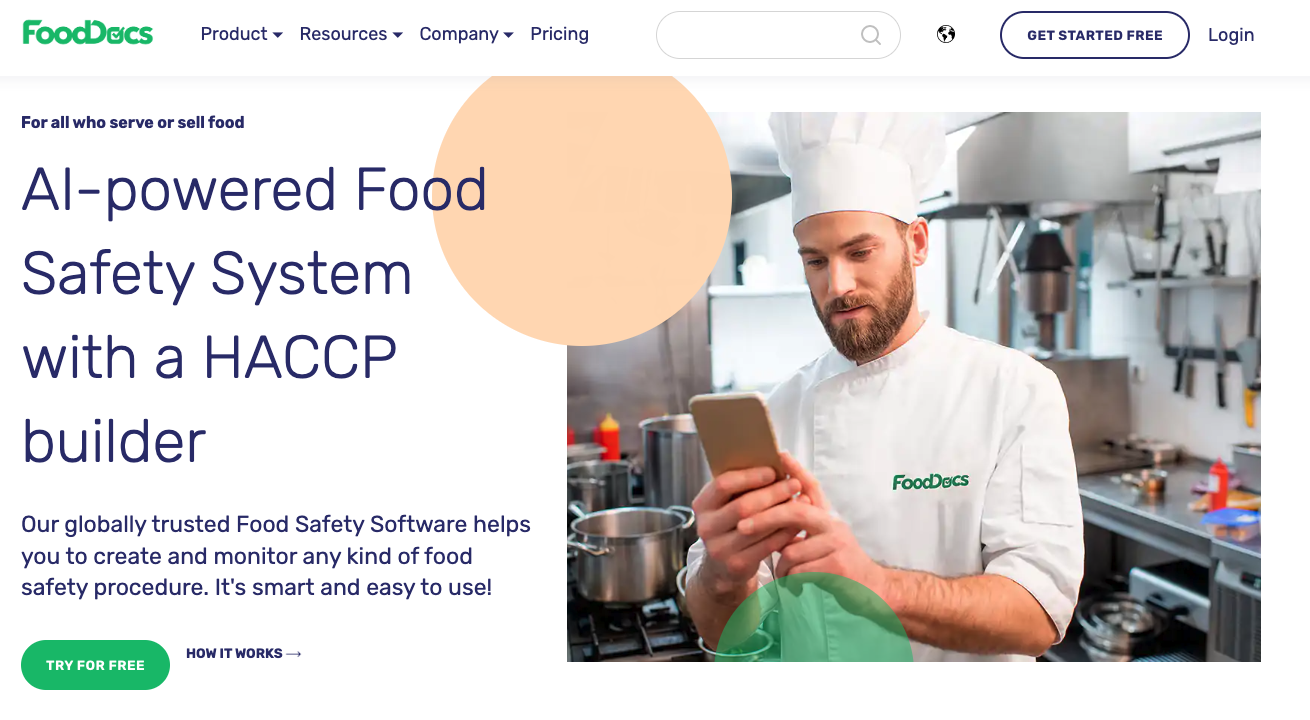 FoodDocs is an AI-powered food safety management system with a built-in HACCP builder. The food safety system can be set up in 15 minutes and a HACCP plan can be created in 1 hour. Your HACCP plan is customizable and will be stored in the cloud.
Get an overview of your food safety in seconds with a real-time dashboard. Save time with pre-filled daily checklists. Prevent food borne illness with traceability monitoring logs.
In addition to a customizable HACCP template FoodDocs offers:
• Prerequisite Programs
• Hazard Analysis
• Critical Control Points
• Flow chart
• 5 Preliminary Steps of HACCP
• 7 principles of HACCP
With FoodDocs you can create, monitor, and complete any kind of food safety task efficiently.
Summary
Food safety may not be the most glamorous part of the restaurant business, but it is one of the most important. By following the tips we've included in this guide, you'll be well on your way to making sure that your customers and employees are safe and healthy in 2022 and beyond.
JD enjoys teaching people how to use ZoomShift to save time spent on scheduling. He's curious, likes learning new things everyday and playing the guitar (although it's a work in progress).