JD Spinoza

JD Spinoza

JD enjoys teaching people how to use ZoomShift to save time spent on scheduling. He's curious, likes learning new things everyday and playing the guitar (although it's a work in progress).

Mar 01, 2021
The Restaurant Management Guide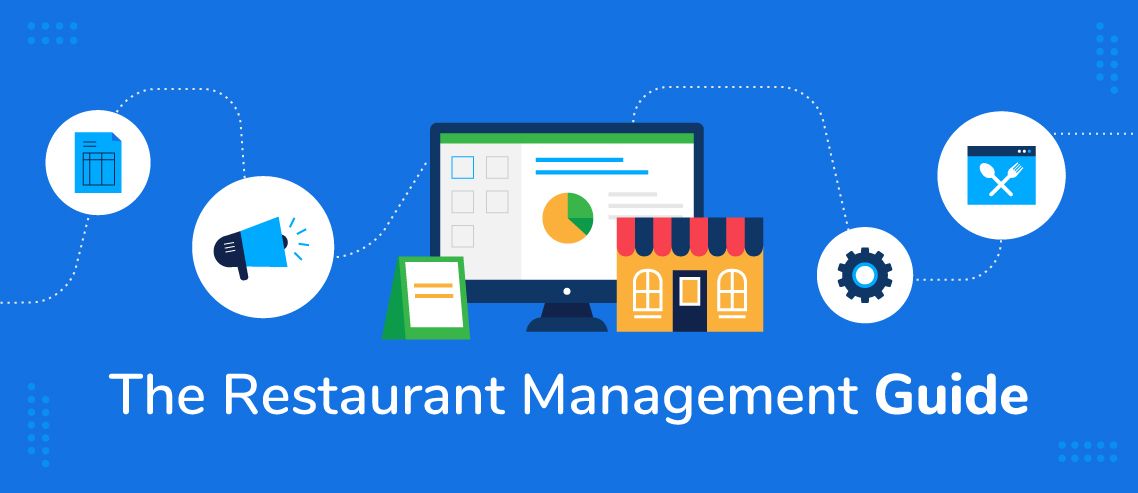 Restaurant management is just like running any other business; you need to take care of all aspects of the organization to ensure it runs smoothly.
Here at ZoomShift we created the restaurant management guide to give you the best possible chance for your restaurant to succeed.
With 6 different sections and 200+ pages this e-book is a must read for all restaurant managers and owners.
Download the Ebook For Free Here:
The restaurant management guide is broken down into 6 chapters:
1. Restaurant Management Best Practices & Tips
2. How to Start a Restaurant
3. Advice to Manage Employees
4. Restaurant Marketing Recommendations
5. Best Software To Manage A Restaurant
6. Tips to Run Restaurant Finances

Turning things around takes a mindset shift and a little creativity. Consider options that may have never crossed your mind before and adjust to this new normal by following our ten restaurant management tips to improve business this year.
Every minute of the workday is crucial for a successful business and happy customers.  The most glaring answer is a digital solution, something that has become easily accessible and heavily populated in most industries. By leaning into these resources, the restaurant industry can better maximize efficiency and streamline manual processes.
A happy customer is a loyal customer. Keeping a customer happy is no small feat, though. Follow these 20 tips that every restaurant manager can share with their employees to create happier customers and boost restaurant customer service.
Opening, growing and marketing a restaurant requires a high level of risk, expertise and dedication. To increase a restaurateur's chance of succeeding, we have compiled a list of restaurant blogs that provide a wealth of valuable and relevant information and insights.

Opening a restaurant can be extremely rewarding and a great way to pass your passion for food to others. The checklist you follow when starting a restaurant relies on a variety of factors. Here's your ultimate checklist for opening a new restaurant.
Starting a new restaurant is no small feat. Between getting all the paperwork in order, deciding how you'll design the place, and figuring out all the recipes for your dishes, there's a lot involved. By understanding how much you'll need to get your restaurant started, you can work out a plan to raise the money and get your business off the ground.
If you want to start getting serious about your ambitions, the first thing you'll need to do is put together a restaurant business plan. This will outline how you plan to operate your business and ultimately turn a profit through your efforts. Additionally, having a business plan is a key part of securing investors, which are often needed to drum up financing for startup costs.
A lot of people misunderstand the difference between mission and vision statements and end up using them interchangeably by mistake. While mission statements describe why you do what you do, a vision statement describes the restaurant's goals. Restaurants should ideally have both a mission and vision statement because they will help guide all business decisions.
A restaurant floor plan is essential and cannot be overlooked. In this guide, we'll teach you a little about what a restaurant floor plan is and provide you with five examples you can use to get inspired.
At the end of the day, restaurant-goers are paying for an experience and great customer service, and that includes both food, ambience, and more practical things, like convenience. Here are 7 tips on how you can make your restaurant the best it can be in 2022.
Making sense of all the documentation you need to get your restaurant up and running can be a bit overwhelming, so we've put together this guide to help you figure out what restaurant licenses you'll need to get started with.
As a restaurant owner, you need to have a deep understanding of restaurant food suppliers so that you can make the best decisions for your business. In this article, we're going to cover the basics of restaurant food suppliers so that you can get an idea of how they work and how to go about finding one for your restaurant.
As a restaurant owner, your menu is more than just a selection of food items, it's a statement about who you are as a business. To convey that skillfully, you'll need to ensure that your menu's design broadcasts your personality while still remaining easy to navigate and choose from.
COVID-19 has changed the way in which restaurants operate, how people socialize over meals, and how diners order, receive, and pay for food. As a result, proprietors have had to redesign their dining spaces, taking into account practical concerns like social distancing and deep cleaning, as well as some of the more subliminal messaging in color palettes, textures, and decor.
After months of hard work and meticulous planning, your restaurant is finally ready to open its doors. Your menu is perfect, the staff is highly trained, and all systems are operational. Now, you're faced with the ever-important task of creating a buzz around your grand opening to ensure that customers begin pouring in from day one.

When it comes to restaurant job hiring, here are 7 essential restaurant positions you need to fill to in order to keep customers happy.
When meeting with potential new hires – especially in an industry as demanding as foodservice – it's important to go beyond basic questions about experience and really try to get a feel for the candidate, what motivates them, and whether they would fit in with your team.
Onboarding new employees brings many challenges, especially after 2020. We have created the ultimate new employee onboarding checklist to keep you in check for 2022.
In this guide, we'll take a look at the best practices for restaurant HR, including a few of the solutions that could help your business succeed in this industry.
If you're looking to take your restaurant's payroll to the next level in 2022, this guide features best practices and the top 5 restaurant payroll software.
Employee turnover and staff retention is a major problem, and there are many factors at work, including generational factors, the economy, sweeping changes in the workplaces, and more. Learning the following actionable 15 employee retention strategies will help you reduce employee turnover, and retain the talent you need to run your company.
Employee appreciation day falls on the first Friday of March. You want to show your employees that you appreciate them. But you don't want to spend an exorbitant amount of money demonstrating your gratitude. The good news? Employee appreciation doesn't have to cost an arm and a leg. And even if you don't have the budget for a huge bash, it's better to recognize your team members in small ways than to not do anything at all.

To truly wow customers, create lines, and open up the possibilities of franchising or opening new restaurants, you have to create a rock-solid marketing plan. In this article, we'll explain exactly how to create a world-class restaurant marketing plan.
Restaurant management is no easy feat. It definitely takes a lot of hard work for a restaurant to make it past its first five years, but in this article, we'll focus on arguably the most essential piece: marketing.
Your website is a big part of brand image and gives you a voice and creative outlet that's entirely yours. When starting on your journey to get a website for your restaurant, you've got two options: make it yourself or hire a professional. Here's your ultimate guide to designing your website.

In this post, we'll explore 5 restaurant technology trends emerging in 2022. These trends are set to change the way restaurants operate, and will affect everything from the way they market to customers, to how they run their business.
Choosing the best point of sale for your restaurant is no easy task. Your restaurant's POS system touches almost every aspect of your business. Your choice needs to be carefully thought out and based on your restaurant's current needs, while also keeping in mind how you want to scale your business down the line.
In this guide, we're going to cover 6 food safety tips and the best food safety solutions that you need to keep your restaurant safe and ensure your patron's health in 2022 and beyond.
In this guide, we'll cover six tips that you can use keep track of your restaurant inventory management in the coming year. It includes a list of the 4 best restaurant inventory management softwares on the market today.
Here is a guide on some common features found in popular restaurant reservation systems, as well as the best reservation software currently on the market.
Online ordering is practically essential these days. Luckily, there are several great options that restaurants can use to meet demand. Here are a few of our top picks along with some of the main features you should keep an eye out for.

For many, starting a restaurant is a dream come true. However, as exciting and rewarding as it may be, it's also a very expensive endeavor with some high (and often prohibitive) startup costs. Some of the expenses we'll cover are fairly obvious, but several are easily overlooked. By the end of this guide, you'll be well prepared to start working out a financial plan to turn your dream into a reality.
Running a restaurant is a dream for many a food lover. But there's often an obstacle that stands in the way: finding the money to open it up in the first place. Restaurant financing is the process of sourcing money to open a restaurant. The finance will cover the cost of your location, equipment, and other expenses. In this guide, we'll go over a few of the most popular ways.
You'll need to be prepared to spend a lot of time and energy getting your finances in check if you want to make it in the restaurant business. If you're not sure how to get started, fear not. In this guide, we'll cover the basics of what you need to know to start with restaurant accounting and get your business up to speed financially.
JD enjoys teaching people how to use ZoomShift to save time spent on scheduling. He's curious, likes learning new things everyday and playing the guitar (although it's a work in progress).