JD Spinoza

JD Spinoza

JD enjoys teaching people how to use ZoomShift to save time spent on scheduling. He's curious, likes learning new things everyday and playing the guitar (although it's a work in progress).

Jul 08, 2020
10 Restaurant Management Tips To Improve Business in 2023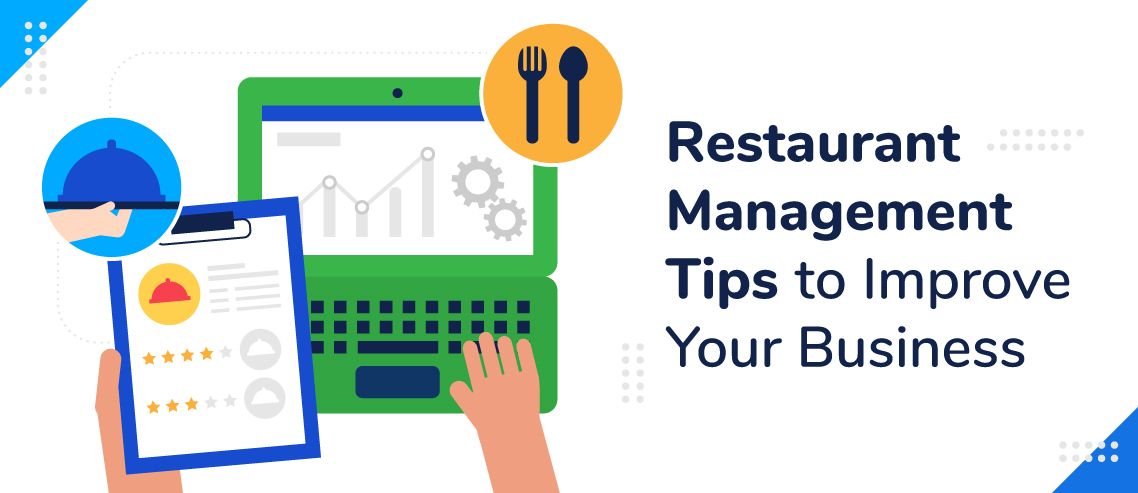 It's no secret that the restaurant business took a dive in early 2020. According to a recent survey by the National Restaurant Association, restaurant sales were $94 billion below expected levels between March and May.
With so much uncertainty in the world, any restaurant owner is forgiven for feeling discouraged or downright defeated. That said, people haven't stopped eating out – they're just changing their habits. Try to accept what you can't control and focus your efforts on what you can.
Turning things around takes a mindset shift and a little creativity. Consider options that may have never crossed your mind before and adjust to this new normal by following our ten restaurant management tips to improve business this year:
1. Focus On Providing an Experience
Why do people dine at California Pizza Kitchen when they could just grab their signature frozen pizzas for cheaper and eat in the comfort of their own home?
Simple: the experience.
People enjoy dining out. They love getting dressed up, being waited on, eating fresh ingredients, and conversing over dinner. Wolfgang Puck recognized the opportunity to shake things up early in 2020 and told the Harvard Business Review that he's determined to give people a bigger and better experience.
"At my restaurant Chinois on Main in Santa Monica, I said let's not focus on selling customers one lobster for $65.00. Instead, let's bring them the adventure of having a meal with us.
For $39, they get a Chinese chicken soup with wontons in it, pot stickers with spicy sauce, vegetable spring rolls with dipping sauce, the Chinois chicken salad, the choice of half a lobster or a portion of short ribs with candied ginger sweet potato puree, and finally cookies."
Which would you choose?

2. Expand Outdoors
With the new normal of 2022, people feel more comfortable eating outside comfortably away from other diners. As such, more and more businesses are expanding their outdoor seating to accommodate more guests.
Many cities are even allowing restaurants to put tables on the sidewalk. Those are the kinds of creative solutions that will keep your restaurant flourishing in uncertain times.
Consider combining tips one and two to amp up your outdoor ambiance. The dining experience can easily be enhanced with festive umbrellas to shade diners over lunch, warm string lighting overhead for dinner, and maybe a local band for the late crowd.
3. Reduce Your Menu Offerings
Offering fewer options saves you money. It's a simple but often overlooked option that's perfectly viable, especially if your business is cash-strapped and kicking into survival mode. Trimming up your menu streamlines operations, reduces food waste, and makes it easier to train new hires.
Unsure of what to cut?
The easy choice is removing underperforming menu items. Check your food waste logs for a clear indicator of what can go. Survey your customers. Your staff likely has an opinion as well.
Think bigger and give the whole menu sections the axe if you want to really make a dent. If Sunday brunch crowds aren't worth the effort, then move your hours back up to lunch and store those menus away for sunnier times. Even the big guys, like McDonald's, are scrapping their all-day breakfast offering to save a little dough.
4. Leverage "Smart" Flyers
Generic flyers with all of your specials, events, and photos won't convert customers like they used to. They need to be targeted and simple to catch customers' attention. Focus on one message or promotion, and make it extra clear why it's special and how to take advantage of the offer.
If it's a coupon, make it worthwhile – at least 20% off, a BOGO deal, or free appetizers and desserts. Make sure the coupon lasts at a minimum a month, so people feel like they have time to use it. Spread the word by attaching them to all delivery and to-go orders.
5. Drum Up Some Positive Press
The right review from local news agencies or food bloggers can flood your establishment with hungry customers. There's no reason to be shy – start reaching out to the foodies in your city to strike up a conversation. Get their opinion on your menu offerings while you're at it.
Google "best restaurants in [your city]" and comb through the results until you find food critics, bloggers, vlogs, and news outlets writing rave reviews about local restaurants. Chances are they'll write about you as well if you reach out the right way. Help A Reporter Out (HARO) is a great resource, as well.
6. Double Down On Creating Promoters
A whopping 82% of consumers read online reviews for local businesses, and 52% of 18 to 54-year-olds say they "always" read reviews.
That kind of influence shouldn't be ignored.
Google Business Reviews are especially strong since they show potential customers that you're trustworthy and worth considering. It'll also give them easy directions right to your restaurant. Don't neglect sites like Facebook, TripAdvisor, and Yelp either. They may have smaller audiences, but every little bit adds up.

7. Make It Easy To Order Online
To-go and delivery orders are on the rise, and companies that make these options difficult will surely miss out. According to a 2019 survey conducted by the National Restaurant Association, off-premise dining – including delivery, curbside pick-up, and takeout – comprise up 60% of all restaurant traffic. That percentage likely skyrocketed in 2020.
So what can you do?
First up, offer quick pick-up options. Carve out a couple of parking spaces specifically for to-go. Put up signs and put your number on it so that people don't even have to leave their car.
Partner with third-party delivery services like GrubHub, Uber Eats, Postmates, DoorDash, and Seamless. Do whatever you can to make the transaction as quick and seamless as possible.
8. Step Up Your Social
Nearly 50% of diners are influenced by social media. That statistic is likely on the conservative side since it's hard to gauge how we're subconsciously influenced by digital advertising too.
If you're not regularly posting high-quality photos of your food and drinks on your social media account, then you're missing out. Look at #brunch on any social media platform as an example. On Instagram alone, it has 27 million posts.
If you're ready to step up your game, consider hiring a professional photographer to take food photos on a slow day. Or save some money by following DIY instructions on food photography.
9. Offer Local Ingredients & Local Brews
Whether it's local coffee, craft beer, or locally sourced tomatoes, you're going to boost your reputation within the community by supporting them. Reach out to local distributors to get your foot in the door and go to the source by reaching out to local entrepreneurs and artisans directly.
Advertise local ingredients whenever possible, and partner with local businesses on marketing efforts to share audiences. Tell the world how the local ingredients are eco-friendly, fresher, often healthier, and how they support the local economy.
10. Stay Current With the Latest Trends
Special diets and "have it your way" style restaurants are all the rage these days. For example, the plant-based food market is now worth $5 billion. A large number of restaurant owners are starting to introduce employee scheduling software for restaurants too.
If you want to tap into that segment of consumers, you need to school them on your "low-carb" or "vegan-friendly" menu offerings.
The future of restaurants may seem rocky, and the traditional model is definitely struggling to adjust. Still, creative entrepreneurs, restaurant managers, and chefs will overcome the challenges ahead like they always have.
How is your restaurant getting creative in 2022? Share your story in the comments below:
JD enjoys teaching people how to use ZoomShift to save time spent on scheduling. He's curious, likes learning new things everyday and playing the guitar (although it's a work in progress).