JD Spinoza

JD Spinoza

JD enjoys teaching people how to use ZoomShift to save time spent on scheduling. He's curious, likes learning new things everyday and playing the guitar (although it's a work in progress).

Jun 10, 2021
4 Best Online Ordering Systems for Restaurants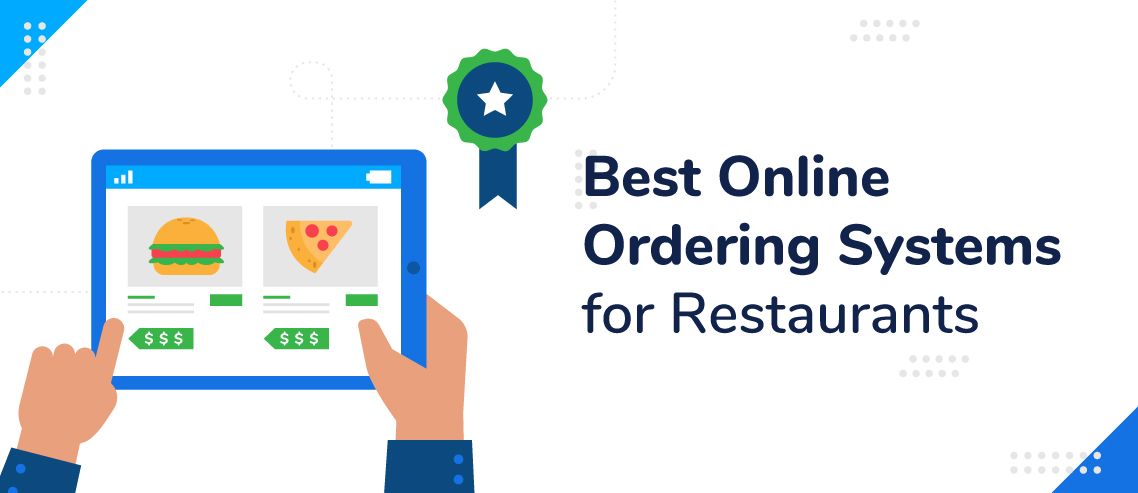 What Is an Online Ordering System?
An online ordering system is a digital technology that restaurants use to allow customers to place orders online. Generally, ordering systems will take payment and facilitate the placement of takeout and delivery orders.
Some online ordering systems will also help restaurants manage their reservations, but this is not always the case — after all, not every restaurant that does takeout or delivery also accepts reservations.
Most modern solutions allow customers to place orders either from their mobile device or their computer. This is important as each customer will have their own unique ordering preferences.
Online ordering solutions take payment through a POS system, also known as a point-of-sale system. These systems allow for payment processing and can make payment much easier for online orders.
Once you have your online ordering system set up, you can use it to take orders from customers in-person as well. The system can also send your guests notifications about the status of their orders.
What to Look For in an Online Ordering System
There are lots of options out there for online ordering systems. Here are a few of the features you should keep an eye out for.
1. Low Commission Fees
Many online ordering systems make their money through commission fees. That means that every time someone places an order, the system takes a percentage.
Obviously, the lower the fees, the more money ends up in your pocket. So, it's a good idea to look for systems that have low commission fees as your first criteria. However, there are some occasions where it makes sense to choose a more expensive system instead of the cheapest option.
2. Works Well With Mobile
More and more of our lives have been shifting to mobile, and food is no exception. These days, customers expect to be able to place orders at their favorite restaurants right from their mobile phones. So, it's important to give them what they want.
Luckily, most online ordering systems offer mobile ordering, so this isn't too hard to find.

3. Customizability
Recognizable branding is important for the success of any business, and that goes for restaurants as well. If your online ordering page looks just like every other business's with nothing to distinguish it, that won't help your brand recognition.
You don't need to reinvent the wheel (that would probably make your ordering system hard to use anyway), but it's good to have some degree of customizability.
4. Reporting Features
One benefit of online ordering systems is that they can keep data on your sales. Most tools out there provide extensive reporting features that you can use to get insights into how your restaurant is performing.
5. Delivery Features
If your restaurant does delivery, it's a good idea to find an online ordering system that takes care of this too. Especially during COVID, delivery service is practically essential, so make sure your chosen system can handle all your needs.

4 Best Online Ordering Systems for Restaurants
Online ordering is practically essential these days. Luckily, there are several great options that restaurants can use to meet demand. Here are a few of our top picks.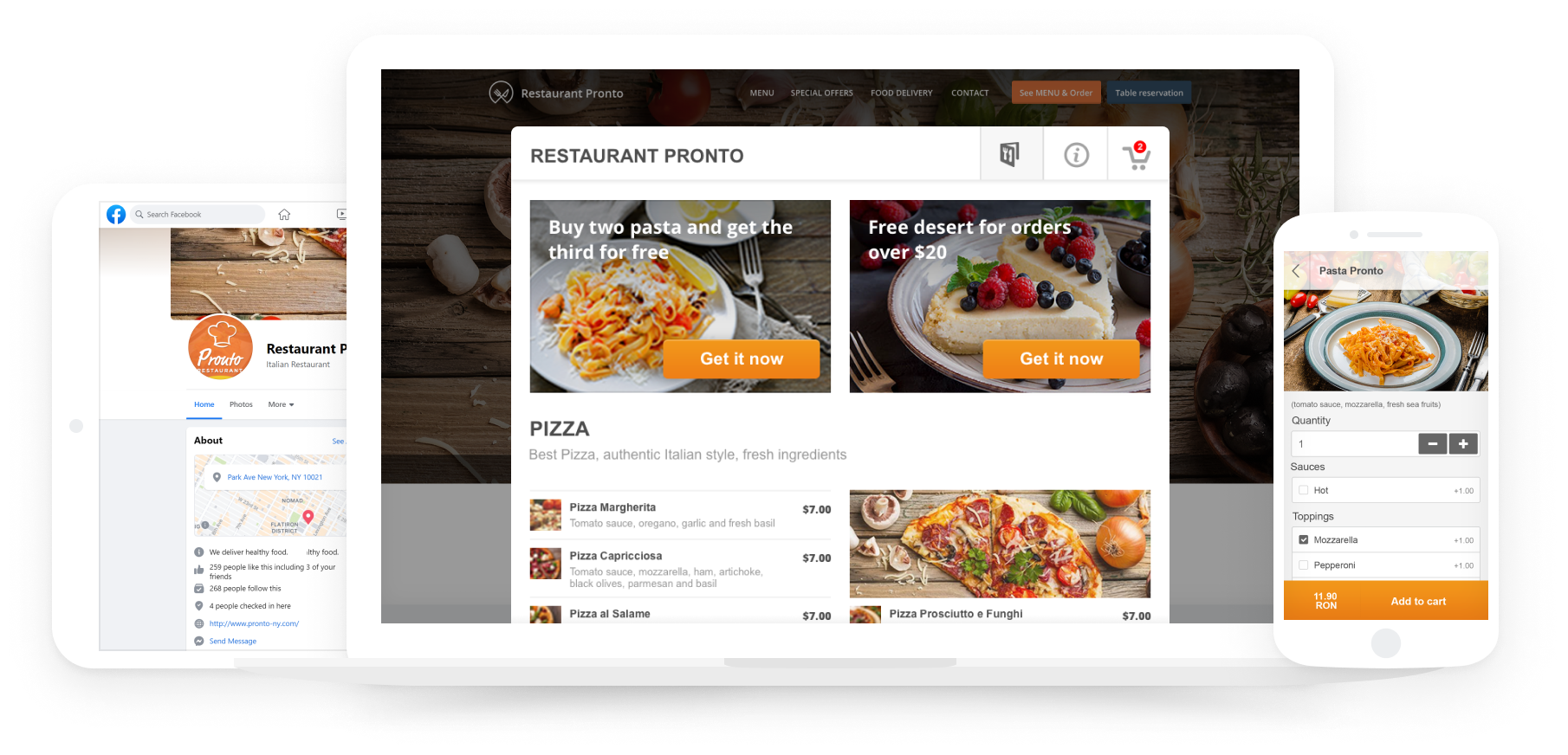 GloriaFood is the world's first free online ordering system. They provide a self-sign-up plan for restaurant owners/managers who want to create and manage their own accounts without extensive IT knowledge. The platform follows a hop-on/hop-off logic in which restaurants decide to pay as they go for the features they deem helpful.
Included in the free version are:
Website ordering widget
Mobile, real-time ordering
Table reservations widget
Scheduled orders
No-contact delivery and minimum exposure pickup options
Vacation mode
Detailed reports
Promotions module
QR code menu for dine-in ordering
and more*
*Check out the complete list of free features on their Pricing page
However, they have and keep adding more complex premium features that restaurants can choose to pay for if they think they might bring extra value to them. Currently, these are:
Online payments
Advanced promotions module
Branded mobile apps
Sales optimized website using their restaurant website builder
MenuDrive is a platform that allows restaurants to craft branded online ordering experiences. Alongside the typical ordering features, MenuDrive also provides extensive marketing capabilities, including email marketing, list segmentation, and more.
MenuDrive's features include:
Website templates
Site hosting
Branded online ordering pages
POS integration
Group ordering
Website and mobile ordering
Loyalty rewards and coupons
QR code menu
Delivery zone geo-fencing
Email marketing and automation
Analytics
24/7/365 customer support
The platform currently has only one pricing option, which comes out to $149/month. However, in addition to the monthly price, there is also a one-time $149 set up fee, plus a recurring 3% + $0.20 fee for each transaction
RestoLabs focuses on helping restaurants get their online presence and ordering system set up fast and without any commission fees. Overall, RestoLabs features are not quite as advanced as some of its competitors, but it has the major advantage of being budget-friendly and completely free of transaction fees.
Its features include:
Mobile, website, and Facebook ordering
POS integration
Loyalty points system
Coupon management
Newsletter management
PCI compliance
Various payment options
Gateway integration
Delivery zone mapping
Custom websites designed by RestoLabs design team
Yield management
Custom tax amounts
Group ordering
Delivery management
RestoLabs offers three pricing tiers:
Basic: $45/month. Includes unlimited orders, mobile web ordering, real-time order notifications, rewards program, a coupon builder, order management dashboard, online payments, and real-time analytics.
Premium: $85/month. Includes everything in basic plus order notifications through a printer or fax, along with an optional mobile app, which costs an additional $499 to set up.
Enterprise: Custom pricing. Includes everything in Premium plus POS integration and enterprise module.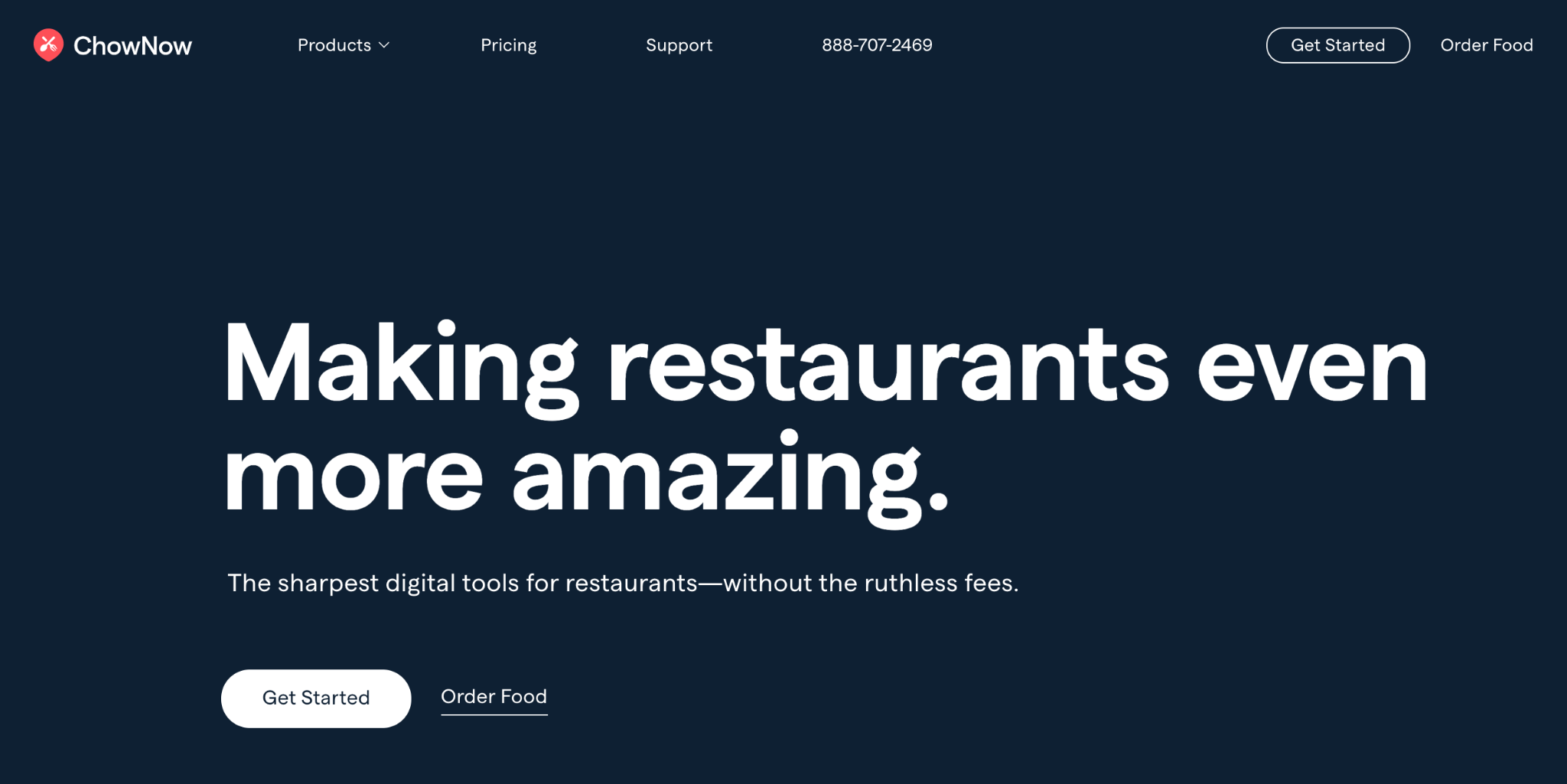 ChowNow provides a full-range of features to streamline internal operations, reach more customers, and facilitate online ordering.
One unique benefit of ChowNow is that it doubles as a food marketplace similar to GrubHub or Seamless. In addition to creating your own standalone ordering system, you can list your business on the ChowNow app and get orders through it. This can expand your reach to new markets.
It's also important to note that ChowNow doesn't charge any commission fees for its paid plans. However, there is a one-time setup fee.
Some of ChowNow's features include:
Commission-free orders
Menu upload
Website ordering
Customer emails
Menu optimization
Account onboarding from a dedicated representative
A ChowNow marketing launch package
24/7 support
ChowNow offers two plans:
Direct: $149/month + $399 setup fee, $119/month billed yearly + $199 setup fee, or $99/month billed bi-yearly + $199 setup fee. Credit card processing fees are $0.10 + 2.8% per transaction for Visa, Mastercard, and Discover, and $0.15 + 3.5% for American Express.
Essentials: $0/month + $299 setup fee. Credit card processing fees are $0.25 + 3.4% per transaction for all cards.
There are also add-ons available:
Restaurant website: $14/month
Data connection (LTE hotspot): $20/month
Wireless Receipt Printer: $29/month
This guide should serve as a good starting point as you evaluate online ordering systems to help improve your restaurant business and make your life easier.

JD enjoys teaching people how to use ZoomShift to save time spent on scheduling. He's curious, likes learning new things everyday and playing the guitar (although it's a work in progress).