JD Spinoza

JD Spinoza

JD enjoys teaching people how to use ZoomShift to save time spent on scheduling. He's curious, likes learning new things everyday and playing the guitar (although it's a work in progress).

May 13, 2021
Restaurant Reservation Software: Common Features and Top Software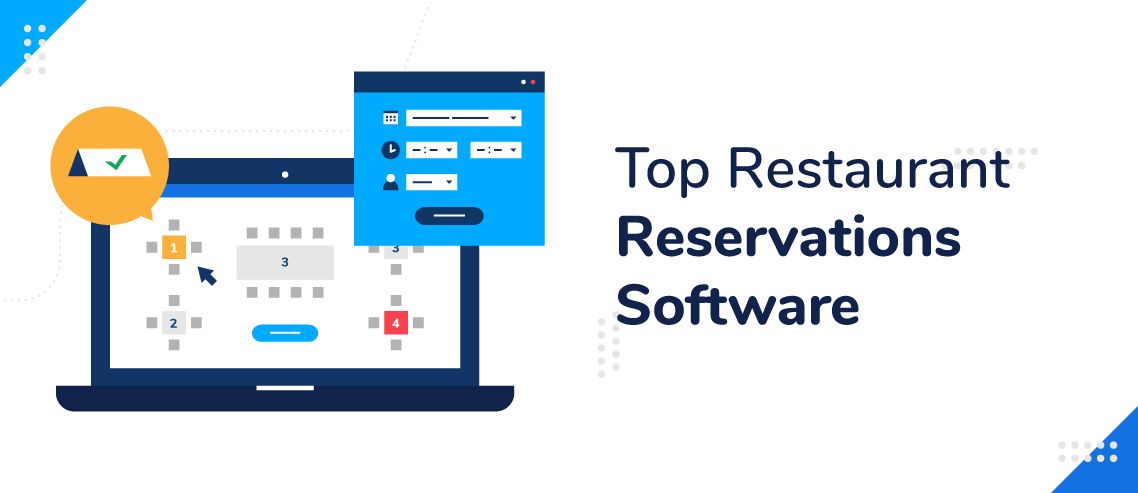 If you're a restaurant owner, then you know that one of the most difficult aspects of managing a restaurant can be your reservations. Whether you're accepting online bookings or phone call-ins, managing the process is time-consuming and stressful.
If you want your restaurant to succeed, you need the right tools. Restaurant reservation software is one of those key pieces that can make or break your business.
To help narrow down your search, we've created this list of some common features found in popular restaurant reservation systems, as well as our picks for the best reservation software currently on the market.
What Are the Common Features of Restaurant Reservation Software?
Every reservation solution is different, but there is a lot of overlap. Most software offerings will provide the same basic functionality, delivered in their own unique ways. It's in the more advanced features that you'll see some real divergence in capabilities.

1. Online Reservations
Pretty much every modern reservation solution will allow customers to make reservations online. This makes for a very convenient and streamlined reservation process for the customer – instead of calling in, they need only navigate to your site and book a table.
2. POS Integration
One of the most popular features is point-of-sale (POS) system integration. Point-of-sale refers to the checkout or payment at a restaurant or retail store – hence the "point" or "moment" of sale.
With POS integration, you can take customer payments with the same tool you use to manage your reservations. The most popular systems have this feature built-in as standard fare, which makes it easier for staff to handle reservations from start (booking) to finish (paying) all in one place.
3. Waitlists
When business is booming, it can often be hard for customers to snag a table. That's when waitlist functionality is necessary.
With waitlists, you can notify hungry customers that they will need to wait for a table or offer to place them on a reservation waitlist if your tables are all booked for the foreseeable future. You'll be able to show them how long the estimated wait time is and encourage them with food specials while they do so – like happy hour deals, drink offers, or other perks.
4. Online ordering and contactless dining
Online ordering and contactless dining are two offerings that are in high demand – especially during the COVID-19 pandemic.
Online ordering makes it easier for guests to order ahead while they're on the go, and contactless dining helps guests feel safe eating at restaurants in the midst of COVID-19.
With these features, visitors will be able to skip waiting in line at the register altogether. Plus, that means less time spent by staff members ringing up transactions as well – so more money saved from overhead costs with just one simple feature change!

Top 5 Restaurant Reservation Software
Here is a list of the 5 best restaurant reservation software that will give your customers the freedom to book a reservation whenever and wherever they would like without having to call you.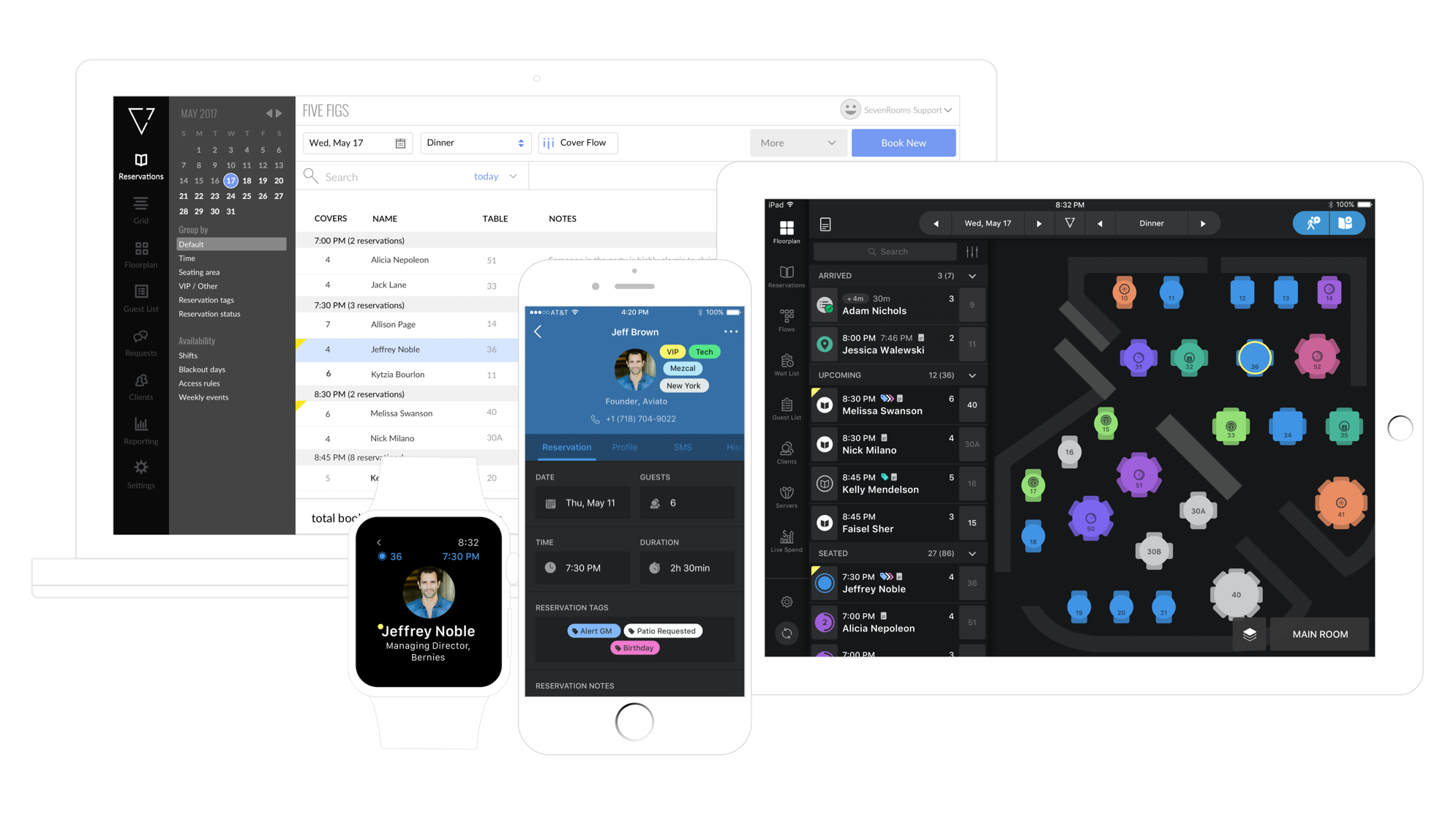 SevenRooms is a fully-integrated, data-driven guest experience platform that helps hospitality operators unlock the full revenue potential of their data.
As the only end-to-end global platform with a full suite of products that unlocks a 360-degree view of every guest across both on- and off-premise, SevenRooms' CRM-driven platform includes reservation, waitlist and table management, online ordering, contactless order & pay, reputation management and marketing automation.
These mission-critical products enable hospitality operators to increase revenue and retention by leveraging data to build direct relationships, deliver exceptional experiences, and increase repeat visits & orders.
Founded in 2011 and venture-backed by Amazon, Comcast Ventures, Highgate Ventures and Providence Strategic Growth, SevenRooms has dining, hotel F&B, nightlife and entertainment clients in 250 cities globally.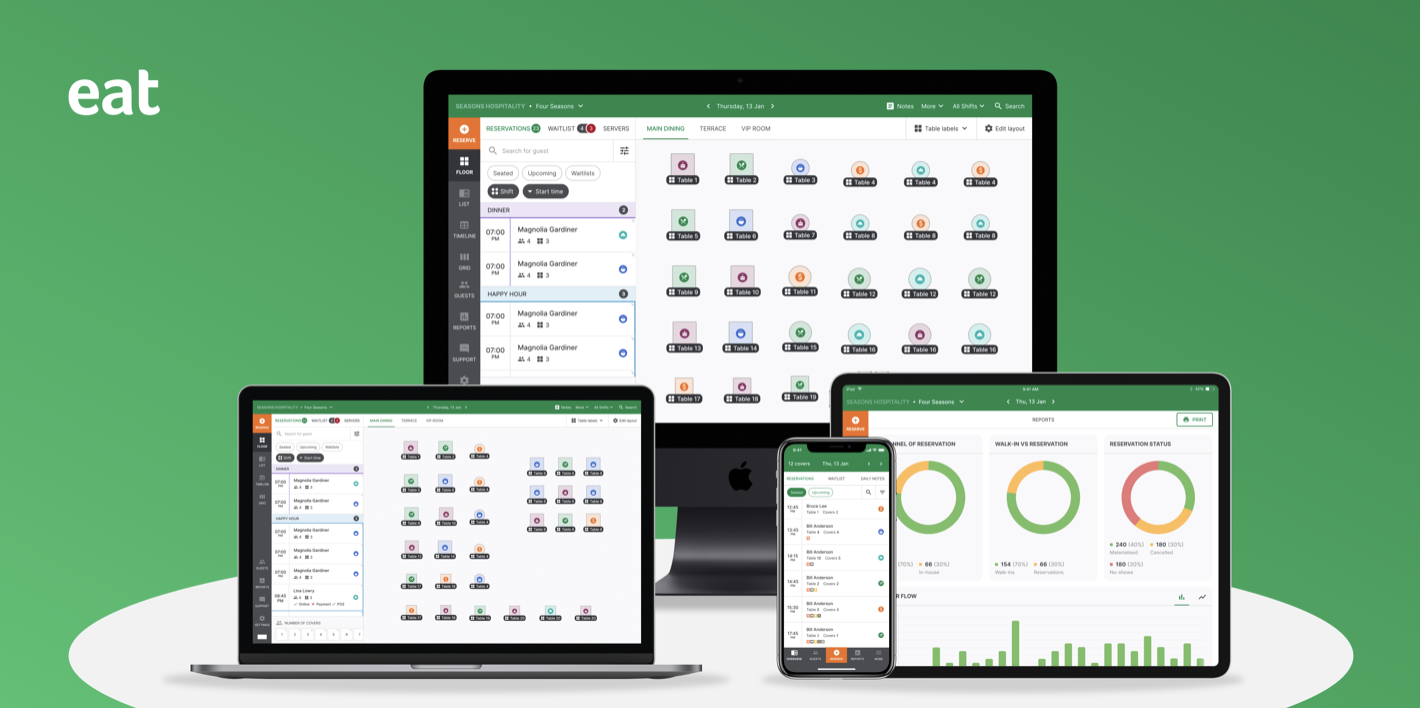 Eat App is a reservation system serving customers in 40 countries and is focused on helping restaurants achieve two goals – increase the number of customers (both new and returning) and save A LOT of time.
It works by giving restaurants a low cost but extremely powerful and seamless way of taking reservations online but it also acts as restaurant CRM automatically collecting valuable guest data restaurant staff use daily for personalized guest experiences and marketing.
It's through access to this guest data that restaurants are turning first timers into the loyal fans. Recently they've also introduced an industry first automation feature that saves hundreds of hours of staff time every month.

OpenTable is one of the most popular and well-known restaurant reservation systems. In fact, it advertises that it has the largest network of diners in the world.
Because of its renown, using it can make your customers feel more comfortable making a reservation with a system they trust and understand how to use. Plus, it's also more likely that someone will be introduced to your restaurant while browsing through the app.
OpenTable provides everything you need to take and manage reservations. It also provides other tools you can use once your guests have arrived, such as table and guest management features.

TableIn is a restaurant management system that works particularly well for small restaurants. Through its inclusion of website booking, guest feedback, guest notification, and Facebook booking features, TableIn makes it easy for your restaurant to take reservations without the usual hassle.
If your restaurant has a large social media presence, TableIn is a particularly good choice as it integrates very well with Facebook. In fact, 63% of its bookings come from Facebook, so it serves as a solid way to get your followers off the computer and into your restaurant.
By including guest notifications that send texts or email reminders, TableIn has been able to decrease no-shows from 17% to 3%.

If you're looking for a completely free restaurant booking solution, TableAgent has you covered. Unlike most of the other options, TableAgent is 100% free of charge, so you can allow guests to make online reservations without a big investment.
However, TableAgent is a bit more confusing than other solutions, which is the biggest downside. Still, it's happily used by over 5,000 restaurants, and it provides everything you need in a reservation platform, like a reservation book, floor activity tools, table status control, waitlist management, and more.
Although TableAgent may not be the most elegant solution, its low barrier to entry makes it a good option for restaurants on a budget or those who are just experimenting and want to get their feet wet.
Conclusion
As the world awakens from its pandemic-fueled hibernation, in-person dining is expected to start making a comeback. Still, online ordering and contactless dining will be two features in high demand to help get the restaurant industry back on its feet.
This guide should serve as a good starting point as you evaluate reservation software offerings to help improve your restaurant business and make your life easier.
JD enjoys teaching people how to use ZoomShift to save time spent on scheduling. He's curious, likes learning new things everyday and playing the guitar (although it's a work in progress).