JD Spinoza

JD Spinoza

JD enjoys teaching people how to use ZoomShift to save time spent on scheduling. He's curious, likes learning new things everyday and playing the guitar (although it's a work in progress).

Jan 02, 2021
The Ultimate Guide for the Best Restaurant Point-of-Sale Systems in 2023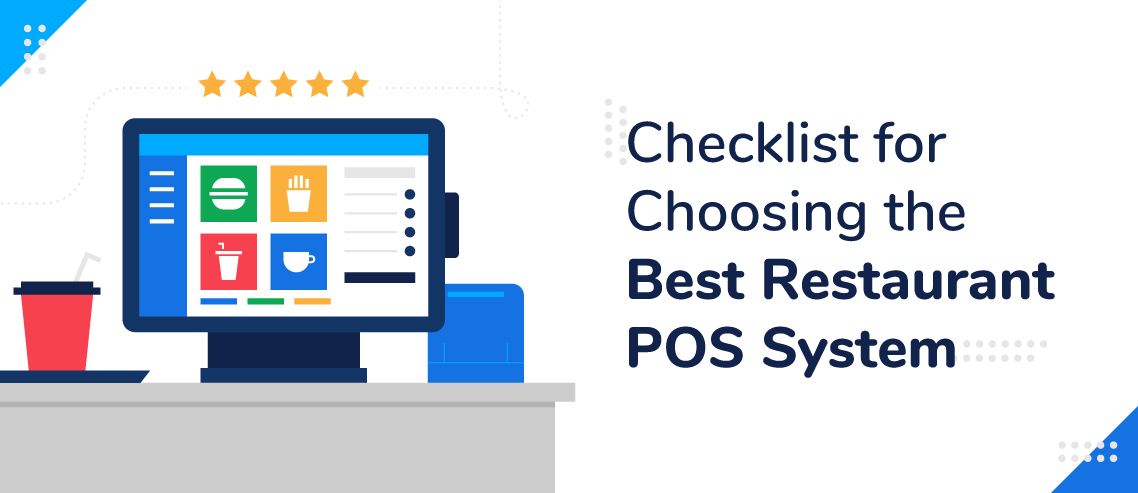 Choosing the best point of sale for your restaurant is no easy task. Your restaurant's POS system touches almost every aspect of your business. Your choice needs to be carefully thought out and based on your restaurant's current needs, while also keeping in mind how you want to scale your business down the line.
Especially if you're managing a restaurant, having a step-by-step guide can help you consider the most important features and elements a POS system can bring to your restaurant. While the items below aren't an exhaustive list, consider this your must-have starting point for choosing a restaurant POS system ideal for your business needs.
1. Make sure it's easy to use
Restaurant POS systems are designed to make your staff's lives easier. However, if your POS system requires 15 manuals and an advanced calculus degree to operate, getting your staff to adapt isn't going to be easy.
When selecting a POS solution for the needs of your restaurant, consider the following:
How quickly orders come in
The flow of the restaurant floor
How many items are on the menu
Average turnover time
You can add about 1,000 other common variables to this list depending on your restaurant's workflow. Each restaurant is unique, and a restaurant POS system needs to reflect that. A highly customizable, simply laid out restaurant POS system is key to keeping business moving at the right pace, while also being accessible to new staff members. The easier your system is to learn and use, the faster your new hires can hit the floor running (and selling).

2. Choose a POS system that focuses on data
As simple as the POS system interface should be for operators, the backend needs to offer the depth of detail necessary to gain a competitive advantage in a crowded marketplace. Opting for a POS system that garners customer data, inventory information, and countless other metrics will allow you to adjust ordering, staff appropriately for each shift, and determine the right strategy for optimal success on your busiest nights. Considering all of the information flows through your POS system each day is vital when evaluating POS systems.
What's more, your POS system should more than just gather data; it should organize data and automate decisions based on it, from automatic ordering of low-stock items to optimized seating arrangements. With information about diner preferences, you can quickly identify their preferences, and from there, launch highly targeted, data-driven marketing campaigns.
3. Pick a system with scalability
To get the most out of your cloud-based POS system and plan for restaurant growth, you want to find one that has the ability to automatically upgrade software, add features and apps, increase data collection, and remain optimized for the lifespan of your equipment. Scalability is something that is often overlooked by newcomers to POS systems, but is something that is indispensable when productivity and profitability increase.
Features you may not currently need might become paramount once you expand your restaurant's offerings or open a new location. Think about this: A couple of years ago, online ordering was something individual restaurants had to carry out themselves. Today there are a variety of apps that do it for you, but they require a POS system that can integrate with theirs.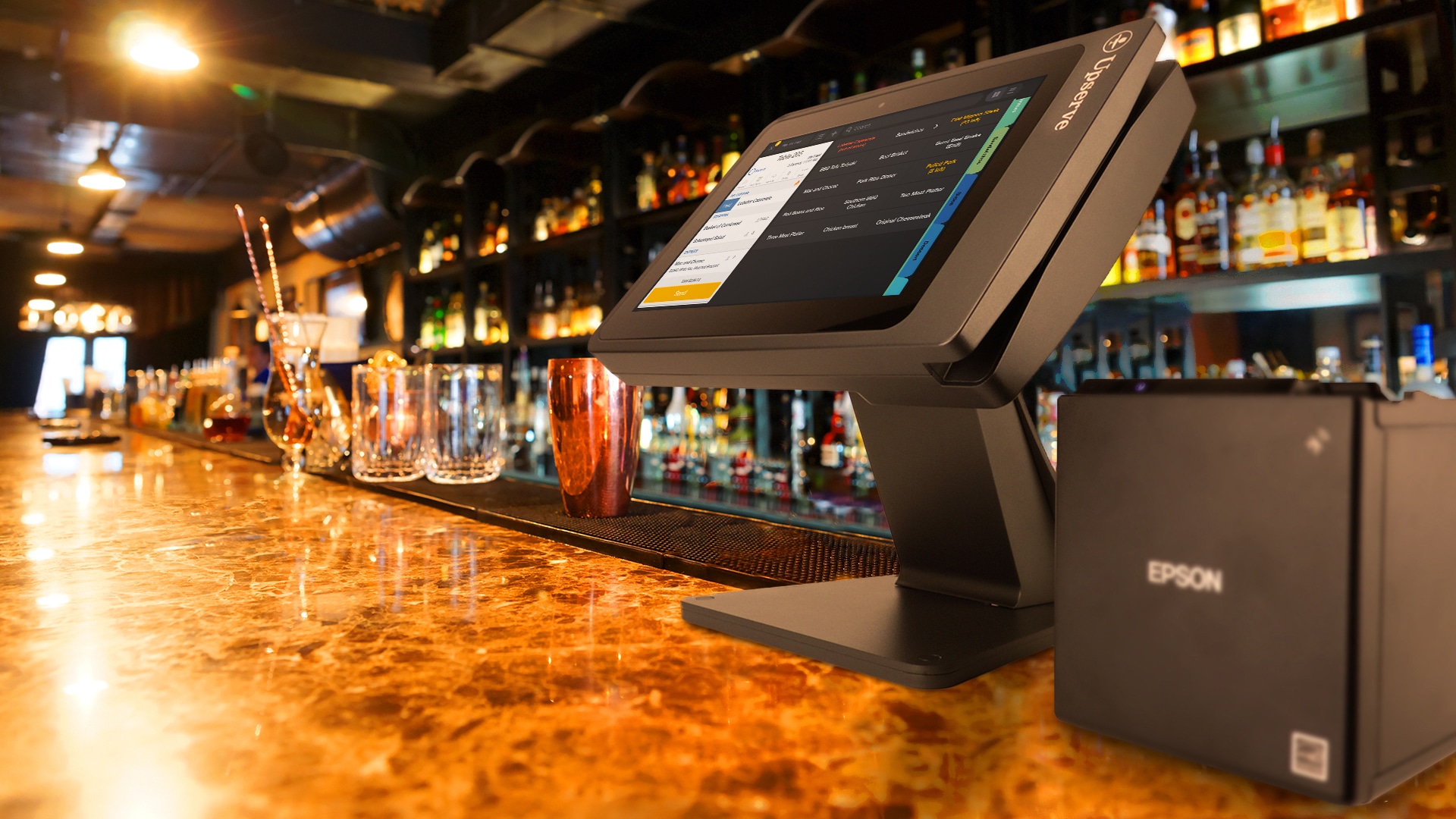 4. Confirm that updates are a breeze
Traditional POS systems require calling out a professional and paying them for their time—and those costs can add up fast, depending on how important it is to you to have an up-to-date POS system. Instead of hassling with all of those variables, savvy restaurateurs who opt for iPad-based systems can carry out a system-wide update with nothing more than the tap of an app, which means that you don't actually have to be in your restaurant to carry out an update. When you're starting a restaurant, you'll relish every moment you get to spend at home.
5. Allow for easy integration with other platforms
It's important that your POS system can easily integrate with other tech platforms, such as payment processing platforms, inventory systems, CRM systems, reservation systems, loyalty programs, and shift scheduling systems.
6. Read reviews for restaurant POS features you need
POS systems can now accommodate numerous types of restaurants and establishments. So, when reading reviews, be sure they account for the type of needs you have within your specific business, and not just which ones get the best overall ratings. If you're a full-service restaurant, make sure you're choosing a system that gives you room for growth and expansion, and not discounting a cheaper system that's designed for food trucks.

7. Consider the processor
"Look for fair rates, but don't sacrifice service quality," says Tom DeSimone of Merchant Maverick, an unbiased merchant review site.
A lot of merchants have a hard time assessing the overall value of a processing service. They chase the lowest numbers and often end up with the least valuable service, which in the end, ironically, costs the merchant much more in lost efficiency and extra services purchased elsewhere. Rates are important to consider, and every merchant should carefully review and understand their fees, but they don't tell the whole story.
Tony Lucca, owner of two successful restaurants including 1905 DC, remembers the first time he had to choose processors. The biggest mistake, he says, is getting scooped up by the first processor that comes along.
You might not know where to look for alternatives, who to ask for advice, or what any of it all means. You may also not understand how significant an impact your processor can have on your bottom line.
At the end of the day, a POS system alone typically won't provide you with a complete depth of insights. Perhaps you are going to use manager's log notes, menu analysis and server performance as an indicator of the health of your business.
Top 5 Restaurant POS Systems
Here is a list of the five best restaurant POS systems we've identified to help you streamline your restaurant's operation.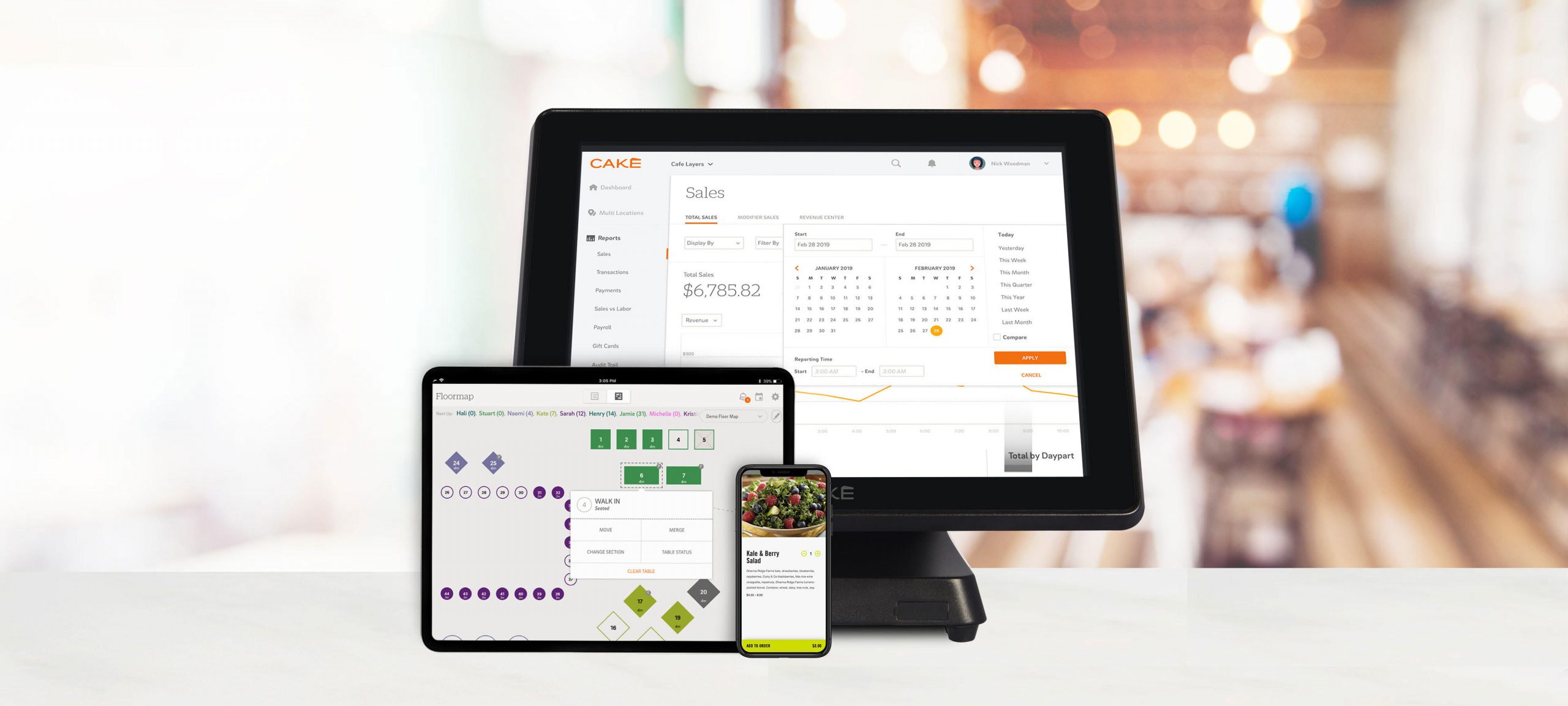 CAKE, a Mad Mobile company, is a fully integrated cloud-based Point of Sale (POS) system specifically built for restaurants.
CAKE's easy-to-use Point of Sale system helps restaurants accelerate speed of service, build customer loyalty, and optimize revenue streams, all while improving our customer's bottom line. Customized workflows, on-the-fly menu adjustments, and order entries on one simple screen help increase efficiency and streamline your operations.
Dynamic reporting that lets you track everything in real time, including weekly category sales, wages, employee hours, and more. Get access to CAKE's cloud capabilities and 24/7 customer support for as low as $69/month.
CAKE's advanced mobile technology allows restaurants more ways to connect with their customers with integrated online ordering, complete with curbside management and contactless delivery options, waitlist and reservations, contactless payments, and more.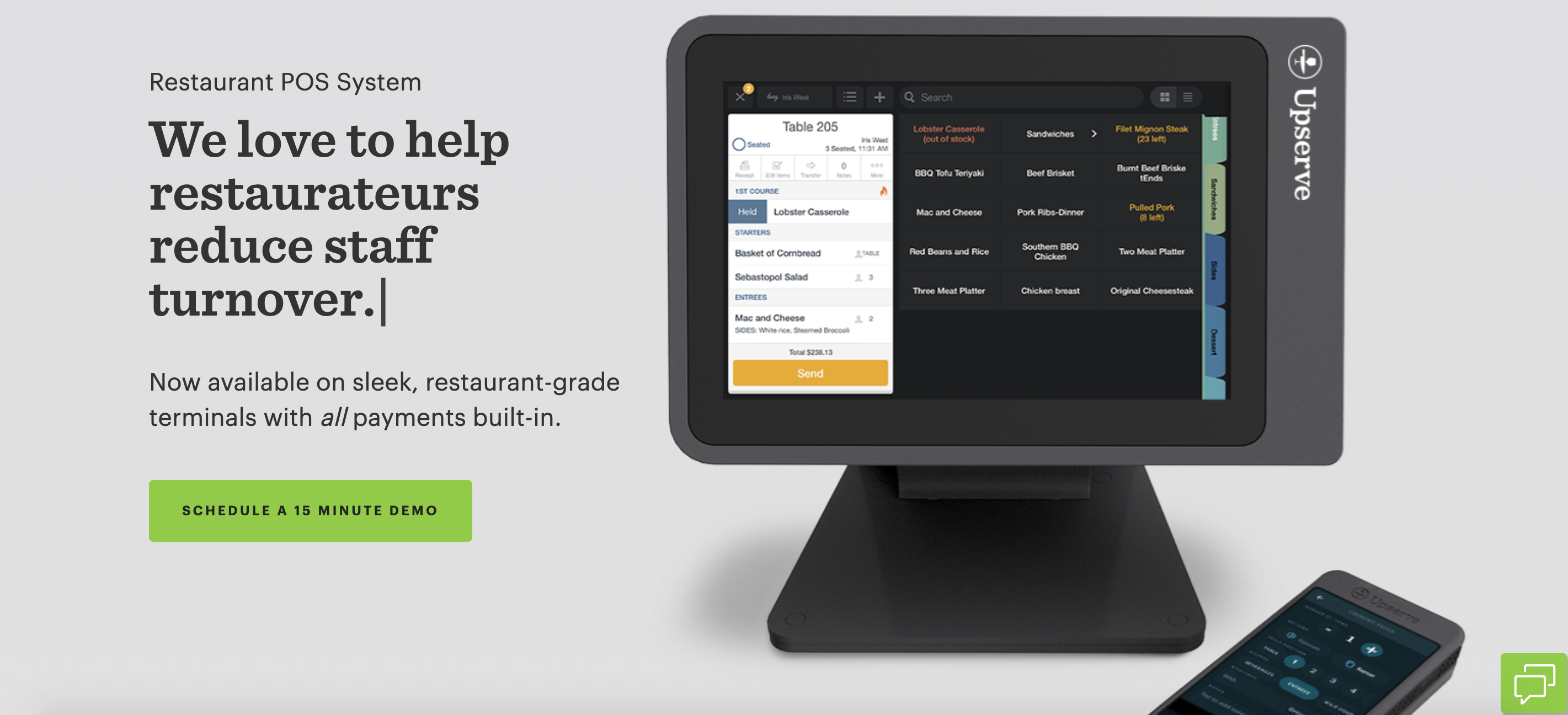 Upserve POS by Lightspeed provides a complete suite of restaurant analytics and insights for restaurant owners and managers who don't want to spend their day digging through spreadsheets. They analyze your restaurant's data so that you can focus on what you do best—delivering exceptional hospitality.
Run your restaurant from anywhere with Upserve HQ by Lightspeed and check on your inventory levels, real-time sales, server performance, online ordering, loyalty program and more from your laptop or mobile device. The cloud-based POS system features secure, PCI compliant payments, a user-friendly interface, training mode and offline mode functionality to keep your restaurant running even when your internet connection is down.
Upserve by Lightspeed's hardware options include Android-based POS terminals ($1,350), iOS terminals ($1,100), and Tableside Mobile POS ($499) with software subscriptions starting at $59/month.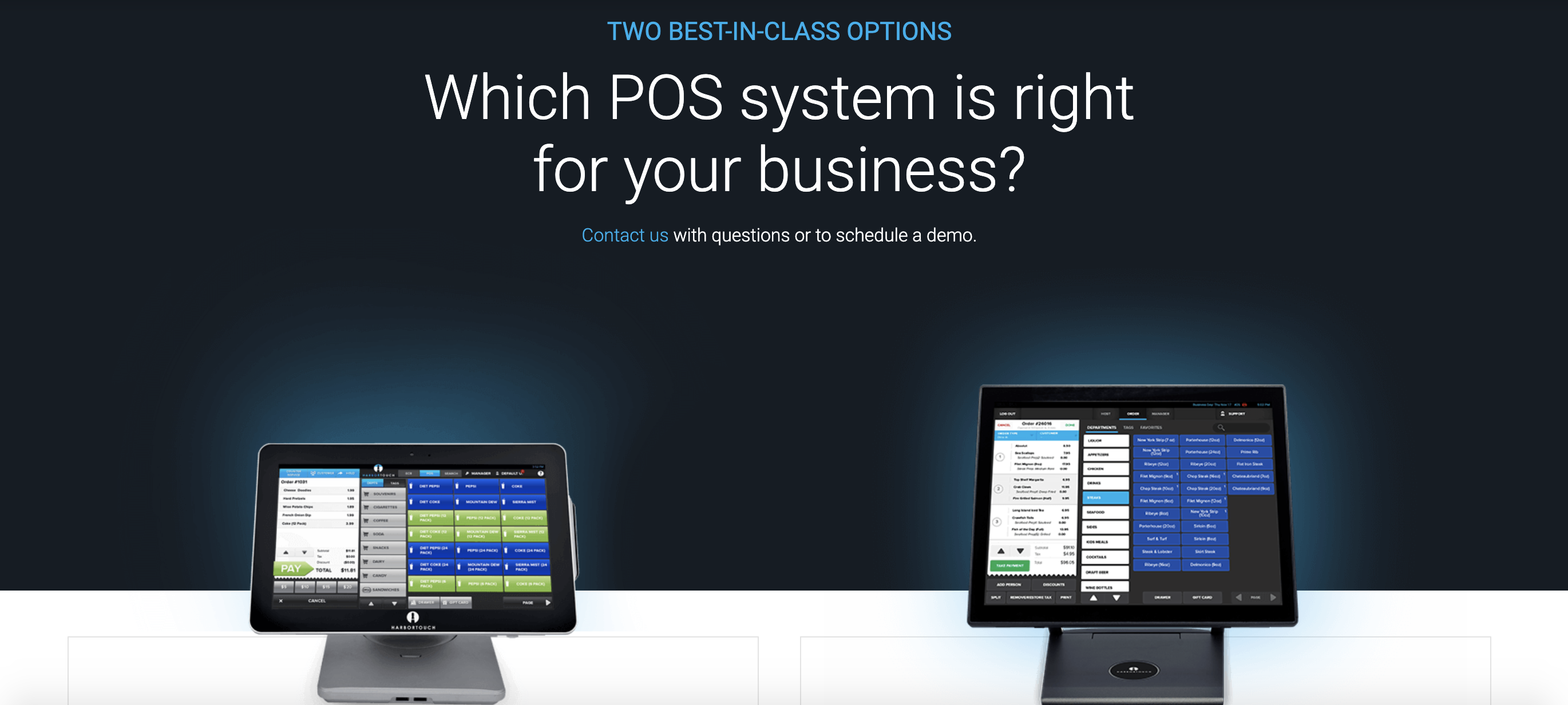 Harbortouch delivers best-in-class Point of Sale (POS) systems and payment technology solutions for restaurants of all sizes. It has $0 up-front cost and no long-term contracts — so you can keep more of your hard-earned money.
Some of its main features include:
SkyTab® handheld POS devices for tableside ordering, mobile ordering, and payment acceptance at the table, on the patio, or on-the-go with built-in WiFi and 4G capabilities.
Contactless payments and ordering with NFC and QR code technology to give customers and staff peace of mind.
A complete online ordering platform to drive your takeout and delivery business.
Seamlessly integrate third-party solutions through a built-in Marketplace to help streamline all your business operations. From employee scheduling and accounting software to third-party delivery services, Harbortouch has all the tools you need to run a successful restaurant.
Employee management features to track sales and voids, set user permissions, and schedule staff.
A cloud-based back office to keep a pulse on operations from anywhere, anytime.
POS reports and analytics to drive decisions with data.
Customer support is available completely in-house 24/7/365.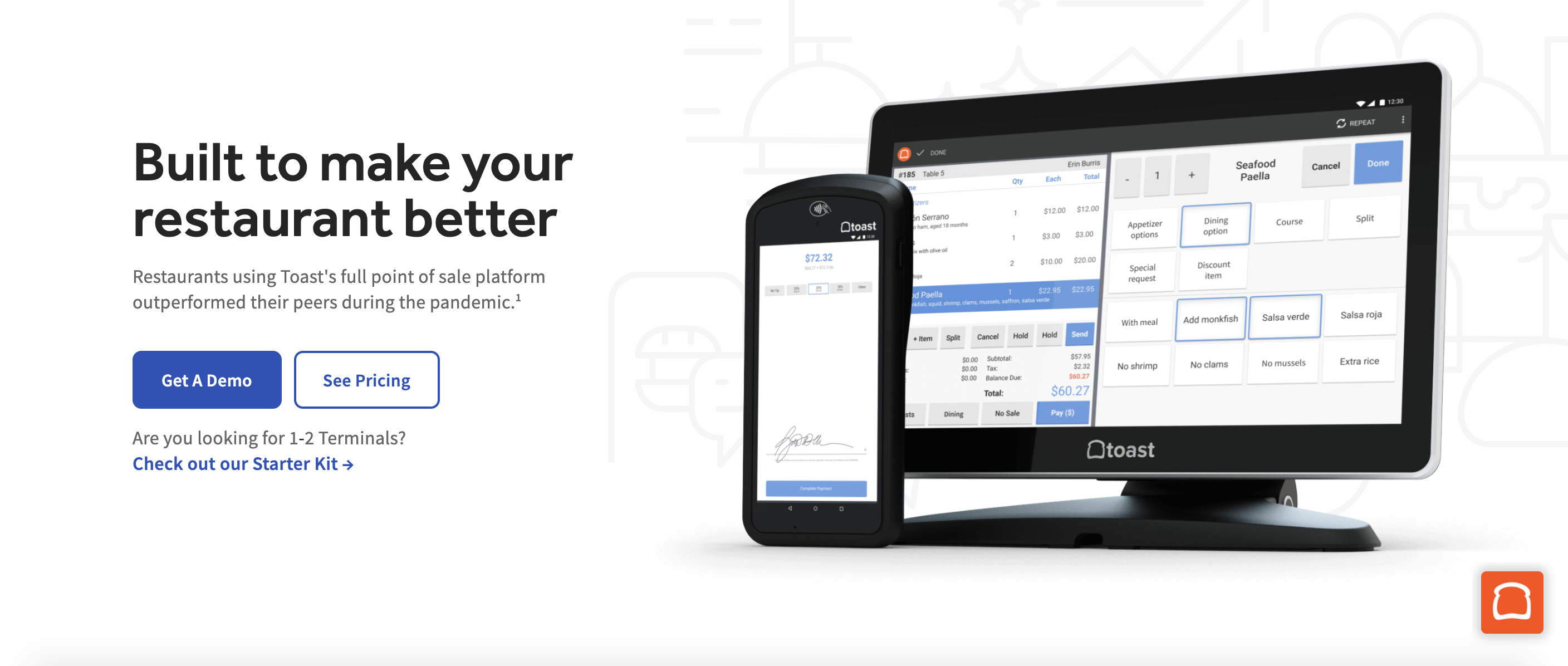 Launched in 2013, Toast powers successful restaurants of all sizes with a technology platform that combines restaurant POS, front of house, back of house, and guest-facing technology with a diverse marketplace of third-party applications. By pairing technology with an unrivaled commitment to customer success, Toast helps restaurants streamline operations, increase revenue, and deliver amazing guest experiences.
For information on pricing and customizable packages for Toast's all-in-one point of sale, as well as Toast's digital ordering solutions, visit the company's Pricing page.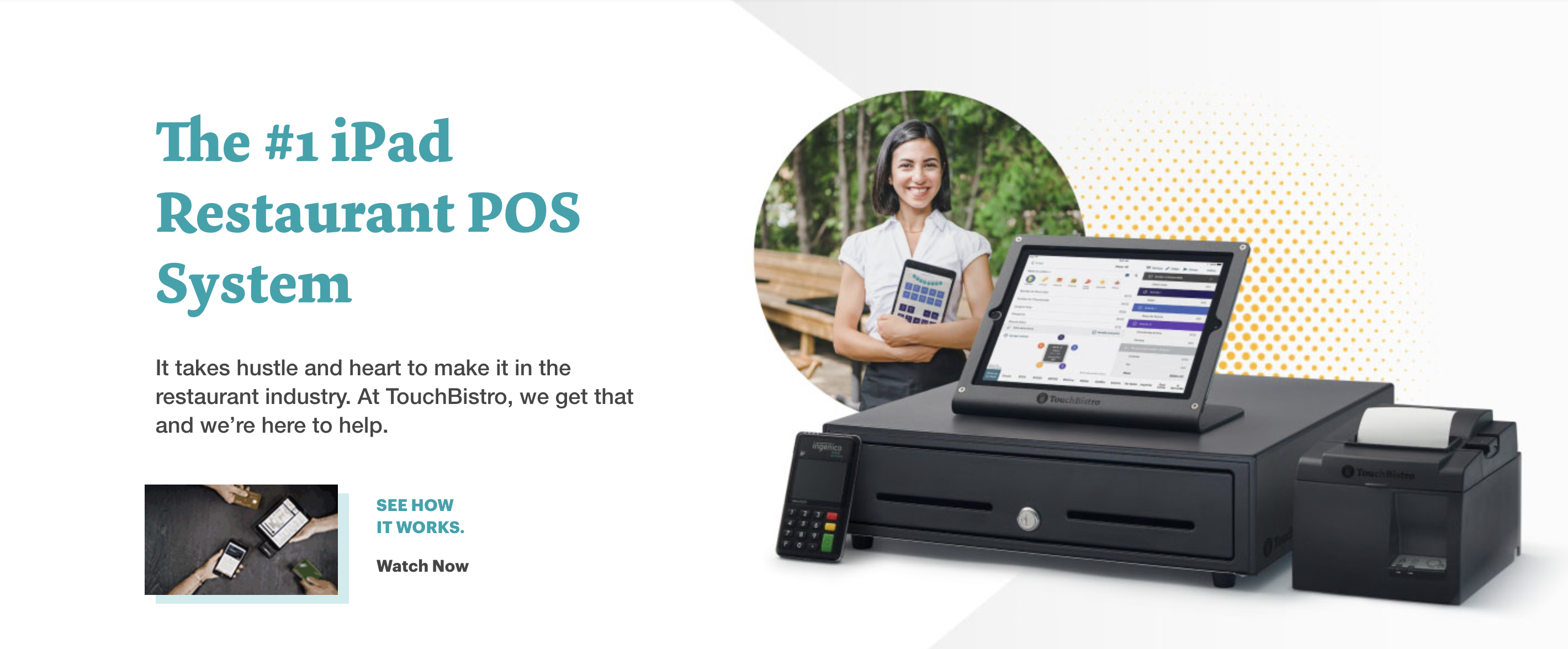 TouchBistro is an all-in-one POS and restaurant management system that makes running a restaurant easier.
Providing the most essential front of house, back of house, and guest engagement solutions on one powerful platform, TouchBistro helps restaurateurs streamline and simplify their operations – allowing them to spend less time manually connecting the dots, and more time connecting with guests and growing their business.
Built to meet the unique needs of the restaurant industry, TouchBistro is fast, reliable, and easy to use, with all of the features and functionality restaurateurs need to increase sales, deliver a great guest experience, and save both time and money.
By pairing innovative restaurant technology with an unparalleled dedication to customer support and success, TouchBistro has powered more than 29,000 restaurants in over 100 countries, and is a global leader changing the way restaurateurs do business.
JD enjoys teaching people how to use ZoomShift to save time spent on scheduling. He's curious, likes learning new things everyday and playing the guitar (although it's a work in progress).