JD Spinoza

JD Spinoza

JD enjoys teaching people how to use ZoomShift to save time spent on scheduling. He's curious, likes learning new things everyday and playing the guitar (although it's a work in progress).

Dec 23, 2020
5 Unique Restaurants Decoration Ideas for 2023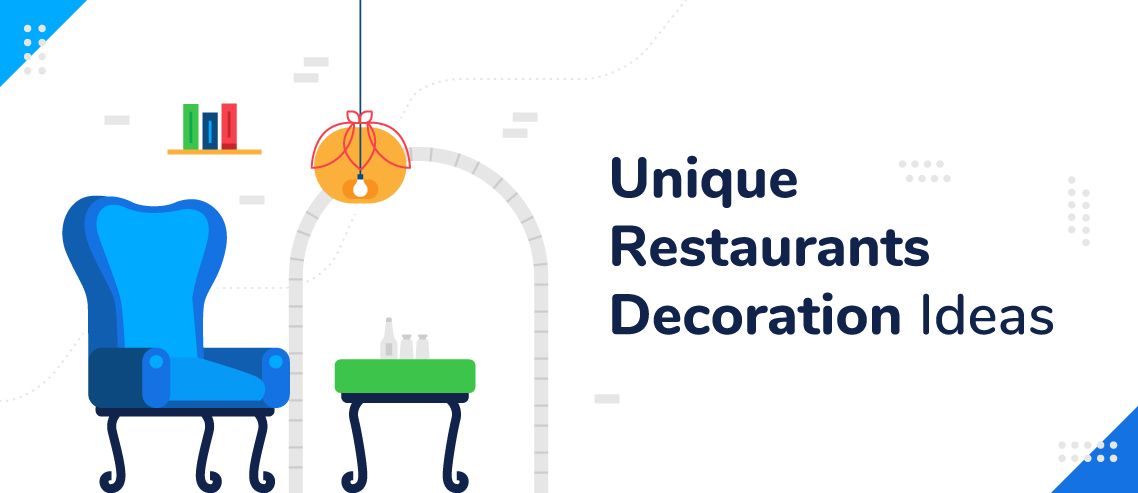 It's hard to imagine a single aspect of life that this year's pandemic hasn't changed, but there's no denying that the service sector is one of the industries that's been the most profoundly affected. COVID-19 has changed the way in which restaurants operate, how people socialize over meals, and how diners order, receive, and pay for food.
As a result, proprietors have had to redesign their dining spaces, taking into account practical concerns like social distancing and deep cleaning, as well as some of the more subliminal messaging in color palettes, textures, and decor.
In 2022, we'll see some of these restaurants decoration ideas penetrating the restaurant industry, and who knows – they may be around for a while.
1. Drive-Through Nostalgia
As most restaurants have been forced to either close or significantly limit the number of indoor diners, proprietors are looking for other ways to deliver a tasty dining experience without requiring diners to leave their cars.
One example of this is the revival of the 1950s-style drive-through, which both mitigates the spread of the virus and simultaneously offers an authentic "eat out" experience.
The concept is pretty simple: offer your diners a parking spot in your car lot, ask them to order directly from their cars via a call-in or online ordering system, and deliver food directly to their car with minimal or no human contact.
Businesses are completing the theme by matching the menu to the drive-through: burgers, fries, milkshakes, with waiting staff dressed in typical 1950s diner outfits.
In Burbeck California, Bob's Big Boy was quick to run with this idea and introduced its "Car Hop" service as an alternative to its take out menu. Diners are asked to order their food from their car and waiters deliver their meals right to their car windows.
People love nostalgic experiences, and especially while social distancing concerns remain, these types of drive-throughs are a sensible way to keep restaurants alive and kicking.

2. Private Dining Pods (Covid-19 examples)
Previously under tightening COVID-19 restrictions, restaurant owners had been forced to apply social distancing measures to their dining spaces.
For example, the CDC guidelines at the time dictated that diners should be spaced at least 6 feet apart when seated. As a way around this problem, restaurant owners had changed the design and layout of their spaces, opting for booths, pods, or private dining in order to keep diners separate.
Chicago's City Winery, for example, launched its "River Domes" in response to the pandemic early in 2020. These transparent igloo-like pods keep diners enclosed in their dining bubbles where they stay safe, warm, and dry, while enjoying a meal and drink over a fantastic view.
Thankfully private dining pods are a thing of the past in 2023.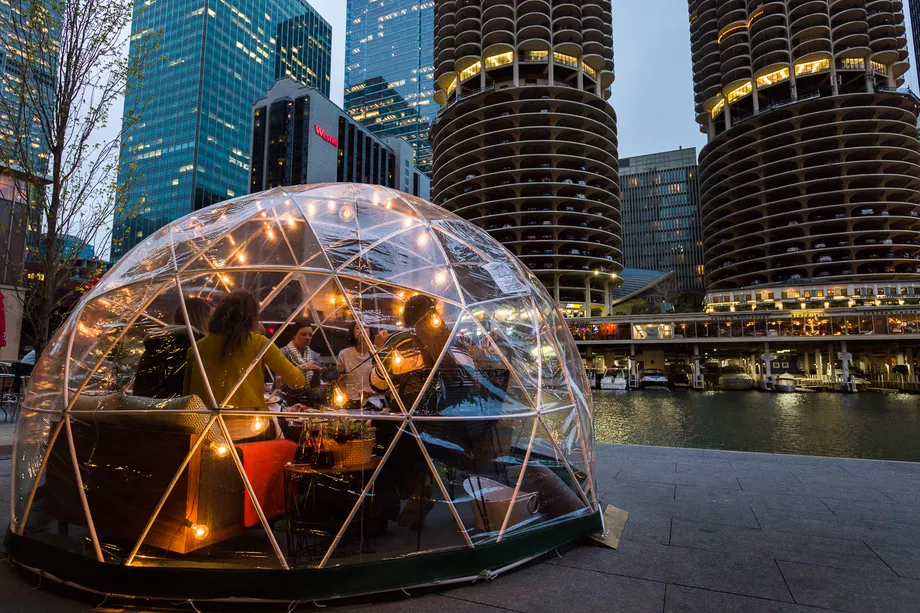 3. Functional Furniture
We've seen how the retro-style dining experience has re-entered the design consciousness as we head to 2022, but there are other retro touches that are also popping up in dining interiors.
Designers are predicting a new form of architectural modernism that harks back to the early 20th Century. In response to pandemics such as flu, typhoid, and cholera, surfaces were produced using anti-microbial, easy-to-clean materials.
Similarly, it's likely that we will see fewer intricately-carved wooden tables, decorative ornaments, and ornate furnishings going into 2022. Instead, we'll see clean lines and modern materials. Chairs and tables that are chic yet easy to clean, minimal table clutter, and soft furnishings.
4. Surreal and Special Experiences
Because restaurateurs have had to reduce the flow of diners, designers are increasingly asked to create high-impact decor and unique design impressions. After all, if diners are expected to dine in a half-empty restaurant (sometimes at a premium), then the decor needs to do some heavy lifting to provide a lasting experience.
Bold ceilings are entering the design discourse – just take a look at Shizuku Cafe's ceiling installations below: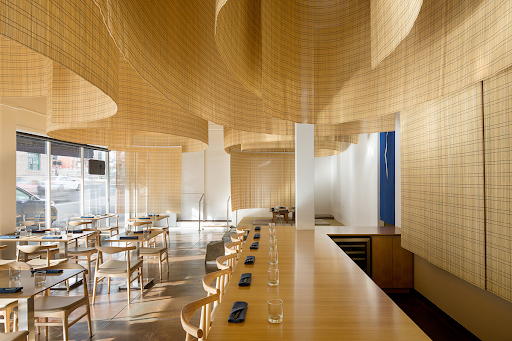 Strong escapist interiors like The Ivy in London are also a trend that we're likely to see more of in 2022.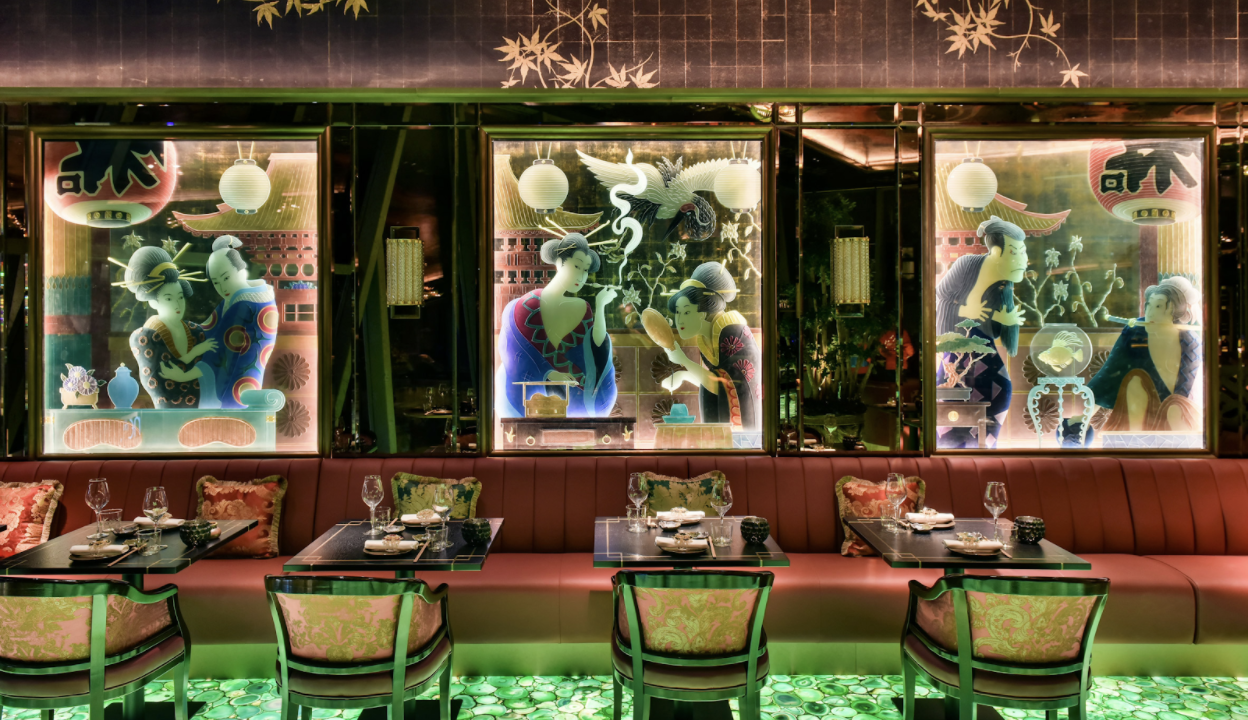 As a quirky response to the potential buzz-kill of empty tables, some restaurants began to prop up anything from stuffed animals to full-blown dummy designers at the empty seats.
The Inn at Little Washington in Virginia, for example, installed mannequins at empty tables. Working with a local theater company, the in-house chef creates the experience of a bustling restaurant even when covers are at an all-time low.
It's hard to imagine a more memorable dining experience than dining alongside dolls which, by the way, are also being served by the waiters.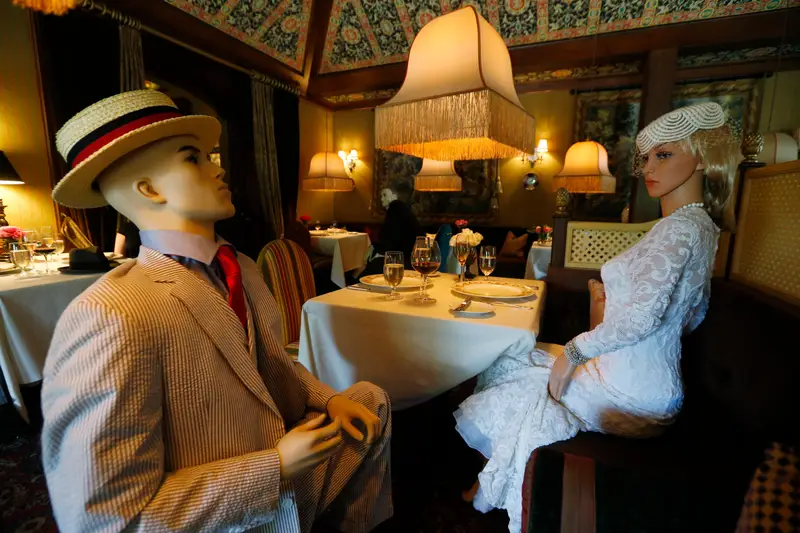 5. Open Kitchens
Hygiene transparency is a prime consideration for restaurant diners everywhere as we move into 2022.
Not only are dining rooms focused on easy-to-clean areas, but people want to be able to see their food being prepared in real time. Open kitchens where diners can see their food being cooked not only responds to the appetite for transparency, but also adds a sense of drama to the dining experience.
London's Silo restaurant uses open kitchens as a focal point to their dining offering, along with sleek minimalist colors and textures.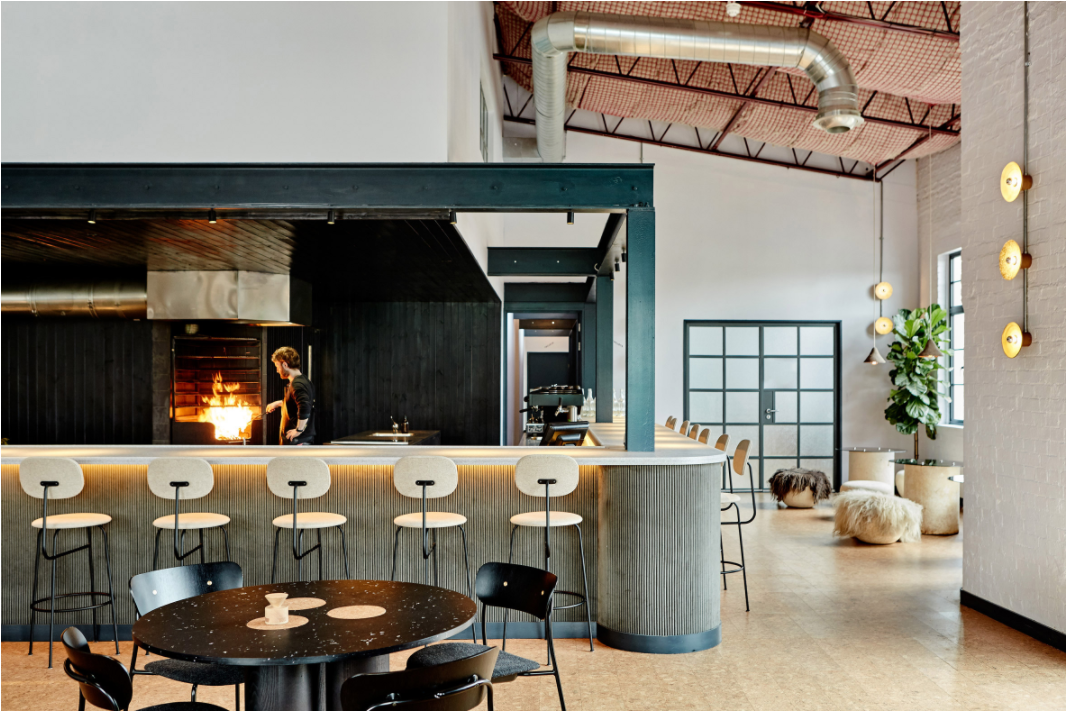 In Summary
The year 2020 will go down in the history books for many reasons, but the way it has affected the way we socialize is one of the most fundamental adjustments we've all had to make.
In response to this, restaurant designers predict a shift not only in the functionality of dining spaces, but also in how this translates to design aesthetics.
From functional minimalism to pod dining, escapist interiors and transparent kitchens, diners should expect to see some unique design trends featured in some of their favorite eating spaces in 2022.

JD enjoys teaching people how to use ZoomShift to save time spent on scheduling. He's curious, likes learning new things everyday and playing the guitar (although it's a work in progress).