JD Spinoza

JD Spinoza

JD enjoys teaching people how to use ZoomShift to save time spent on scheduling. He's curious, likes learning new things everyday and playing the guitar (although it's a work in progress).

Jun 04, 2021
How to Design A Restaurant Floor Plan: 5 Ideas For Your New Location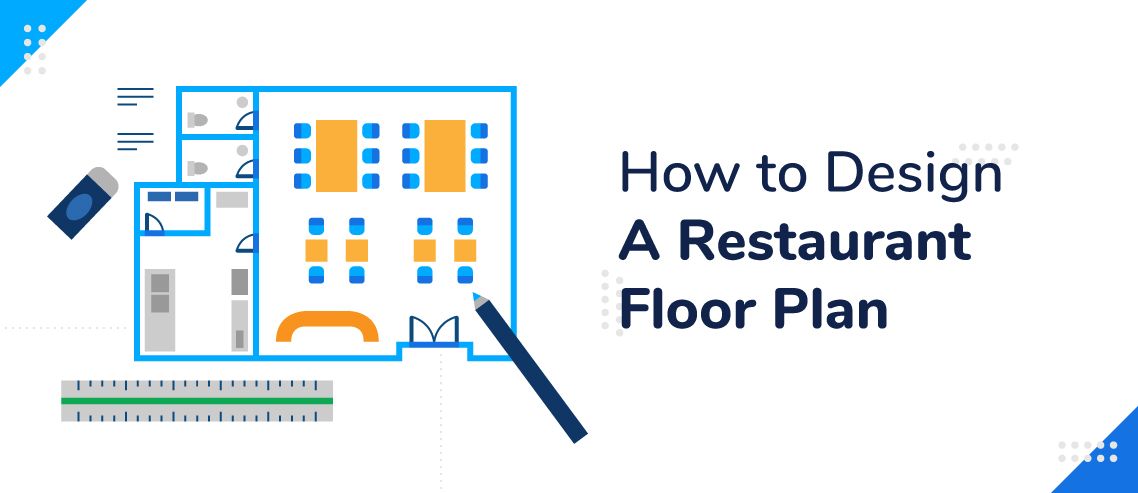 Whenever you start a new project, whether it's a business, a product design, a book, or something entirely different, you almost always need a plan.
A restaurant is no different. When you open up a restaurant, you need to have several plans in place. The most obvious is your business plan, which details how you'll make money, what type of food you'll serve, etc.
But you also need a floor plan: a plan that lays out your restaurant's layout.
A restaurant floor plan is essential and cannot be overlooked. In this guide, we'll teach you a little about what a restaurant floor plan is and provide you with five examples you can use to get inspired.
What Is a Restaurant Floor Plan?
A restaurant floor plan is a document that depicts the layout of a restaurant. If you've ever seen a floor plan for a house, you have the basic idea already.
You can think of a restaurant floor plan kind of like the blueprints for your restaurant. However, these aren't blueprints that tell you how to build the structure of your establishment. Rather, it's simply a plan that tells you where everything will go, and where all the important features of your restaurant are.
A restaurant floor plan should include information about where tables and chairs are located, where the kitchen is, where the cash register is, etc. But it should also note the locations of important utilities, like electrical outlets, sinks, etc. Additionally, it should depict the locations of windows, doors, and other important features of your restaurant.
Why Do Restaurants Need a Floor Plan?
Restaurants need a floor plan so that everyone on board can get an overview of how the restaurant works and is laid out. However, it's particularly important for owners and management as it can instruct them on how to improve efficiency and how to make renovations. It's also a practically essential document to have on hand when repairs are needed.
Overall, restaurant floor plans help staff get oriented with the layout of the restaurant, which helps them better serve customers. It also can bring awareness to specific issues, like a lack of electrical outlets on one side of the building, which may be difficult to notice without looking at a floor plan.

What Should a Restaurant Floor Plan Include?
Although every restaurant is going to be different, there are a few items that should be included on every restaurant's floor plan:
Kitchen
Kitchen elements
Tables and chairs
Entrance
Waiting area
Bar area
Restrooms
Staff area/backroom
Outdoor seating (especially important during covid)
Payment/POS system placement
Windows
Doors
Emergency exits
Square footage
How to Create a Restaurant Floor Plan
You can create a restaurant floor plan on your own, but they are often drawn up by professionals. One of the main reasons for this is that you'll typically need to use professional software to make your plan, which can be difficult to use if you don't have some degree of architectural expertise. It's possible to draw the floor plan by hand, but it's also likely to be less accurate.
Some of the most popular software offerings for restaurant floor plan design are SmartDraw, ConceptDraw, and CadPro. The first two products include a bunch of features that are unrelated to architectural design, such as a flowchart maker, whereas CadPro offers deeper CAD functionality, including mechanical design.
When making your floor plan, it's important that you make a plan for all the areas of your restaurant. That means that you can't just create a plan for the dining room and forget about the kitchen, restrooms, staff area, outdoor seating area, etc. Also be sure to include entrances and exits – especially emergency exits!
Restaurant Floor Plan Best Practices
When you draft up your floor plan, it's usually a good idea to keep a few general guidelines in mind.
Many restaurateurs suggest leaving a 40/60 split between the kitchen and the dining area. As you design the restaurant, make sure that you keep in mind how delivery drivers will approach the kitchen, if you plan on offering delivery – you don't want drivers to be too disruptive to your other guests.
Additionally, you'll want to make sure that the floor plan won't hinder staff interactions. For example, servers should be able to easily see all the tables that they're waiting on, chefs should be able to see servers arriving, and bussers should have sufficient room to service tables.
5 Restaurant Floor Plan Examples
Let's take a break from the theoretical discussion and look at some concrete examples.
Example 1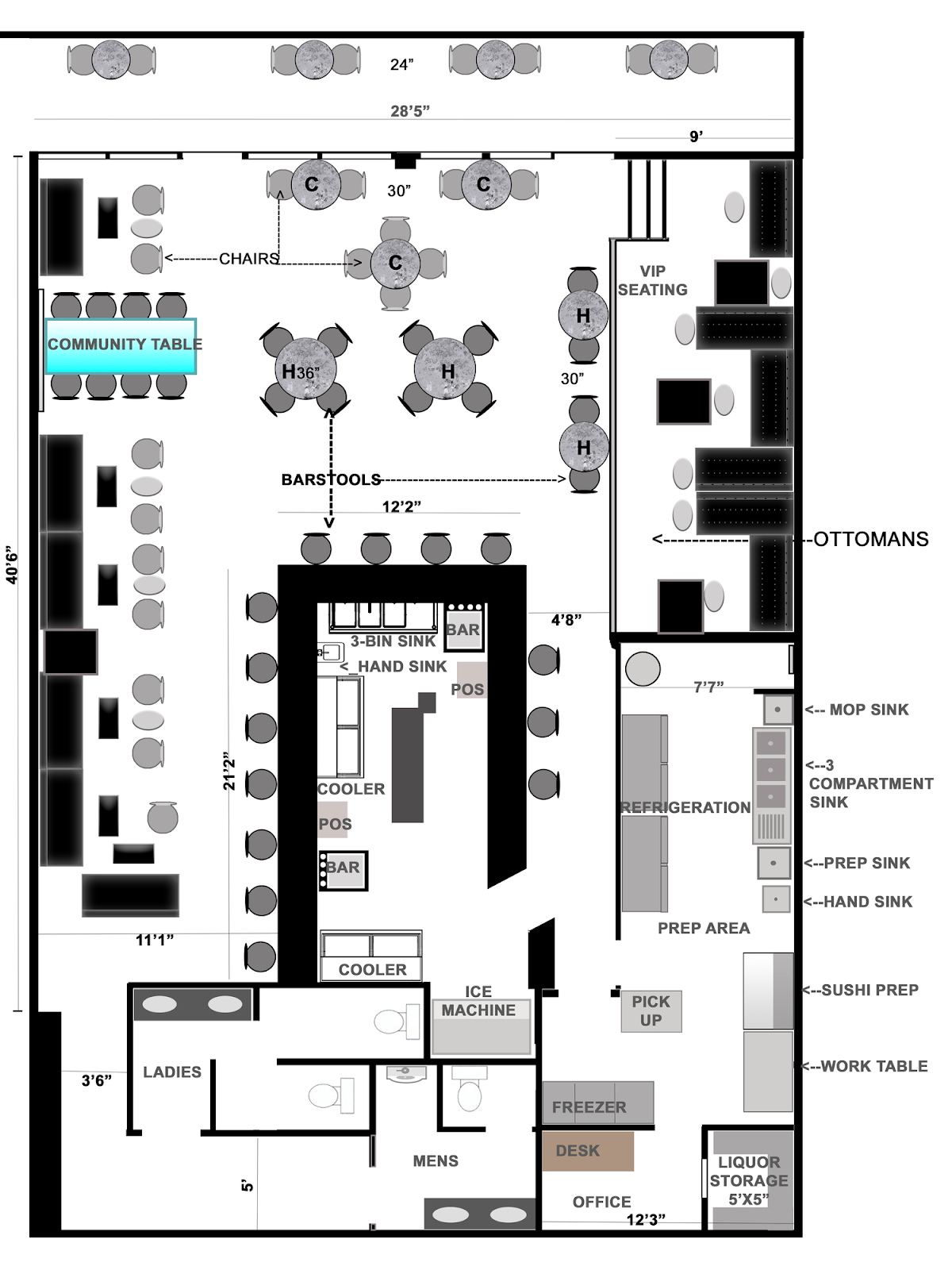 This floor plan does a good job of keeping all parts of the restaurant easily accessible to all staff members. Regular seating is close to the bar and restrooms, while VIP has its own lounge area separate from everyone else. The kitchen and prep area is near to the bar and servers have easy access to it.
Bathrooms are also conveniently located, and there is room for an office as well.
Example 2

This floor plan is exemplary because it provides a well-laid-out back area with convenient access between the kitchen, office, and staff areas. That means that cooks can easily check in with management, look at their schedules, or take a lunch break without entering the dining room and disturbing the guests.
One issue with this plan, however, is that it does not provide much social distancing, which can be problematic for Covid. The tables are all placed quite close together.
Example 3
This floor plan is especially well-suited for 2020 and 2021, when social distancing is a major concern for restaurants. Not only is the restaurant spacious, but it has plenty of outdoor seating, which is great during Covid.
The kitchen divides the dining room in half, which can make for a few issues with servers, and there is only one bathroom. Still, it's a good design that works well for the current times.
Example 4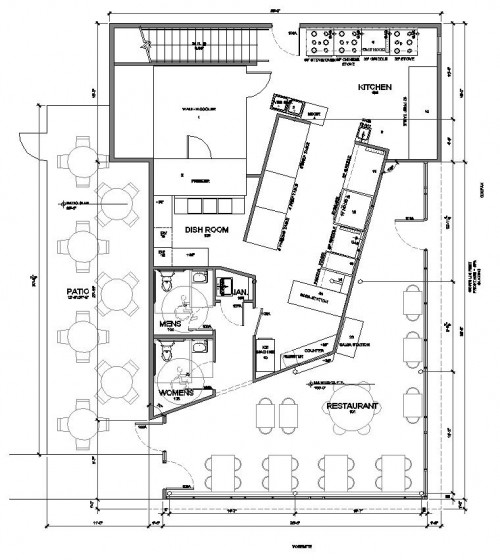 This is another restaurant that is well-prepared to make it through Covid thanks to its plentiful outdoor dining seating.
Inside, there is very easy access from the kitchen to diners, which should make life easier for servers.
Example 5

This plan is specifically designed to show paths of egress for an emergency situation. While not all floor plans need to depict this, it can be a good idea to have at least one floor plan that you can use to see whether your guests will be able to leave quickly and easily in an emergency situation.
Key Takeaways
A restaurant floor plan should depict the layout of your restaurant along with any important features and equipment contained within it.
You can use the plan to ensure that staff can easily perform their duties, that diners will be able to enjoy their meals, and that there are easy exits in the case of an emergency.
Whether you design your floor plan yourself or hire a professional, a restaurant floor plan is essential for any restaurant.

JD enjoys teaching people how to use ZoomShift to save time spent on scheduling. He's curious, likes learning new things everyday and playing the guitar (although it's a work in progress).