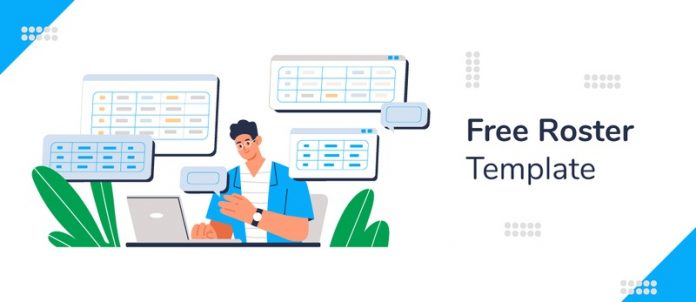 Businesses are complicated entities. It's not as simple as everyone turning up at 9 and going home at 5. You've got to get the right people working together at the right time, in the right place, and the larger you get, the trickier this can become.
This is why the staff rostering has become a staple of business, and it continues to help organize companies even today.
What Is a Staff Roster?
A staff roster is simply a schedule – it shows what shifts each employee is working.
Traditionally, this might have been in the form of a ledger. Since the proliferation of the computer, it's likely to have been on an Excel spreadsheet, and today, it's often taken care of by software.
A staff roster is particularly important in businesses where shift work is common, but in today's world of flexible work, it's becoming more and more important in every business. Managers and supervisors need to know who is working when and make sure they have the right combination of expertise available to them at any given time.
Free Rostering Template
Use and Purposes of a Staff Roster
Staff rosters are all about coordination. They allow managers to quickly see which skilled employees are available, and it shows employees when they need to be at work.
Think about a busy restaurant – each team member has their own specialty (chef, waiter, bar staff). There's no point having five chefs on if you don't schedule any waiters or bar staff.
A staff roster provides documentation of what shifts are offered, who has applied for them, and which ones are full or empty. It's also used to notify employees as to when they should come in for their shift. The documents can show which days an employee is scheduled, rearrange hours into different shifts that may be requested by employees or managers, inform people when they're needed most at certain points during the day. or week depending on staffing levels required – whether it be coverage over holidays, generating new schedules due to promotions, filling gaps in spots because of absences.
The staff roster is there to ensure everyone has a clear picture of who is working when so that all the needs of the business are taken care of.
The Benefits of a Staff Roster
A good staff roster can offer a whole host of benefits. The more advanced your system, the more these benefits will become clear:
Better organization
Improved attendance and timekeeping
Increased employee morale
Opportunities for flexibility
Performance tracking
A safer work environment
Higher productivity levels
Businesses bring unique people with different skills together and put them in a team. At the core of how this team integrates is the staff roster. It ensures people know when and where to be, that the right people are working together and that people are happy with their schedules.
When you put all of this together, you get improved performance and a safer work environment.
It might seem like something small, but how you coordinate your human capital is an essential part of business and that's exactly what a staff roster does.
Why ZoomShift Is a Better Alternative
Life isn't straightforward and that means staff rosters can never be straightforward. You can write out a weekly roster, but things change quickly, and all of a sudden, your roster looks completely different.
To reflect this, you need something that is easy to edit and very sharable.
You want your employees to be automatically notified if there are changes to their shifts, and you want to have everything in one place. That's exactly what ZoomShift's work scheduling does, bringing improved communication and great accountability.
In-built templates
Improved communication
Everything in one place
Easy shift swapping
Utilize paid and unpaid breaks
Input from managers and supervisors
Track labor hours and costs
Manage requests through the software
How To Use ZoomShift's Scheduling Templates
We also live in a time where workers are demanding greater input in their schedules, and flexibility is key. Hybrid schedules where employees blend work from home with office work are popular, but you need to be able to keep track of where people are.
With the staff roster becoming more and more complex, spreadsheets aren't able to handle the load anymore, and it's time for more advanced software to power your business.
Staff rosters have always been an essential part of business, and that's as true today as it's ever been. The needs of employers have grown though, and with ZoomShift, the capabilities of rosters have too.