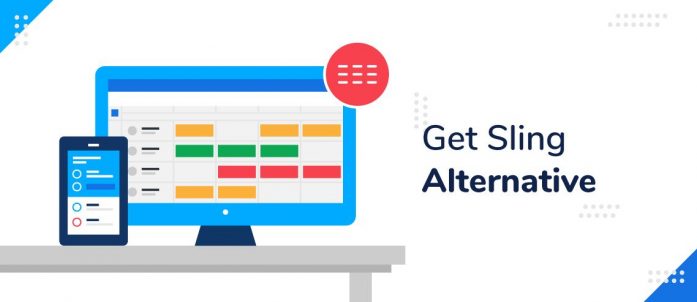 We are now living and working in a new era of shift work and remote business operations.
Indeed, shift working has snowballed in popularity over the past few years — 16% of workers now work a non-daytime shift schedule, with 10% of these on a rotating shift schedule, split shift, or irregular schedule.
Meanwhile, the number of people who regularly work from home has grown 173% since 2005, with the coronavirus pandemic likely to boost this further.
In order to truly thrive in these circumstances, business leaders and managers require a different set of tools than those whose employees work in the office full time. There are a wide variety of scheduling software solutions on the market, but it can be a challenge to find the one that best fits you and your organization.
Each timesheet software has different advantages and disadvantages, and some will be better for your business's specific needs than others.
While Sling is a popular option, ZoomShift for example, offers a number of extra benefits, making it more helpful for a wider range of businesses.
Here are 5 Sling scheduling alternatives for you to consider in the hope that you to find the best solution for your business and employees.
5 Sling Alternatives for Scheduling Employees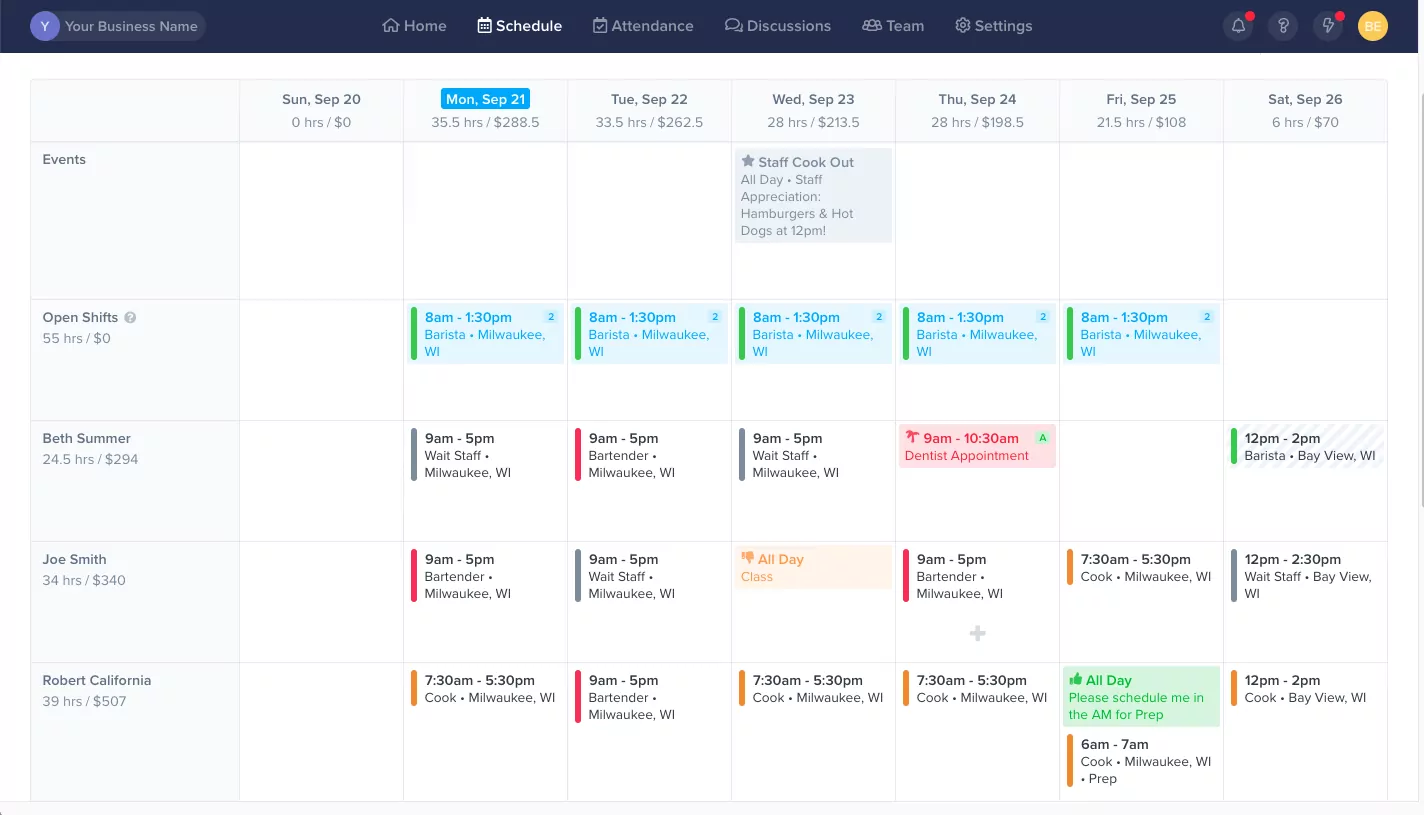 Zoomshift is scheduling software designed for hourly employees. It allows users to build a work schedule in minutes, reduce their payroll costs, and feel confident that team members will show up to their shifts on time.
The most popular Sling scheduling alternative, Zoomshift, is used by more than 20,000 businesses, including big names like Amazon, Holiday Inn, and Walgreens.
Main Features
Templated schedules: Templates can be used to build schedules in minutes via the drag-and-drop calendar editor.
Multichannel schedule sharing: Schedules can be shared by email, text message, and push notification, ensuring team members always know when their shift is beginning.
Replacement staffing: When someone calls in sick, available team members in the same position and location are highlighted, making it easy to find someone to cover their shift.
Shift swapping: Team members can use the platform to swap shifts rather than forcing them to spend time calling down a list of colleagues. Whenever open shifts are available, you can notify your team.
Shared workload: Managers and supervisors can help out with responding to time-off requests and making shift changes by editing permissions.
Labor-to-sales tracking: Keep on top of overtime and labor-to-sales performance to stay in control of payroll costs.
Streamlined communication: With all your scheduling information available via a single platform, it becomes far easier to keep your team up to date through group chats, direct messages, and event schedules.


Here's why you should take a look at ZoomShift as an alternative too Sling:
Scheduling Templates
One of ZoomShift's most significant strengths is its scheduling templates. If your employees work from home or work shifts, strong scheduling can make the difference between a highly effective, cost-saving business model, and complete chaos.
Even the best managers will make administrative mistakes from time to time, but with ZoomShift you can easily copy schedules around to fit your needs once everything is in there, hence, cutting the chances of human error messing up your all-important schedules.
How does ZoomShift do this?
You can easily copy schedules from day to day to cut down on admin work. Once you create a full week's schedule for all employees, you can save a template and schedule a whole month with the "Apply Week" Template function.
Automation can handle a lot of this scheduling. Human input is only needed when these schedules are changed, such as due to sickness or vacation days.
Make use of ZoomShift's scheduling templates to reduce the administrative burden on managers and save time and money in the process.
ZoomShift Works for a Wider Variety of Business Models
While Sling puts the onus on shift work, ZoomsSift's combination of features means it works for a wider variety of businesses. This is because ZoomShift's goal is to make scheduling much less complicated for managers – whatever business they work for.
It makes scheduling, communicating with employees, and running payroll super simple across the board – and these functions are required within all organizations. For instance, in-office teams still require meetings and workflows to be scheduled.
Even if your business doesn't work on a shift model, and employees are in the office most of the time, managers most likely still need to schedule work. Most organizations in 2022 offer some level of flexible working or remote working, and ZoomShift helps them stay on top of their team members' workloads, wherever they are and whenever they're working.
With its payroll and budgeting tools, ZoomShift also helps managers ensure that employees are working at the right pace, logging the hours they're scheduled for, and completing their scheduled tasks.
Real-Time Budgeting
One of ZoomShift's standout features is real-time budgeting. Any manager will be able to see the potential of this feature to improve the way they work from day one.
Real-time budgeting is – in particular– a huge asset when shifts are canceled or employees with different rates are moved from task to task.
It also helps managers see where their team is losing money, such as by putting a worker with a higher rate on a task that isn't generating enough revenue to warrant that rate of pay. This allows managers to then adjust shift or workflow schedules to make a more cost-effective choice.
This feature allows for easier and more accurate budget forecasting for the coming weeks.
Once again, ZoomShift is saving businesses time and money by automating the budgeting function, allowing managers to wave goodbye to tedious stints at their desk poring over spreadsheets and calculators. It also takes the human error out of budgeting – a common problem for finance teams.
Flexible Pricing Plans
As ZoomShift works well for a wide swathe of business models, you can choose the service level and price point that best suits your organization.
The pricing starts at just $2 per user per month for a starter package, while the premium option is just $4 per user per month.
Businesses that opt for the starter service get all of the following features:
Employee Schedule
Availability & Time Offs
Shift Cover Requests
Timesheets & Time Clock
Payroll Report
Automatic Reminders
Calendar App Sync
If you need a little extra help – perhaps due to a higher employee headcount – the premium package gets you all of the above as well as extra features including:
Overtime Warnings
Shift Rules
Timesheet Rules
GPS Time Clock
Schedule vs. Time Sheets
Activity Logs
However, there's also an Enterprise option, allowing larger businesses to tailor the service to fit their needs. As well as being able to customize ZoomShift to your own purposes, Enterprise clients also receive priority support, white-labeling, sub-account management, and API access.
Simply choose the package that suits your business model – and if there isn't one, speak to the team to discuss how ZoomShift's many features can be structured to get you where you need to be with your scheduling.

2. Humanity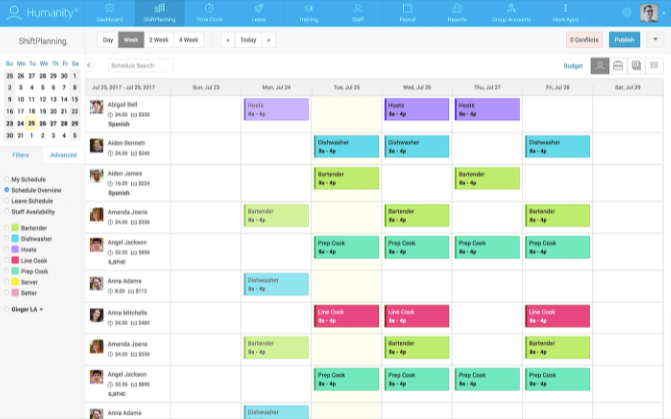 Humanity leverages the power of automation and rule-based scheduling technology to help managers and team leaders save time on creating compliant, error-free schedules. The platform claims it can reduce the amount of time spent on schedule creation by as much as 80%.
Main Features
Flexible staffing rules: By analyzing historical data, Humanity helps managers adapt their schedules to cope with busy and quiet periods.
Instant conflict warnings: Customizable rules mean automatic warnings are sent if planned schedules fail to comply with local, state, or federal labor laws.
Custom variables: Shifts can be assigned based on factors like availability preferences and seniority.
Pricing:
Starter Plan – $3 per user/per month
Classic Plan – $4 per user/per month
Enterprise Plan – custom pricing per user/per month
3. Homebase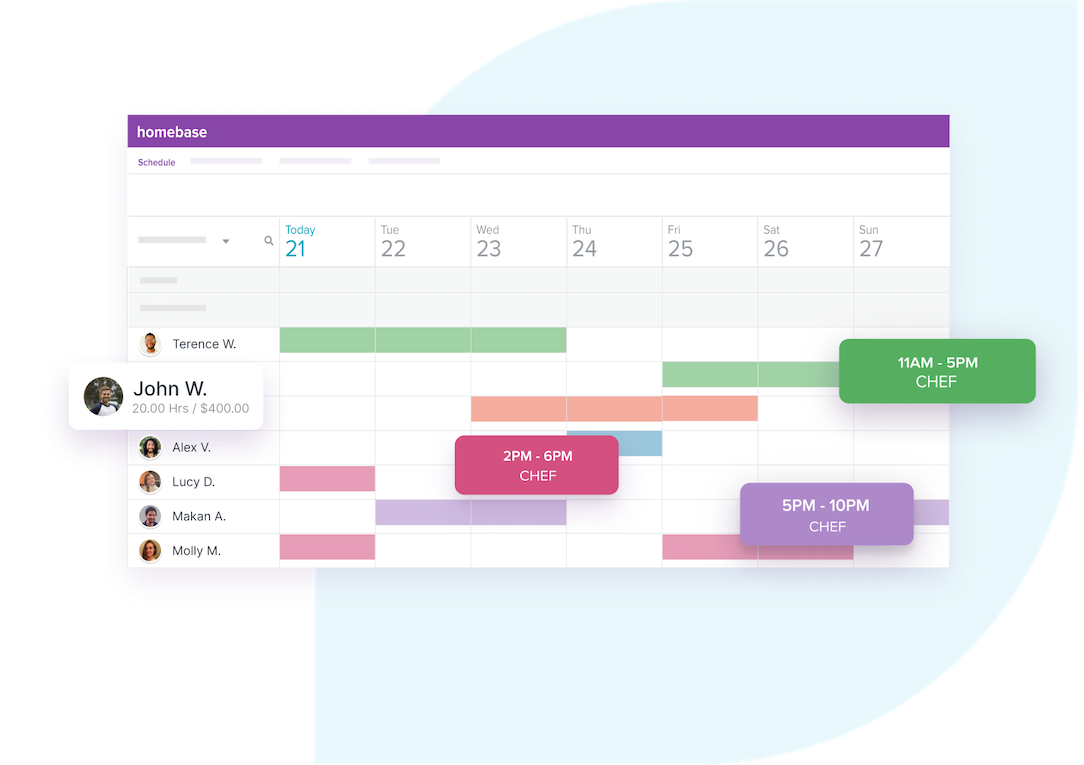 Homebase is an employee scheduling, time clock, payroll, and communications platform used by more than 100,000 small businesses to track over two billion hours of work. It helps managers to craft optimized schedules and adjust them in real-time to ensure teams remain up to date.
Main Features
Schedule sharing: When a new schedule is published, team members are instantly updated by email, text, and within the Homebase app.
Personalized notes: Custom notes and instructions can be added to individual shifts, giving specific instructions or reminders about key tasks.
Shift trading: Employees can arrange to trade or cover one another's shifts; all the manager needs to do is approve any changes.
Pricing:
Free Basic Plan
Essential Plan – $14 per month per location
Plus Plan – $35 per month per location
All in One Plan – $70 per month per location
4. When I Work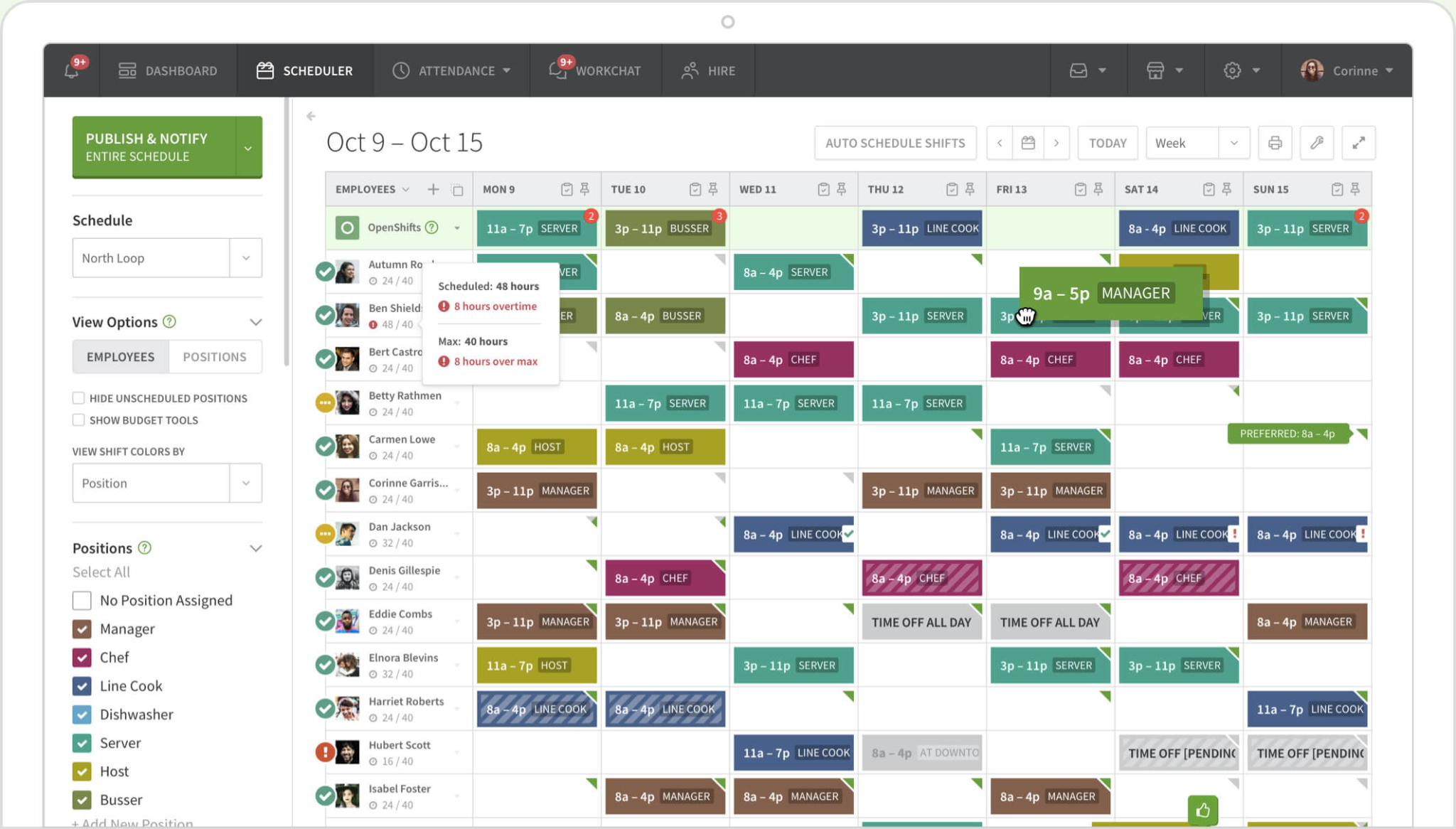 When I Work is an employee scheduling app designed to improve communication and accountability across shift-based organizations. This Sling scheduling alternative claims to save managers up to 15 hours a week on hourly employee scheduling.
Main Features
Shift eligibility: When I Work automatically matches shifts with available employees who have the necessary qualifications, ensuring the right people are scheduled for each shift.
Overtime warnings: Unnecessary overtime can be prevented before it happens with automatic alerts and customizable limits and thresholds.
Labor sharing: Shifts can be offered to qualified employees, with managers receiving notification once an empty shift has been filled.
Pricing:
Small Business: $2.00 per user per month for up to 100 employees
Enterprise: Enquire for pricing for businesses with over 100 employees
5. Deputy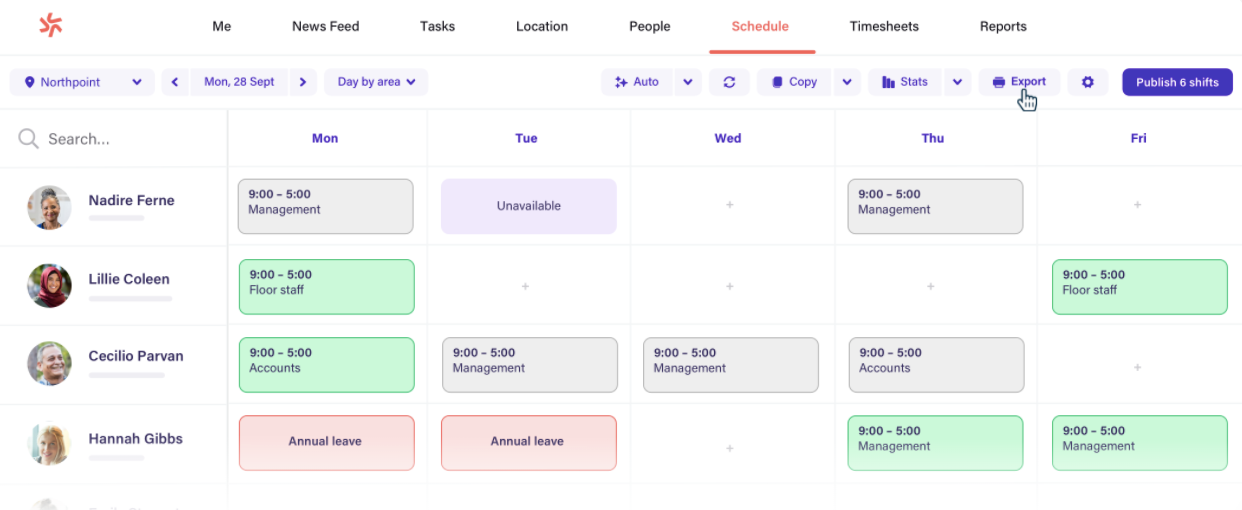 Deputy's scheduling, timesheet, and time clock software has been used at more than 275,000 workplaces in 100+ countries to schedule over 200 million shifts.
Main Features
Cost controls: Managers get real-time access to data on wages vs. sales, helping them manage costs and keep within budget.
App-based shift sharing: Available shifts can be shared instantly through the Deputy app, with shifts awarded on a first-come, first-served basis, or to the best-qualified person.
Multiple break types: Several breaks (and break types) can be scheduled in a single shift to ensure compliance with labor laws.
Pricing:
31 day Free Trial
Scheduling – $2.50 per user/month
Time & Attendance – $2.50 per user/month
Premium – $4.50 per user/month
Enterprise – custom per user/month.