JD Spinoza

JD Spinoza

JD enjoys teaching people how to use ZoomShift to save time spent on scheduling. He's curious, likes learning new things everyday and playing the guitar (although it's a work in progress).

Apr 05, 2022
The 10 Best Team Management Apps for Small Businesses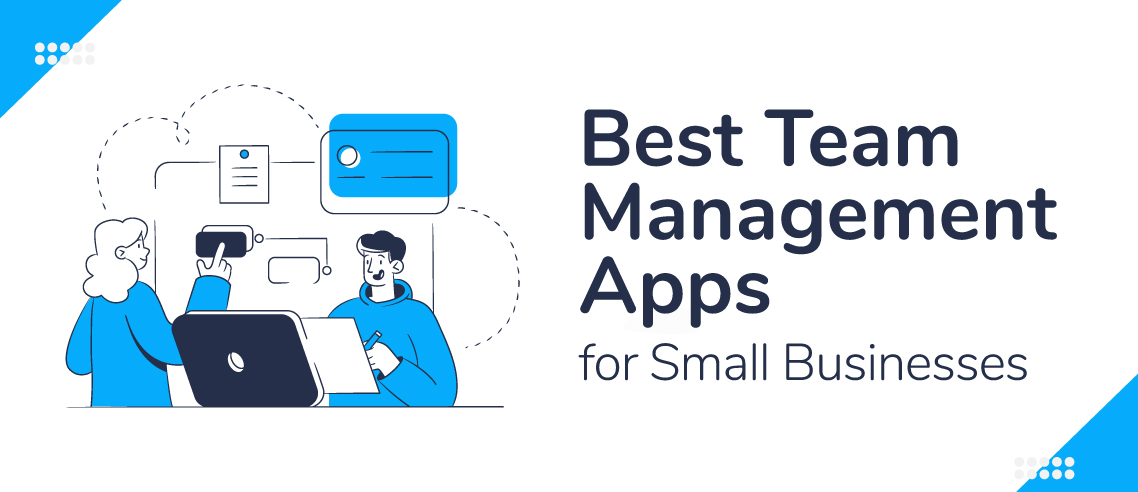 If you're a project manager in a small business, you might find yourself juggling spreadsheets, trying to keep abreast of your team's tasks and time.
A dedicated team management app not only makes your life easier, saving you time and energy, but it transforms your workflow into a more organized and informed process.
As a small business, you may be mindful of budget, as well as the ease with which you can roll it out across your team. You will need it to be cost-effective, easy to use, and offer the right amount of features that will support your teams, without overwhelming them with too many options.
Top 10 best team management apps for small businesses
1. Zoomshift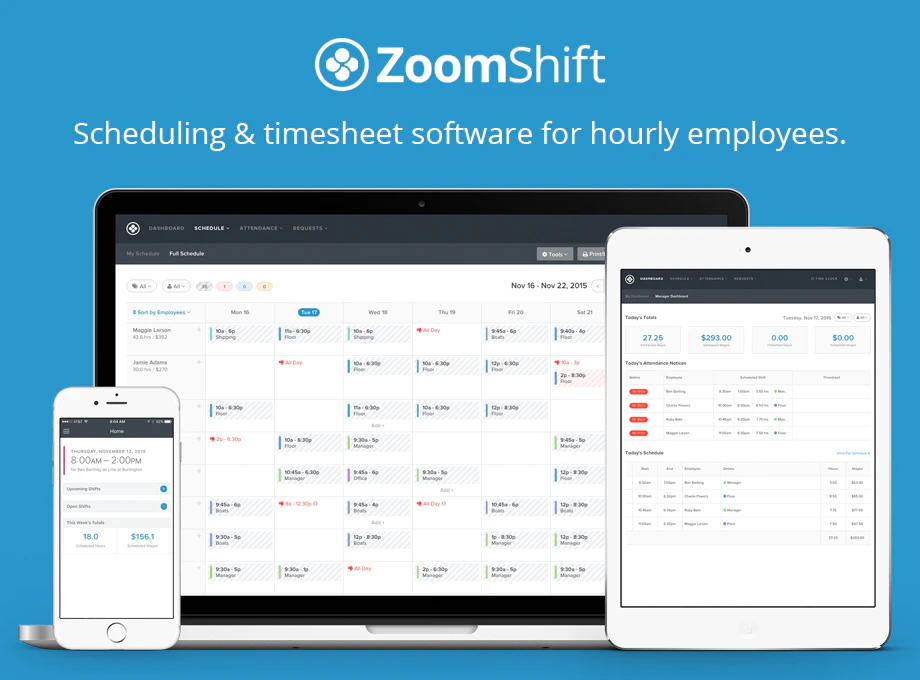 ZoomShift lets businesses become more efficient and organized, allowing teams to work collaboratively via direct message or group chat. 
It works like a clock-in and clock-out tool, as well as a project management feature, working particularly well for shift-based companies like restaurants, gyms, and healthcare settings. 
ZoomShift is available for both desktop and smartphone, and so works well for users who are on the go, and need to keep everything in one place. Managers can use it to keep an overview of shifts and schedules, making sure to limit no-shows, and keep the wheels in motion. 
It's one of the most user-friendly team management apps on the market, with its visual, drag-and-drop simplicity, allowing users to interact with their workflows with just one or two clicks. Not only that, but when changes are made, notifications will be sent to the relevant team member so that everyone involved is kept in the loop. 
Management can use the app to carefully plan shifts and budget in advance, compare scheduled versus actual costs and hours, and also benefit from simply approving shifts and running payroll at the end of each week or month. 
How ZoomShift helps businesses manage employees
Benefits:
Reduced learning curve designed to get you up to speed and utilizing ZoomShift quickly

Creates easier, more transparent communication management and staff

Empowers employees to handle their own time-off requests and shift swaps with coworkers

At your fingertips whether you're on a mobile device or computer

All-in-one time management and time tracking solution
Pricing:
Basic plan starts at $2 per user per month

14-day free trial
2. Asana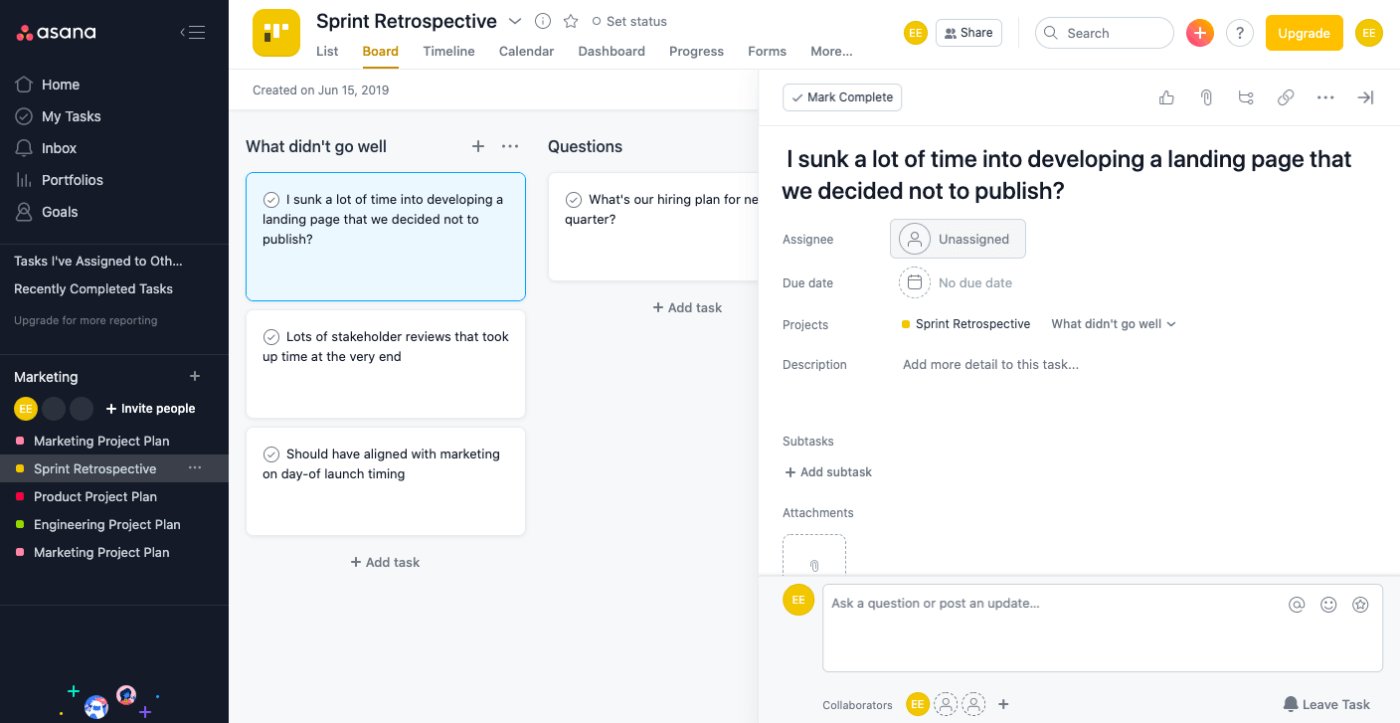 Asana is a great day-to-day task management planner with its multiple interfaces, broad range of features, and simple usability. 
Asana's forte is that it's geared towards team collaboration, with its virtual meeting management and task allocation and tracking. It can also be set up quickly, and lets users run through tasks, ticking them off as they complete them.
Benefits
Regular feature updates

User-friendliness. 
Drawbacks
Limited storage space on the basic plan. 
Pricing:
Basic plan is free for up to 15 users

Premium plan starts at $10.99 per user per month
3. Meistertask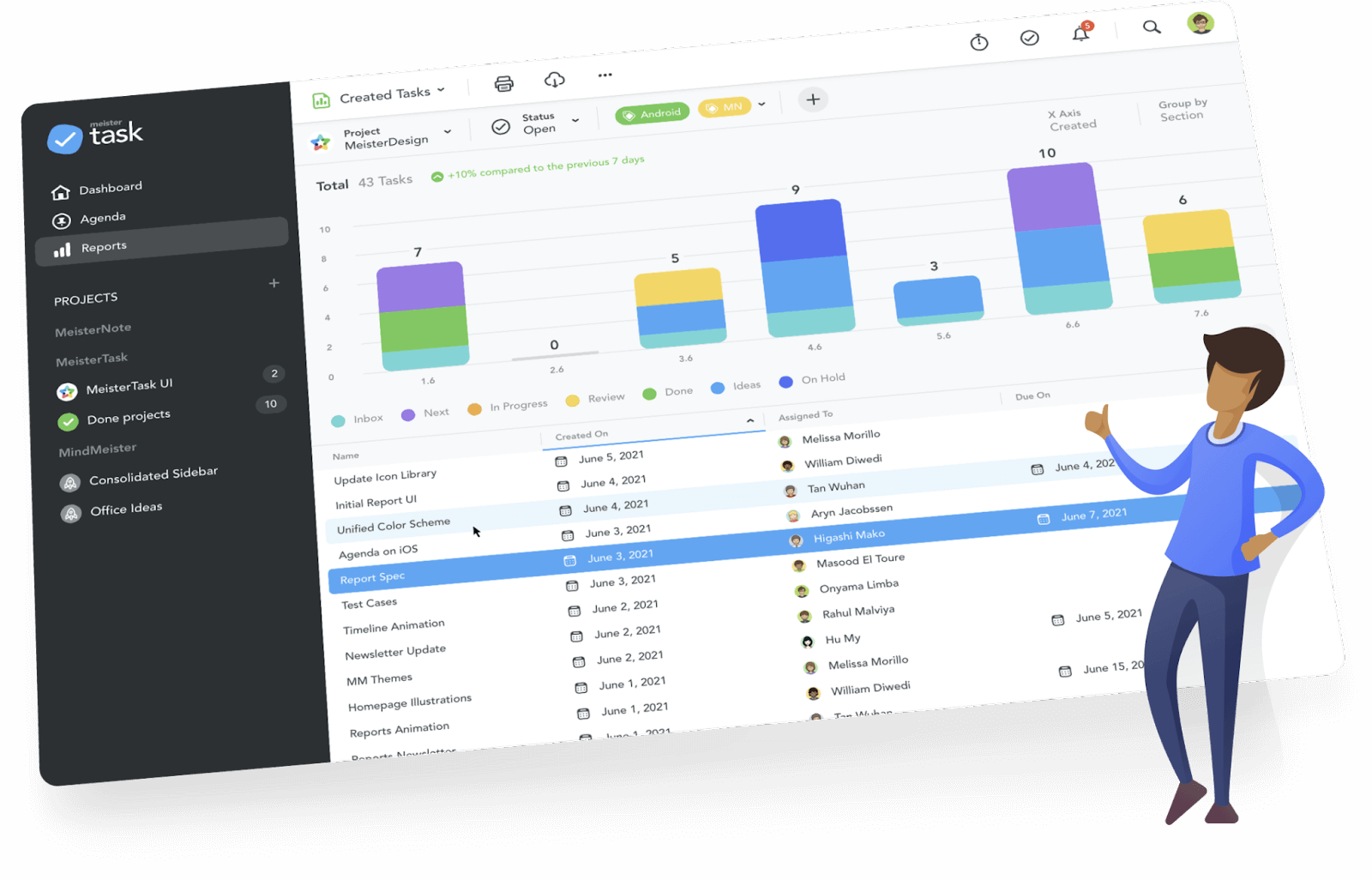 MeisterTask is a Kanban-style task management and collaboration tool. The dashboard is intuitively designed and can be customized by each user to suit their working style. 
Its project boards are easily adaptable to suit any workflow and can work well as a content calendar as well as for developer sprints. 
MeisterTask can be integrated with its sister tool, MindMeister,  to enable brainstorming sessions to feed into project boards and tasks. It also has several other integrations including Dropbox, Gmail, Outlook, and Microsoft 365. 
Available for both desktop and smartphone, MeisterTask has offline functionality so users can manage their workflows even when they have no internet connection. 
Benefits
Flexible project boards

Unlimited team members
Drawbacks
No internal calendar.

Poor file-sharing and revision management. 
Pricing:
Pro plan starts at $8.25 per user per month
4. Infinity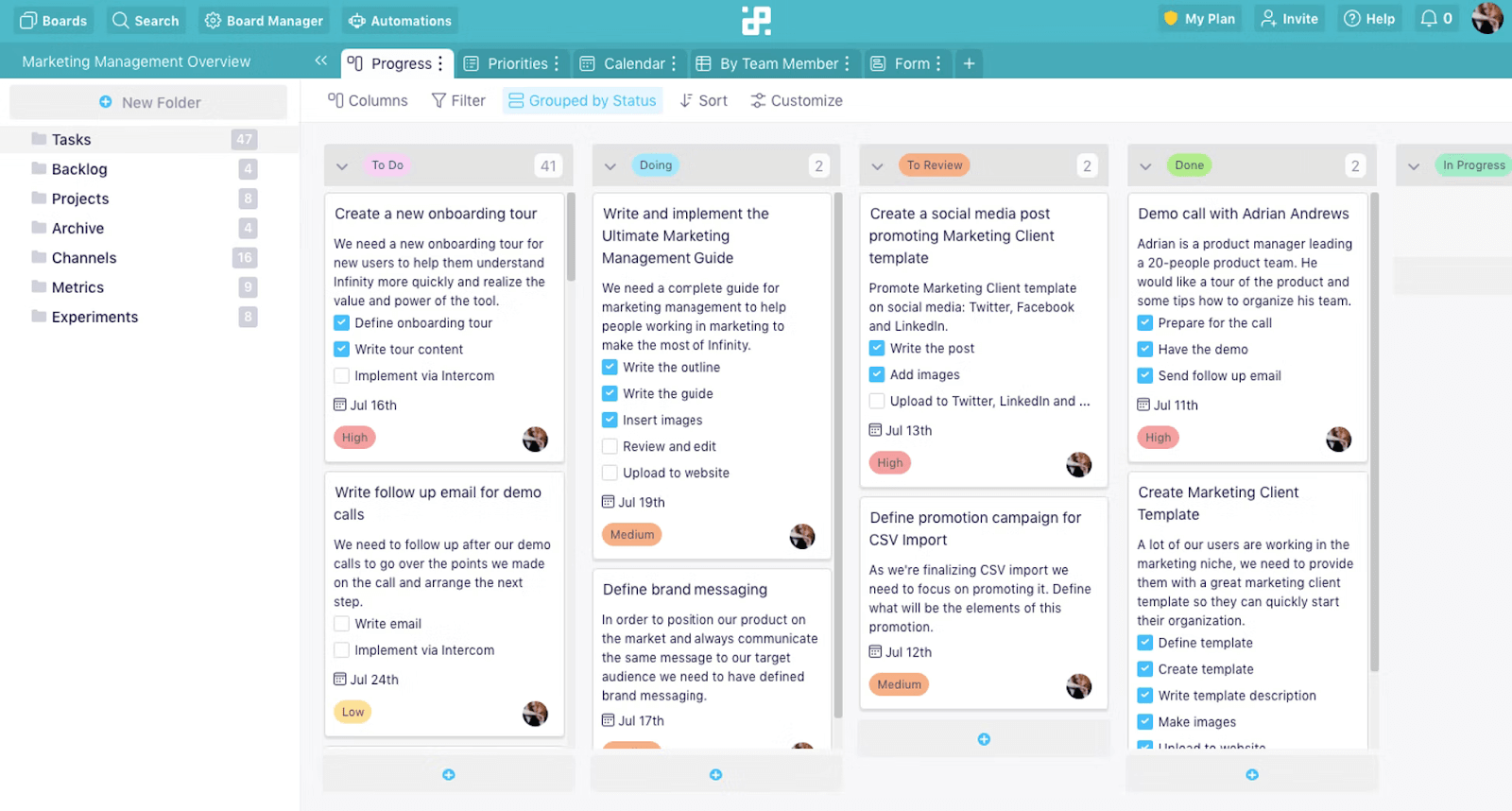 Infinity is a flexible and comprehensive team management tool. With more than 50 templates available to choose from, it's suitable for any kind of team, from HR to marketing, to CRM.
You can choose from list, calendar, Gantt, forms, table, and column views and you can also structure your own according to your needs. There's also the option to color-code, filter, and group tasks, among a variety of other personalization options. 
Infinity comes with various automations and APIs, which means you can schedule tasks, set your own reminders, and create apps that will support your work management. You can also integrate it with Google Drive and plenty of other apps so you can keep everything in the same place. 
Benefits:
Versatile customization options. 

A wide variety of integrations.
Drawbacks
A young app, so has a limited range of features. 

An expensive option for small businesses. 
Pricing:
Prices start at $149 per user (one-off payment)
5. Teamwork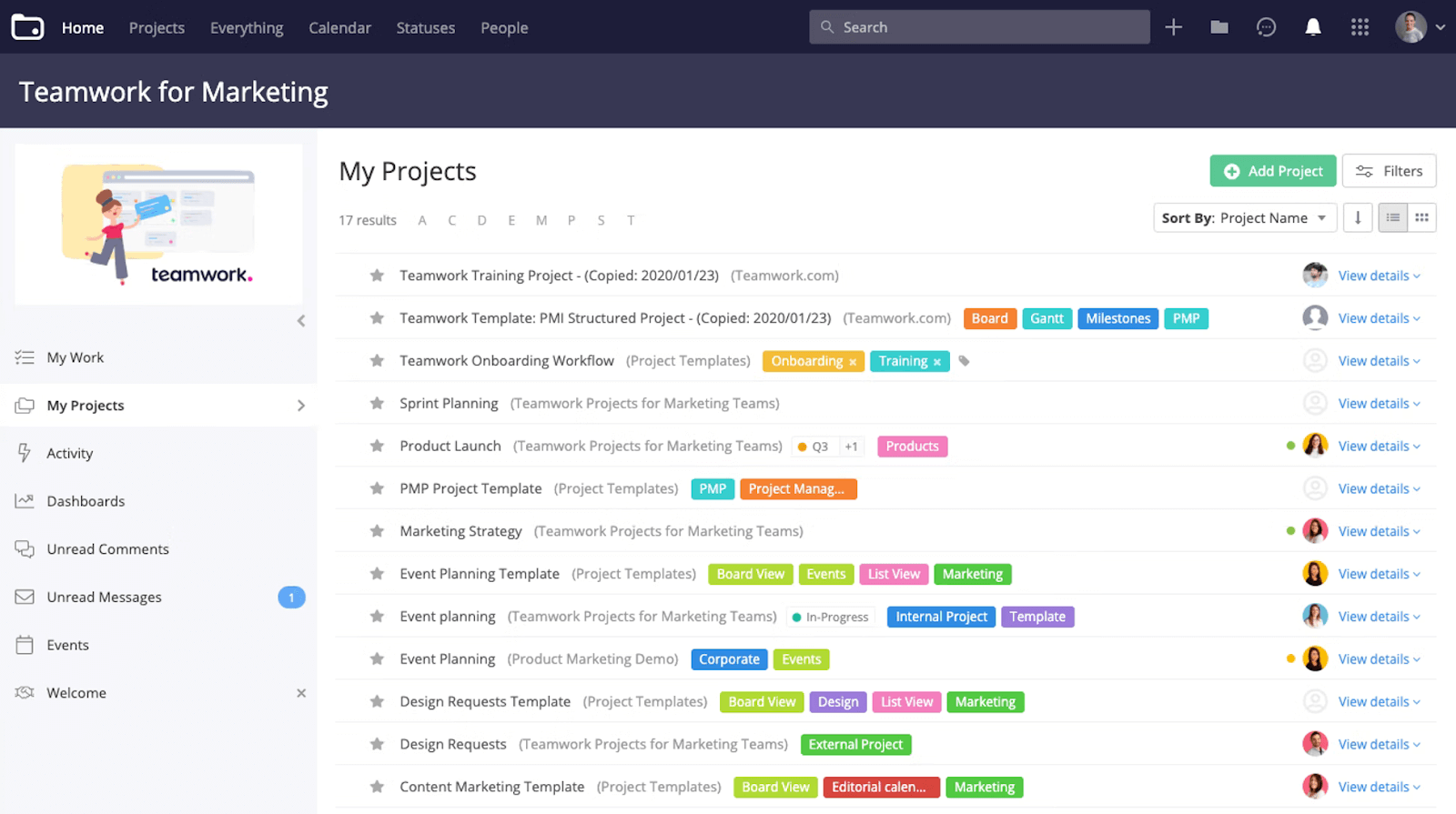 Teamwork offers a broad range of project management features, letting you track your team's workload and smooth out bottlenecks before they even arise. Tasks can be reassigned if schedules are looking overloaded so that tasks are evenly spread. 
Teamwork also offers training materials, including webinars, videos, blogs, and guides, that let users learn on the job rather than rely on costly 1:1 training. 
Integrations include Google Drive, OneDrive, Dropbox, Slack, Microsoft Teams, MS Office, among many others.
Benefits
New features are added regularly.

Easy to customize. 
Drawbacks
Some functionality problems with reporting and billing. 
Pricing:
Free basic plan. Paid plan starts at $10 per user per month

30-day free trial
6 Basecamp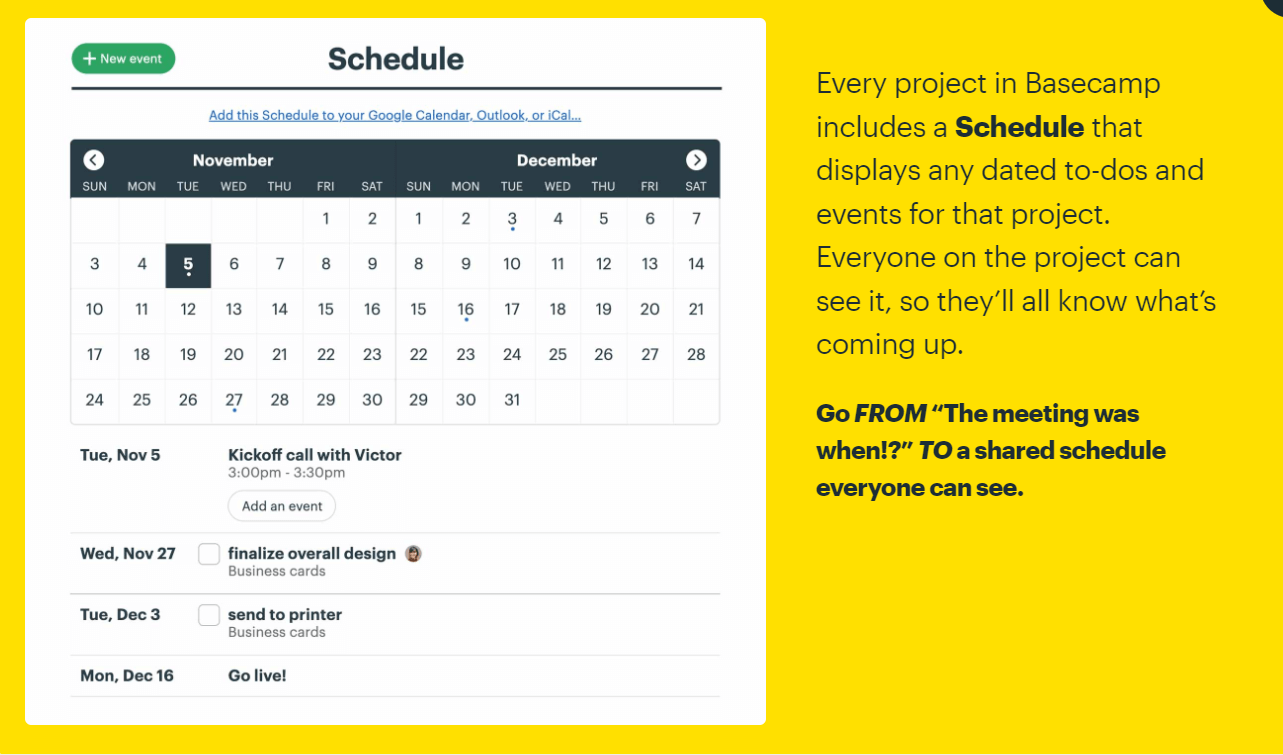 Basecamp is a good option for small businesses because they can benefit from a free plan until they grow to beyond 20 employees. 
It majors in collaboration, with daily task tracking, team communication on tasks, ideas, and deadlines. Its communication tool, available with a mobile app, can be used to send messages, share ideas, files, and documents, set deadlines and share feedback and comments. 
Benefits 
Simple and user-friendly. 

A wide range of integrations. 

Great collaboration functionality. 
Drawbacks
Issues with notes and files getting buried within tasks. 
Pricing:
Free plan for up to three projects and 20 users

Paid plan starts at $99 per month for unlimited projects and users
7. Zapier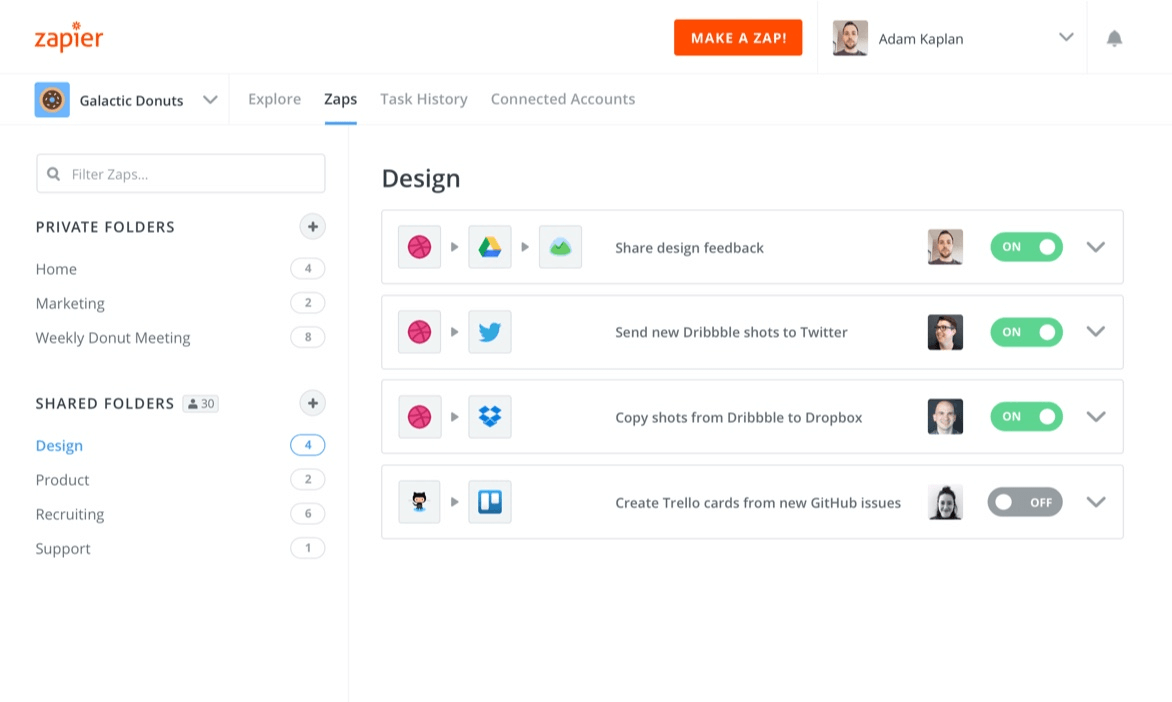 Zapier is a comprehensive team management app that lets users move between web apps automatically. It lets you build custom workloads for over 4,000 web apps, automating mundane tasks automatically, freeing you up to focus on more important tasks. 
Zapier offers larger companies collaboration features to let you automate the entire organization, and will also provide a dedicated Customer Success Manager to help you with your automation strategy. 
Benefits
Excellent automation features. 

A vast range of integrations. 

24/7 support. 
Drawbacks
Poor customer service on basic plan. 
Pricing:
Premium plan starts at $19.99 per month

Free plan available for up to 100 tasks per month
8. Trello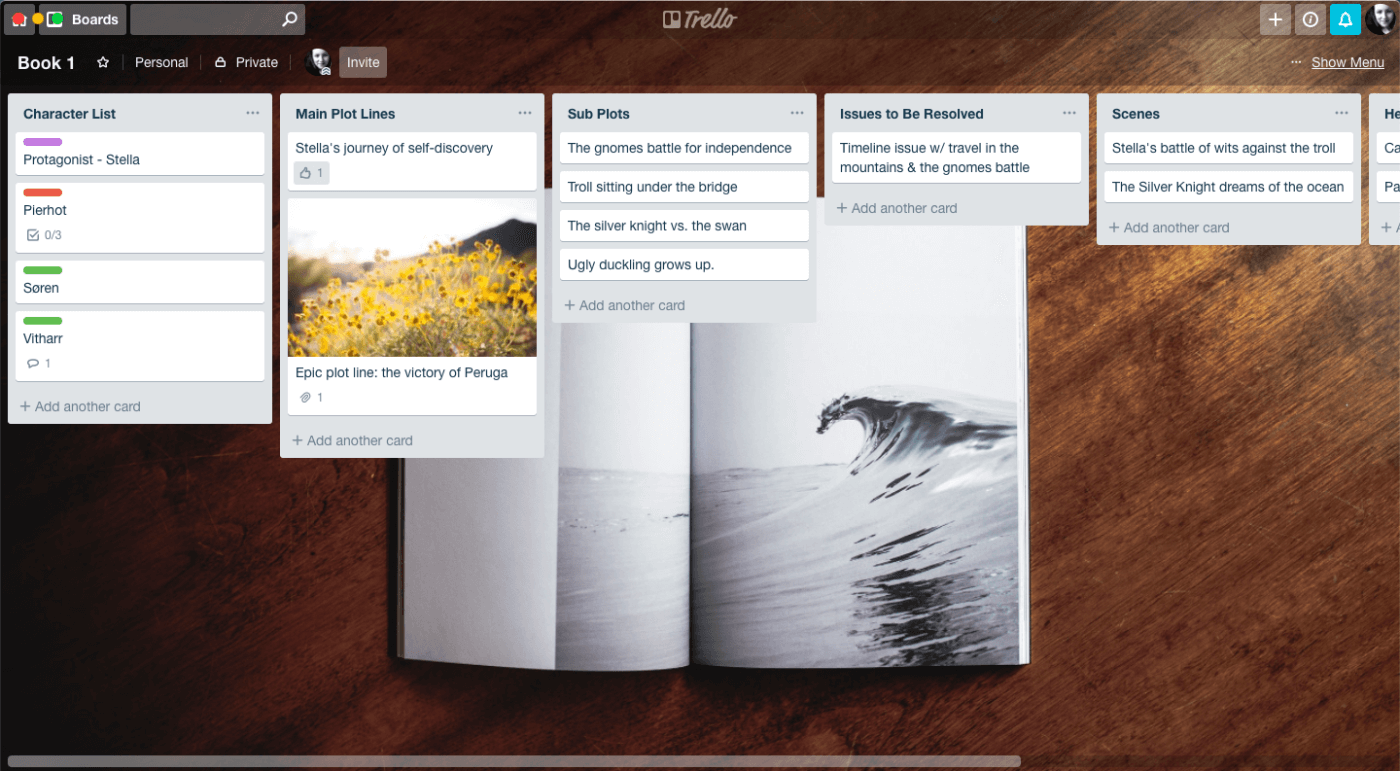 Trello is a user-friendly and visual team management tool that follows the Kanban workflow style. It's easy to roll out to your team because of its simple, drag-and-drop usability. 
You have the option of building your own board from scratch or choosing from a number of templates for marketing, sales, team management, design, among others. Each board can be set up for Agile working, with backlog, in-progress, and completed tasks. Alternatively, you can set boards up for more creative and collaborative work, letting team members hash out ideas, comment, approve, add attachments, and more.  
Benefits
It automatically backs up your data.

It has good search functionality to locate tasks and projects. 

It lets you personalize your account using fun stickers. 
Drawbacks
It doesn't let you archive tasks once completed. 
Pricing:
Free plan includes unlimited boards and users, 10 team boards and attachments up to 10 MB

Premium plan starts at $9.99 per user per month (billed annually)
9. Monday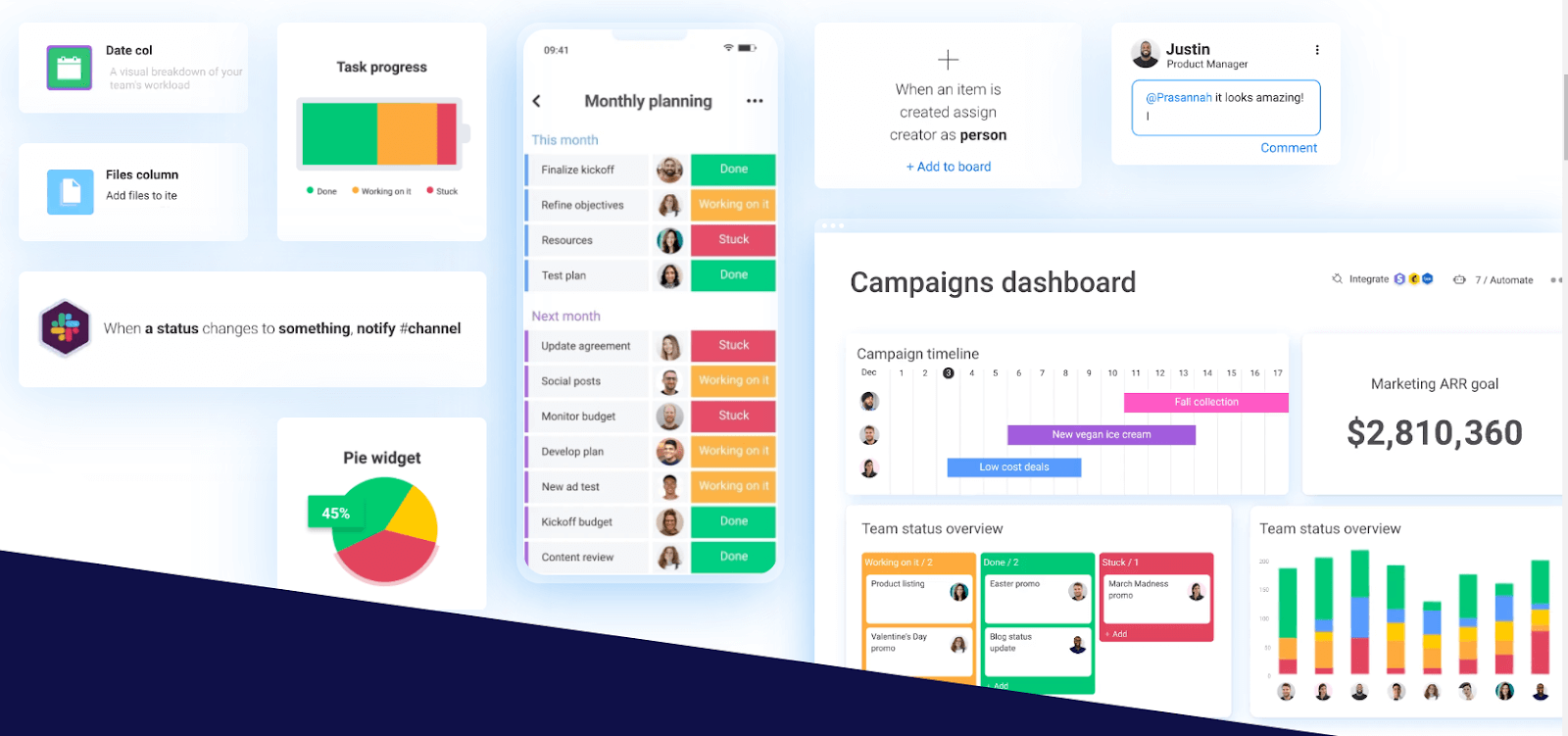 Monday is a visual project management tool that is easy to pick up for new users. That being said, its simplicity hides the broad range of features it has to offer. 
Users are notified in real-time, so they're alerted to every change in their to-do list as it happens. It's also a great cross-departmental collaboration tool and offers free learning tutorials to help learn the tool. 
Benefits
Easy to use.

Great for visual learners.

Shows both the bigger picture as well as the granular detail. 
Drawbacks
Pricing:
Free plan for up to 2 people

Paid plan starts at $10 per user per month
10. Kissflow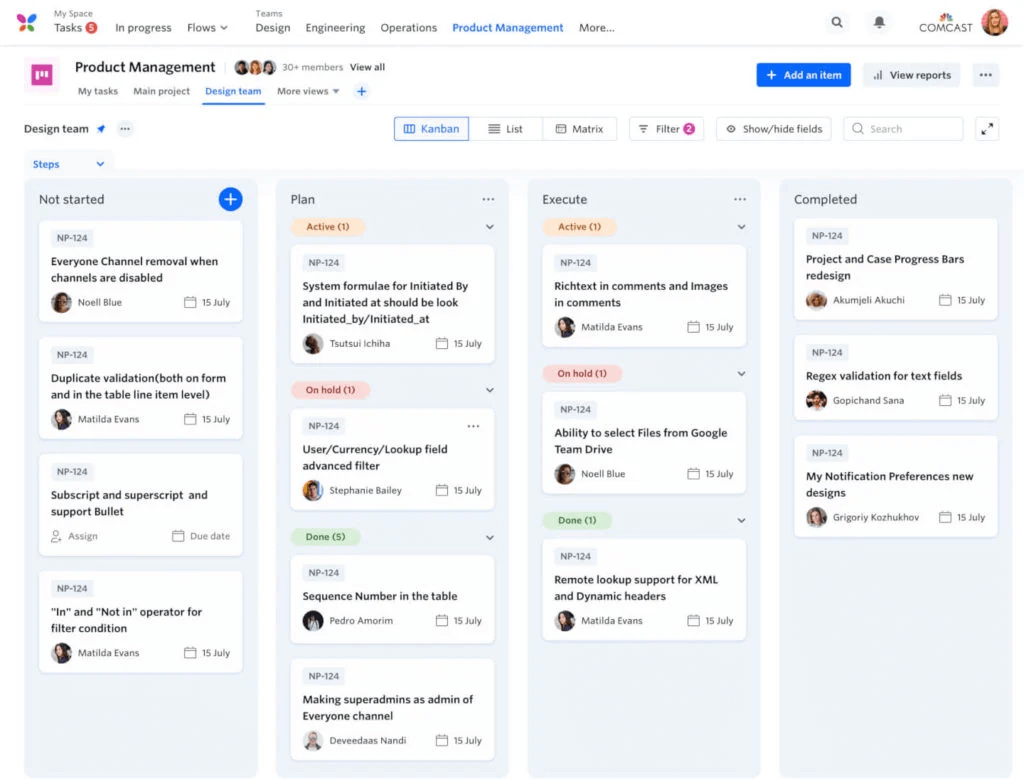 Kissflow Project is a Cloud-based project management tool designed for small businesses with a need for simplicity. 
You have the option of Kanban, list, or matrix views, depending on user preference. You can design tasks, assign jobs to teammates, add status labels for tasks on hold, in progress or completed. 
Managers can build their own customized dashboards to get a quick overview of projects and tasks, so that they can identify roadblocks. 
Benefits
Simplifies complicated tasks. 

Visually appealing. 

Good customer support.
Drawbacks
It doesn't let you comment on individual tasks. 
Pricing:
Starts at $7/user/month for up to 3 projects
Bonus Tool: ProofHub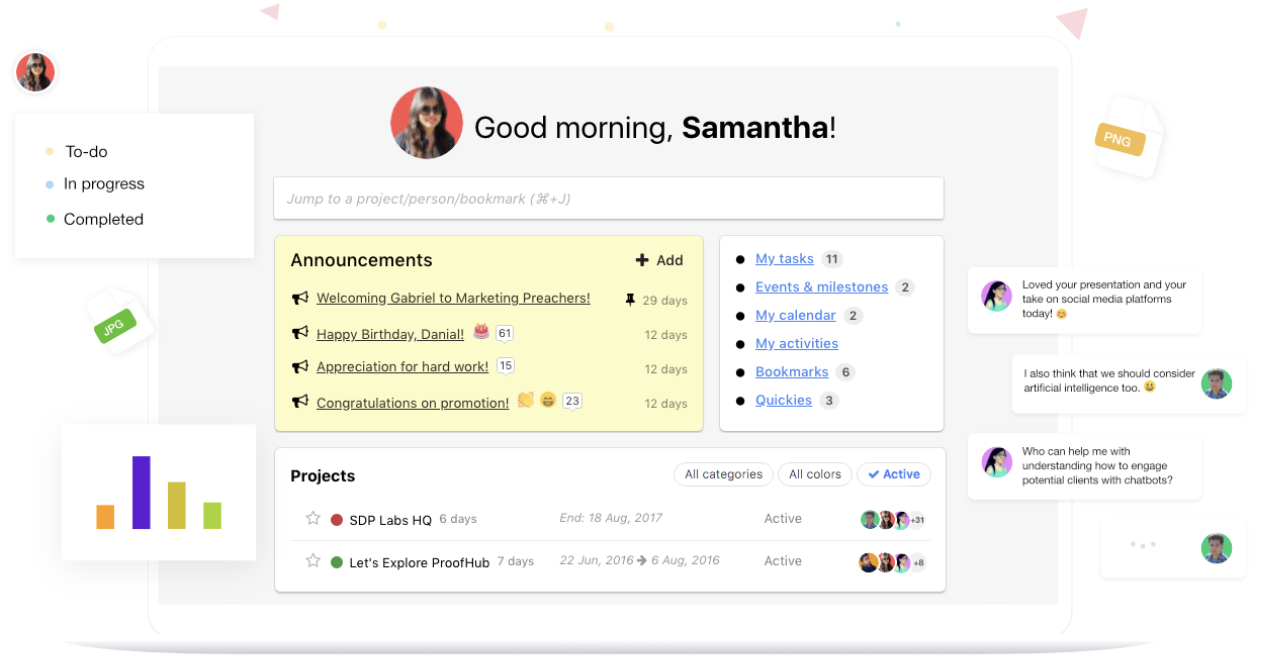 ProofHub is a comprehensive all-in-one project management and team collaboration solution designed with adaptability as a central focus. Its user-friendly interface is fully customizable to align seamlessly with various organizational workflows.
Packed with several features, ProofHub helps users efficiently manage projects, whether they're leading a small startup or managing a large corporation. It enables task creation and tracking, provides clear project timelines through Gantt charts, facilitates file sharing, time tracking, team communication, and much more, all within a single, unified platform.
A notable highlight of ProofHub is its straightforward pricing model. Unlike many others that charge per-user fees, ProofHub offers a cost-efficient and scalable solution under a flat pricing structure suitable for businesses of all sizes.
Benefits
Flat-pricing with no per-user fees.
Streamlined teamwork with a unified platform.
Efficiently track and organize tasks and projects.
Custom reports and analytics
In-built chat for quick communication.
Drawbacks
 Notifications can be overwhelming sometimes
Pricing
14-day free trial.
Paid plan starts at $45 per month (billed annually)
In summary 
A good team management tool is imperative for any growing business, especially if teams work remotely or are on the move. 
These are just ten of a vast selection of team management tools on the market, all with their unique USPs and price points. As a small business, the art of choosing the right tool for you is knowing both what you want it to achieve, but also how your team works best.
JD enjoys teaching people how to use ZoomShift to save time spent on scheduling. He's curious, likes learning new things everyday and playing the guitar (although it's a work in progress).