JD Spinoza

JD Spinoza

JD enjoys teaching people how to use ZoomShift to save time spent on scheduling. He's curious, likes learning new things everyday and playing the guitar (although it's a work in progress).

Apr 19, 2023
10 Ways To Reduce Workplace Stress and Zen-ify Your Office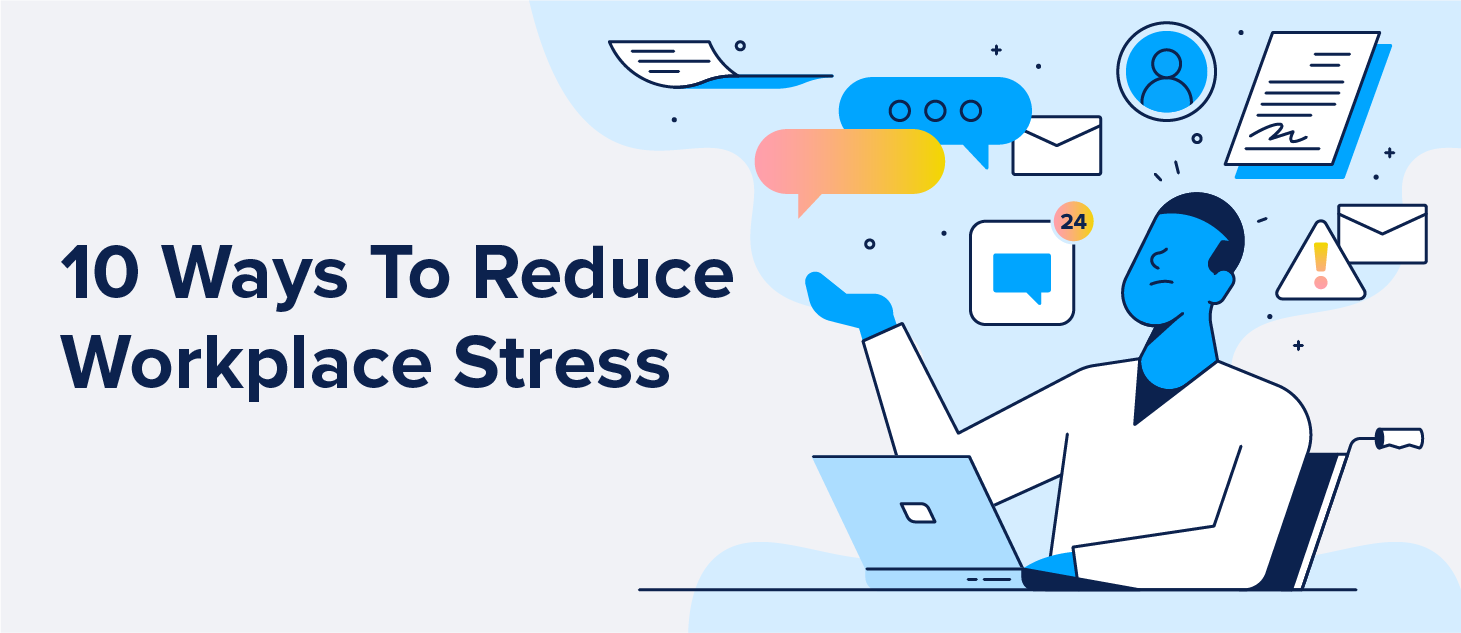 Work-related stress affects 83% of U.S. workers, with 25% citing their job as the most stressful factor in their lives. While a healthy amount of stress can make employees feel more motivated at work, elongated periods of stress can negatively impact your employees' productivity and contribution in the workplace.
Workplace stressors like excessive workloads and lack of growth opportunities can pile up, which may cause your employees to feel anxious, stressed, or pressured. To overcome these stressors, it's important to provide solutions for a healthier workplace that your employees look forward to being part of every day. Keep reading to learn about 10 key ways to reduce workplace stress. 
Support healthy diets
Maintaining a balanced diet supports a healthy immune system and cell repair, which can give you more energy when dealing with work stressors. While choosing to eat healthily mainly falls on the employee, employers can still support these decisions in the workplace. Here are a few strategies you can try out: 
Provide educational resources about healthy food choices. 

Switch out sugary office snacks with healthier options like fruit and protein.  

Create monthly office health goals like a hydration challenge. 
Encouraging employees to take their lunch break can allow them to not only eat a good meal, but take a mental break from their work tasks. 
Encourage open communication
Not surprisingly, a lot of workplace stress comes from the lack of open communication between management and employees. A Dynamic Signal survey found that 80% of employees feel workplace stress due to a lack of effective communication. If employees don't feel comfortable speaking up to upper management or there isn't support for doing so, there's a much higher risk of added pressures and stress. 
Management teams may have the ability to change this and reduce leadership-caused stress. Make development workshops and training available to both managers and employees to allow them to work on communication skills.
Re-affirm with your employees that open communication is a priority for your company and that their voices are heard and valued. This can be a very effective way to reduce interpersonal stressors. 
Bring in meditation and breathing classes
Looking for ways to bring a wave of calm to the office? Consider bringing a meditation class to your office. Deep breathing meditation can lower heart rate and release muscle tension, resulting in a calm body and mind. Mindful meditation in the workplace can promote productivity, problem-solving, and creativity. 
If your company is remote or hybrid, you can have the meditation class broadcasted over Zoom so your at-home employees can also participate in the relaxation break. You can also offer your employees subscriptions to wellness apps like Headspace and Calm as a nice stress remedy. 
Prioritize paid time off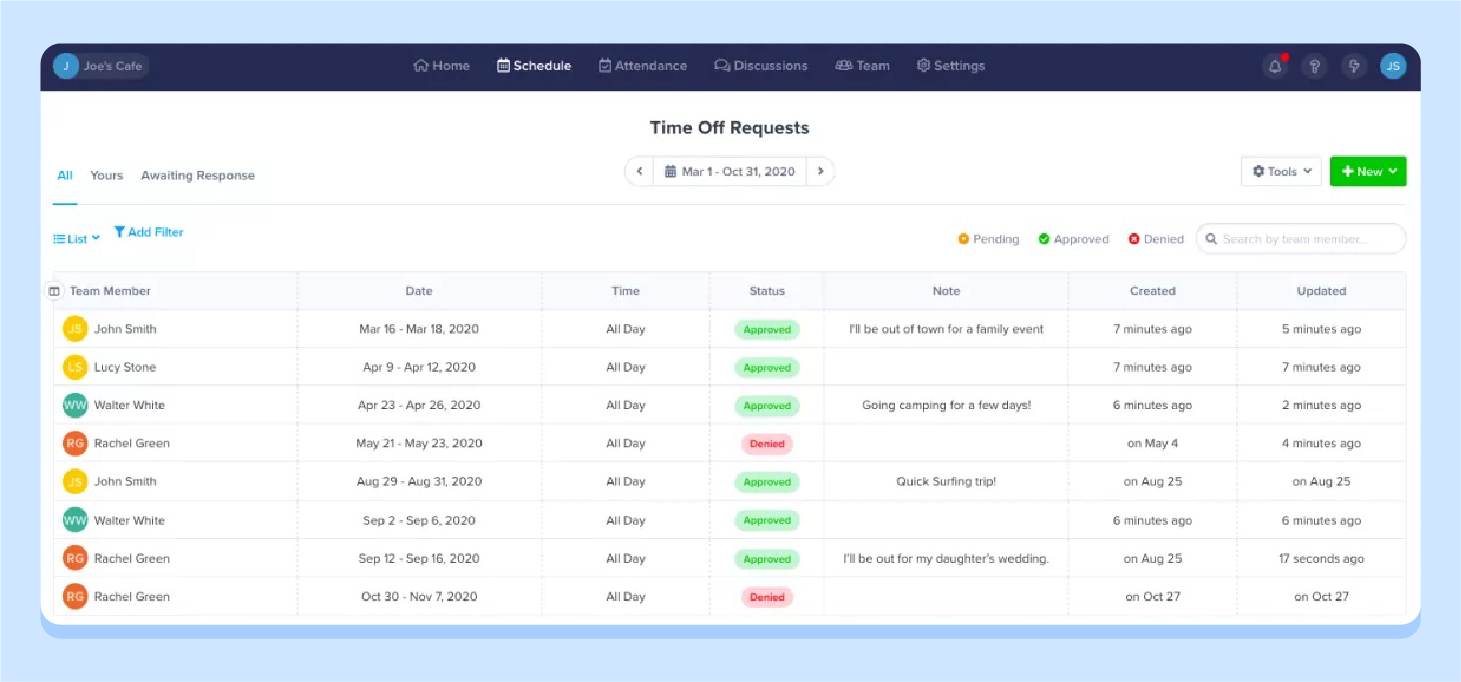 Nothing relieves stress more than getting out of the office and spending time away from your desk. Regardless of the size of your company, providing your employees with paid time off can allow them to rejuvenate and return to work refreshed. 
In 2022, 55% of Americans didn't use all of their PTO. It's important to not only provide PTO, but encourage employees to use it as well. Let your team know the value of taking time off to avoid workplace burnout. Managers can encourage this by taking PTO themselves to set an example for their team. 
Managers can also connect with team members directly to let them know they haven't taken many days off and should put in a PTO request — while also reaffirming their work is covered if they take some time off. 
Practice employee recognition 
Your team works diligently to achieve goals and grow your company. Take the time to shine a light on employees who go above and beyond, have completed a strenuous project, or have been given great feedback from external partners. 
Recognizing employees for their hard work is a positive encouragement that it's not going unnoticed.
Employee recognition doesn't necessarily require a large budget. Thoughtful emails or company-wide messages can be just as effective. However, a gift card or new work equipment can also be a nice treat for your employees. 
To stay on top of employee recognition, make a monthly or quarterly calendar reminder to recognize employees for their hard work and dedication to the company. 
Stress the importance of work boundaries
A heavy stressor can be a lack of work-life balance. A healthy work-life balance can reduce burnout and stress, while also promoting a better sense of well-being. As a result, companies can have productive, more positive work environments. 
Below are some ways higher management and employers can ensure a better work-life balance:
Use a

scheduling software

that can track employee work hours and time zones. This can be especially useful for remote and hybrid companies. This can also be done on a shared calendar or project management system. 

Establish a no email/message/call rule for after-work hours. Have your employees schedule messages and emails for the following workday. 

Allocate the proper number of hours to projects and tasks. 
Establishing boundaries allows your employees to properly decompress at the end of the day and come back in the morning refreshed and ready to work.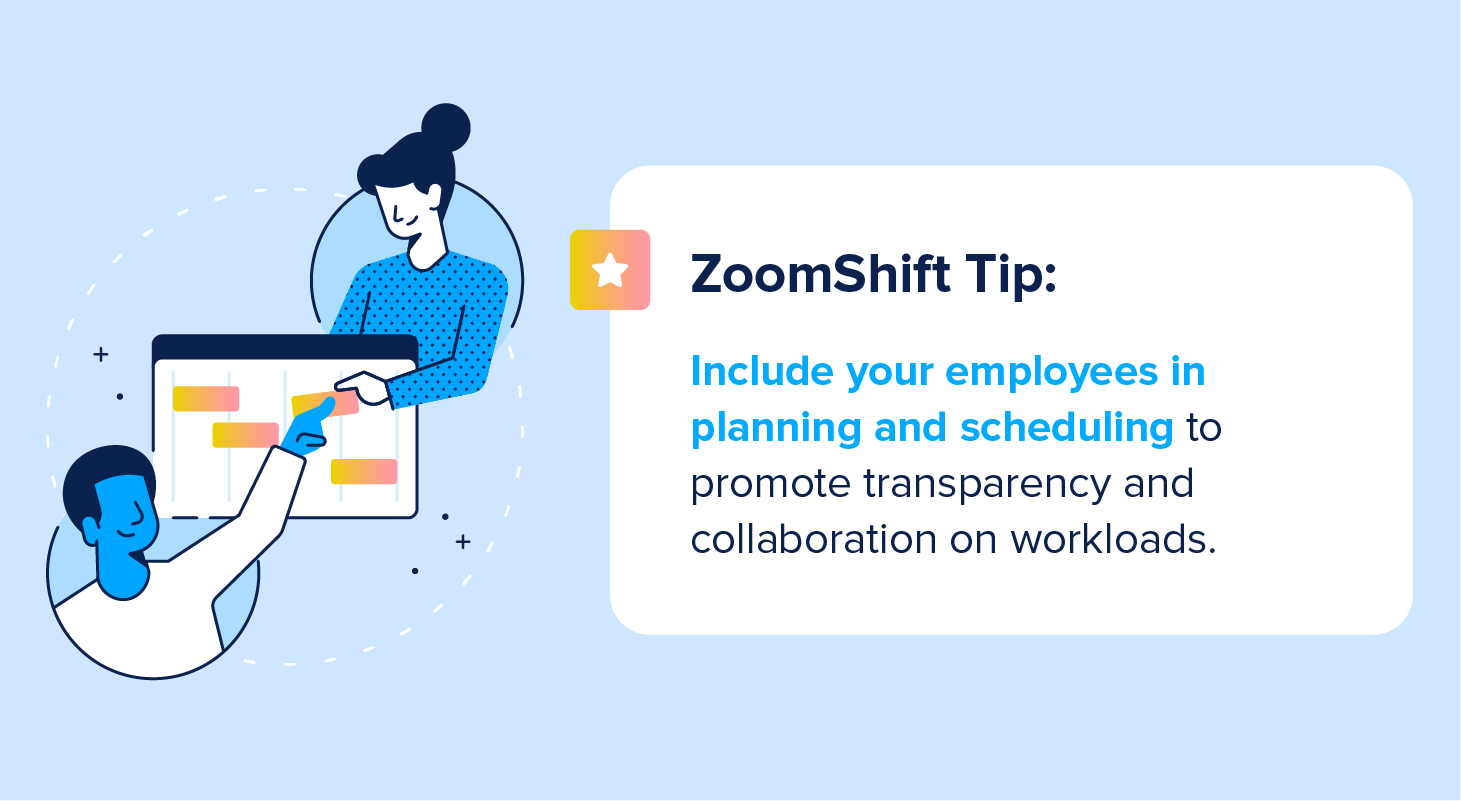 Offer flexible work schedules
Implementing flexible work hours allows your employees to start and stop their day when it best suits their schedule (while still working a full day). According to a recent Slack survey, workers with schedule flexibility reported 29% higher productivity and 53% greater ability to focus than workers with no schedule flexibility. 
While flexible work schedules may not be suitable for all companies, it's something to think about depending on your team. For example, an employee who is a parent may prefer a flexible schedule to be able to pick up their kids from school. Giving your employees flexibility can help reduce overall stress.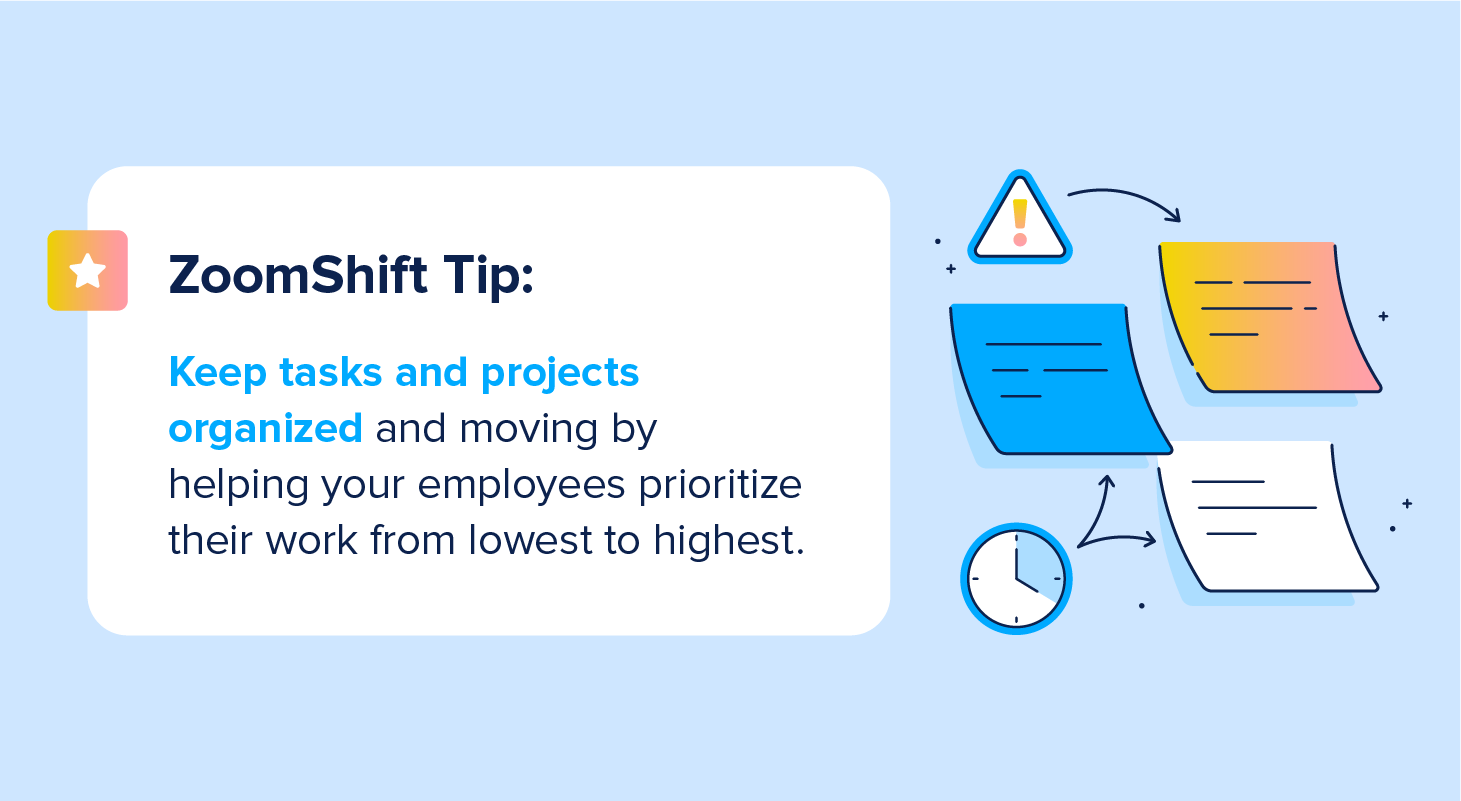 Minimize screen time when possible
For many roles, extended periods of screen time can be unavoidable. However, reducing unnecessary screen time when possible can improve productivity. Decreasing screen time can also lead to better focus and efficiency, while too much can increase feelings of anxiety and procrastination. 
Employers can help provide opportunities for less screen time with in-person collaborative meetings and implementing a no-phone policy during certain work hours. Bring in permanent activities for break times if your budget allows, like ping pong tables. 
Have a lot of employees with pups? Convert your workplace to a dog-friendly office. According to an APPA survey, 57% of puppy parents say having their dog at work relieves stress and anxiety. Short breaks spent playing with a dog versus spending time scrolling on your phone is a subtle but effective change. 
Spend team time outdoors 
Employee connection can be an important factor in reducing overall workplace stress. Give your team a real break and arrange a team meetup outside of work, preferably outdoors, like hiking or going to a park for games to give your team some fresh air.  
However, any fun activity can help your team build connections and feel better about working as a team in the office. Plus, it gives your employees a break from thinking about work stressors and can be a useful anxiety release.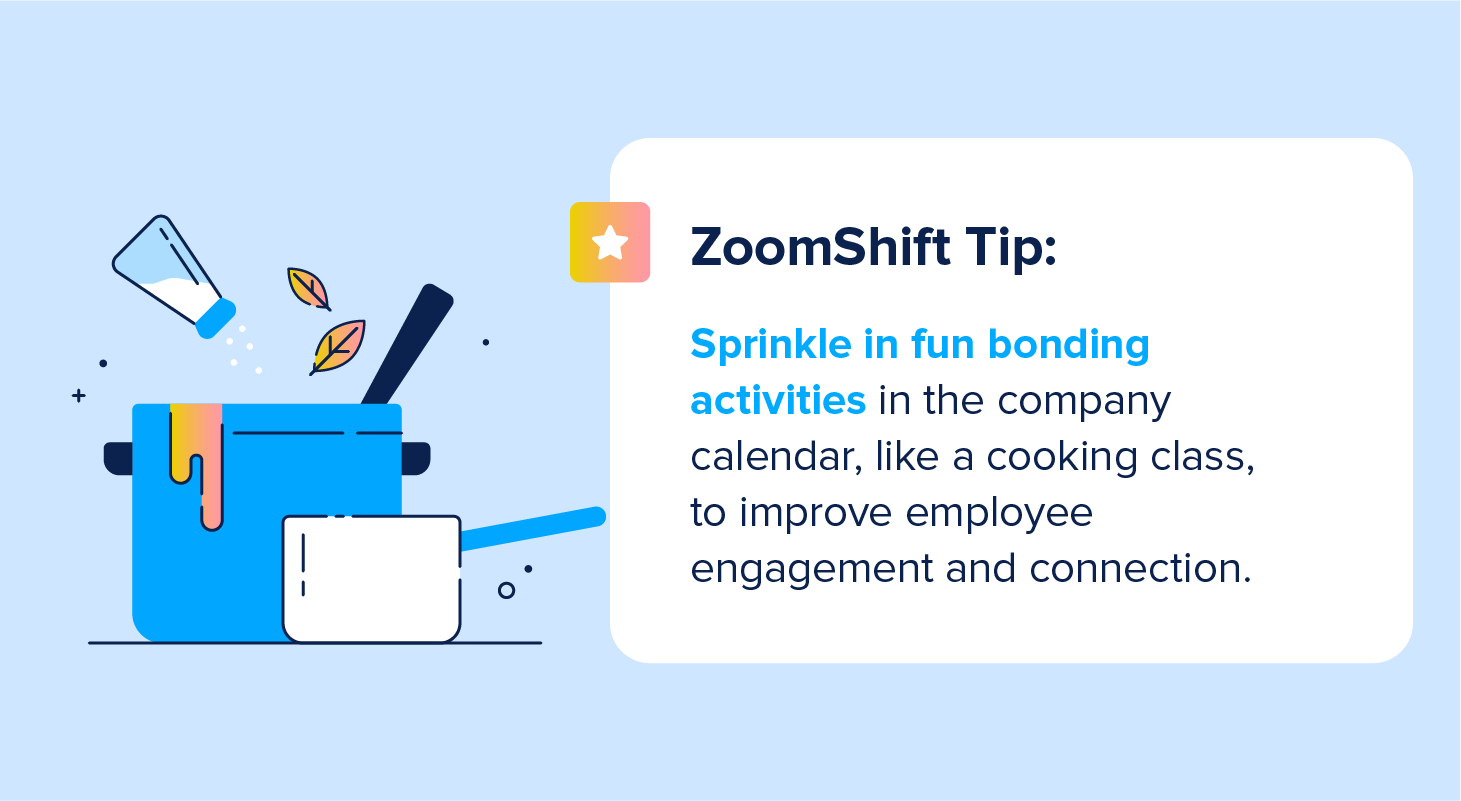 Offer wellness benefits
Taking care of your employees is one of the most effective ways to reduce workplace stress. This may include offering comprehensive physical and mental health benefits, including nontraditional benefits like mental health days that are tracked separately from PTO and sick days. 
Reassure your team that their health is a priority and that they'll be covered if anything arises. Good benefit offerings and available coverage can greatly lower stress and burnout. 
Another way to reduce workplace stress is by properly scheduling your employees and avoiding over-utilization. Sign up for a free trial of our scheduling software to better manage employee schedules.  
JD enjoys teaching people how to use ZoomShift to save time spent on scheduling. He's curious, likes learning new things everyday and playing the guitar (although it's a work in progress).