JD Spinoza

JD Spinoza

JD enjoys teaching people how to use ZoomShift to save time spent on scheduling. He's curious, likes learning new things everyday and playing the guitar (although it's a work in progress).

Apr 04, 2022
Workforce Management Software: The Ultimate List for 2023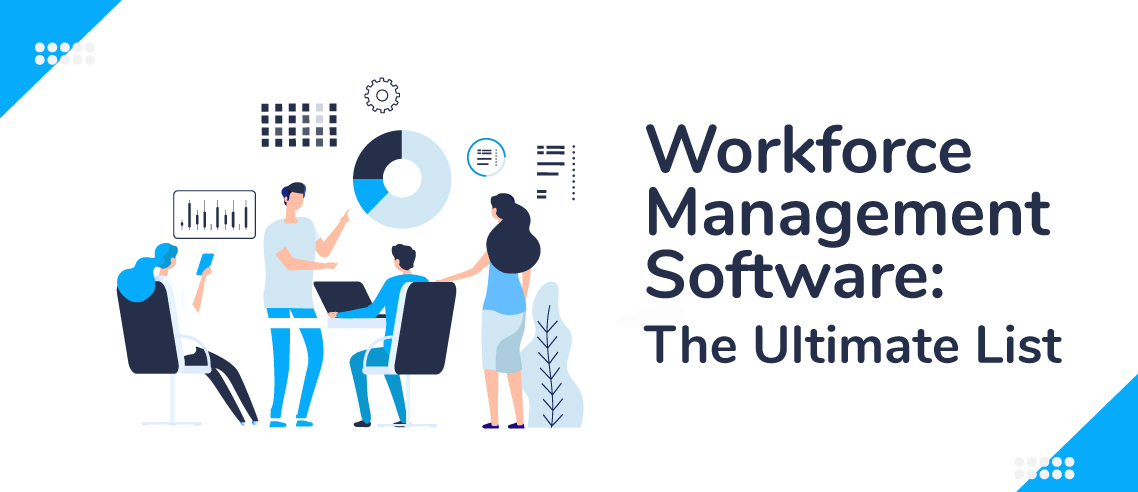 To compete in today's economy, businesses need efficient ways to manage their workforce. Workforce management software is the standard way to do so in today's digital age. 
If you manage a small business, you should consider investing in a workforce management solution. Here, we will cover 10 workforce management tools that you can use to take your business to the next level. 
What Is Workforce Management Software?
Workforce management software is a type of digital tool that helps businesses keep track of their employees, administer payroll, and ensure operations are running smoothly. Typically, workforce management software will include features that help with time tracking, attendance management, and scheduling. Many workforce management solutions will also include payroll, PTO, and HR features as well.  
Overall, the goal of workforce management is to help keep businesses operating efficiently. 
10 Workforce Management Solutions for 2022
Here are 10 workforce management solutions for 2022. Keep in mind that the solutions are not necessarily ordered from best to worst, as choosing the right solution is more about finding the right fit than the best overall product. 
1. ZoomShift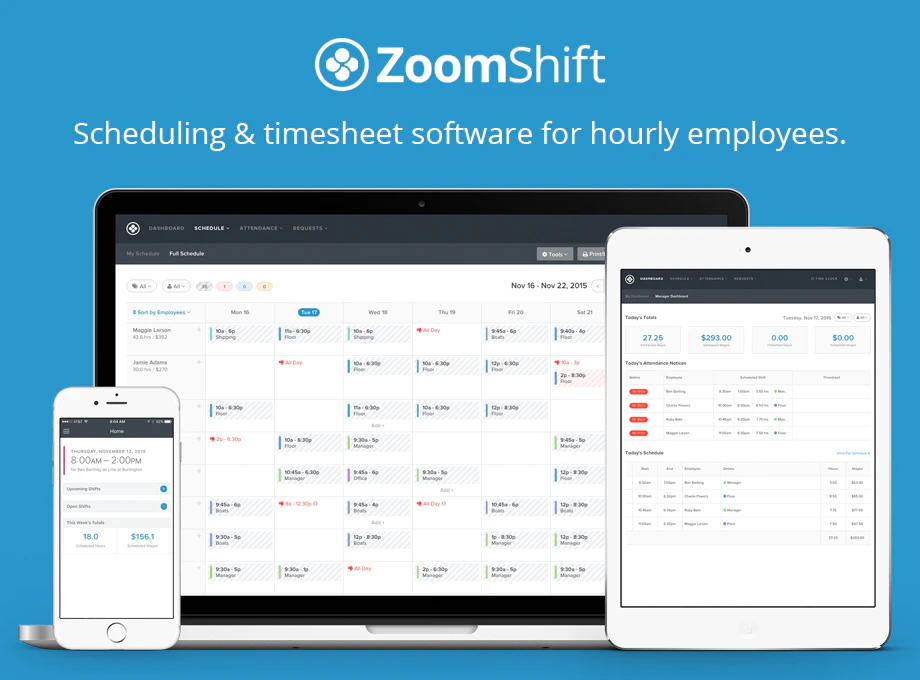 ZoomShift is a workforce management solution that puts a special emphasis on employee scheduling. It provides an intuitive and easy-to-use drag-and-drop visual schedule builder that helps managers create schedules fast. ZoomShift is a particularly good choice for small businesses. 
Once a schedule is created, it can easily be pushed out to all employees, which ensures that the entire workforce is on the same page. All schedule changes are pushed to employees in real-time, so you won't have to worry about sending out new emails for every little schedule change you make. 
ZoomShift also provides tools for PTO management, time tracking, attendance tracking, and more. Its Shift Swap feature lets employees take their scheduling into their own hands by trading shifts among themselves when needed. 
The tool can be accessed via the web or through ZoomShift's mobile app, which lets employers and employees take their scheduling with them wherever they go. 
Currently, ZoomShift offers three pricing tiers:
Starter:
$2/active team member/month

Features include employee scheduling, payroll report, shift cover requests, and more.
Premium: 
$4/active team member/month

Features include everything in Starter plus overtime warnings, shift rules, GPS time clock, and more.
Enterprise:
Custom pricing

All Premium features plus priority support, API access, white labeling, and more.
2. Paylocity
Paylocity is an American company that primarily focuses on payroll and HR software, but also offers workforce management solutions. Its workforce management offering provides tools that allow for scheduling, time and attendance tracking, time collection, and smart automation. Paylocity is a great choice for businesses that want a comprehensive workforce management solution. 
If you want to connect your workforce management tool to payroll and HR software, you can expect a great synergy between Paylocity's workforce management and payroll offerings. Paylocity also provides talent management, data insights, employee engagement tools, benefits management, and mobile solutions. 
Contact Paylocity to find out information on its pricing. 
3. ADP Workforce Now
ADP Workforce Now is a fully-featured tool that covers everything from HR to payroll to benefits and beyond. Its workforce management feature set allows workers to clock in from their mobile devices, view their schedules, and request shift swaps. It's a great choice for larger businesses. 
This solution shines when it comes to analytics, as it provides managers with useful insights like how an employee's actual time worked compares to their scheduled time. It also helps managers quantify overtime exposure and benchmark their team performance against both internal and external metrics, like other company locations or competitors in the same region. 
Contact ADP Workforce Now for pricing information. 
4. BambooHR
BambooHR is a highly-regarded HR platform that also offers hiring, time tracking, payroll, and onboarding features. As the name implies, BambooHR is focused mainly on HR, and it lacks scheduling features. While employees can clock in and out, it doesn't feature a schedule builder.
As a result, BambooHR is best for businesses that have a need for HR and payroll software but don't need in-depth scheduling tools.
BambooHR offers pricing information by request only. 
5. Rippling
Rippling is an award-winning global workforce software that grows with your business, allowing you to run your company without worrying about the administrative hassles that come with it. Rippling seeks to provide a comprehensive workforce management solution that includes time tracking, payroll, benefits, security, and various other features. 
Rippling has a lot of advanced automation features, which make it a great choice for businesses that really want to dive into their software, but these can also make it a bit more complex for more standard users.
Rippling's pricing starts at $8/user/month. 
6. Ceridian Dayforce 
Ceridian Dayforce classifies itself as human capital management (HCM) software that mixes payroll, benefits, talent, HR, and workforce management in a unified cloud application. Like many of the tools on this list, Dayforce includes a wide spectrum of features, of which scheduling is only a small part.
However, Dayforce does provide incredibly deep scheduling and time tracking tools. In fact, they may be a bit too complex for many users, so it's likely not your best option if you want a fast and easy scheduling tool. 
Dayforce pricing is available upon request to the company. 
7. Paycom
Paycom considers itself to be primarily an HR and payroll software, but it does include workforce management features like time tracking, scheduling, labor allocation, and time clocking. When it comes to workforce management, Paycom includes features like geofencing for punches-in and out to ensure accuracy and eliminate fraudulent clock-ins. Employees can also swap shifts among themselves, which reduces the managerial burden of having to find someone to cover for another team member. 
Paycom is a particularly good choice for businesses that also want payroll software. To get pricing information, contact Paycom directly for a quote. 
8. Paycor
Paycor is another HCM software that also includes workforce management features such as time-tracking and scheduling. However, unlike many of the other options on this list, Paycor's tools appear more intuitive and easy-to-use, meaning you're more likely to have a schedule up and running within minutes, so if ease is important to you, this is a good choice. 
Additionally, Paycor offers advanced reporting features that can provide deeper information on costs and hours. Users can also set daily and weekly scheduling rules as well as allow employees to swap shifts amongst themselves. 
For businesses with fewer than 50 employees, pricing starts at $99/month plus 5/employee/month. 
For businesses with 50 to 1,000 or more employees, you can contact Paycor directly for a quote. 
9. TCP Humanity Scheduling
You can probably tell from the name alone that his company is focused more on scheduling than any of the other tools we've looked at. It integrates with major HR software, like BambooHR and Oracle, and it provides unique features like flex schedule support, auto-scheduling, and more.
TCP solutions are good for businesses of all sizes, from small to medium to large. There are three pricing tiers, but pricing information is only available upon request.
10. UKG Workforce Central
The UKG Workforce Central suite is a powerful collection of workforce management tools that help businesses with time tracking, scheduling, absence management, HR, payroll, and more. It is part of a larger family of tools that also includes Workforce Ready and Workforce Dimensions. 
Overall, UKG Workforce Central is best for enterprises, so small businesses will likely want to look elsewhere for their workforce management needs. 
Contact UKG for pricing information. 
Key Takeaways
There are many workforce management solutions available for businesses of all sizes. This list should help you get an idea of what's available and help you make a decision.
JD enjoys teaching people how to use ZoomShift to save time spent on scheduling. He's curious, likes learning new things everyday and playing the guitar (although it's a work in progress).