JD Spinoza

JD Spinoza

JD enjoys teaching people how to use ZoomShift to save time spent on scheduling. He's curious, likes learning new things everyday and playing the guitar (although it's a work in progress).

May 13, 2021
Top 11 Construction Management Software in 2023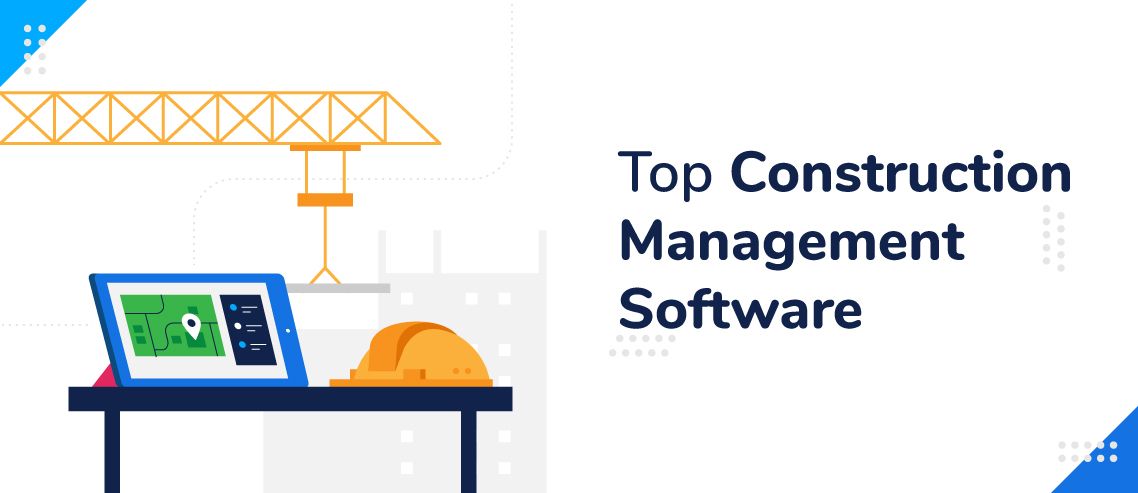 Every industry has been affected by the forward march of technology, and construction is no exception. Over the past few decades, numerous tools have emerged that can help construction professionals make their work more efficient and reduce human error in the process.
In this guide, we're going to cover the best construction management software on the market. We'll cover their main features, as well as how you can use them to get your work done better than ever.
What Is Construction Management Software?
Construction management software is software that is used to make managing construction projects easier and more efficient.
As you may have already guessed, these software solutions mix the features common to general project management tools, like Asana, Trello, etc., with features that are more specific to construction. This means that you can not only track the progress of your construction project, but you can also use the tool to:
Estimate costs (job costing)
Use blueprints to estimate how much material is needed
Provide important documents to accounting
Manage documents
Manage inventory
Schedule jobs
Report project data
Using a construction management software helps keep all team members on the same page because the data is typically synced to the platform's shared database. It's much simpler and less error-prone than using paper and pencil.
Top Construction Management Software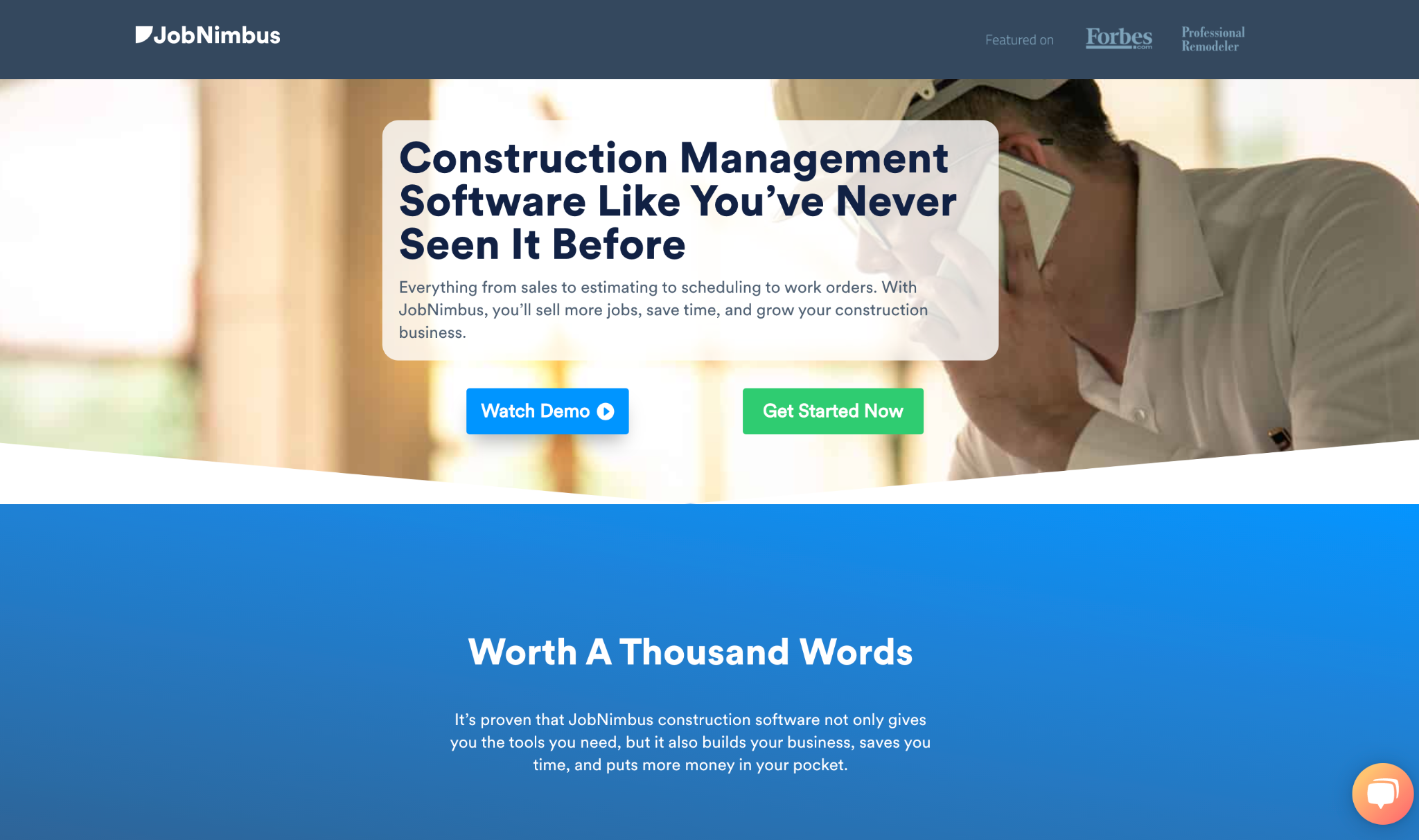 JobNimbus is more than just software, it's a growth accelerator.
With JobNimbus, contracting businesses can be more organized and enhance their operation by tracking sales, jobs, and tasks in one easy-to-use tool.
JobNimbus users also have a membership to the largest ecosystem of the best companies in the industry, like Eagleview and Beacon. With more choices and customization than anyone else, users can become more efficient by quickly accessing all their needs in one place.
With the JobNimbus mobile app, contractors can check their business wherever they are, keeping everyone on the same page with quick and easy access to communication methods.
On average, JobNimbus users experience 43% revenue growth, 96% better communication, and 8 hours a week saved per person, putting more money in their pocket or back into their business.
If you want to see your business grow, JobNimbus is here with customized quotes to help success happen.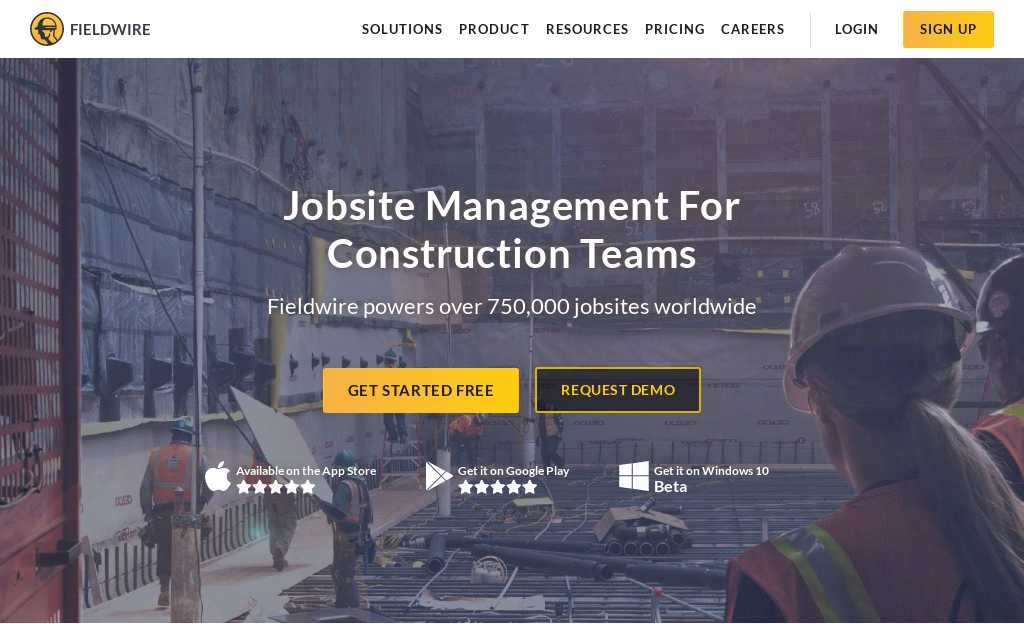 Fieldwire is an end-to-end job site software solution for the construction industry. With its instinctive mobile application, Fieldwire connects the entire project team – from the subcontractor's foremen to the general contractor's project manager – enabling efficient and real-time information sharing. Used on more than 1,000,000 projects worldwide, Fieldwire has saved its users millions of dollars by powering clear and efficient communication between the office and the field.
Fieldwire's core features include:
Plan viewing and versioning with collaborative markups
Issue tracking with photos, annotations, and checklists
Task management and scheduling with dynamic dashboards
Reporting with templates and customizable forms
Best of all, Fieldwire offers transparent pricing for teams and projects of any size, with plans starting from as low as $0!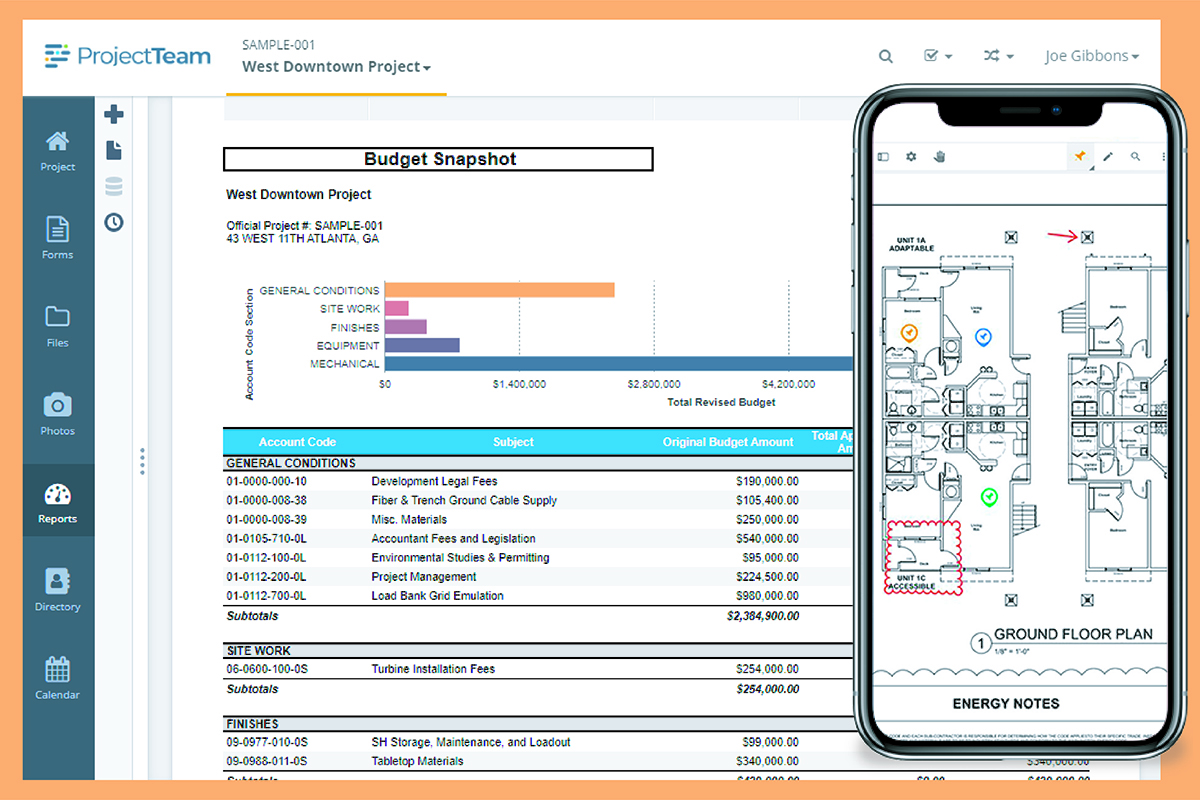 ProjectTeam is a fast, easy-to-use, and highly customizable construction project management solution built for growing teams. The easy-to-use solution allows companies to connect with other project stakeholders and share information such as RFIs, submittals, daily reports, punch lists, contracts, change orders, project files, drawings, photos, and more.
Whether you are in the field or the office, you have full visibility on how your projects are performing through their cloud-based and mobile-friendly solution. ProjectTeam sets itself apart from other construction project management solutions because it allows users to build custom forms and roll everything into robust reports and dashboards.
Priced at just $59/user/month, it's easy to get started.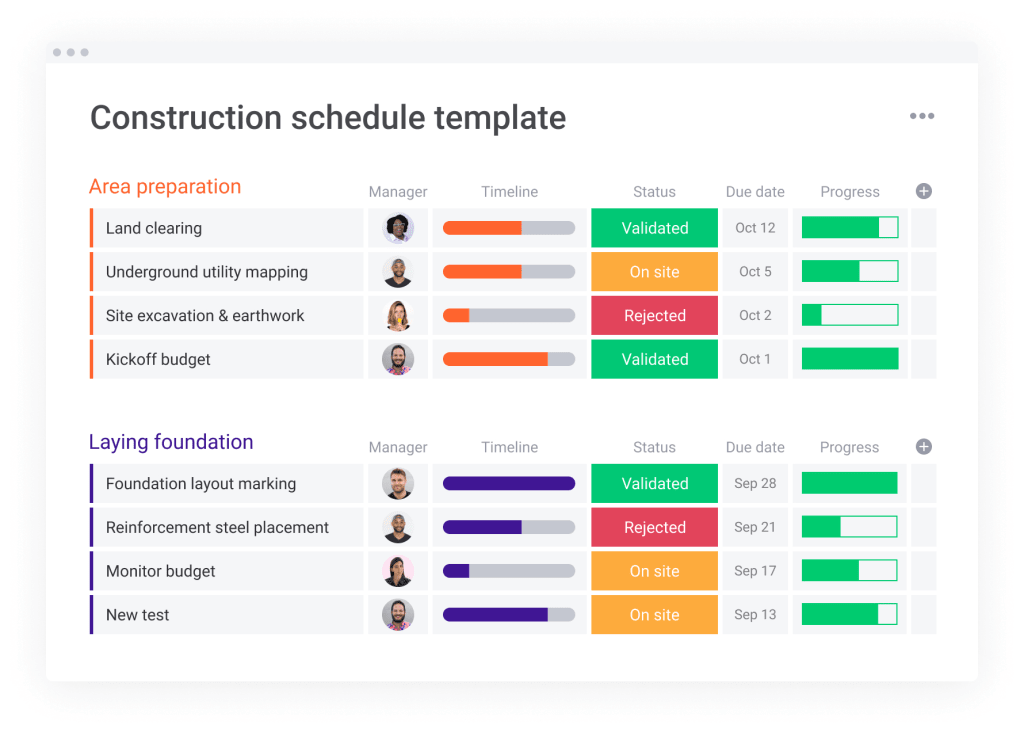 Align your team with one flexible construction software.
monday.com Work OS offers construction teams the desired tools to successfully plan and execute projects from blueprint to completion. Help improve your dynamic workflow with a clear plan, deadline reminders, and most importantly – clear ownership.
Some benefits:
Clear status, deadlines, and ownership
Easy-to-use reporting tools
A scalable software for all project sizes and complexity
With updates straight to your phone and @mentioning your team with the touch of a button, you'll always stay on top of work.
Top features:
High-level boards
Workflow automation
Varying dashboards and data views
Ready-to-use templates
Mobile app supporting teams on-the-go!
Pricing:
Plans range from Basic to Enterprise, starting at $8/seat. Pricing differs based on plan and number of users.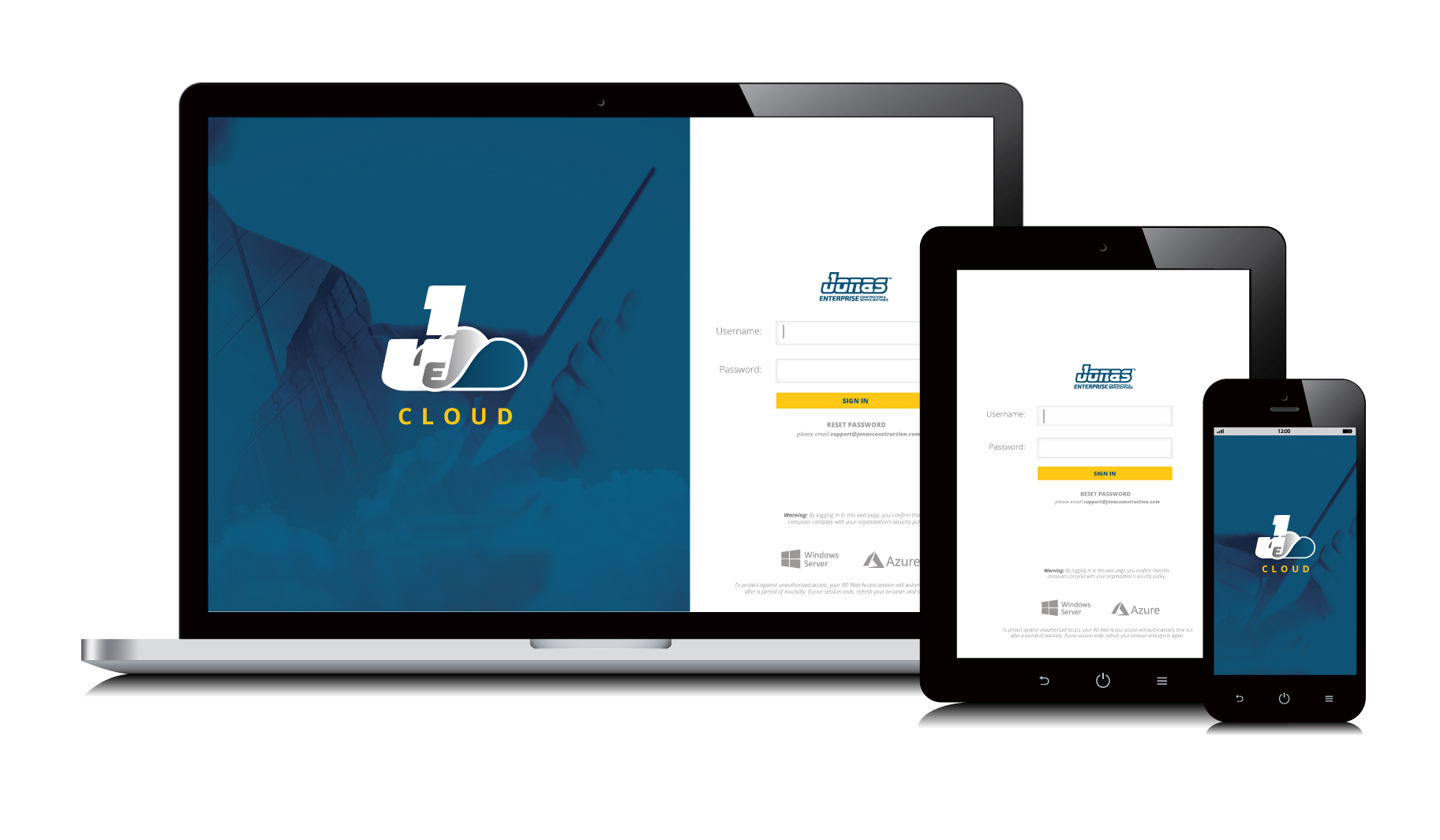 Jonas Enterprise is a top-tier construction and service management software for general contractors, specialty contractors, mechanical, HVAC, electrical, and plumbing businesses.
· Connect your back office with the field to reduce double entry
· Manage resources with time & equipment tracking
· Stay on top of cash flow with work-in-progress reporting
· Manage preventative maintenance contracts with flexible billing options
· …..all from the cloud.
Trusted by leading service and construction businesses, Jonas Enterprise offers a fully integrated solution that covers construction accounting, construction and service management, purchase order and procurement, dispatch scheduler, inventory, equipment management, and more. Thus, enabling businesses to streamline operations to increase growth.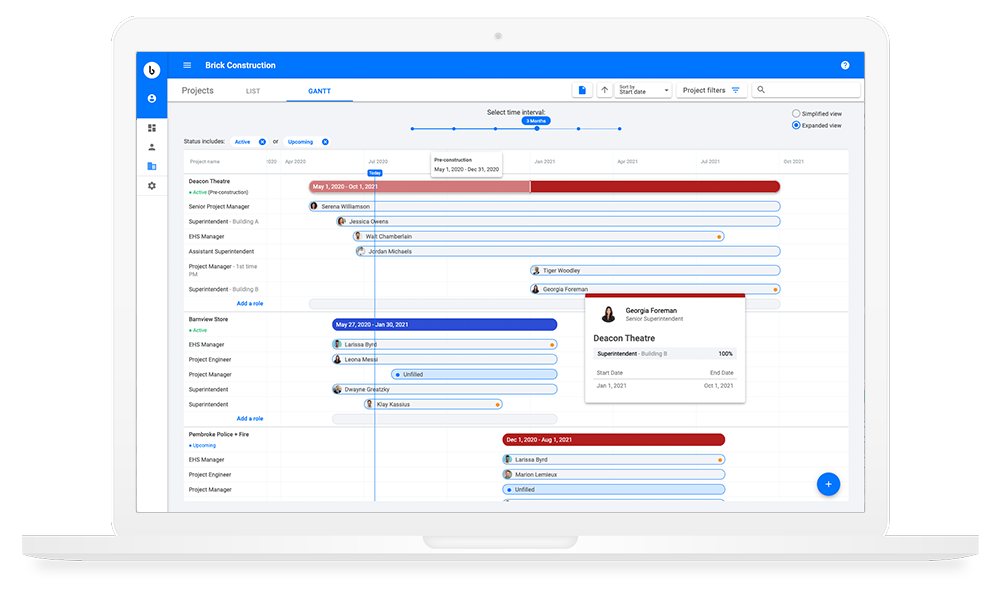 Bridgit Bench is workforce intelligence for the construction industry. Bridgit's mission is simple – to help every contractor leverage their workforce productively. Bridgit Bench eliminates the complexity of managing your project allocations and provides forward-looking insights to drive planning effectiveness and company growth.
Bridgit works with leaders in the construction industry like Skanska, Balfour Beatty, Ryan Companies, among others. Bridgit Bench pricing is based on the number of trackable profiles.
Features of Bridgit Bench include:
People and Project Gantt views
Phase based workforce planning
Forecasting, utilization, and allocation dashboards
Full people and project database

ZoomShift is a work scheduling tool that's designed to make planning shifts and managing your team members easier than ever before. It's built from the ground up to make sure that complex jobs, even those involving multiple work sites, are easy to monitor. This leads to reduced human error and more organized time tracking.
You can use drag-and-drop templates to get a schedule up and running quickly. ZoomShift keeps everything in one place, so team members will always be on the same page. Plus, the tool has built-in messaging capabilities, so you don't even need to leave the app to talk with your team members.
When it comes time to send out checks, ZoomShift's payroll integrations make the process a breeze. You can view summaries of total hours work, overtime, worked, etc., and then export your payroll reports to CSV for safekeeping or external reporting.
BuilderTrend is a complete construction management system that's built to help you get rid of analog spreadsheets and sticky notes in favor of easier-to-use digital technology. The software provides features to help with everything from the pre-sales process to project management, customer management, financials, and beyond.
BuilderTrend is currently used by companies like BrightLeaf, Brown Haven Homes, Michael Lee Homes, NS Builders, Holmes, Risinger Build, and Sneller Custom Homes & Remodeling. Currently, there are more than one million companies using BuilderTrend for their work.
BuilderTrend's features include:
Scheduling
To-do's
Daily logs
Messaging
Plan markup
Invoicing
Payment processing
Bid requests
Estimates and proposals
ProjectSight by Trimble is a construction project management solution built specifically for contractors. It focuses on providing stellar performance in three areas:
Budget and cost management
Document control
Field management
One of the best parts about ProjectSight is that it gives every team member, from superintendents to project managers to operations, etc. a single hub that contains practically all the information they'll need to complete a job. As a result, no one will have to scramble around looking for a lost sheet containing the job schedule. This reduces human error and improves efficiency.
Additionally, ProjectSight has in-depth drawing management features, such as Comparison Mode, which allows users to compare several versions of drawings to see what's changed. This can help provide some much needed perspective on any project.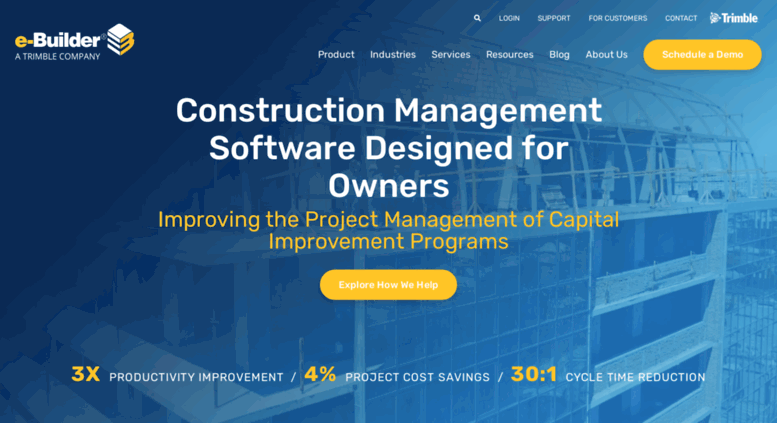 e-Builder Enterprise is another construction management platform designed and developed by Trimble. However, unlike ProjectSight, which is geared towards contractors, e-Builder Enterprise is aimed at owners and those involved with capital improvement projects.
The software advertises a threefold increase in productivity, 4% cost savings, and a 30:1 cycle time reduction. It offers features that help in five areas:
Planning
Design
Procurement
Construction
Operations
e-Builder also connects and integrates with many different other popular systems, like financial software, GIS and mapping tools, and design tools. This connectivity can make it easier to provide shareholders with the information they need.
Examples of organizations that use e-Builder Enterprise include the New Mexico Public School Facilities Authority, Chicago Public Schools, Cumberland Farms, the Obama Foundation, Dartmouth, Cedars-Sinai, and Charlotte Douglas International Airport.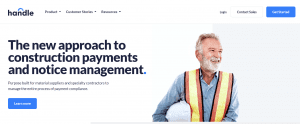 Handle is a lien and notice filing management solution for large contractors and material suppliers in construction. Mechanics liens protect construction businesses from non-payment by providing a legal avenue to recover unpaid invoices on construction jobs. However, companies must file the necessary notices required in the manner and timing required by state-specific laws to ensure valid mechanics liens.
As the number of their projects and clients increases, so does the complexity of ensuring that every project is protected. The loss of lien rights mean loss of revenue–so ensuring that each project is protected is crucial in any construction company's revenue strategy. Timely notice filing also allows companies to stay top of mind of their clients' accounts payable teams, promoting on-time payments.
Handle eliminates the manual work involved throughout the lien rights protection and lien filing process.
Handle's features include:
RFI optimization: Get complete and accurate project information right on the Handle platform
Dynamic deadline management: Each document deadline is tracked, and alerts are automated based on state-specific laws
Enhanced team visibility: Each document processed and filed via Handle has enhanced revision tracking and version control
Notice and lien management: Companies use Handle to file preliminary notices, notices to owner (NTOs), waivers, releases, and mechanics liens
JD enjoys teaching people how to use ZoomShift to save time spent on scheduling. He's curious, likes learning new things everyday and playing the guitar (although it's a work in progress).