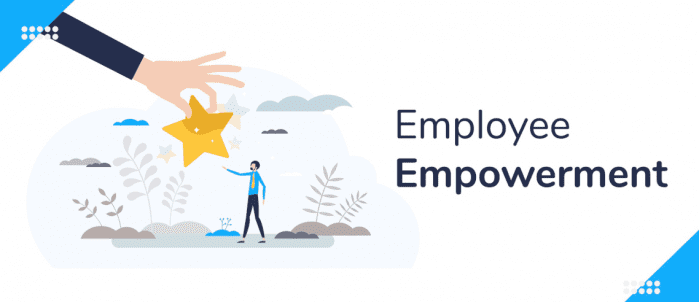 Employees are the backbone of any company by collectively keeping the business moving forward. As such, it's important to not only keep employees happy, but also engaged in the workplace to ensure a positive working environment.
However, the fast-paced nature of modern commerce also creates internal stress for managers and other employees. In fact, 75% of employees think that workers today have more on-the-job stress than the previous generation. While 80% of workers feel stress on the job. Even more concerning, 10% are worried that an individual at work could become violent.
That's why companies must make a decisive effort to maintain team cohesiveness via employee empowerment.
Employee empowerment is a strategic way to grow your business. By empowering employees instead of micromanaging, you can achieve greater productivity and employee happiness. As a result, you can boost your bottom line significantly.
What is Employee Empowerment
Employee empowerment involves enabling your employees to make more decisions and take action within your business. It is a concept that acknowledges the importance of workplace autonomy, happiness, and trust.
Because of this, employee empowerment is the opposite of micromanaging. In the new model of empowerment in the workplace, managers only need to approve high-level decisions. Team leaders encourage their employees to perform independently of supervision while bringing value to the organization via their unique talents.
What Are the Advantages of Employee Empowerment?
Employee empowerment provides a range of benefits to the companies that implement it, including:
Avoid Management Bottlenecks — When all decisions must pass through a small handful of managers, they pile up. Remove bottlenecks by allowing more employees to make decisions.
Work Faster — Empowered employees don't have as many roadblocks to accomplishing a task. Thus, they can produce greater results in the same amount of time.
Increase Transparency — Smart companies today embrace authenticity and transparency. Providing greater knowledge and resources to the whole team promotes team unity.
Allow for Better Customer Outcomes — When companies embrace employee empowerment, it filters down to the customer. They receive better products, information, and customer service.
Promote Employee Happiness — Employee empowerment is important for the happiness of frontline employees. But it is even more crucial for middle managers — who feel less productive and more stressed than their peers.
Employee Empowerment Best Practices For Your Workplace
Now that we've established what employee empowerment is and its importance, it's time to learn how to empower employees. Companies should adhere to the following employee empowerment best practices to experience the best results in their workplace.
1. Have regular meetings
With employee empowerment, there is a lesser need for micromanagement. But that doesn't mean that management fully ceases. Consistent meetings are a core pillar of ensuring your employees are operating effectively.
Every level of your team needs meetings in order to clear up confusion, present new initiatives, and give a platform for questions. This is true from the C-suite to part-time contractors.
Conduct 1-on-1 meetings consistently. Ideally, this would be monthly or quarterly, instead of yearly. Aim to review KPI progress, ideas for improvement, and processes that should remain in place. This keeps management in the loop on project progress while allowing employees to seek answers to their questions.
2. Review thresholds
As we mentioned, one of the primary benefits of employee empowerment is its ability to remove bottlenecks. However, in order to trust your employees to make decisions while focusing on other priorities, you must have a system in place. Otherwise, autonomy can get out of hand and create larger problems.
One system that should always be in place is a review threshold. This determines price points or other metrics, up to which point the employee can make their own decision without approval.
For instance, customer service managers spend a large part of their day approving certain actions to resolve a customer complaint. Thresholds can remove this manager as a bottleneck.
You can determine that any action or refund that takes less than $100 to resolve is within the customer service agent's control. They are empowered to spend up to that amount — but not more — to fix any issue. After that point, it must be approved by management.
3. Increase employee feedback
Feedback is a must when looking to uphold employee empowerment. It is also a major driver for employee retention.
A recent study revealed that 41% of participants have left a job because they felt that their feedback fell on deaf ears. Additionally, 42% of participants reported giving feedback that would improve employee morale. This indicates that employees want to improve their working environment, which in turn will have a positive impact on the company and the business it conducts.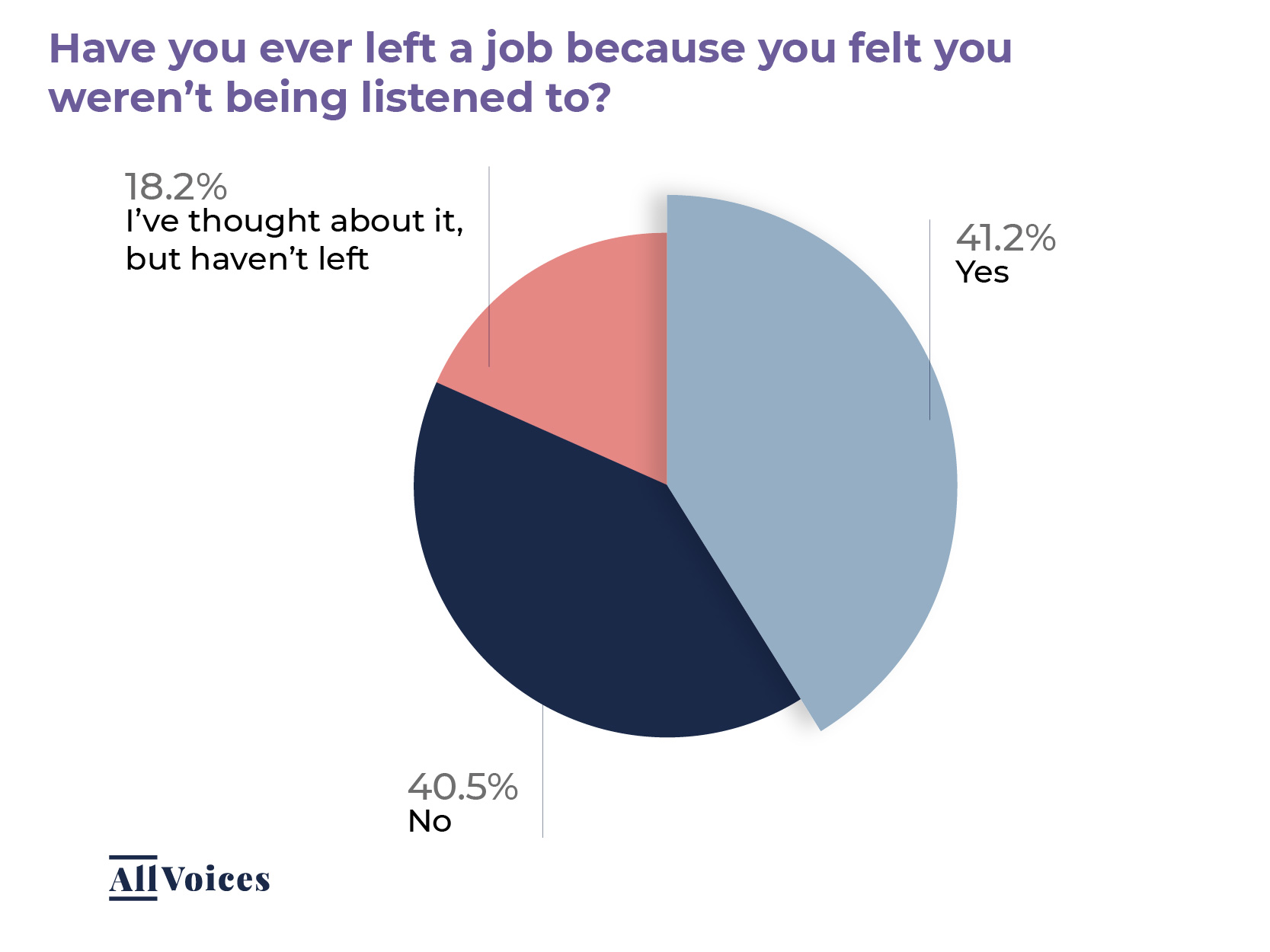 Source: AllVoices
Your team can also share recommendations for improvement with management. For example, you might find that certain employees don't feel empowered because they don't have the authority to create customer outcomes that their role requires.
Problems with your employee empowerment initiatives will only become clear if the feedback loop is a two-way conversation. The best people to survey are your employees who have been given the autonomy to realize what business systems require clarification or modification.
4. Clear performance expectations
What gets measured gets managed. Therefore, you can't expect employees to further your organizational goals if they were never established in the first place.
That's why establishing performance expectations in a clear way is so important. Managers need guidelines and metrics to evaluate performance, instead of leaving it to chance. Having these metrics in place also encourages performance-based focus during work hours.
Performance expectations you might consider documenting are:
Time — Some employees may have roles that are focused on time instead of task completion. For instance, an inbound phone rep may not have KPIs to meet other than maintaining professionalism and being available during set hours.
Issue Resolution — Customer service agents can't make every disgruntled customer happy. However, there should be metrics to aim for such as time-to-resolution and number of tickets successfully resolved.
Leads Generated — Marketing is part art and part science. Yet objective metrics like the number of leads generated hold this department accountable.
New Sales — Even if your sales reps are mostly on salary, there should be revenue goals to achieve each month. Otherwise, there is no incentive to do the hard work of following up and closing deals.
By defining these performance expectations in advance, you hold your team accountable. This also allows middle management to focus on higher-level strategic planning in between performance reviews.
5. Reward your employees proactivity
Rewarding proactivity happens in both objective and subjective ways. Firstly, it must start from the top in terms of the company culture. Senior leadership must consistently demonstrate that proactivity will be rewarded instead of punished.
When you empower employees to be proactive in this way, they feel more loyalty and responsibility to solve problems in the business. On the other hand, if proactivity and creativity are punished in the workplace, you can expect lower levels of engagement or excitement.
Some ways to encourage proactivity are:
Innovation Pool — Create a pool with prizes for proactive efforts. For example, you can reward engineers for fixing a software bug, and marketers for lowering your cost-per-lead.
Prestige — Name your most proactive employee of the month and make a fun announcement.
Positive Encouragement — Criticize the results, not the person or idea. Allow Employees to bring new ideas to the table without having them shot down unfairly.
These approaches merely scratch the surface. However, your ability to promote a proactive team ultimately comes down to understanding what motivates and drives them.
Time to empower the employees
Empowering employees is more important than ever. With the speed of business continuing to increase, companies must leverage any strategy available to gain an edge over the competition.
By freeing up your team to make more decisions, you benefit in a number of ways: speed, happiness, productivity, insights, and ultimately growth. So ensure you are prioritizing empowerment in the workplace now and into the future.