JD Spinoza

JD Spinoza

JD enjoys teaching people how to use ZoomShift to save time spent on scheduling. He's curious, likes learning new things everyday and playing the guitar (although it's a work in progress).

Dec 02, 2020
How to Write a Professional Job Description (with Free Template)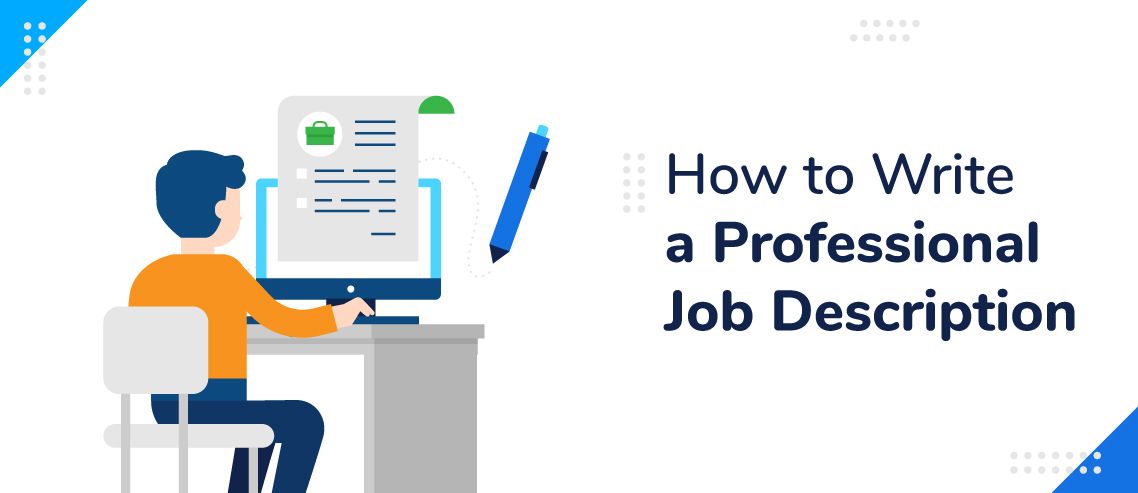 Job descriptions get a bad rep these days.
They feel unnecessarily long, and they're often full of jargon and buzzwords few of us understand. To put it plainly, they feel like a formality we could all do without.
There's some truth to those feelings, but ultimately it's a matter of perspective.
Job descriptions can, and should, feel like your North Star. It's a single source of truth in a world full of grey areas and ambiguity that tells you exactly what's important and what's not.
As anyone with real work experience will tell you, the day-to-day is full of distractions and conflicting priorities. It's often challenging to discern what's essential and what's not. Or, more importantly, what's your responsibility and what's extra.
As you embark on a journey to write your next job description, consider the long-term implications of what you write. Who will read it? How might it change or evolve over the years?
Let's jump into a quick definition before we get into the meat of writing a job description:
What Is a Job Description?
A job description is a medium by which hiring managers communicate their needs to both external and internal candidates. For the employer, the job description lays out essential information about the role, so gauging the candidate's experience, skills, and readiness is easier to accomplish.
For the employee, the job description describes the responsibilities, tasks, and related duties of a position. It will often include additional information such as education, qualifications, and skills required for the role. You can also expect important details like working conditions, compensation offering, physical demands, and tools or equipment required.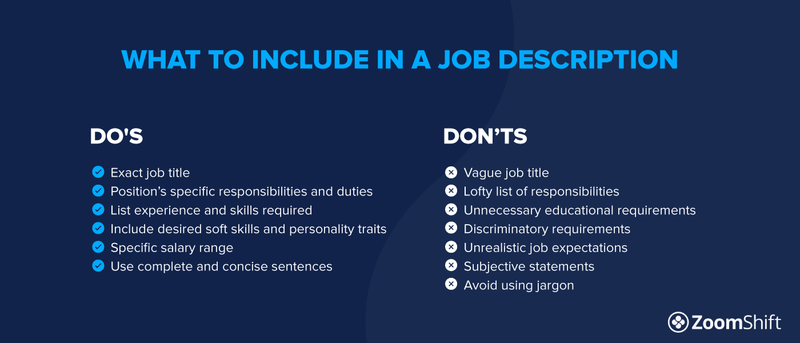 How to Write a Job Description
Thankfully, there's no "right" or "wrong" way to write a job description. It can be as short or as long as you like. As descriptive or vague as you want. It can also have hidden instructions to gauge people's attention to detail.
It's whatever you want it to be.
Here are some ideas to get you started:
1. Jot Down the Position's Responsibilities and Duties
Some critical questions to ask yourself as you write this are:
What does their day-to-day look like?
What tasks do you expect they own and complete in a timely manner?
Who else do they interact with day-to-day and how are they accountable to those people?
If they were to provide reports or updates to someone what metrics are included?
Be as specific as possible here to make their day-to-day and your performance evaluations easier.
2. List Experience and Skills Required
Now that you've specified responsibilities and daily activities it is time to create your wishlist of skills, experience, and education.
Who is your ideal candidate? I mean perfect in every way.
Take another stab at your wishlist and order it from most important to least important. Finally, add in what's required and what's optional.
3. Include Desired Soft Skills and Personality Traits
Education and experience are great, but will they fit your culture? And do they have the soft skills to pull off their job function? Here are a few questions to consider when dreaming up the right candidate:
Do you need a self-starter or someone who can simply follow directions?
Will they work independently or as part of a team?
How flexible is the role? Do they follow checklists or is a lot of it creativity?
Describe the current team's personality or the company's culture
Keep going! Jot down what you want and what you don't want. It'll all come in handy later.
4. Determine Compensation
Now dig deep and consider how much you'd have to pay that ideal person and how likely it is to find that person. Decide if it's an entry-level position or a higher tier that requires more experience and a higher starting salary.
A fair salary is a must, but how else can you entice a candidate to apply?
Consider adding monetary and non-monetary benefits besides salary. Sometimes people will take a lower paying role if the health, dental, and retirement benefits are excellent. Or if they know there's a lot of opportunity for growth at the company.
Determine ahead of time if there's a salary cap or a merit increase schedule and what you're comfortable paying year over year.
5. Write the Job Description
You now have everything you need to write your job description.
Start by writing the job title and a brief introduction to the company. Explain what the company does, how many employees you have, and your overall mission.
Next up, add position details, including job requirements and day-to-day responsibilities. Ensure that they understand both the opportunities and the challenges of the role. The more transparent the better so nobody wastes their time.
Add in miscellaneous details like work hours, location, compensation, and start details.
Finally, list out the attributes that the ideal candidate would possess, ranging from education to prior work experience and soft skills. Ensure that they know what's required and what's optional.
Job Description Essentials
As we wrap up, we'll leave you with some best practices for writing an effective job description:
Transparency is key – Glassdoor and job review sites are widely used so it's better to disclose any and all rough aspects of the job or the company upfront.
Limit industry jargon – It will only discourage candidates from applying.
Help them do research – Link your website, social media pages, and relevant press releases so they can easily do more research on your company and its values.
Talk about your customers – Give them industry insights so they have a better understanding of what they're signing up for.
The last and best piece of advice on writing job descriptions is don't start from scratch. There are countless jobs out there just like the one you're posting. Use them as inspiration and adapt them to your needs.
Once hiring is complete consider using ZoomShift for your employee scheduling needs. Check out this quick video to see how you can level up your scheduling.
JD enjoys teaching people how to use ZoomShift to save time spent on scheduling. He's curious, likes learning new things everyday and playing the guitar (although it's a work in progress).