JD Spinoza

JD Spinoza

JD enjoys teaching people how to use ZoomShift to save time spent on scheduling. He's curious, likes learning new things everyday and playing the guitar (although it's a work in progress).

Nov 04, 2022
9 People Management Tips for Successful Managers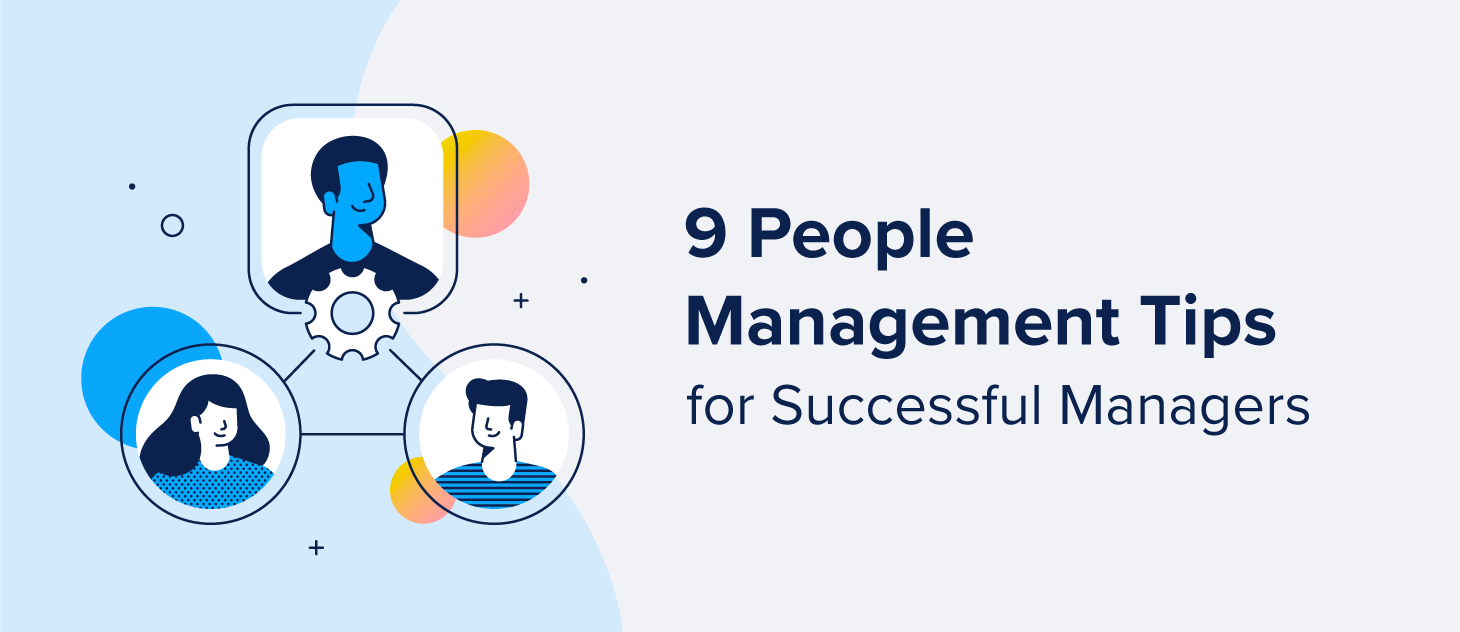 We've all had those experiences: a good manager that turned even the most boring job into something to be excited about, and a bad manager that turned a dream job into a masterclass on drafting a two-week notice.
The difference between the two isn't that vast — the good managers of the world simply learned the proper people management tips.
For a manager, learning effective people management is crucial to get the most efficient, skilled, and motivated versions of their employees as possible. Nowadays, there are all-in-one employee management tools that make a manager's job easier, but learning the fundamental knowledge of proper people management is crucial. 
Below, we will highlight nine people management tips to help you become a successful manager. Read on to learn how to foster an engaged, effective and motivated team.
What is people management?
People management is the process of optimizing employees' talent, motivation, and productivity. This is used throughout multiple phases of the employee lifecycle from recruiting to training to engaging and motivating. 
Through people management, effective managers can get a sense of each individual employee — their current skills, areas of improvement, and motivations — to develop an effective workforce that meshes well and consistently produces quality outcomes. Within people management, there are four main management styles:
Coaching:

A coaching management style gives clear direction to employees with an emphasis on employee growth. They want employees to learn processes and company practices, and will accept failed tasks if that means the employee learned from the situation.

Delegative:

Delegative management is the most hands-off approach, and it is good for experienced employees. Delegative managers trust their employees to get work done up to expectations with little oversight, developing skills and self-sufficiency within their employees in the process.

Democratic:

This style of management gives employees a voice in operations. While the manager ultimately makes decisions for how to proceed with a task, they value what employees have to say about the situation. This style can improve employee decision-making and development.

Directive:

Directive management involves telling employees exactly how they should do something. Similar to "micro-managing" this management style is best for short-term cases such as with new employees, or employees that are being taught a new skill in the operation.
It's important to note that there isn't a one-size-fits-all approach to management advice. There are many ways to improve team management skills, and each employee could respond positively (or negatively) to a different management style. It's up to you, the manager, to decide which style an employee would be best suited for.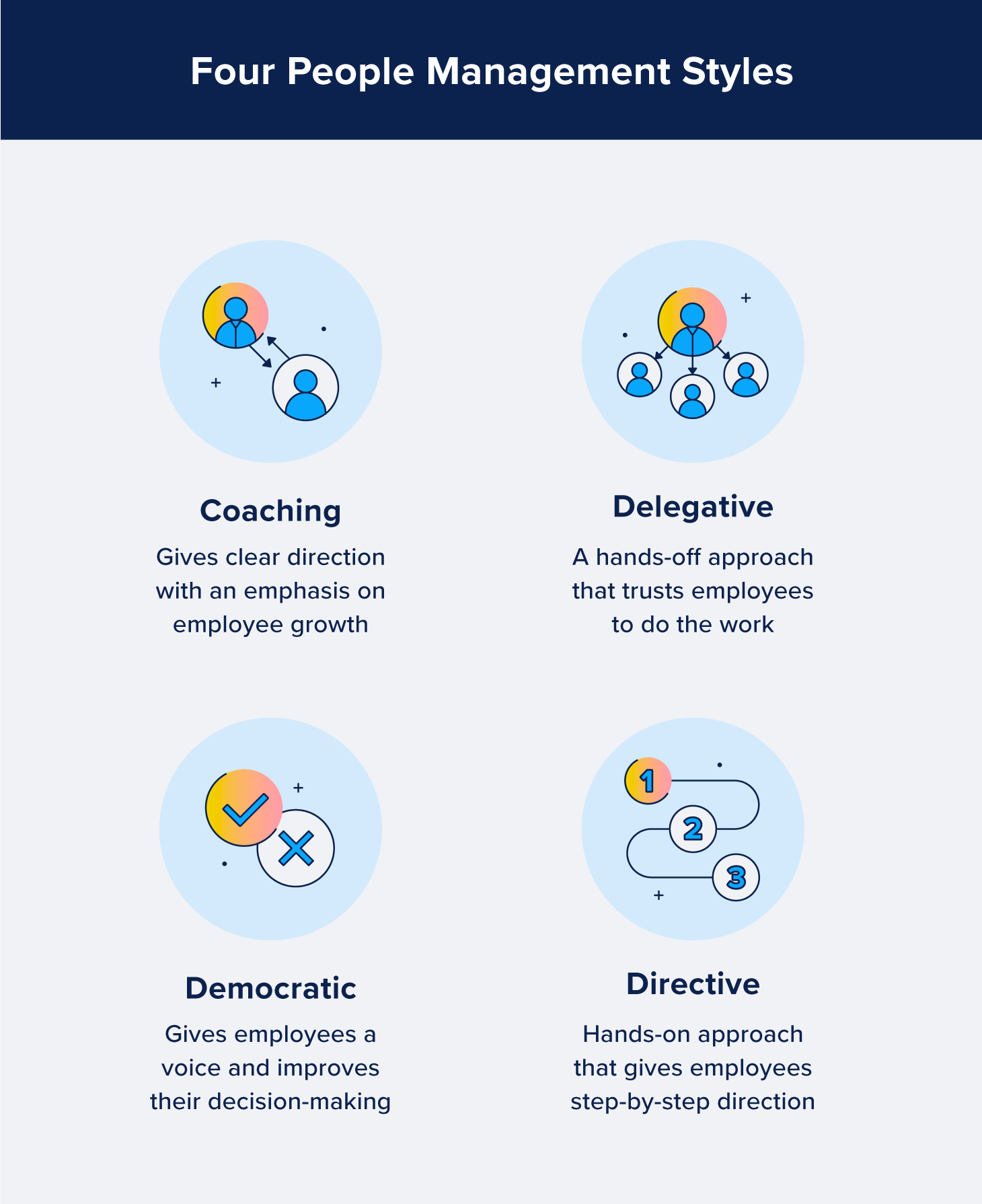 9 People management tips for successful managers
Now, we will dive into our nine people management tips to manage your team in the most effective way possible.
1. Use tools when it makes sense
Don't make your day-to-day tasks harder than they need to be. Investing in workforce management software can take a lot of guesswork and stress out of a manager's responsibilities.
A good workforce management software tool can assist managers in easily managing schedules, confirming payroll, balancing PTO and time-off requests, and improving staff accountability across the board. Streamlining these tasks gives managers more time to effectively manage their team, so they can focus on the development and engagement of their employees.
Management tip: Try out an all-in-one workforce management software like ZoomShift today.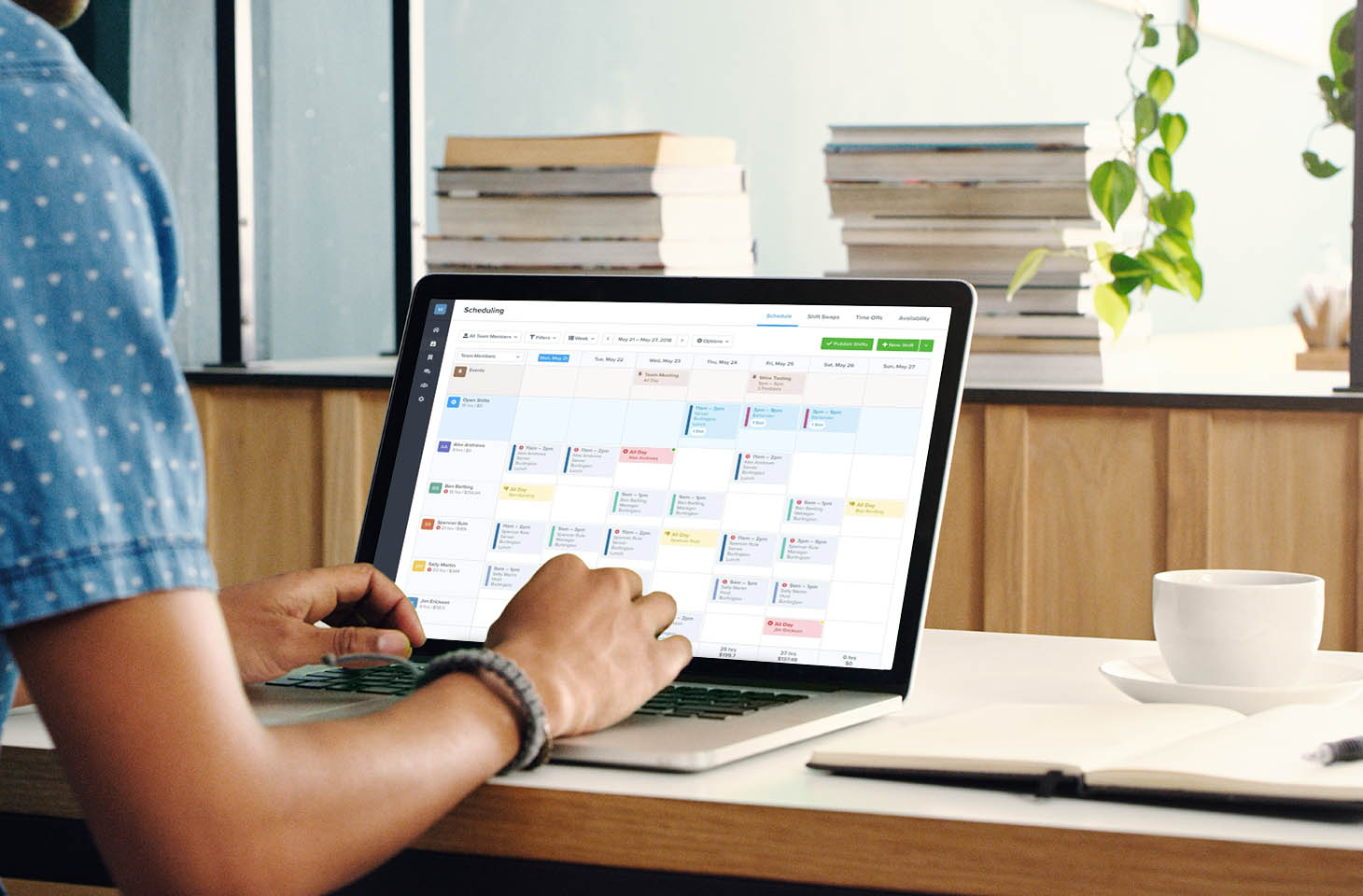 2. Make the right hires
A good employee starts with a good hire, and that's why people management starts with the interview process.
There's no "magic questionnaire" that guarantees a good employee, but having a diverse mix of interview questions during the hiring process can give a manager a sense of how the candidate would perform within the workplace. Use a wide range of hiring questions to get a better sense of the candidate's experience, their motivations, and abilities that directly relate to the open position. Also, you might consider having a candidate perform a brief skills test to get an even better understanding of their capabilities before a hire is made. 
The hiring process doesn't show up in many managerial tips, but selecting quality candidates gives managers a leg up in making sure they reach their full potential with the company. 
Management tip: Hire diverse and quality candidates.
3. Define clear expectations
Defining clear expectations is one of the most important aspects of managing staff, as this makes sure everyone is on the same page in regards to performance and growth. This allows employees to have a checklist or guide which they can reference throughout their job position.
A great way of establishing this is by providing each employee with either a digital or physical document that outlines their job responsibilities, as well as setting benchmarks for future goals. This gives employees a roadmap from which they can judge their performance and independently work on new skills.
Of course, regular meetings go hand-in-hand with defining these expectations, so both the manager and employee can review job performance and discuss any potential areas of improvement.
Management tip: Give employees a career "roadmap" to track their progress and goals.
4. Understand every employee's goals, purposes, and motivations
When a manager fully understands their employees, they know how exactly to treat them and motivate them for optimum performance.
Some employees appreciate a more structured and guided workplace, while others may prefer a loose, self-accountability environment. Some employees are less experienced and need more guidance, while others have the necessary skills to be more autonomous. Some employees are motivated by the opportunity for more money, while others are motivated by the prospect of time off or leaving work early (once they have completed their responsibilities, of course).
Once a manager understands every worker fully, they can individually modify management styles to get the best version of every employee and manage their people effectively.
Management tip: Understanding your employees will help you adjust individual management styles accordingly.
5. Give consistent feedback — both positive and negative
For your employees to grow in their positions, they need to know what they are doing right, and what they need improvement on. Constant and open communication is a key leadership trait, and can directly influence the performance of your staff. 
Positive feedback keeps employees motivated while also letting them know that they are on the right track. Giving this feedback in a public space such as in a meeting or company email is a great way to reinforce positive behaviors while also improving morale.
Negative feedback is a chance to tweak employee performance to a more desirable outcome before it becomes a bigger problem. When giving negative feedback, it's important to do this in a private one-on-one setting to avoid any feelings of public embarrassment or resentment. 
Whether positive or negative, it's important to consistently check in with your employees. This is a good way to keep them on track and confident in their abilities, and a chance for you to improve your management skills in the process. 
Management tip: Giving proper feedback boosts morale when positive, and effectively tweaks performance when negative.
6. Provide training and opportunity for skill improvement
Providing training and opportunity for skill improvement in your employees is a practice that makes a difference in two key areas.
The first, of course, is that providing training results in more skilled employees. Providing company-sponsored courses, books, or meetings centered around skill-building allows workers to develop their competencies, and become more effective and productive members of your team. 
In addition, providing training to employees results in a morale boost for your team. Encouraging growth shows workers that you are invested in their future, which in turn makes them feel supported and valued. 
Management tip: Company-sponsored training results in more skilled and appreciative employees.
7. Foster innovation and creativity
Fostering innovation and creativity in your employees creates an environment in which they feel empowered, valued, and safe to fail. As long as the manager provides positive and constructive feedback to creative pursuits, establishing an innovative environment leads to growth both in operations and employee development.
A couple of ways to foster a creative environment in the workplace include:
Alternative brainstorming:

Turn traditional brainstorming sessions into something that can accommodate all. Ask each employee to submit suggestions to a shared document in an effort to include introverts, or engage in brainstorming sessions in a room with access to whiteboards and markers. Any way you can switch up idea generation is good for creativity. 

Remove "but":

During improv comedy, a golden rule is to never shoot down an idea another comedian suggests in the moment. The goal is to build on that idea and take it somewhere new. Similarly, in a workplace, replace "that is a good idea,

but…

" with "that is a good idea,

and…

.". This simple change will help everyone feel like their opinions are valued because their ideas are built upon, not torn down.

Gather diverse employees:

People come in all shapes and sizes with different upbringings, interests, and experiences. Hiring a diverse workforce allows managers to foster and promote those different experiences in brainstorming opportunities. Everyone has a different voice, and empowering a team of diverse voices can bring a wealth of different perspectives.

Support failure:

Most important of all, be sure that your workplace is supportive of failures and ideas that may not be the best fit. If an employee gives a suggestion and gets shot down, they will be hesitant to do so again in the future. Being supportive of every idea fosters a comfortable and creative environment.
Management tip: There are no rules to the creative process — use what works for your team.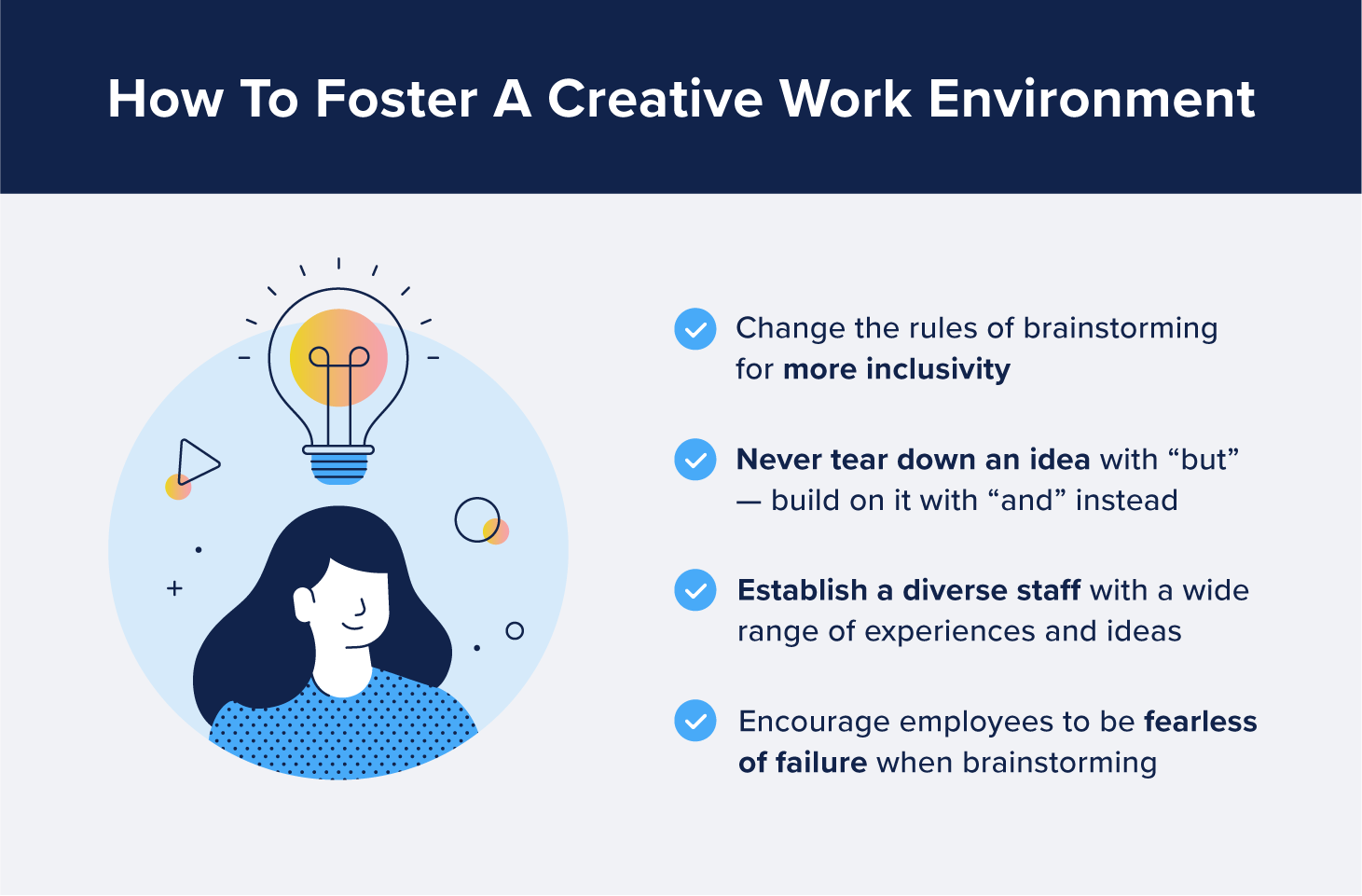 8. Regularly check in with employees
Regularly checking in with employees is an important aspect of people management that gives managers an idea of their employee's current headspace. 
As a manager, ideally, you will have already followed step four on our list and had a conversation with each employee to find their goals and motivations. However, people's motivations and life situations can change by the day, so having consistent conversations can help to get a deeper understanding of your staff.
During these discussions, it's a great opportunity to talk about recent job performance and areas of improvement that may be needed. Employees will appreciate the attentiveness and care they are receiving as a member of your staff. 
Management tip: Have frequent discussions with employees to understand their motivations and life situations in real time.
9. Celebrate the wins
Finally, it is important to celebrate the wins with your employees to acknowledge the hard work they have done, and the impact they have made on the company.
Publicly acknowledge individual wins in meetings or company emails to show your appreciation, or hold company events when larger group milestones are achieved. The public celebration of employee wins is a great way to promote engagement, and make employees feel as if they are valued members of the business.
Management tip: Publicly recognizing employee achievements is an easy and effective way to boost morale.
The difference between a good manager and a bad manager comes down to how they treat employees. Workers want to feel valued, and there are a number of people management tips that can drastically improve employee morale and productivity.
That being said, don't make it harder for yourself than it has to be. Managers have ever-changing day-to-day responsibilities — make your life easier with an all-in-one employee management tool like we offer at ZoomShift so you can focus on the success and growth of your staff.
JD enjoys teaching people how to use ZoomShift to save time spent on scheduling. He's curious, likes learning new things everyday and playing the guitar (although it's a work in progress).