JD Spinoza

JD Spinoza

JD enjoys teaching people how to use ZoomShift to save time spent on scheduling. He's curious, likes learning new things everyday and playing the guitar (although it's a work in progress).

Nov 29, 2020
How To Write An Effective Job Rejection Letter (with Free Template)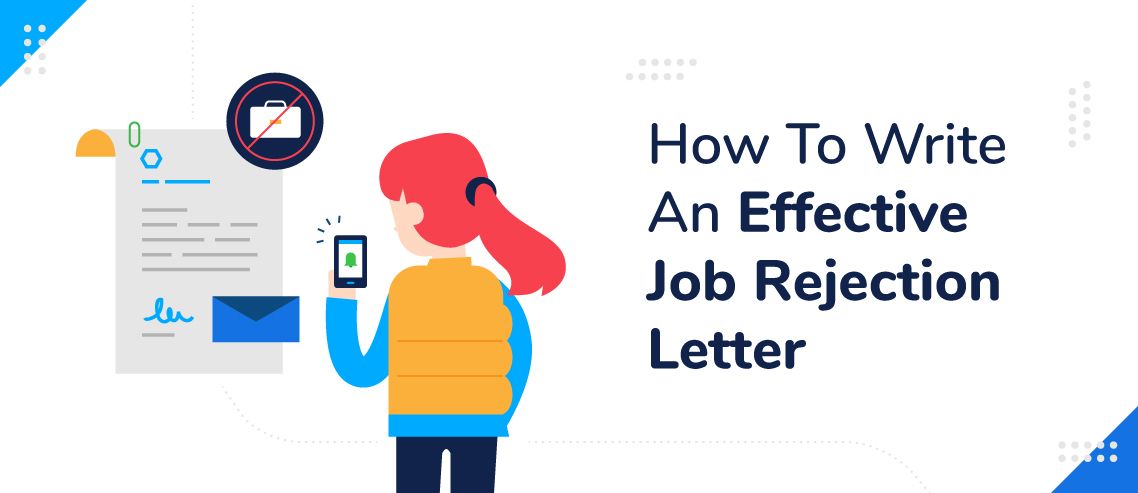 Job hunting is far from easy these days.
For starters, many companies hire internally, which means you'll never hear about some of the best open roles on the market. It's also a highly competitive market where job postings will sometimes see hundreds of applications.
Naturally, more applications mean more rejection letters.
Or that's the idea anyway. Many companies don't bother to inform applicants that the position is no longer available. It's hard enough not getting a role but left wondering is yet another setback job hunters have come to expect.
It doesn't have to be that way. In fact, a rejection letter can enhance your brand and even inspire job seekers. One study surveyed rejection letter recipients and found that a customized, timely, and informal notification is not only agreeable and fair but encourages the applicant to apply again.
In effect, how you treat those you dismiss matters. It strengthens your brand image and creates goodwill that inspires a candidate to try again in the future since they felt a sense of value and respect.
So, how do you write an effective rejection letter? Let's take a look:
What Is a Rejection Letter?
A rejection letter is a courtesy letter informing an applicant they were not chosen to fill an open position. Typically they're generic in nature and customized only with the applicant's name and the position title.
Sometimes they'll include a few sentences explaining the circumstances or reasoning behind the decision and occasionally will offer advice to the applicant.
How to Write a Rejection Letter
The perception of writing a rejection letter is that they're difficult because you're letting someone down. In reality, you should feel good about choosing the best candidate for your role and for offering practical advice to the rest of the candidates so they can do better in the future.
Here are some key steps to writing an effective rejection letter:
1. It All Starts With the Interview
Asking key questions will make it easier to qualify applicants and offer advice. There's a good chance that you're interviewing several candidates, which makes taking notes during each interview an essential habit.
You can transcribe the entire thing if it helps your decision making process, or simply jot down bullet points about what you liked and didn't like. These notes come in handy when offering up personal advice later in the letter.
2. Write Your Greeting
Express gratitude for their interest in your company and for taking the time to interview. It's a small detail, but sometimes a little genuine appreciation goes a long way.
3. Share Your Decision
We went with another candidate and here's why we chose them. It doesn't need to be much more complicated than that, and it's best to get it out of the way in the first couple of sentences.
4. Offer Advice
Everything up to this point is a formality. The advice you offer is where you set yourself and your company apart. One of the best ways to offer advice is in the form of a criticism sandwich, which simply means leading and ending with praise.
In action, you'd tell them up front all the things they did right in the interview. If they had great answers, thoughtful-questions, or radiating positivity, tell them to keep doing that.
After you've alleviated some tension with praise, you can more easily give them critical feedback. Provide some opportunities for improvement for next time and do so with tact. Sprinkle in some generic interview advice and feedback tailored to them.
5. Attempt to Inspire
Rejections are never easy, so find a way to soften the blow. Encourage them to apply again and reiterate one or two of the things that helped them stand out from the other applicants.
If it's relevant, tell them a story of other candidates who applied multiple times before getting a role with the company. If they were a really strong candidate, consider telling them about upcoming needs and tell them you'll be in touch.
6. Sign-off
Show gratitude once more and offer best wishes on their job search. Again, a little kindness and compassion will make a difference.

Rejection Letter Essentials
The details truly matter, and here are a few more to really dial in the proper tone and impression your rejection letter provides:
Timing is key. Don't send out rejection letters until the candidate chosen has accepted your offer. Ideally, wait until they've started to cover your bases. Plus, it's helpful to the applicant if they know they should continue their job search.
Authenticity is a requirement. An insincere rejection letter is sometimes worse than none at all. Ensure they walk away knowing there are no hard feelings, and hopefully, they'll maintain a positive view of you and your company.
Personal advice makes a big difference. Generic advice is commonplace. Strive to leave an impact on the candidate. They'll not only learn and grow from your shared experience but often it will inspire them to apply again or refer friends and family.
Rejection letters are uncomfortable, but done correctly can spark motivation and be the best feedback a candidate gets all week. A little empathy, compassion, and practical advice can leave a lasting impact. One they'll hopefully carry with them as they seek another role or gain the courage to apply with your company again.
JD enjoys teaching people how to use ZoomShift to save time spent on scheduling. He's curious, likes learning new things everyday and playing the guitar (although it's a work in progress).