JD Spinoza

JD Spinoza

JD enjoys teaching people how to use ZoomShift to save time spent on scheduling. He's curious, likes learning new things everyday and playing the guitar (although it's a work in progress).

Dec 03, 2020
How to Write an Employee Application Form (with Free Template)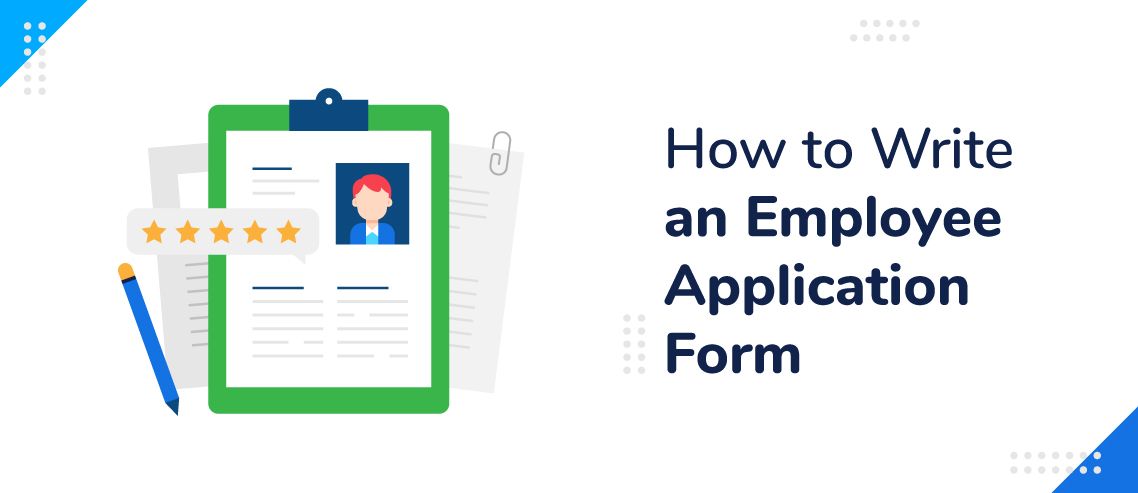 Hiring managers have a tough job.
They have to find qualified applicants, entice them enough to formally apply, weed through stacks upon stacks of employee application forms, hold interviews, make offers, send rejection letters, and often aid in the onboarding process.
That's a lot.
Naturally, you're looking for a few ways to streamline this arduous process, and thankfully you've come to the right place. If you're looking to brush up your employee application form, start a new one from scratch, or borrow our template, then we've got you covered.
What Is an Employee Application Form?
An employee application form is a standard form used to gather personal and professional information about a job applicant for screening and hiring purposes. You may have also heard it called a job application form or an application for employment form.
People often wonder why companies still bother with employee application forms since everyone has a resume these days. While most people have resumes, they usually have drastically different designs, fonts, colors, and structures.
Having a standard employee application form that all candidates fill out makes it easier to quickly compare all applicants at once. It's advisable to have them include a copy of their custom resume since that likely has additional information you didn't request on the standard employee application form and will make it easier to further narrow down candidates later in the hiring process.
How to Write an Employee Application Form
The best employee application forms keep it simple and cover the essentials. These days, everyone has a resume and understands the importance of a cover letter, so you can leave out any questions about work history, education, and skills since they'll likely cover those elsewhere.
While writing an employee application form isn't exactly rocket science, there are some staples you'll want to always include:
1. Applicant Information
At a minimum, you should know their name and how to reach them. Usually, a cell phone number and email are all you need, but it might be nice-to-have their address and a secondary phone number.
2. Eligibility
There's no reason to keep reading if they're automatically disqualified, so why not start with the hard-hitting questions? Ensure they're legally allowed to work in the United States and that they're old enough. It's also nice to know if they've been committed of a crime and the circumstances surrounding the incident.
3. Availability
Equally important: do their work preferences align with your needs? If they need full-time work and you're only offering part-time, then you should know that upfront. Or perhaps they need part-time work but their hours of availability don't match yours. Again, the more detail, the better so you can sort through applications at a reasonable pace.
4. Signature Line & Date
Signature lines are a formality that helps ensure the applicant's provided information is accurate. While they don't completely rule out falsehoods, it will dissuade certain applicants from being dishonest or unethically inflating their experience, education, or eligibility. To simplify the process, you can also encourage your employees to use an easy online signature tool.
Employee Application Form Essentials
Beyond the staple items, there are a few best practices to follow to cover all your bases with an employee application form:
Include physical requirements and disclose any potential dangers of the job on the application. Although your job posting may indicate such details, it's good to get it in writing that they acknowledge and accept the risks or responsibilities.
Consider consulting with your attorney before rolling out a new employee application form. There may be questions you're legally not allowed to ask from a state or federal level.
Provide follow-up instructions to make everyone's life a bit easier. Without proper follow-up channels, your administrative staff is going to get phone calls and emails. Probably LinkedIn messages, too.
Keep applications on file for six to twelve months. You may fill the position right away, but it's good to have potential applicants on file in case the new hire doesn't work out, or you experience some unforeseen attrition.
The real fun begins after you choose a candidate. New hire employee onboarding is time consuming, expensive, and far from perfect. To give yourself a leg up, try automating as much of it as possible. ZoomShift, in particular, can help you streamline the employee scheduling process. It takes a few minutes to add your new employee to the system and fill in their work schedule. It takes even less time to share the ZoomShift iOS or Android app and teach them how to use it.
Simplify your scheduling process today with a free trial of ZoomShift.
JD enjoys teaching people how to use ZoomShift to save time spent on scheduling. He's curious, likes learning new things everyday and playing the guitar (although it's a work in progress).